Okay, maybe I should start with a giant disclaimer: This isn't really what I'm wearing today. Granted, I did indeed have absolutely every intention on it, but Mother Nature shook me to my very core this morning upon awakening to winter-like weather! It was so cold! This is Tennessee, and the first week of October! If I'm complaining now, I don't know how I'm going to withstand January/February! (Then again, I find solace in the fact that I'll no longer be in college and I won't have to wake up early and dress myself! Wahoo!) Do you now see why I would never hack it in a New York City winter? Yeah... well...
But the real news: I walked out of the house (willfully, and consciously) in yoga pants, gym shoes, and a hoodie for a university I have never once attended (nor stepped foot on!). That's right... I am slummin' it. I wanted to say this is the first time I've ever worn such attire to school (or in public), but I'd be lying. I recall every Friday morning last year when I had to wake and be at Art History by 8:30am. Man, I cursed those days. But I also wore this very same outfit. Well,
so much for this
, right? Sometimes we all need to just throw caution to the wind and not sweat the small stuff! I may look like I'm bummin' it in my jammies big time, but don't be fooled! I am soooo very toasty and comfy!
Anywhoo- these photos were also taken yesterday, so the uber-messy hair is still all the same. What can ya do? The one thing I love about this outfit is the fact that both the shirt and the dress are SO OLD. I remember wearing this dress on my first day of college! True story! And 4 and a half years later, I'm about to graduate. It feels like a long time coming! I also wore this outfit
HERE
. (Again, outfit repeater! Uh oh! Butttttt, I didn't really wear it today.. so I guess all is fair? I'll probably wear it tomorrow, thus throwing off the rest of the week's outfit photos! I like to make things difficult.)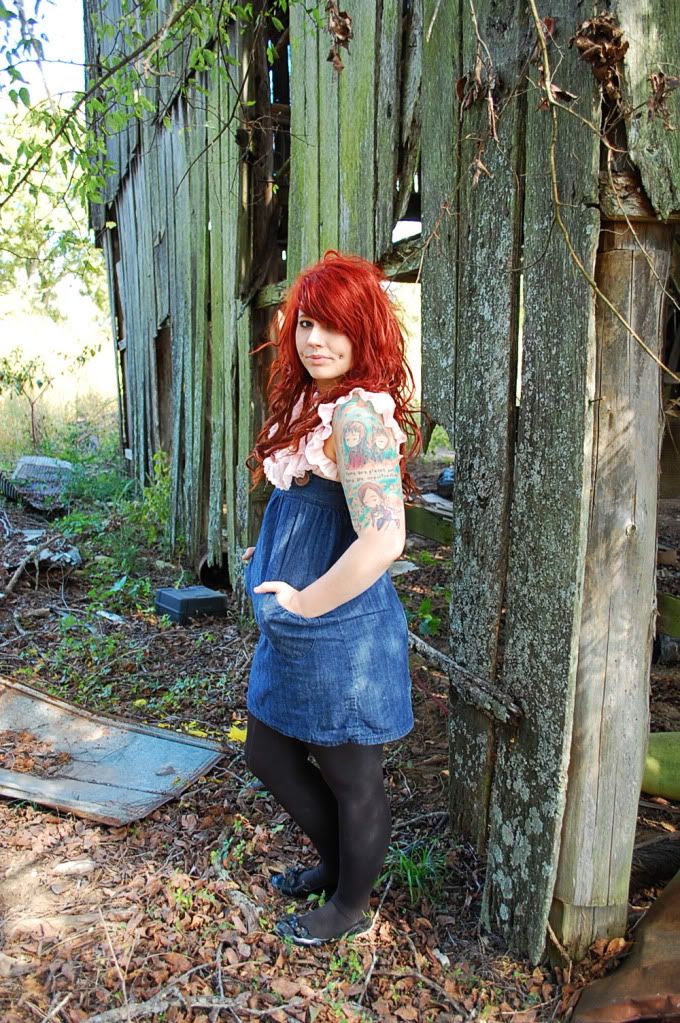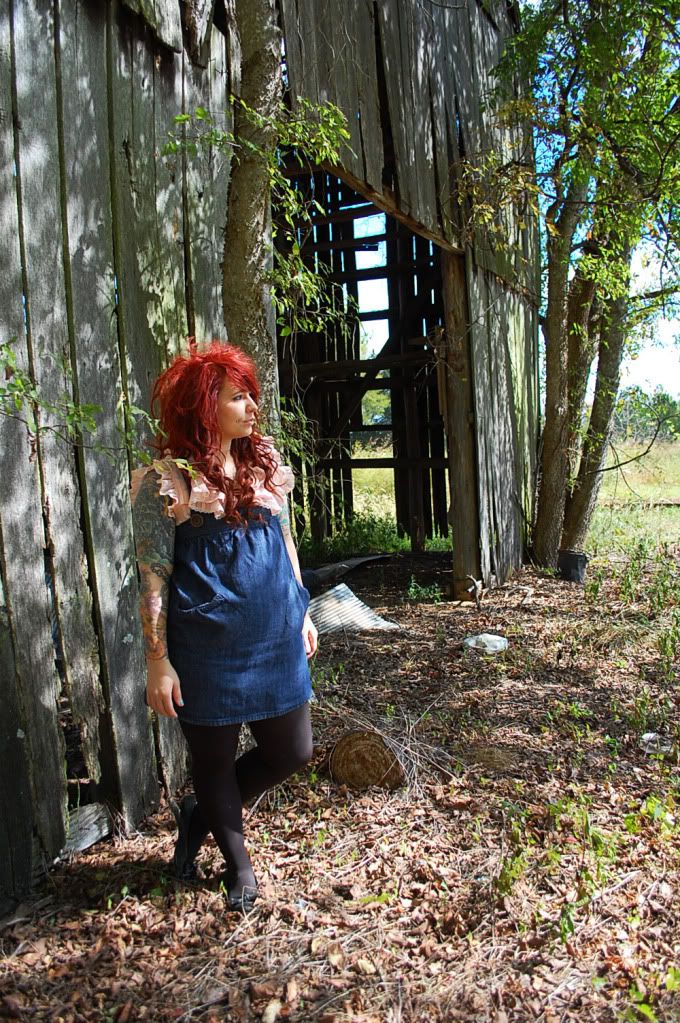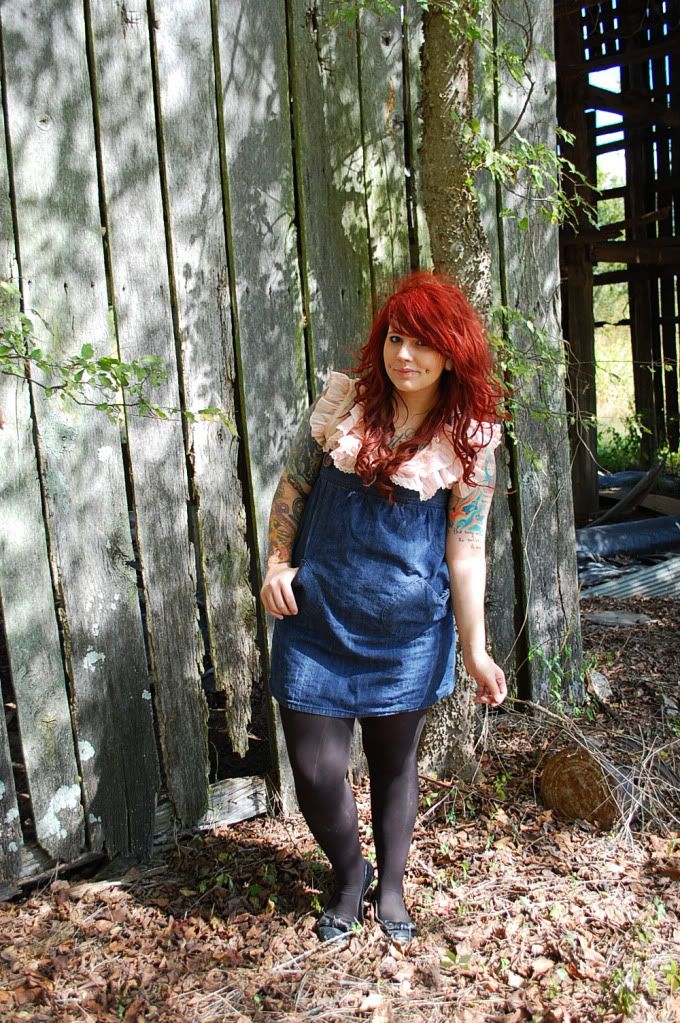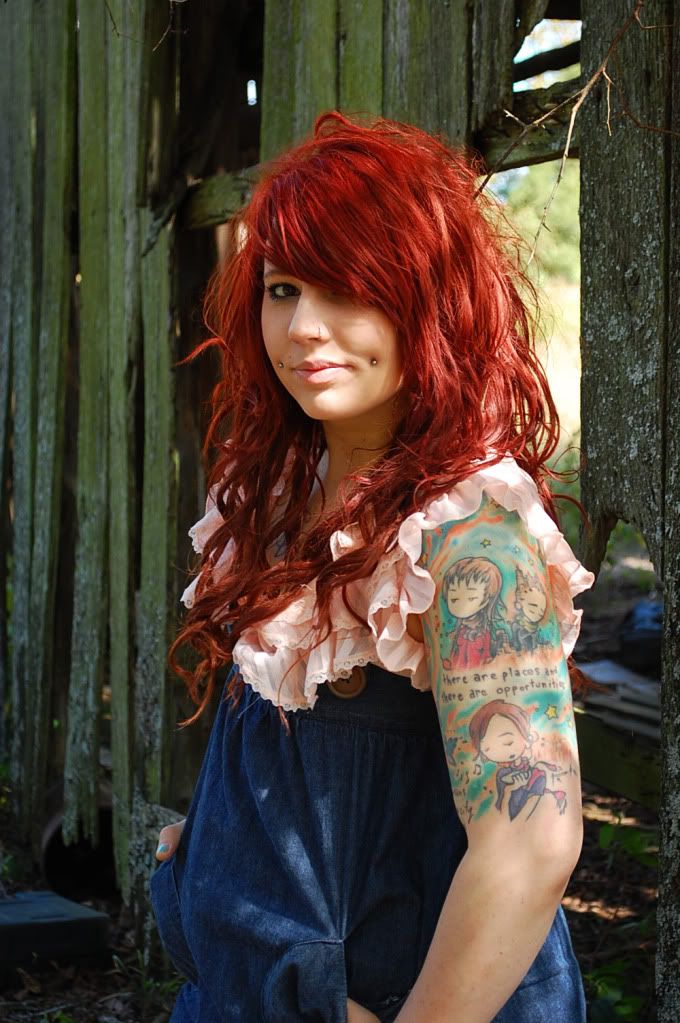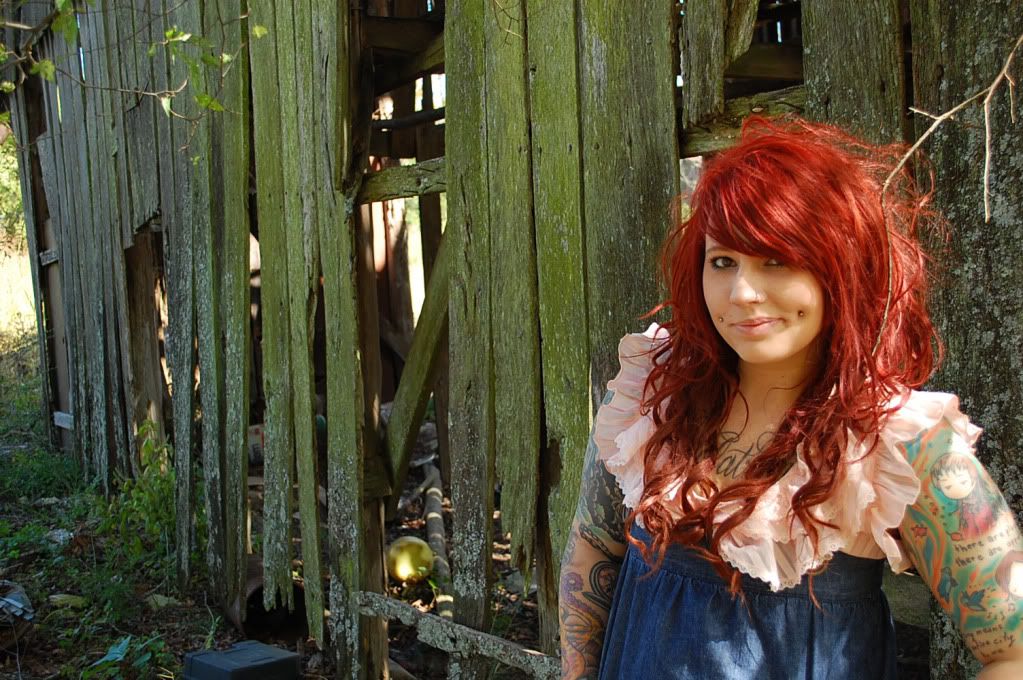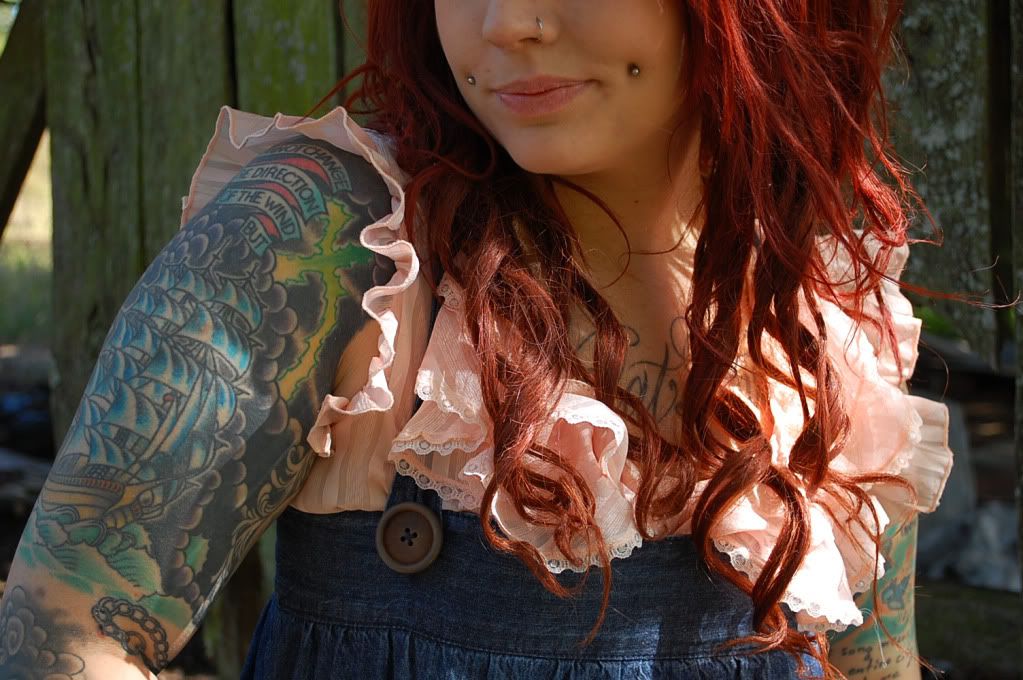 dress: forever 21 (old!), blouse: forever 21 (old!), tights: target ($12), flats: kmart ($13)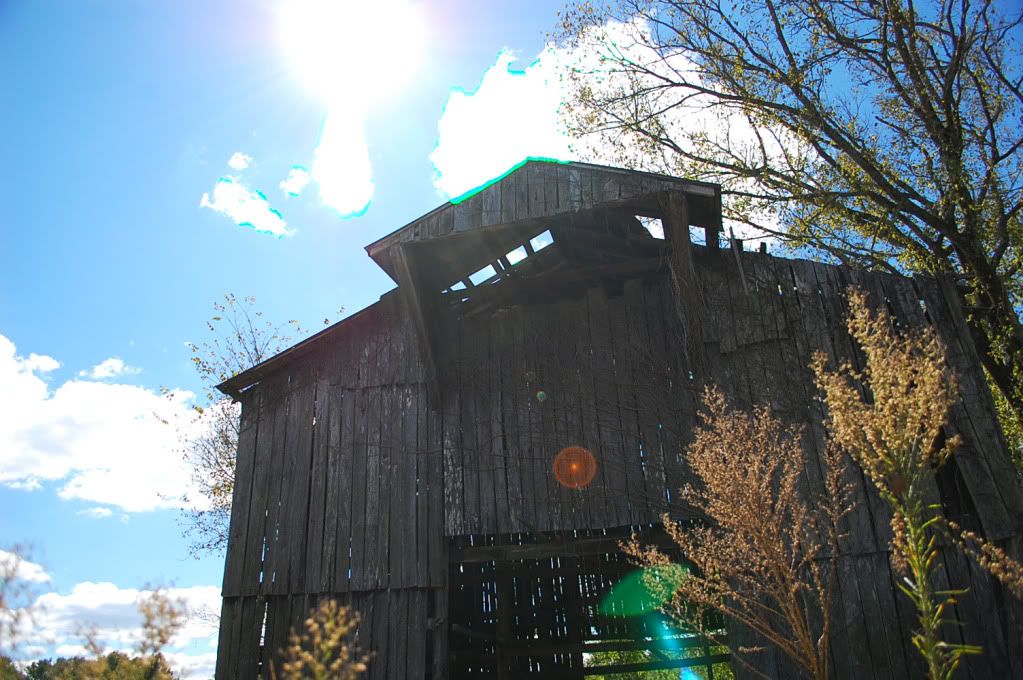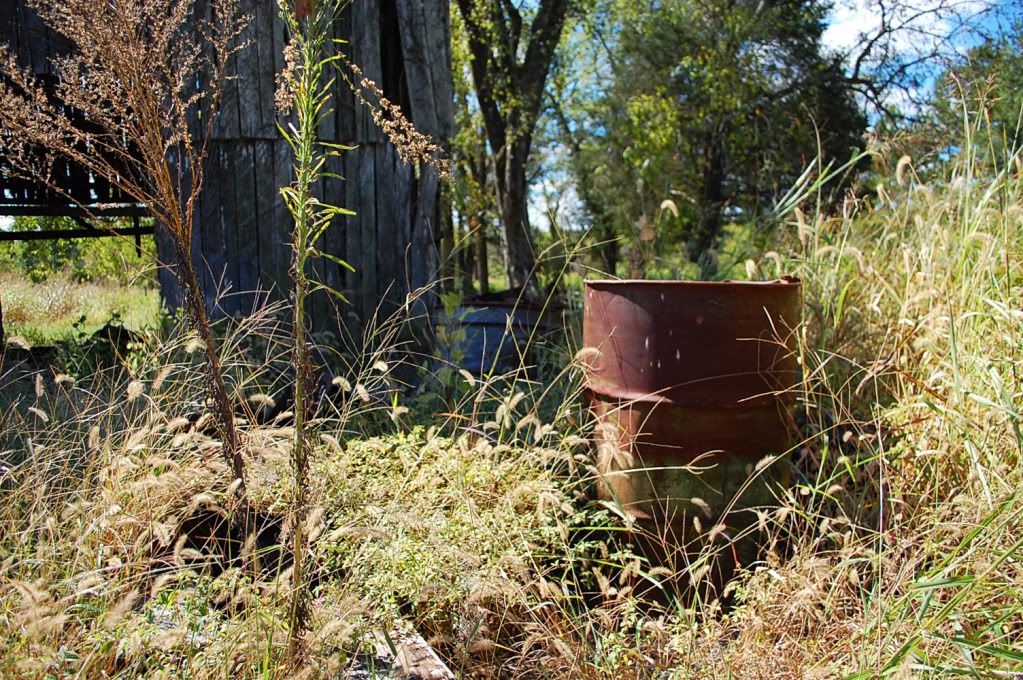 I think it's almost time for me to be buying a new MacBook battery :( Seems mine is on it's last leg. Luckily it hasn't
started to get tumorous yet
like my friend
Kayce
's! It's had a solid 2+ year run so that's good, right?!
Oh! And the winner of the 1Aeon 3-Owl Tote Giveaway is: Flora! Congrats Flora! (And Happy Birthday! What a fun coincidence!) Please email me at KaelahBee@Gmail.com with your mailing information so I can pass it along to Gabe!