I'm super excited to share my featured sponsors with you this month! Seriously y'all, this is like the best group ever. There's everything from awesome shops to a subscription box, personal blogs, and online publications. There's a little bit of everything for everyone. If you can't find something you totally love in this group of awesome gals, I'm just going to go ahead and assume something is wrong with you ;) Please pop over and see what each one is all about! Give them some love for making it possible to keep LCH alive and well! Enjoy xx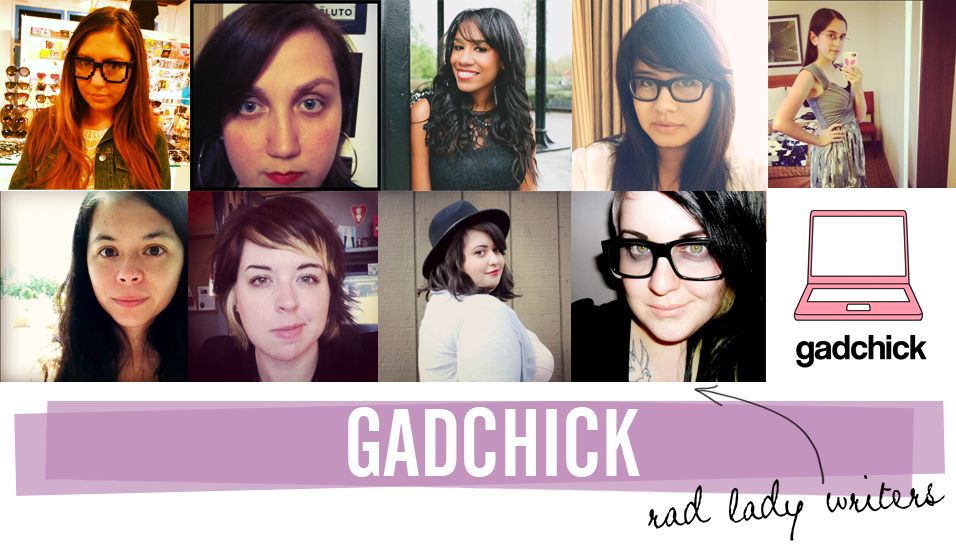 "Gadchick
is a nerdy, geeky, tech and gadget loving free publication for women written by women. With the tech industry dominated by men, Diana from
our city lights
wanted a little more than a basic review and a pink gadget targeted to women. With help from Aline,
In Case of Fireworks
, they teamed up to make Gadchick a safe place for tech loving women to share. They have a great team of women writing for the blog and special contributors to the magazine.
Gadchick is tech with emotion. It's not just a gadget, a code, or an app to the writers of Gadchick. It's their passion and they love talking about it and sharing it with the world."

What is there *not* to like? An online publication written by women, for women... about all things nerdy and tech. As if my spiel in yesterday's TiLT post wasn't enough, you can find everything under the sun at Gadchick. Including a Mommy category, gaming, photography tips and trick, and my personal favorite: phone app roundups and reviews!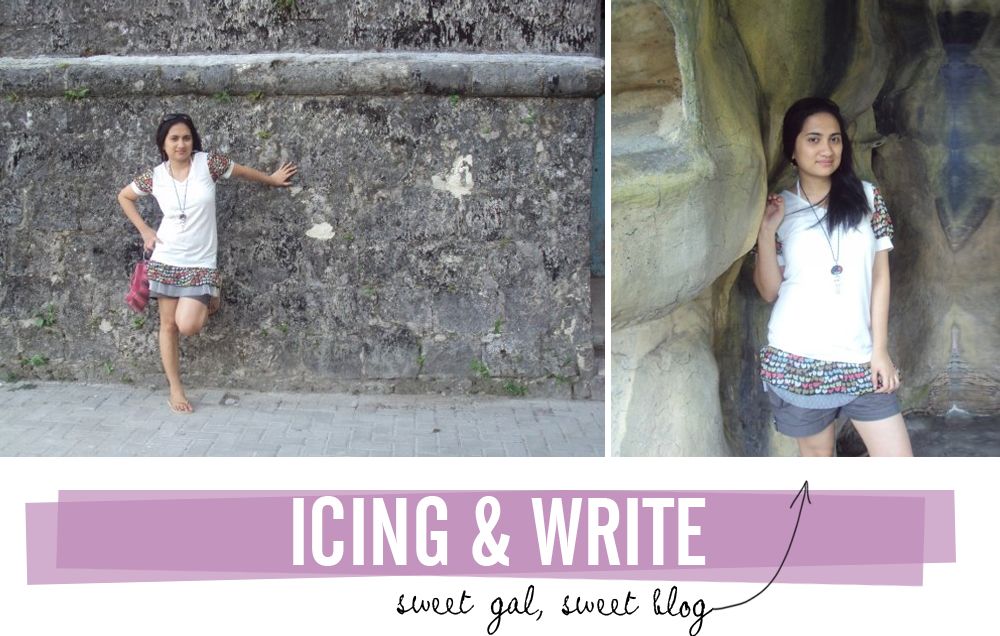 "My name is Aizzing (pronounced as "icing"), a twenty something media house diva here in Dubai and I blog over at Icing and Write. I've been online for as long as I can remember and have kept several blogs for just as long. After making the big move from Manila to Dubai sometime last year, I wanted a new place online where I can post about my daily adventures here in the Middle East for my family and friends to read back home. That's when I decided to start anew with Icing and Write.
From posting merely about my life here in the desert and my noob attempts with baking, my blog has now eventually evolved into an
online vision board
and
personal diary
. You'll read about the sugar crafts I create, my style inspirations, growing Blythe dolls collection, my frustrations with scorching desert weather, and my weird penchant for wearing bejeweled sandals on a Thursday along with my most random thoughts and experiences. Nothing major really and my posts could hardly be called earth-shaking, but I try my best to keep it fun, honest and inspiring all the time.
I recently took the serious pledge to lead a healthier lifestyle, be a better photographer, and enjoy Dubai like a tourist, so expect to read a lot of healthy recipes and photos of all the cool spots, corners and moments this modern emirate has to offer.
I'm a huge fan of early weekend mornings, marshmallows, extra tight hugs, holding hands, pretty cupcakes, candy-colored shoes, old books smell, and dreaming your biggest and wildest.
Please stop over my corner of the internets and say hi. I always enjoy meeting new friends. xx Aizzing"
BLOG
//
TWITTER
//
BLOGLOVIN'

Aizzing's blog is one I've come to absolutely adore over this past month. It's such a beautiful space in the blog world. I definitely recommend you pay her a visit and see what her life is all about!
"My blog is called ella after me, where i like to share the beautiful in everyday with my readers. I am creator of pretty things, illustrator, designer and artist.
I also run a little business called RubyRaeLove which is in a transition at the moment where i am re-branding to create a more personal shop. I shall be incorporating the illustrations seen on my blog. RubyRaeLove started when i wanted a place to sell my creations
ella started when I was in my first year of university, it was a free place where I could share my art and illustrations after I graduated I decided I wanted to share more of my life with my readers, my little business filtered from my blog where my readers were asking if I could make them pieces of jewellery. It filtered out naturally after a nasty break up I decided to throw myself into my little business and blog and it has expanded beyond my wildest dreams.
I love having the freedom I get when i blog, it has opened new adventures for me. I was able to collaborate with James Lakeland a designer to design a capsule collection with him for ss /13. Over july I will be sharing a wonderful feature over on ella with a wonderful selection of business women, the beautiful Kaelah and the Honeybean will be making an appearance. When it comes to RubyRaeLove I will be expanding into fashion with my first line of illustrated dresses and more illustrated goodies will be on their way as well including bags, and sterling silver jewellery. Hopefully soon I will have enough save for a bricks and mortar shop."

Ella's blog is one I've read for a long time, and unlike many other spaces, I've never grown tired of it. She uses her blog to share her style, her life, and her business ventures. Truly a gal after my own heart!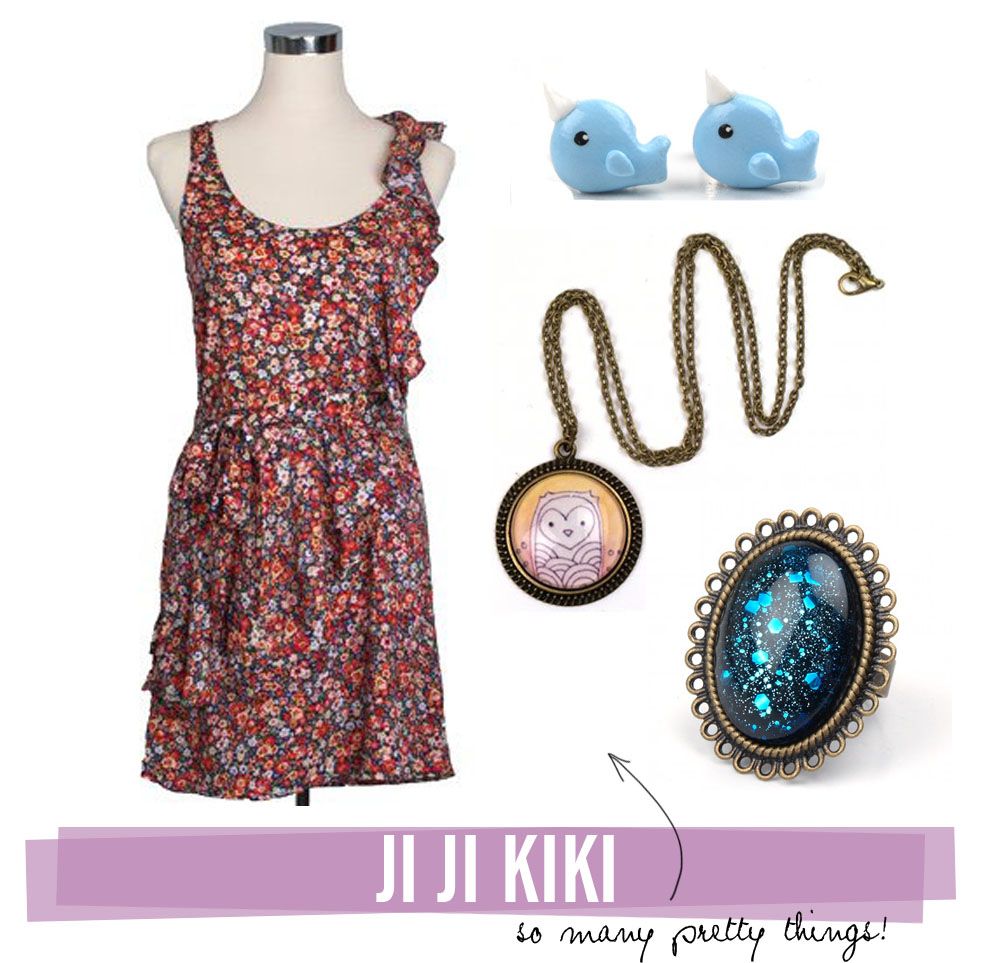 "
Ji Ji Kiki was founded in 2008, based on a love of vintage, retro and all things a little quirky. The website is run by me, Emma, big cheese and general dogsbody ;) I take care of everything from picking products and designers to stock, to wrapping items up to send out and answering all emails and queries on Facebook and Twitter.
I began just selling a small line of my handmade jewellery. Since then the website has grown to include homewares, jewellery, bags, hair accessories and clothing from indie designers from around the world.
My favourite thing about running Ji Ji Kiki is finding new products and bringing them to my customers. It can be a lot of hard work, but when I receive lovely emails it makes it all worth while! My aim is to continue to grow Ji Ji Kiki, expanding the range of clothing as well as adding lots of new indie designers to the mix."
** GET 20% OFF UNTIL JULY 31st WITH CODE BEE20
**
SITE
//
FACEBOOK
//
TWITTER
//
PINTEREST

Just by perusing the virtual shelves at Ji Ji Kiki you'll get a sense of how chock full of awesome it is, but by purchasing from this store you're helping support a gal's indie biz dream! And believe me, it's not hard to find plenty of pretty things in there!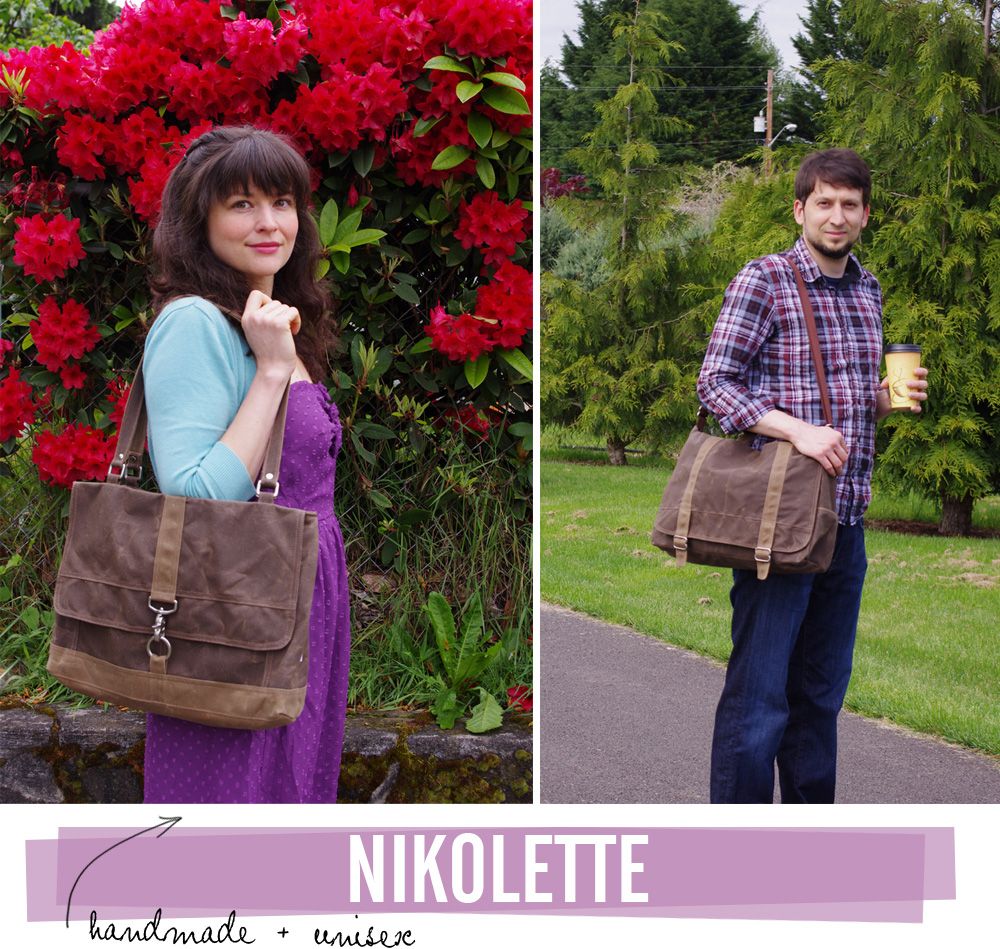 "
Nikolette Bags, named for Miss Niko Jeanette Polka-Dot (my 12 year old rescue cat), was born in 2007 on Etsy after I found myself in possession of a HUGE garbage bag full of upholstery swatches from my job at a furniture store. I started out making little one-off bags that slowly developed into our current (expanding!) line. We now work in water resistant waxed canvas and pride ourselves on functional design and rugged durability." On the future of Nikolette Bags... "
Right now Nikolette's product line is very utilitarian. We are working on some more girly designs that should be released very soon! I'm over the moon about expanding our line to this new aesthetic while still working with very good quality waxed canvas. We'll also be offering antique brass hardware, so lots of new styles to come!"
** GET FREE SHIPPING WITH CODE BEEFREE **

Not only are these bags handmade by Miss Courtney, but they're also perfect for guys *and* gals. They'd make the perfect gift for almost any person in your life. Plus who doesn't like to support independent businesses?!
"My name is Erin and I live in Brooklyn, NY. I have always really
enjoyed scouting out new things whether it be artisan jam or handmade
jewelry. I also love receiving subscription boxes so I thought it
would be so much fun to create one of my own. My idea behind Hammock
Pack is to be able to getaway without actually leaving your home.
Essentially letting us bring the "me time" to you. Each month will be
a new surprise theme and for the month of June, we are bringing the
beach right to your door."

Hammock Pack is seriously an awesome way to enjoy a fun staycation. I received the above box earlier this week (will share more in detail soon!) and it was like receiving a care package from your best friend who went on a fun trip. My favorite is probably the soap, but let me get back to you on that!
♥

♥

♥

♥

♥

♥

♥

♥

♥

♥

♥

♥
♥
♥
♥
♥
♥
If you'd like to be a sponsor/featured sponsor for July, I've still got some spots left with the size of your choosing! Shoot me an email at kaelahbee@gmail.com and snag a one-day deal!