Cutting it close on the last day of the month, but here's my September Sub Box recap! There are a bunch of them, so get ready for it!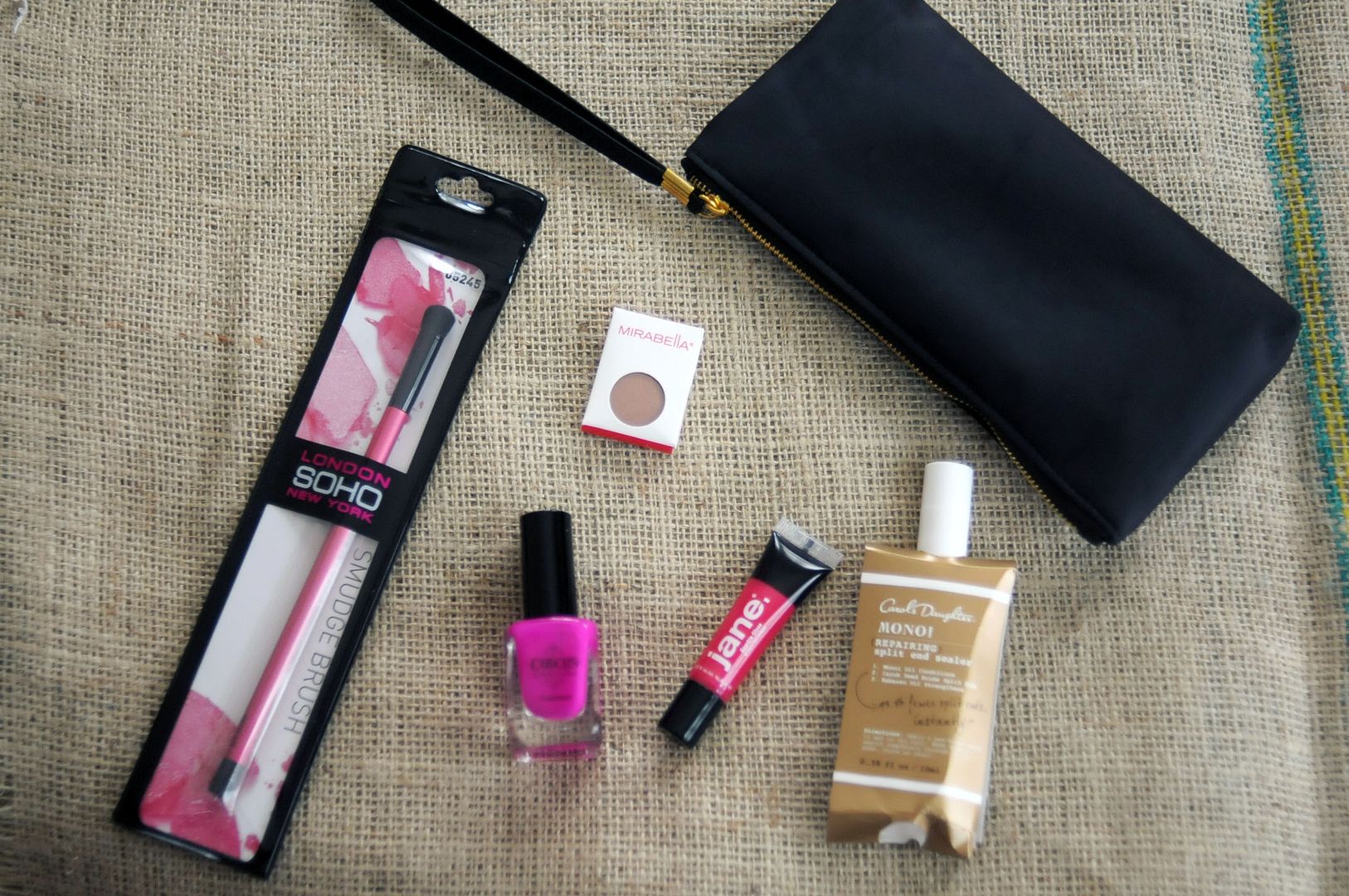 My Glam Bag... err, Ipsy?
Firstly - apparently My Glam changed their name to Ipsy? I don't know. What I do know is that I am so over getting a Circus neon nail polish three months in a row. At least they've all been different colors, but still, can we just put something else in there please? I liked the eye shadow and the smudge brush though. The jane lipgloss was surprisingly sheer, though I tend to shy away from a lot of glosses because I don't exactly want to look like I just scarfed down a bucket of (pink?) fried chicken haha Split-end menders seem to be a popular item in a lot of sub boxes and I think they're onto me. My hair needs a bit (lot?) of a trim so I'll be able to report back on these more after I use them a bit longer. Overall, a "meh, but okay" box. Not the best, but certainly not the worst.
Luv My Box *
I was sent this box for a review consideration and I didn't know if I'd be sharing it on here or not. Not because it's adult items or it might offend/spook some, but because I wasn't sure it'd appeal to me (us?) at all. Luv My Box is a "fun and flirty" monthly curated subscription with "sultry" items to appeal to couples worldwide. At $34.95 a month, it's not much of a steal, though I can quickly see where the items may greatly exceed the quality/variety shown here. I think the premise of the service is a great one, and maybe it was just this box that fell short, but I wasn't "wowed". To be honest all of these items could be purchased separately (and for cheaper, I'd think) at any adult store or even Spencer's in the mall. The site looks more promising than the September box but with a lot of sub services it's impossible to form an opinion after just one delivery. (If I did, I'd probably have canceled them all! haha) BUT with that being said, I think this would make a great/fun(ny) gift to any couple you know that are getting married or something. Even just for novelty's sake. Overall, I think it'd be a fun service as a gift or as a gamble, though I don't see myself subscribing full-time.
Love Club *
I shared my first Love Club box last month and in my review I stated how I liked the box and the idea, but I felt like the packaging was very haphazard and messy. Well, that was certainly not the case this month. Everything was neatly tucked in a bag, sealed with cute washi tape, and stacked in a way that felt more like opening several small gifts as opposed to a cluster of stuff popping out of a box. This month's offerings were super cute. My absolute favorite were the decals (up top). I'm a sucker for decals and have always wanted to learn to make my own for Honeybean, and these were darling. Also included were notecards, small gum, fragrance, heart stickers, a tealight candle and a print. I loved the packaging, for sure.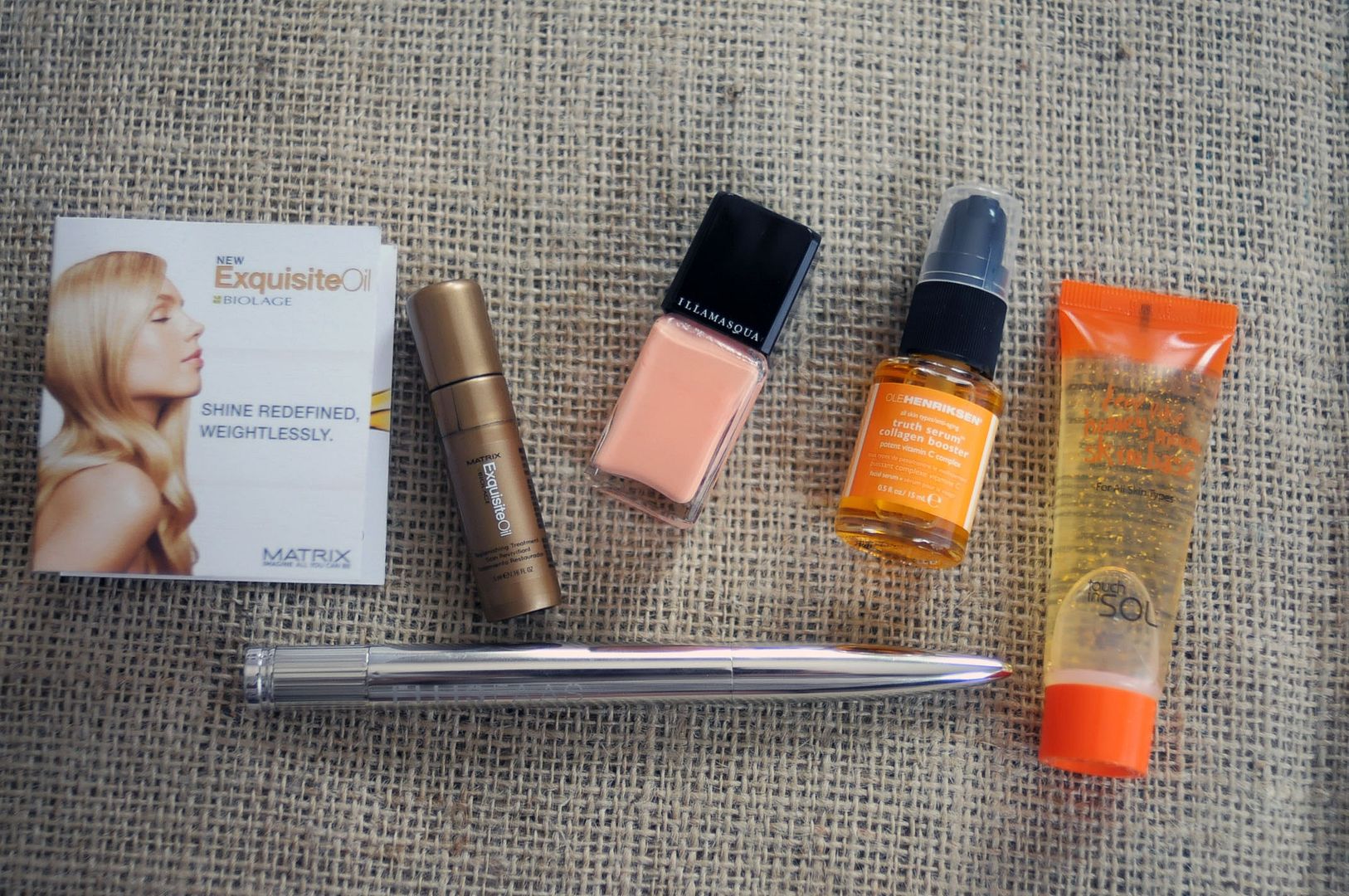 GlossyBox
Oh Glossy. With the exception of the (absolutely perfectly colored) nail polish, I was just kind of "mehhhhh" about this box. Nothing special, though I feel like if I were to give these products more time/a chance I may be pleasantly surprised. The sub-box thing is hard when you share everything after getting it. I don't want to rush into sharing because duh, I want to give a review, but also because I'm on a schedule. I think I'll explore these more and really share once I have solid opinions. More hair serums and face serums, too. I actually canceled my GlossyBox after this month because I wasn't "wowed" enough to keep paying $20 for stuff that will sit in my Samples bin in my office. That nail polish though? I'm going to wear the heck out of it!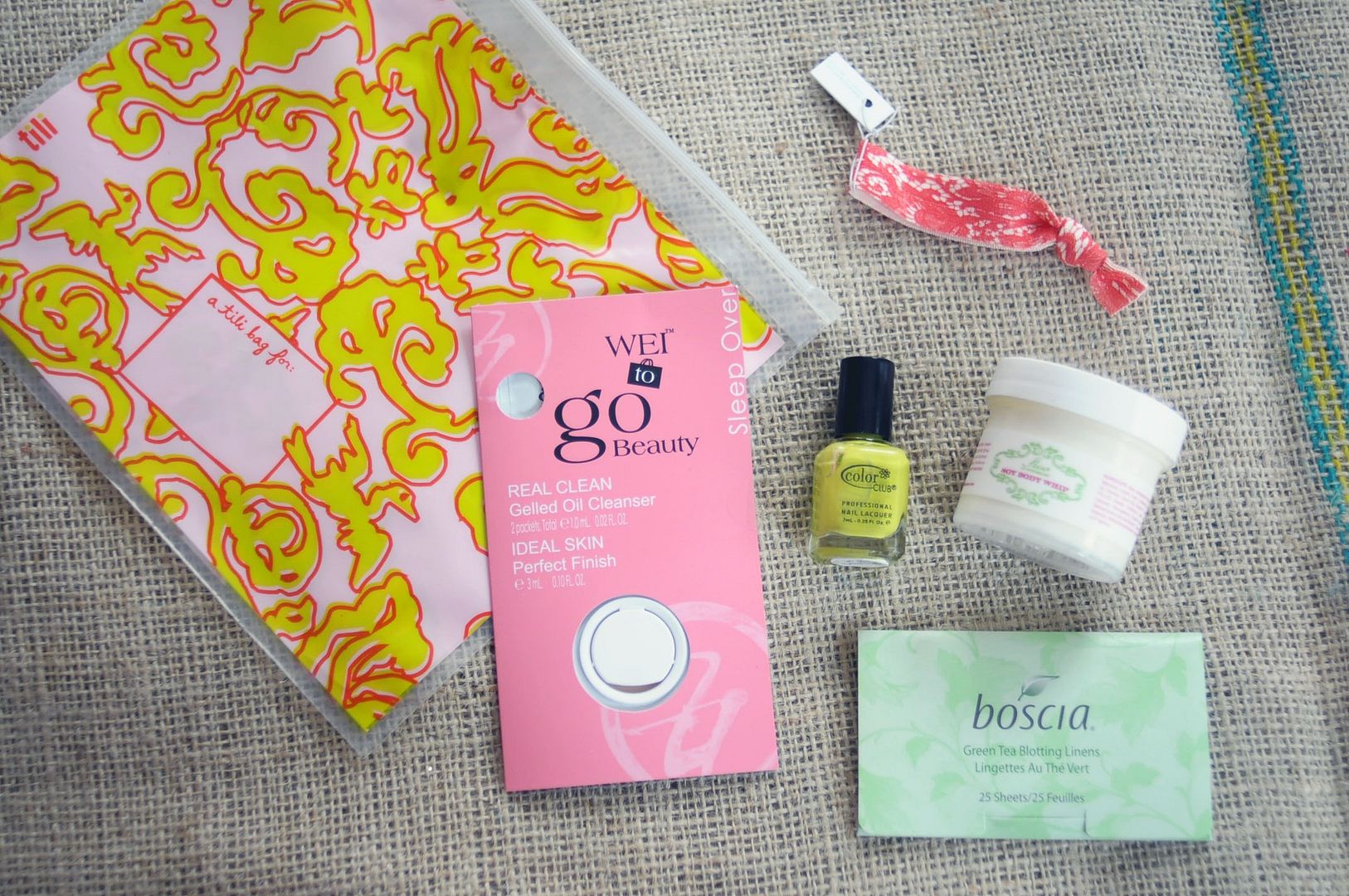 BirchBox
I was not impressed with this package and I feel like I don't even need to go into details as to why. I don't get the hype over the elastics, and the Tilli bags are just fancy Ziplocs (sorry, but true, right?). The body whip did smell nice, and I actually don't mind the color of the nail polish. The face blotting tissues will be nice for my bag (especially on our wedding day), but overall, I just felt super underwhelmed. I prepaid a year's worth of boxes back earlier this year so I don't have to worry about canceling, but hopefully October's is better! At the end of the day I still think BB is my favorite subscription box.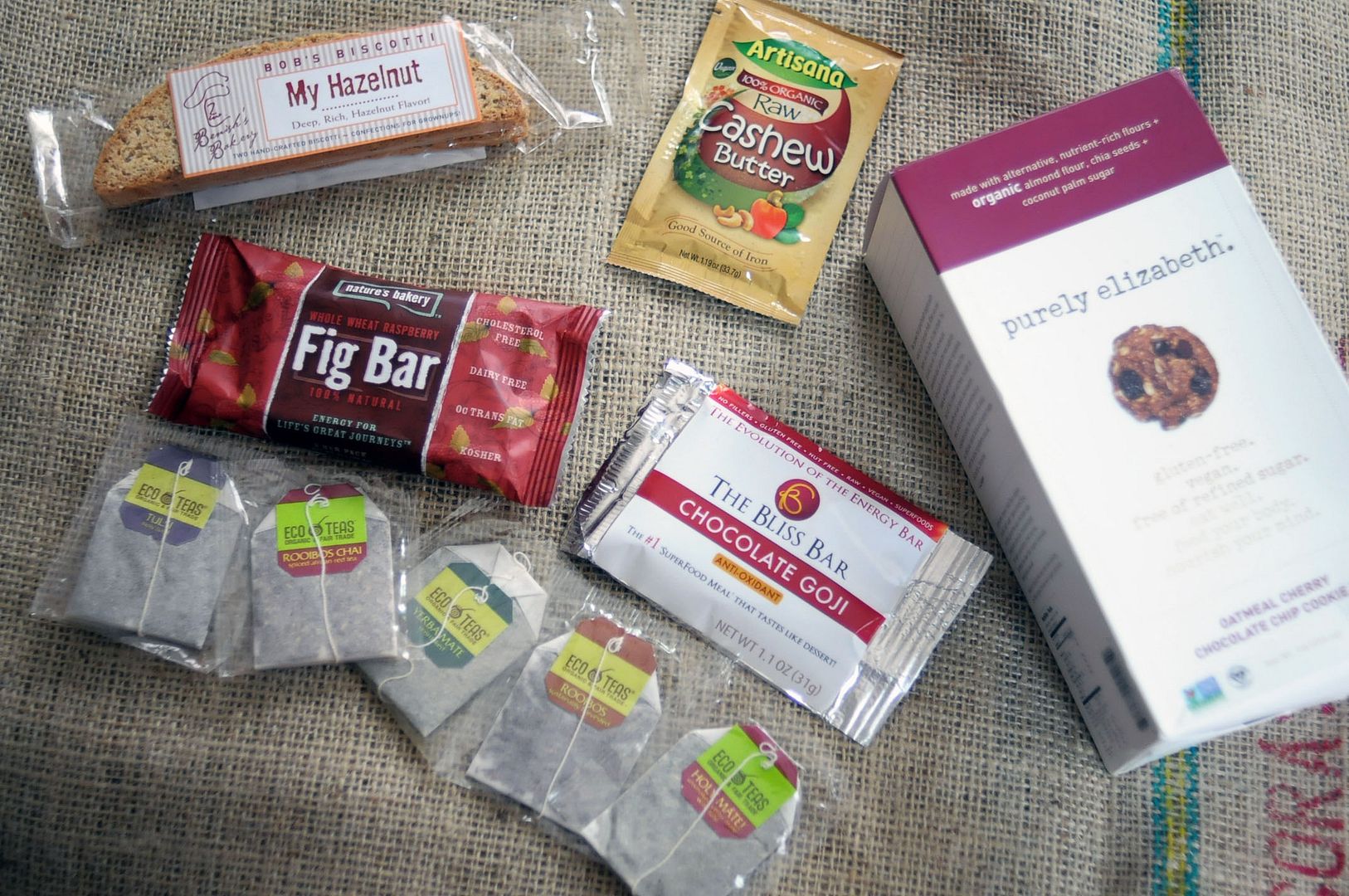 Yumvelope *
Yumvelope is a natural snack subscription service and it's super no-frills (which is kind of nice). Your items come in a padded mailer and there's no confetti, tissue paper or ribbon. While I love all of those things (okay, maybe not the confetti. It gets everywhere!), the simple approach to the packaging fits with the theme of simple snacks. I have to admit I'm not big on cashew butter and while I like the occassional cup of tea, I'm not an avid drinker, I liked what I've tried. My thumbs go way up for the cookies and Fig bar, and the Bliss Bar too. The subscription is $19 a month but I feel like the quality and amount of product you get is well worth it, especially if you're all about natural + fair trade items. I also think the experience would be much better if the branding + website was more aesthetically pleasing. (Ridic to judge a sub service on their site look, but then again, tons of other people are doing it, too! I think it has the potential to be something so much bigger with the right branding and marketing.)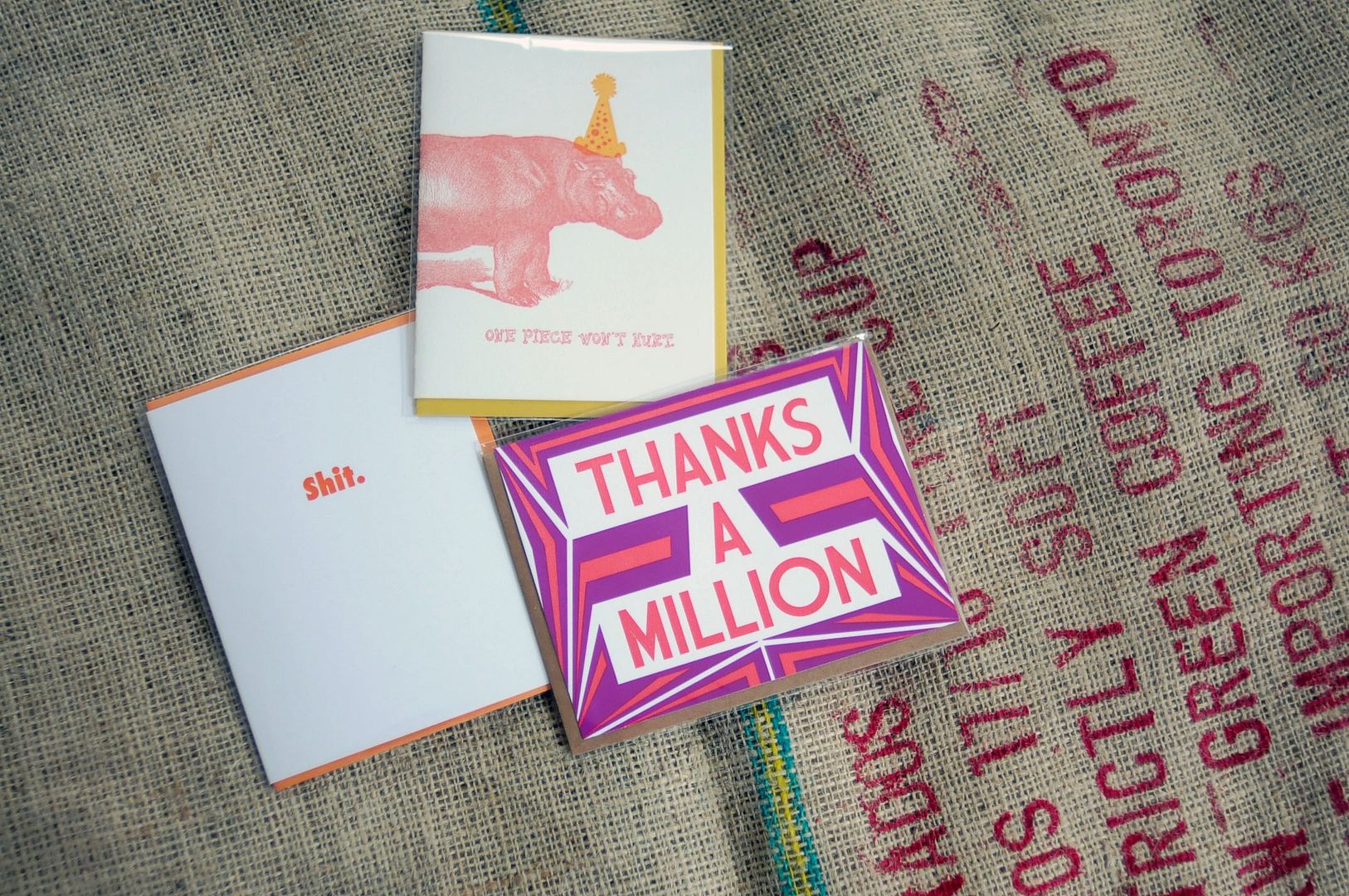 Nicely Noted *
Nicely Noted is a letterpress stationery subscription service that delivers 3 greeting cards to your mailbox each month. I actually totally forgot to photograph the 3 stamps that came with the box, but they were great. As a designer I love all things that are well-executed. I love letterpress and feel fortunate to live just across the river from one of the oldest working letterpresses in America (Hatch Show Print!). I loved the idea for this box and even with the price tag ($18). What made me love the box even more: The cards themselves! The Thanks A Million is cute, but the other two just take the cake. I'm one of those people who hoards my pretty stationery because I don't like to part with it, but these cards are truly worth writing in and giving away. Worth every penny in my book!
♥ ♥ ♥ ♥ ♥ ♥ ♥ ♥ ♥ ♥ ♥ ♥ ♥ ♥ ♥ ♥ ♥ ♥ ♥
Got any sub boxes you'd like to share? I'd love to find a few more off-beat ones to try!
* denotes the subscription box was courtesy of the brand for review consideration. All other boxes are purchased with my own money. As always, opinions are my own!