I know you have all been dying over the "exciting news" I've wanted to share with you, right? Right. Well, all of that aside, I cleared the air and let you know that I'm not engaged (yet! hopefully!) but 75% of the frantic texts and messages I received were questioning whether I was pregnant or not... I can safely say that no, I am not... and I hope to wait until after marriage for that one, but we did recently adopt a new baby into our family!
I am proud to introduce to you....
Our baby Frenchie, Pipkin LaRue! Mike and I ventured an hour south to Shelbyville on Sunday evening to see the pup and hope that we fell in love. We took Georgia with us because it wasn't just our decision. We needed to make sure Georgia was okay with it and liked her all the same because Georgia is already a vital part of our family. If she wasn't okay with it, we would know it just wasn't the time to expand.
We had been thinking about this for a while and we thought we wanted another bulldog. English bulldog was my choice, as per usual, but the vet bills were always lingering in my mind, so we opted for a more compact and slightly-more-evolved breed with a French Bulldog. Opportunity presented itself at the perfect time. An older couple had her up for adoption and we were sold.
I tend to gravitate toward animals with a slight "defect" (for the lack of a better term!) and I always go for the goldfish with one eye or the pup with a messed up tail. In Pip's situation, her left ear doesn't always stand up. We know she will probably grow into this and they'll be fully erect when she's older (it's erect in the picture up there!), but it helped set her apart from the other little girl up for adoption and she was so sweet. She's 9 weeks old (born July 20th!) and has the calmest disposition about her.
I went and picked her up on Monday so we had Sunday night to mull it over and make sure we were making an educated and adult decision by bringing her home with us. I was a bit nervous as I woke up on Tuesday following our first night with her and I didn't sleep a wink! (Made me realize we're not ready for a human baby just yet!) Luckily everything went smoothly. She slept in our bed on Tuesday and Wednesday and she's just been an utter delight!
Yesterday I brought her to school with me! Our department chair/teacher was all for it. I packed her up with her sweet pink bed and blanket and stuffed animal. I had sewn her a bandana (floral print!) the night before and yesterday I made her a red polkadot one (as pictured). Everyone at school loved her! She's so well behaved. Follows me everywhere I go and doesn't bark unless she's playing with Georgia and is excited.
She's already brought us so much happiness! She looks like a mini-moo-cow! Georgia loves her so much! They get along swimmingly! I originally didn't disclose any of this because we wanted to make sure she fit our family. Not so much the "we don't like you anymore because you're not new" type but the "I don't want Georgia to all of a sudden get aggressive toward you". We wouldn't have given her to the pound or anything, but we wanted to make sure that nothing turned ugly. She's been with us for 3 solid days now and we couldn't be happier. Georgia still gets treated like the princess that she is so don't worry that we're replacing her! Georgia has such a large portion of my heart, I can't imagine my life without her! She gets to go to the puppy park every day to see her friends, and Pipkin sits on the bench and evaluates the situation until she's big enough to play.
She's a tiny thing, but weighs a massive 6.5 pounds! (So that doesn't sound like much compared to G's 50+ pound mass, but for her size, it's a lot!) We're so happy to have expanded our family! Where there were four, there are now five! I can't wait for Toby to come meet her!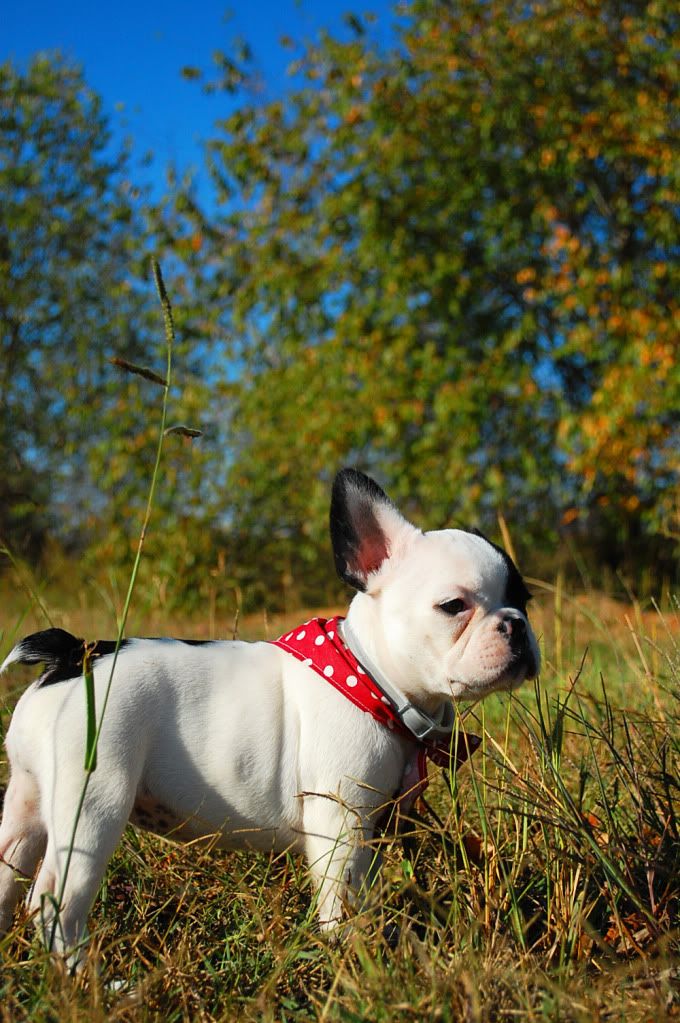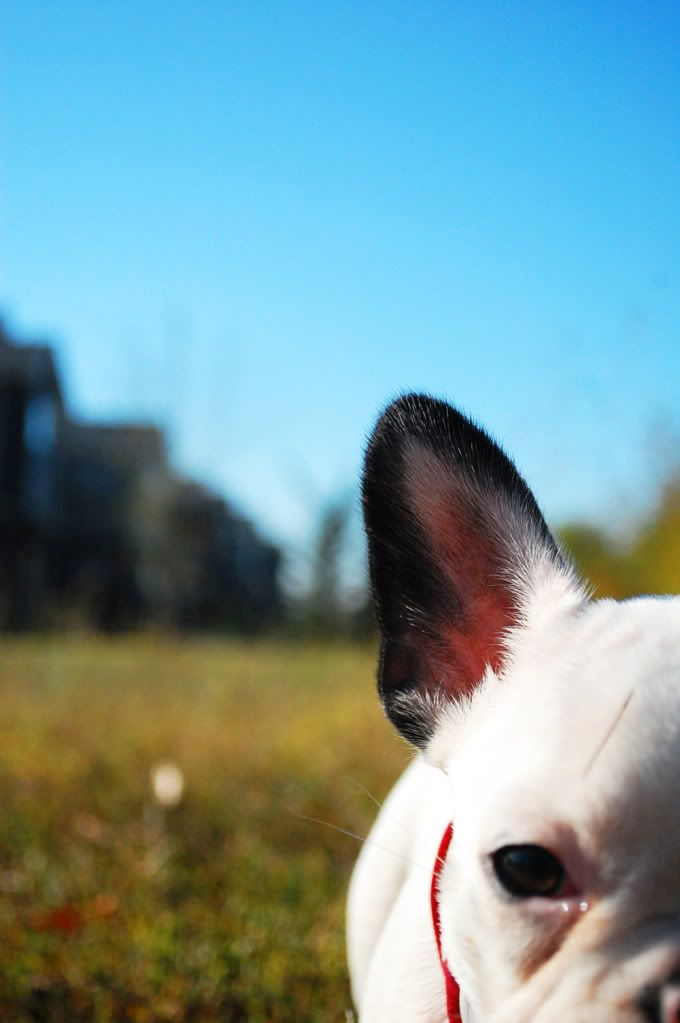 I apologize if you were hoping for something much more extreme like a pregnancy announcement, but I assure you that that will come one day much later! I can't wait to share that with you all, but for right now, our heart belongs to our two pups and the sweet baby boy, Toby. I hope you love her just as much! I can't wait to share our little adventures!

PS; I've received question of how her name came about so here you go: Pipkin Hills is a road near our house that we often drive past on our photo adventures. We always see it and say it in funny voices and exclaim how it'd make a cute name for a puppy. Well, there you go! LaRue came about as we were trying to think of something cute and French for her as she's a Frenchie. My old best friend from school's middle name was LaRue and we used to always all her Megan "The Street" T_____. We thought it sounded cute. It wasn't until later that night that we realized "HELLO! PIPKIN IS A STREET! LA RUE MEANS STREET! IT'S FATE!" hahaha It sounds much more dramatic than it really probably is but we thought it was a good vibe. Hooray for Pipkin "The Street" Flynn ;)