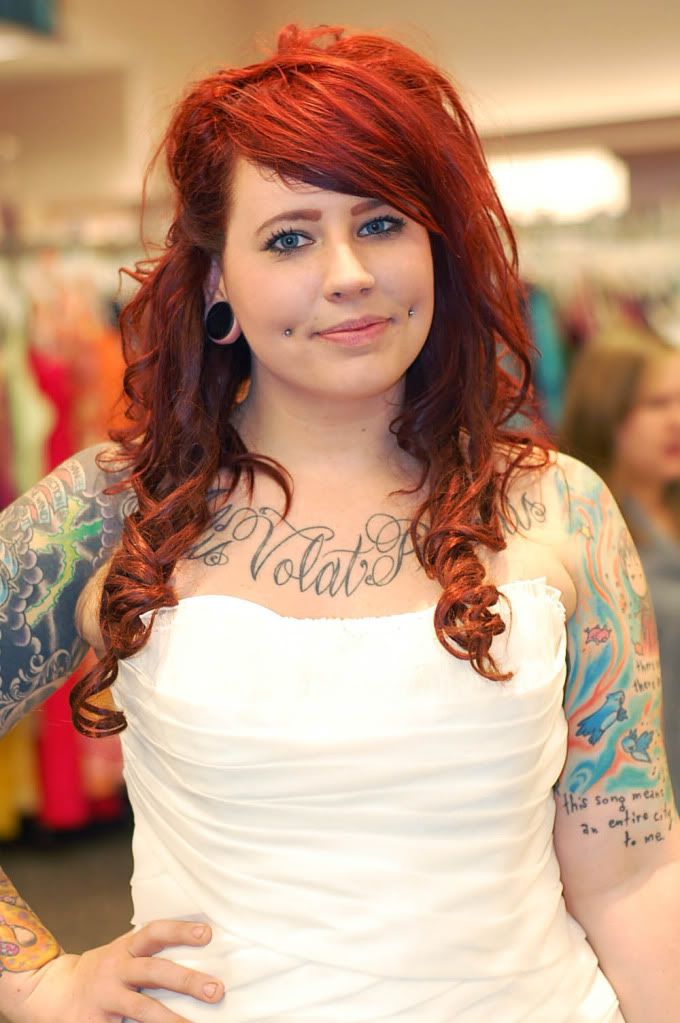 Okay, so before you start freaking out: NO. We are NOT engaged! But what girl doesn't have fun going to a bridal salon and getting all dressed up in pretty frilly dresses?! We were pretty bored Saturday and I had already been given the night off of work so we decided why not! This dress was beautiful. Absolutely stunning and gorgeous (and it comes in Ivory! Which I didn't know until AFTER the fact, so you best bet your bottom dollar I'll go back to try it on soon!). Well, it's not the most flattering fit in these pictures because it was 2 sizes too big. It seems they were out of my size and the size above, so I had to try this one on and man, those clothespins just will NOT stay! But I felt so lovely in such a gorgeous dress! Every single person stopped what they were doing to stare the entire time I was outside in it (thus making me a bit self conscious at the time!). They were probably a bit surprised to see such a heavily tattooed girl in a wedding dress (the entire salon was filled with [what seemed to be] very conservative moms and brides). Either way, I loved the back of this dress. It was just so pretty!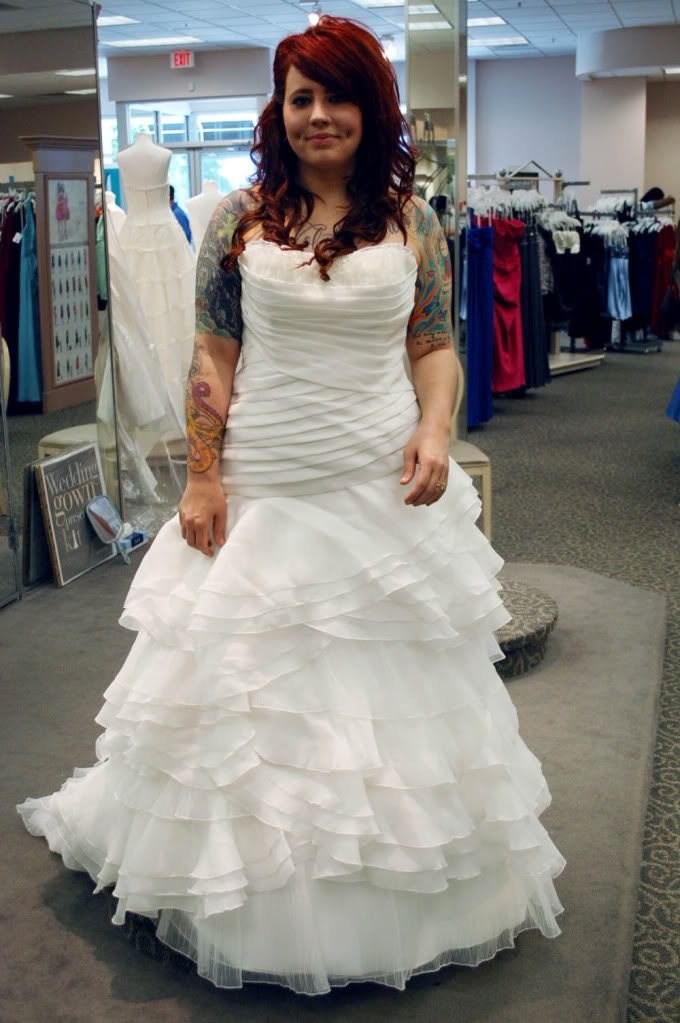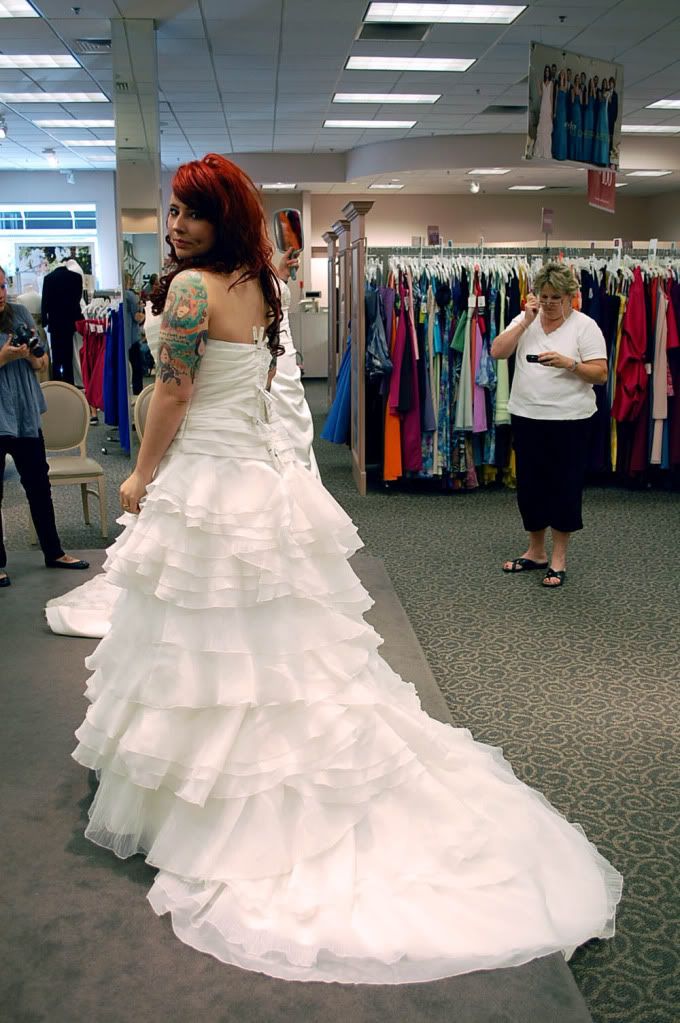 We had plans to go to another bridal salon yesterday so I could blog about it today, but yesterday was just a really bad day. I woke up to a bad day and it just got worse and worse, so we just didn't bother. But we will check it out soon!
Trying on dresses made me realize that I can't wait to plan out the big day! It'll be a while away but still... a girl can dream!
The next batch of photos is from a wedding that my friend Amanda did!
She shot it beautifully and you cannot deny how gorgeous the bride and her entire outfit is! From the dress, sweet necklace and dainty little flower at the bottom of her hair.. I just love it! The colors look great with that teal tile wall, too! You can see some more of Amanda's photography at
her blog
.
This next batch is a
sweet elopement in Denver
via
RuffledBlog
! I'm in love with those balloons! (It makes me yearn for Valentine's Day like no other!) I LOVE that their "reception" was a little picnic for the two of them!
And while this may be a first for Wedding Wednesdays on Little Chief Honeybee, I just had to post this
Bridal Shower
because I don't think it could have been anymore "me" (and maybe I'm being a little selfish here... but I really loved it!) [Psst... note the use of my favorite typeface (and the one I use for my person logo!) in the mix down there!]
And now the Weekly Wedding Question! Are you planning on having a "typical" bachelorette party (or did you, if you're already hitched)? [By typical I guess I mean going out to bars with your ladies, clad in a short dress and 'bachelorette' sash. And in return, how do you feel about your guy going out for the typical bachelor party?]
My answer: Mike and I thought/talked about this the other day and seeing as I don't drink alcohol at all and I've never "partied," I have absolutely no desire to have the typical bachelorette party. I don't want to go out to bars or clubs because I work in one and it's so far from my scene. Mike doesn't want a typical bachelor party because he doesn't want to go to a strip club or bar (and he doesn't really drink liquor). Plus, we had talked about Toby being his best man so I doubt a young'n could pull off something like that ;) [I hope you can read the tone of that silly little joke]. I guess I just never did that whole party thing in college and I have no desire for that to have anything to do with my wedding either. How about you?