I have a nice little batch of songs that I *always* go to when I'm feeling a little less than stellar. Whether I've had a long day, I'm feeling crappy about myself, or I got in an argument with someone... I play a handful of songs and without a doubt I instinctively start feeling a bit more chipper. Just felt like sharing them on a cool Saturday morning! (And some of my favorite snippets, too!)
Not Your Year by The Weepies
"your life feels like the morning after all year long.
everyday it starts again,
you cannot say if you're happy.
you keep trying to be,
try harder, maybe this is not your year."
"breathe through it, write a list
of desires, make a toast, make a wish,
slash some tires.
paint a heart repeating, beating
'don't give up, don't give up'."
Swim by Jack's Mannequin
"you gotta swim, and swim when it hurts.
the whole world is watching, you haven't
come this far to fall off the earth."
"i swim for brighter days despite the absence of sun,
choking on salt water,
i'm not giving in, swim.
you gotta swim, swim in the dark,
there's no shame in drifting,
feel the tides shifting,
and wait for the spark.
yeah you've gotta swim,
don't let yourself sink.
just find the horizion,
i promise you it's not as far as you think.
the currents will drag us away from our love,
just keep your head above. swim."
and to top it off, here is the mixtape "One of Those Days" that I made back in November! It's got plenty of these songs on there. Maybe you can relate?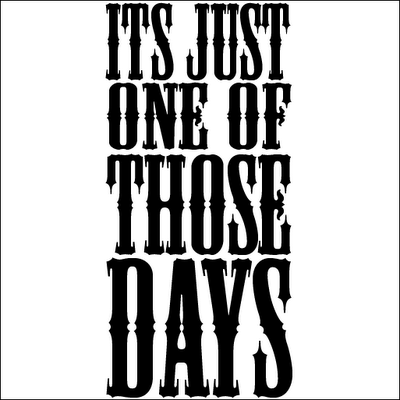 (click on title to download)
What are YOUR go-to songs when you're in a bit of a mood funk?! Please share!

PS; I'm going back in my archives and finding posts that really hit home to me and I'll be reposting them over the next few days. If you're one of the few who have been following me since day one, or you've felt frisky enough to go back and read everything, you may be seeing them for a second time, but I only had about 20 followers then so I think they could be a bit more impacting now. Hope you don't mind! (I promise you, it's only a very very select few!)