I feel like
every single one
of my posts just constantly talks about how busy I am or how I can't find time for anything. While I do have busy days, it's hard to talk about them knowing that most all of it goes on behind the scenes and you don't see it. Most of you probably think I just sit in my closet office and twirl my hair all day. (Sometimes I do... but mostly out of designer's block!) Well, here's a little showcase of what I've been up to the past 2 months.
I shared a design recap back in February
, but I like to showcase these not only to show what I've whipped up, but to also give you some fun new blogs to add to your blog roll! I try to keep myself busy with several clients a week, and I've only caught up this week. But I thought it was prime time to show you some new reads (and share just how many people love the color mint... and scallops!)
And I'll go ahead and apologize for sharing TWELVE designs at one time... I should never do that. I was going to break it up into 2 posts but what the hey?! Here you go! ;) You'll only get the full experience if you click over so go check them out in real-live-view!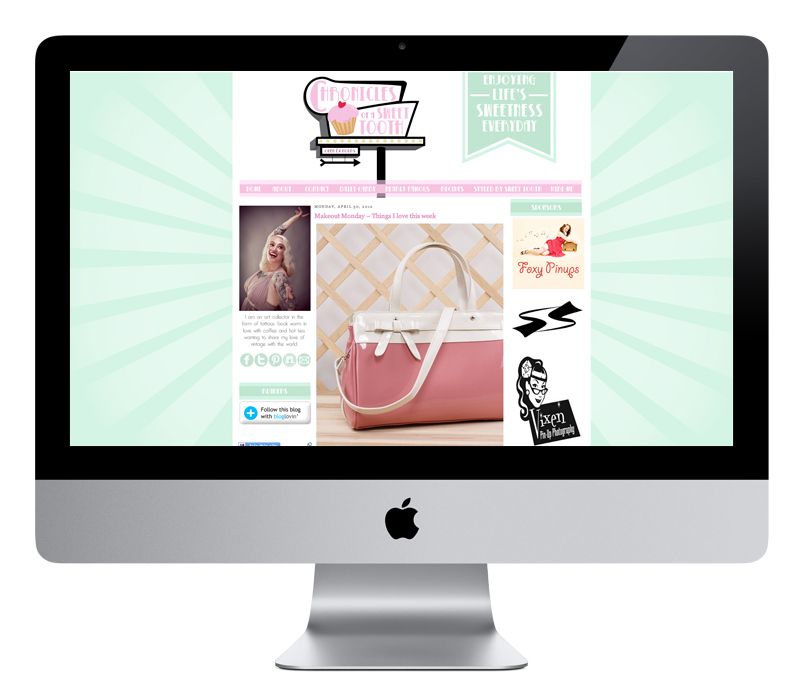 Chronicles of a Sweet Tooth
I did Kem's last blog design last year, and this spring she was ready for a revamp. Kem is such a doll. I love her blog because it's the perfect mix of girly, badass, rockabilly and pinup fashion. We did a retro illustrated sign at the top and played up a pink and mint color combo with light flares in the background.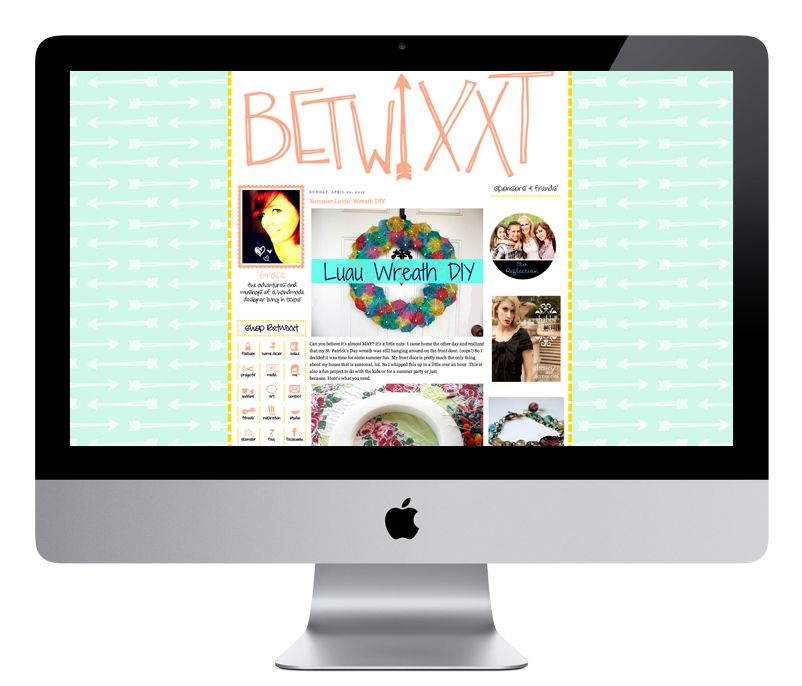 Betwixxt
Grace is a long time sponsor here at LCH and has grown into a totally rad friend. I also did her last blog design last year, and this time around we went for a more hand-drawn look. It was fun to doodle some arrows and her blog name over and over and over. Sounds monotonous, but that's what I totally love doing! We kept most of the same colors overall, but swapped the fuschia for a coral!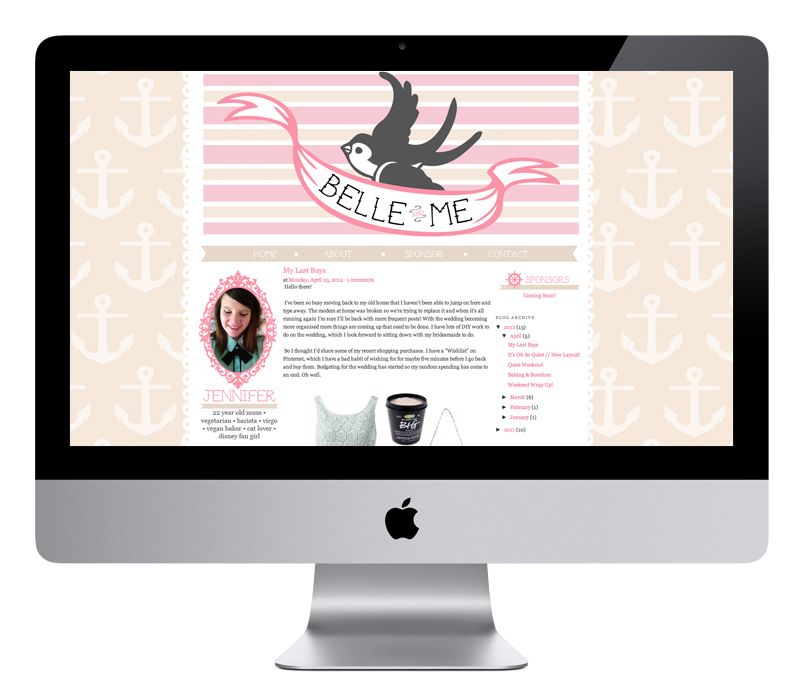 Belle and Me
I loved doing this sweet feminine/Sailor Jerry design. It took us a few tries to get the header perfect but we settled on a simple swallow and banner, with a punch of pattern in the background. You'll find little graphics scattered around like a ship's wheel and a nautical compass. I love the creamy tan with the pink!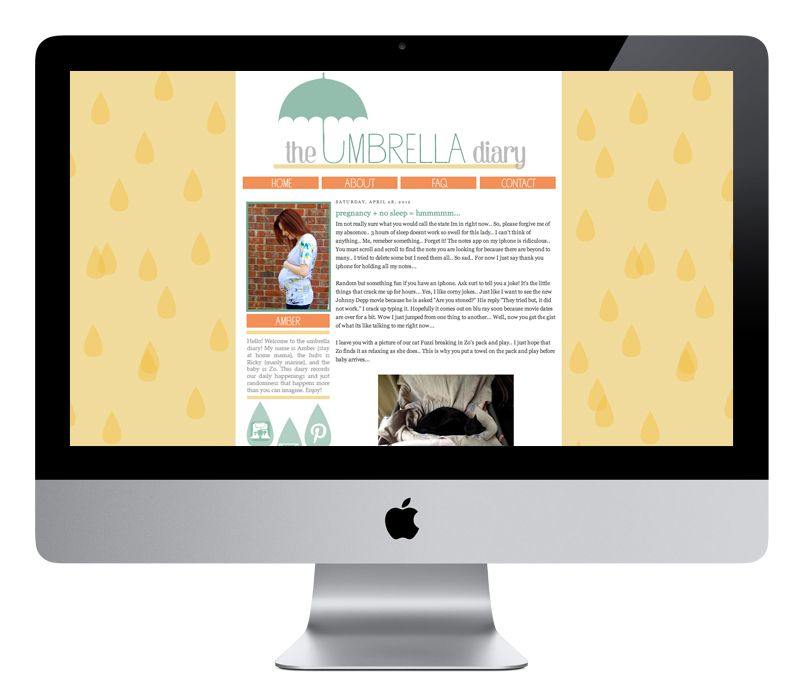 The Umbrella Diary
I
love
designing a brand new blog for a brand new blogger. When someone dives in head first with a totally custom design, I can't help but watch the story unfold! Amber is preparing for her little bebe and we did an umbrella theme for her blog... because duh, it's called The Umbrella Diary! These were colors I am totally not used to working with, but I love working out of my element.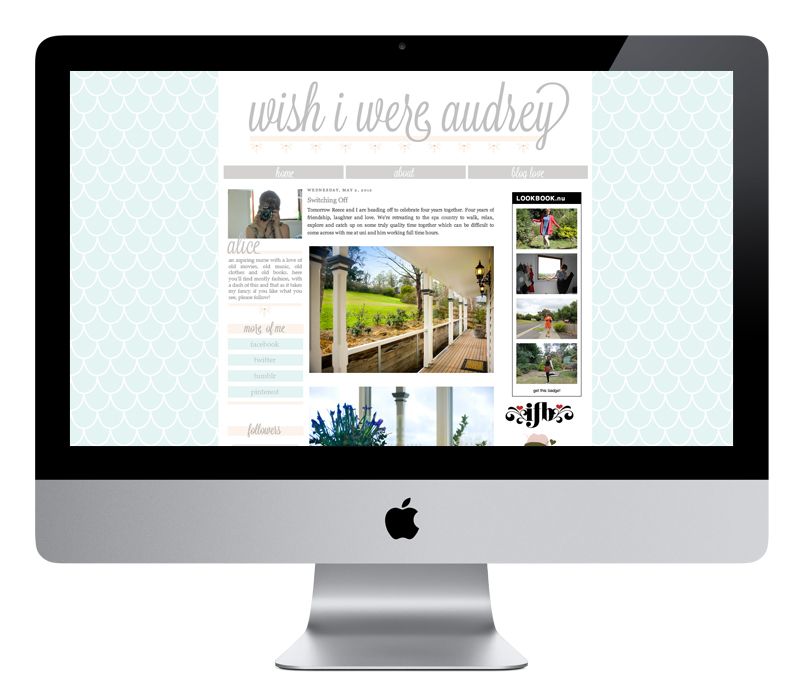 Wish I Were Audrey
Alice's blog just exudes class. How can it not with a name like that?! She pretty much left the entire design up to me and I was so tickled when she loved absolutely everything in the first mock! I feel like that doesn't happen all that often but I've had a slew of incredible clients here lately! They make me love my job.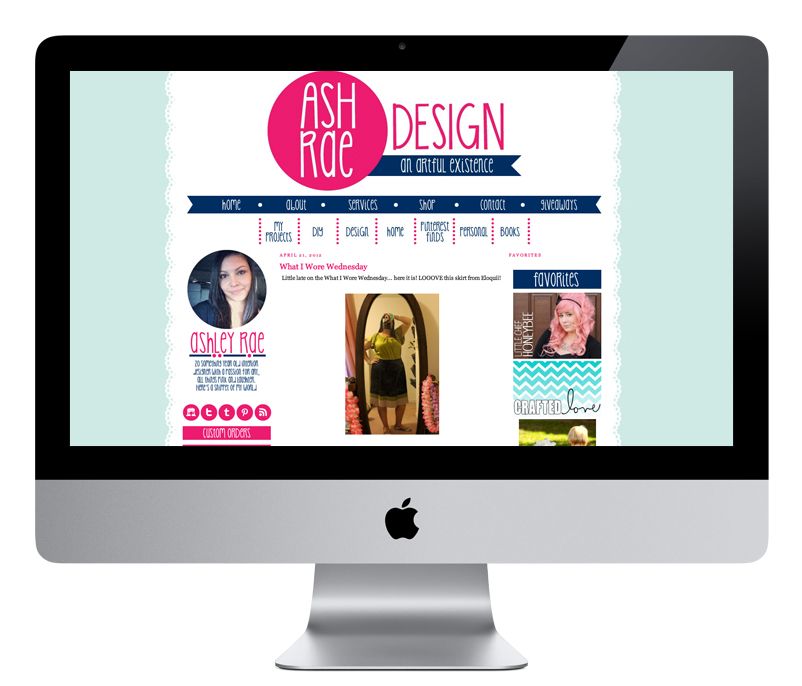 Ash Rae Design
When Ashley first sent me her color swatches, I went white in the face. Not because they were bad or anything, but because I had never worked with a bright lime green before! With fuschia! After a few trial and error color combos, we settled on a mint/baby blue and navy/fuschia. The background you see on here is actually one from a template I designed for my (still to come) shop!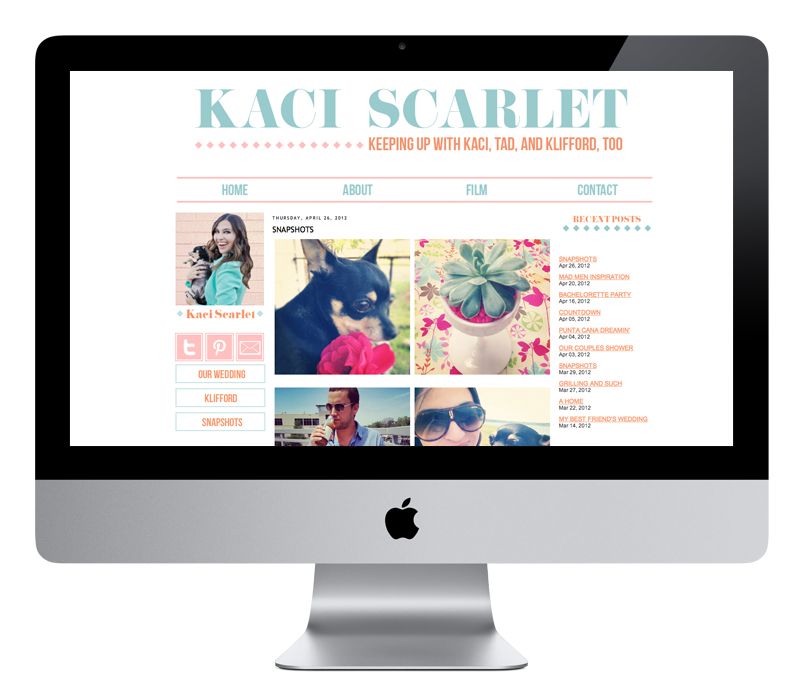 Kaci Scarlet
This is one of my most recent favorites. Everything about it is simple and clean. Again, not something I'm normally used to. The blue, coral and pink color combo has totally won me over and I kind of sorta want to use it on everything!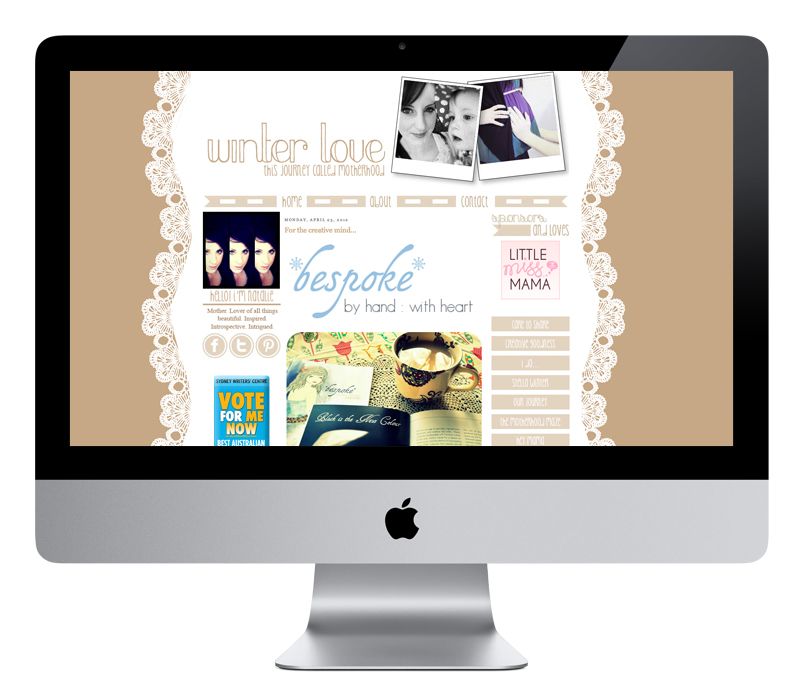 Winter Love
This blog design makes me think of coffee. Undeniable. And perhaps that was because I designed and coded the whole thing while sitting in a coffee shop here on the East Side. It's a little bit different from what I normally do but I loved Natalie's vision and I was so happy to take part in it.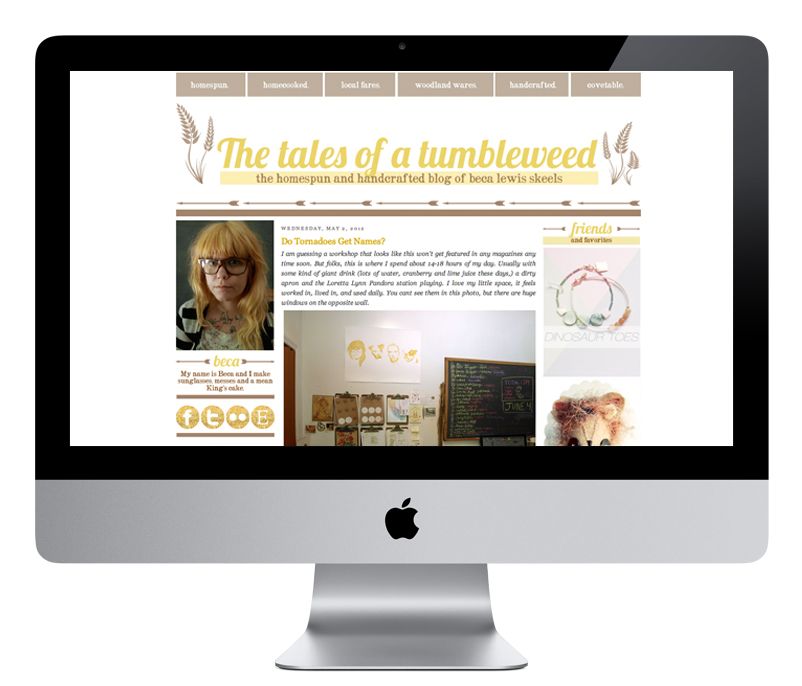 Tales of a Tumbleweed
This is my most recent design... only coded and installed about 2 days ago! Beca is one of my favorite people in the world and I was delighted at the opportunity to give her a new creative space. She's one half of the mastermind behind the Tumbleweeds wooden sunglasses! I'm so glad she ended up loving what I made her!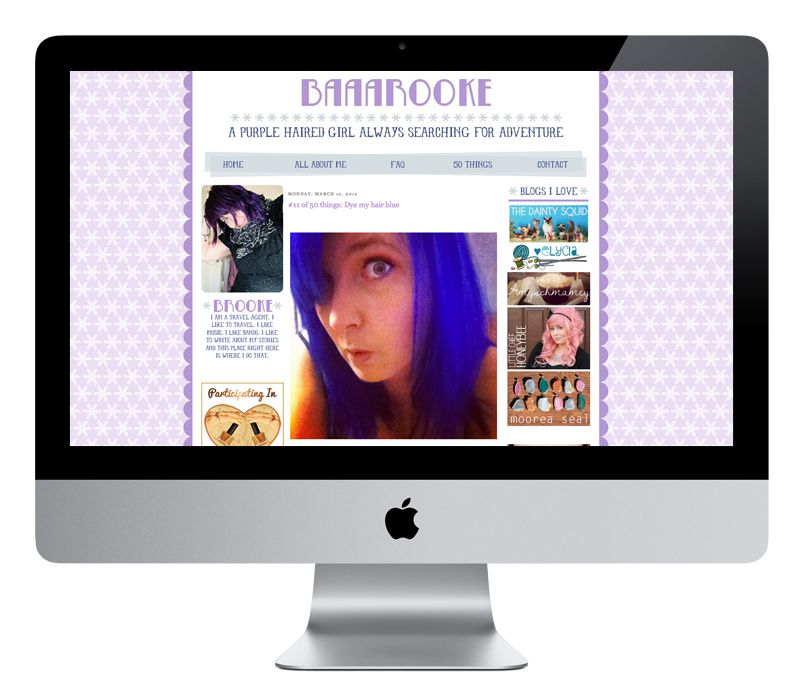 Baaarooke
A purple on purple on purple blog design for a purple haired girl? Um yes! She recently went blue, but I had loads of fun with this one. From little details here and there, to the gradient in the colors, I like this one lots!
Hello, Lovely!
Another recent one from just this past week. Jordan recently revamped her blog from being just about baking to being more of a lifestyle destination. She wanted scallops and mint... so scallops and mint I gave her! It's simple but classy, and I think that's totally representative of Jordan's aesthetic!

Dermie Pie
This week I also designed a new header for Andrea. She wanted something that was more encompassing of what you'd find on her blog. We decided to go the route of a recipe card, some fun illustrated glasses, flowers and baked treats. Yum!
♥ ♥ ♥ ♥ ♥ ♥ ♥ ♥ ♥ ♥ ♥ ♥ ♥ ♥ ♥ ♥ ♥ ♥ ♥
♥ ♥ ♥ ♥
Right now I focus mostly on vector based designs, but I'd really like to work more on texture and raster based work. Illustrator will always be my favorite, there's no denying that, but I'd like to get a little more variation in my portfolio. I'll gladly design whatever it is that the client wants, no doubt, but I do still think I've worked myself in somewhat of a corner with my aesthetic. Is it crazy that I've had this blog design for less than a month and I'm already dreaming up something new? New and totally different! We'll see when I actually get around to doing it!
With that being said, I'm completely caught up on clients, less the 2 I booked this week! I'm eagerly taking on more clients for the rest of the month and beyond, so if you're on the hunt for a Blogger makeover, please don't hesitate to email me! (kaelahbee at gmail dot com) We can chat rates, specifics, inspirations... My turnaround time is incredibly quick when we work together! (If you don't get a response from me this weekend, you'll get it on Monday! Not sure how much internet I'll have. I'm looking forward to stepping away!)

If you want something simple, handdrawn, and/or completely different from what you see above, don't let that stop you from reaching out. I'm eager to try new things and do something different. I ultimately think your blog should be a reflection of you. You should be inspired by it! You are the one who has to write in it... no one else! Make sure you feel good about it.

We're headed out of town for the weekend to celebrate Mike's birthday! He's a Cinco de Mayo boy so everyone likes to drink tequila and eat Mexican food in celebration of him, right? Right! I'll still have goodies lined up for you this weekend. Be sure to check back tomorrow as the giveaway is kind of rad! xo