We've been staying at my parents' house all weekend, trying to enjoy the sunshine and pool. So far so good! We came down on Friday morning and got entirely too much sun immediately. I headed into work even though I knew it was going to be dead. Sure enough it was basically a ghost town! I stayed until 2am and then headed home. We went ahead and decided it just wouldn't be worth me working on Saturday, so I jumped at the chance to have a weekend night off. It's a bummer to miss out on money, but I wouldn't have made any anyway! Instead we spent Saturday floating in the pool, playing water guns with Toby, grilling out with our family, and enjoying the new (huge!) deck my step dad built. Sunday was more of the same... grilling out, roasting in the sun, and falling asleep before midnight. Today we're wrapping up our visit with a delicious home cooked breakfast and then heading toward home. We plan on stopping by the farm where we're getting married to investigate some of the other barns, but we're looking forward to getting that long drive over with. It was the perfect weekend!
This dress is the Aryn K. one
from my sixth
Stitch Fix
box (
peep it here!
) I was nervous that it wasn't going to work with my body but I kind of love it. Belting the top might seem a little weird, but it really makes the dress so much more flattering (on me at least). I just look like a blob if I don't cinch the waist (oh what a blogger thing to say!). The colors of this dress = the best. I decided to pair it with a darker shade of red. It seemed natural, almost like an ombre of sorts. I also wore
my red MIA wedges
to match. I'm telling you, these wedges are the most fantastic things EVER. (
They're also on mega sale
right now.. like 50% off!)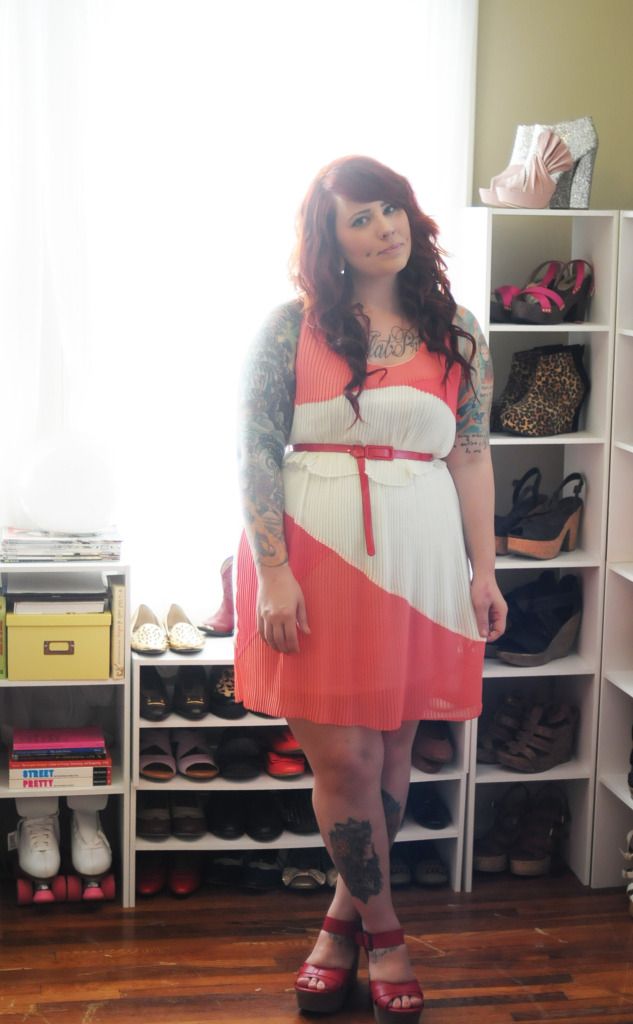 I haven't answered any emails or anything since being out of town, so I promise to get back to business starting tomorrow! There's not even any cellphone signal here. My texts haven't been sending out so I've been feeling cut off from the world (and it's sort of been awesome). Anyway, have a great Monday/holiday!
Aryn K. dress via Stitch Fix
Forever 21 belt
MIA wedges via Ideeli
PS: Ideeli is having a big sale today (dresses, shoes, bags, etc), and I noticed there are several ModCloth dresses going for $19 - $40! Here's an invite if you're interested!