I just happen to be friends with a lot of engaged people, both online and off, so with their wedding days approaching I've been noticing an increase in stress and all around panic. One girl I follow on Instagram posts every single day about wedding plans and a countdown (which I love seeing, otherwise I wouldn't follow her!) but she's constantly talking about being in "panic mode!"... Her wedding is three months after mine. Did I miss something? I get that planning a wedding is a big deal and while some people wing it, I'd like to have a little structure, but I'm wondering if I'm being too lax. Things will fall into place, right? (I say this like 2 weeks after I almost had a meltdown about my dress... man, it's a crazy rollercoaster!)
Anyway, Mike and I have been looking up honeymoon destinations for the past two days, and trying to get a mental idea of how much needs to be saved, what we need to do, blah blah blah. We don't even have a rough guest list made yet (and it's barely 5 months out). Still, I feel like things will come together and all will be well. But while we're talking about finances, I've been weighing what takes priority for our wedding and how we're going to pull it off ourselves. What we'll save on and what we'll deem worthy of a splurge.
Photography: This is really the single most important item to us. Having photos of our day will be far more enjoyable than a dusty ol' dress in my closet, or shoes that I'll probably never wear again. Not to say I want to forget about those entirely, but photos will probably be our only real splurge. We're incredibly fortunate that our parents have offered to gift us our photographer as we're paying for everything else ourselves. That kind of help was so gracious as we don't know how we'd manage it on our own at this point.
The rings: This is another area we feel strongly about. We definitely want rings that will fit our styles and last forever. However, that doesn't necessarily mean they need to be expensive. I talked briefly last week about ordering a new engagement ring that we both found and fell in love with.. well, it's here! It was delivered on Friday and I don't think I've stopped staring at it since. (Peep below!) I've been looking up rose gold wedding bands and have found a few via Etsy that look promising, and we're headed to a jeweler soon so Mike can try on a few styles and get a feel for what he likes. I love that there's something special about our jewelry... be it handmade, hand hammered, or antique (my new one is!), it just feels more "us" than something purchased out of a glass case (but I'm totally not knocking that!). My new engagement ring is an antique cushion cut morganite stone surrounded by a halo of 16 diamonds and then 3 diamonds on either side of the rose gold band! It couldn't be more perfect if it tried.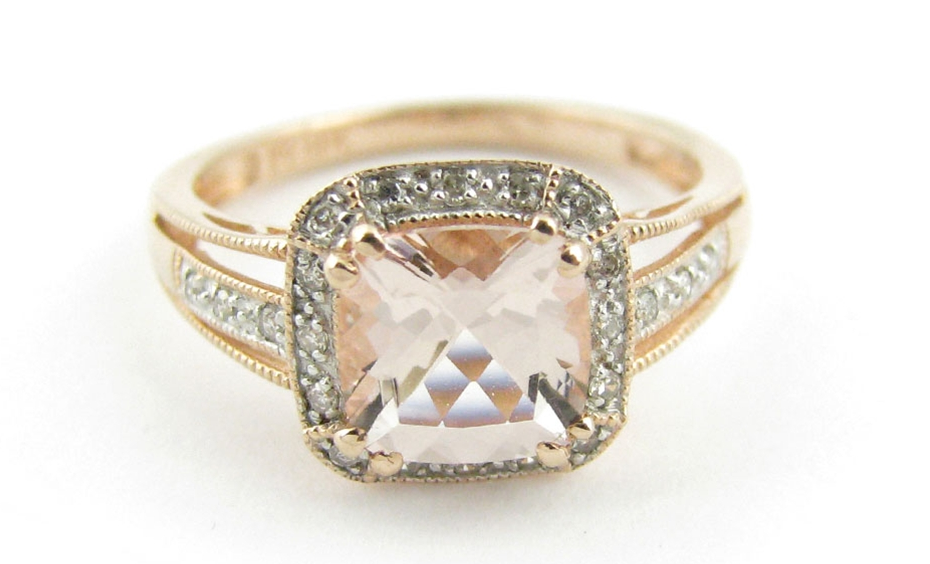 Honeymoon: Um, they're expensive! Geeze louise! We've been tossing around a few ideas for what we'd like to do but we haven't really found it yet. Our first idea was to fly to Portland, take the train to Seattle, and then the ferry to Vancouver all in the span of a week or so, but just seeing how much just the flights + hotels cost, we'd rather be able to enjoy ourselves more while there. With that being said, it's still on the table, maybe less Vancouver. We're also looking at a roadtrip + weeklong getaway somewhere like Hilton Head Island, SC, or even in North Carolina where we were engaged. And finally we've been charting out some mid-October cruises to Mexico/Bahamas that sound fun. I guess in terms of our budget, the honeymoon will be a splurge regardless of where we go, but hopefully we will get our money's worth! Afterall, a wedding is about being married right? I'd like to enjoy some time with my new husband! Have any of you been on a cruise? Where did you go on your honeymoon?
The dress: I've watched a lot of Say Yes to the Dress in my day. A lot. And I know it's not uncommon for brides to spend $25,000+ on a wedding dress. You know what? That's awesome! Go you. I just don't feel like that's something I need to splurge on. Currently I'm toying between the idea of my backup dress and a handmade dress from Etsy, and it'll most likely come down solely to our budget and if the alterations I'd like can be done or not. If we can swing it, I'd love to, but I'll probably also weigh it against where our honeymoon is and what we could do with that money instead! I've seen so many weddings with $100 dresses or even Forever 21/H&M dresses and they were darling. A wedding dress doesn't have to be extravagant.
Mike's outfit: We want a very casual-type of wedding, especially when it comes to our attire. Luckily Mike already owns almost everything he'd need to wear, and if he doesn't, we can get it without much of a fuss. This is one of those times I'm really glad he likes to wear dress pants and button-ups/bowties on any given day!
Catering: Well, we can't get a solid answer on this one yet. We have an idea in mind for catering (picnic style), but we have yet to receive a quote. If it's just too high then we'll probably revert to our original idea of a dessert/sweets bar and a boat load of pies! We're lucky to have some very cuisine-inclined people in our family so if it comes down to it then maybe they can lend a helping hand or two! I mean, it's a southern farm wedding afterall... I guess a big ol' BBQ would suffice!
Decor, florals and rentals: Since our wedding event is happening outside, we're really really praying for good weather. What if it rains? What if it's unusually cold in October? What if it's still blistering hot? Well, we're hoping for the best! We hope that the option exists to move the festivities inside the barn, but this barn is wayyyyy out in a field. Like, way out. (Cross your fingers for us!) But we like the idea of hay bales for seating (cliche, but I don't care!) and a lot of DIY/thrifted stuff. I'm really going to have to start pestering my friends to come over for craft nights soon to help! We're really really hoping that some family friends can lend us some hay bales, but if not, at least those shouldn't be too expensive. We got really lucky with the venue being free so let's hope that kind of help continues! We feel really really really fortunate to have so many kind people lend a helping hand or offer up their property/services. I guess it helps to have parents that people like! We plan on making our own floral arrangements (yikes!) and keeping them very very simple. We've found a few wholesale florists around town so we'll be headed their way soon! If the weather is crummy then we'll have to rethink our entire reception but I'll cross that bridge when I get to it!
I plan on using any and all resources I can to find cheaper alternatives to things I'm after. I've been scouring resale sites, Craigslist, and flash sale sites in hopes of finding a big ticket item for less. I've been lucky enough to find some mismatched items on CL, and get some decor on Fab + Ideeli. Today
Rue La La
launched a 48 hour boutique sale featuring dresses from Badgley Mischka, Nicole Miller and Jenny Yoo. Here are a few of my favorites! (Some of these dresses are $99... and headpieces are $10! If you're planning a special event,
check it out
!)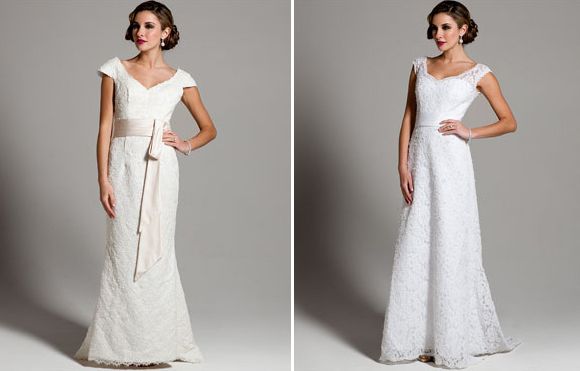 20's inspired dresses:
One
//
Two
70's inspired pieces:
One
//
Two
(Seriously considering both of these!)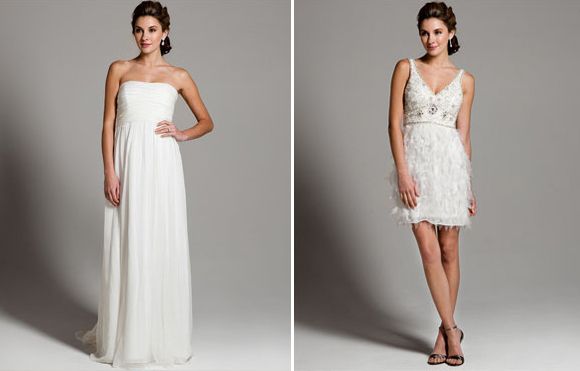 What did you save/splurge on? (or what's your plan for your wedding day?)