I risk posting this and sounding like a broken record, as I did one just last week, but I've got backlogged posts piling up and not much filler in between! Crazy week thanks to preparing for Honeybean's event this weekend. Once this weekend comes and goes, I'll be back on a more thorough posting schedule. I have lots of fun things (or so I think!) in my Little Book of Ideas to write and shoot... just gotta get around to it! You can expect a new Cocktail Hour post as well as informative updates + recaps soon!
I received my fourth (?!)
Stitch Fix
box last week and was tickled pink when the first dress I saw was
the BB Dakota dress
I had been coveting for several weeks. I had put it in my shopping cart multiple times on
multiple
websites, but decided that I was going to let my SF boxes be my little surprise treat. I'm preparing for another massive Kaelah's Closet cleanout so I didn't want to overdo it and be counterproductive with my efforts. I was stoked on this box because it was 4 dresses (and one pair of accessories (earrings)). I realized that I needed to go in edit my questionnaire a little bit to make sure I didn't get sent earrings again haha. It's hard to wear post-studs when you've got 1.5" stretched ears! This box also helped me realize I wanted/needed to tailor my SF boxes to not include any tight-on-the-rump MM Couture dresses. I've received 2 different dresses in the past 4 boxes and well, they just don't fit! Of course I didn't think of doing either of these things before my next box shipped, but there's always next time :)
Here's a breakdown of this shipment: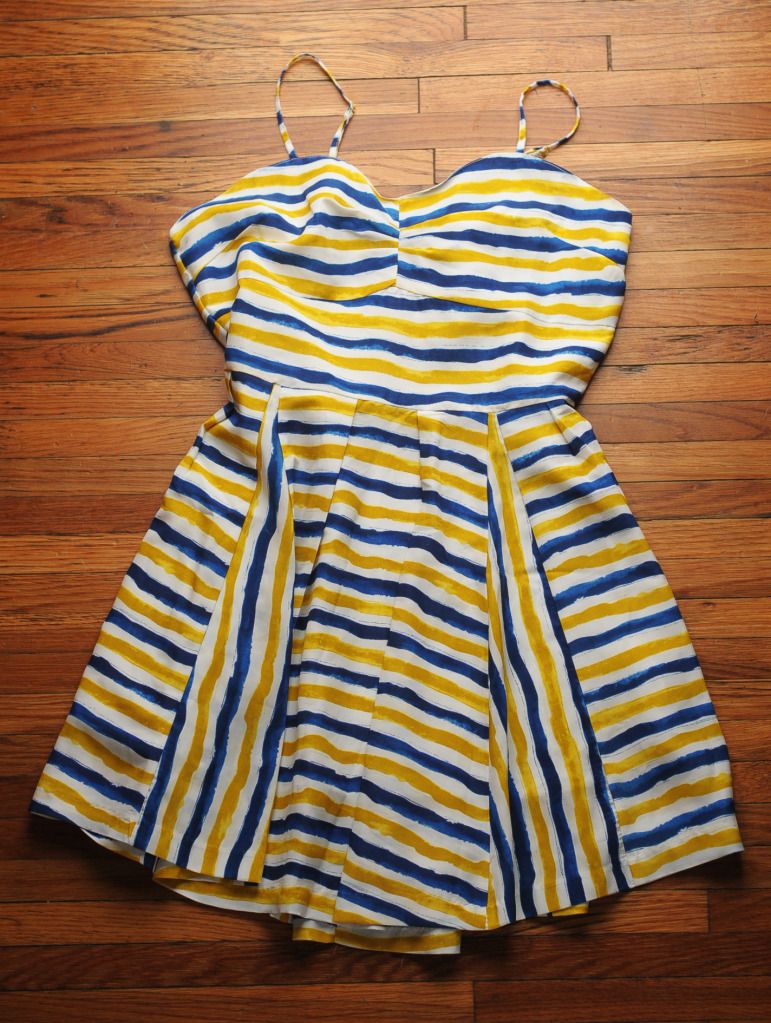 Jack by BB Dakota Lund Dress - $65
This dress was the dress I had been wanting for a while. The yellow and blue stripes make it so perfect for Summer. I love the painterly look of the stripes. I totally imagine this dress paired with a big bow belt, some white wedge sandals, and maybe even a floppy hat if you're feeling real frisky. It was definitely the best thing in the box! If you want to snag one yourself, you can buy it at
Urban Outfitters
,
Swell
, or
Fred Flare
!
This was the second and last item I ended up keeping from this box. It's not my normal style
at all.
Another one of those dresses where I wouldn't have picked it up off the rack and tried it on otherwise. It's one of those "mullet" dresses. Excuse the incredibly poor word choice to describe it, but it's one where it's short in the front (tea length/mid-shin) and long in the back (maxi length). I prefer this length over the mini/medi combinations I've seen and find it to me a lot more flattering. The bottom of the dress looks grey but it's actually an off-white. Hard to photograph properly from 7 feet in the air (Yeah, Mike was on a ladder in our kitchen... Do I sound like a crazy blogger yet? The things that man does for me...) Anyway, green and royal blue are totally not in my wardrobe, like, at all, so this was a nice departure for me. I'm also not really a sandal girl, but I hope I can find some nice flat sandals to wear with it this summer. It's long enough where I don't have to worry about the wind showing my goods to everyone in the world. It's a bit steep in price, but upon inspection I found the quality to be really really great! I couldn't find the Blue/Green one online, but I did find
Mint/Yellow
(gimmie!) and
Blue/Coral
! You can also find W&C sold at your local Nordstrom!
Willow & Clay Button-down Dress - $98
This was the one item in the box that I reallllly wanted to work for me. The color was beautiful, the cut was beautiful, the pattern was beautiful, and Mike really likes dresses with collars. Sadly it just wasn't for me. It fit up top and all was well, you know, until we got to the hips. I'm tellin' ya, my bottom half makes it hard for me to clothe myself! See now why I wear so many a-line dresses?! Haha I think the dress would've been much to short to wear sans tights even if the bottom had fit, but it was still really really pretty. It might've taken some convincing on the pricetag front though! (Tried finding this one online and didn't have any luck!)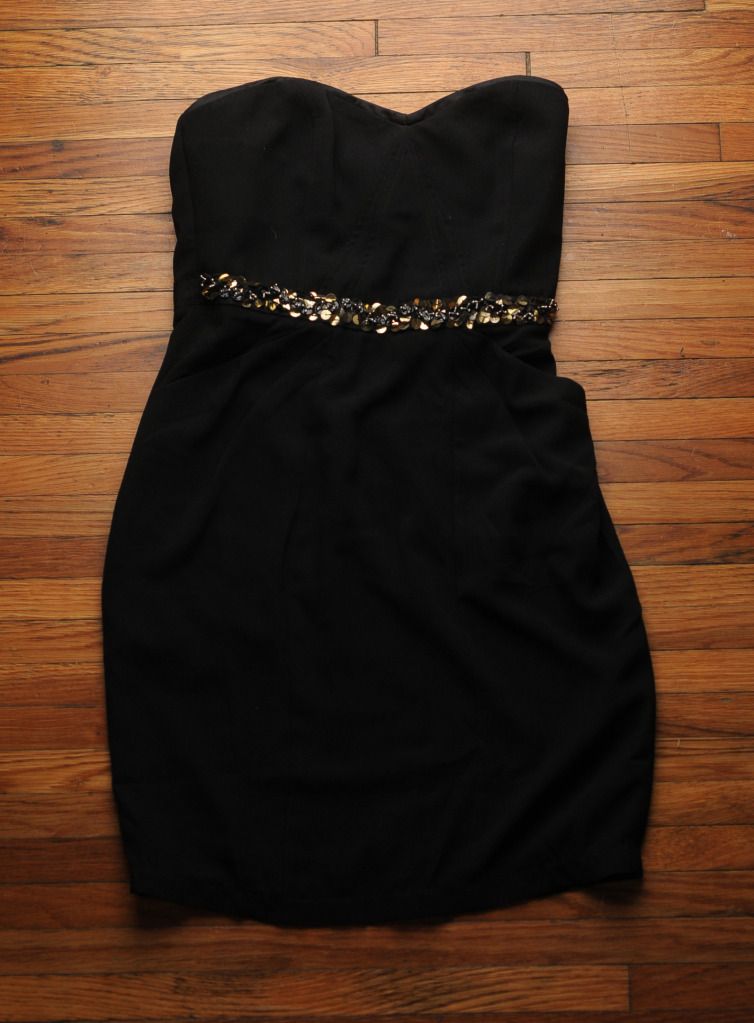 MM Couture Kristen Strapless Dress - $98
This dress looks like it'd be perfect for a bachelorette party, a night out in Las Vegas, or even a velvet rope nightclub (I'm probably showing my ignorance here! Sorry, none of the above is really my thing so I could just be mouthing off at this point!). It just wasn't me. I guess I dress more like a 12 year old than a proper 20-something but I'd rather wear a day-dress or a frilly Betsey party dress than something like the above, though I can see why someone would be drawn to it. It was beautifully made and would look stellar on someone else's body, just not mine! haha I did enjoy the sequin detail at the waist though! (Couldn't find the exact dress but
this one
is the same, just a different sequin pattern on the front! And it's $20 cheaper!)
Betty Carre' Sapphire Gold Studded Earrings - $48
And ahh! Earrings! These were beautiful, but simply not meant to be. I do occassionally miss wearing regular earrings, but I feel like my plugs have just become such a vital part of who I am (That probably sounds so silly and you're rolling your eyes at me now haha!). I feel more "me" with big wooden plugs shaped like buttons or maps or whatever. I'd like to build a bigger collection but goodness gracious plugs this size are spendy! Often $100+ a pair. Okay, my tangent has nothing to do with the above earrings but I don't have much to say aside from they had to go back :( Had I wanted to keep the 4 dresses, or even 3, I probably would've gifted these to my mom or a friend. They're beautifully made! Betty Carre' makes those stunning drop earrings + molded rings that you might've seen around. Here are a few examples: I'd wear the crap outta
these mint + gold ones
, with
this aquamarine ring
, or maybe
this simulated diamond solitaire
.
To see past Stitch Fix review posts, CLICK HERE! To sign up for your own and give it a go, CLICK HERE! If you'd like to learn more about the Stitch Fix process, you can check out their handy dandy page HERE! I really need to catch up on photographing outfit posts featuring the items I've kept! I'm so behind!
♥ ♥ ♥ ♥ ♥ ♥ ♥ ♥ ♥ ♥ ♥ ♥ ♥ ♥ ♥ ♥ ♥ ♥ ♥ ♥ ♥ ♥ ♥
Now here's my April Birch Box review!
Birch Box
is a subscription surprise box service, much like others I've discussed in the past. I decided a few months ago to take the plunge with a one-year subscription. I've received Glossy Box in the past from the UK brand's press department and loved it, so I'll hopefully be discussing more Glossy Box in the future now that it's live in the US! I decided to give Birch Box a go but wasn't sure how it'd measure up. I've been writing/tweeting about how I was planning on posting this for a few weeks, but I don't like to "review" items until I have a chance to use them for a bit. Without further adieu, here's my take on the goodies inside!
Color Club Nail Lacquer -- Juicy Couture's Viva La Juicy -- Jurlique's Herbal Recovery Night Cream -- Keratase's Elixir Ultime -- ShowStopper's Designer Fashion Tape
I wasn't floored by this month's box, to be honest, but it did have some benefits.
Show Stopper's Designer Fashion Tape -- I'm not sure if/when I'll be using the Show Stoppers fashion tape, but I have definitely heard good things about the brand. I suppose if I wore more risque apparel then it might come in handy, however I'm going to see if I can't find something to try it out with.
Juicy Couture's Viva La Juicy -- I already own a full-size version of Viva La Juicy (and love it!) and I found that this small little sample will come in handy in my purse! I have a really large bottle of it so it's not exactly handbag friendly. If you're looking for a sweet floral scent with a hint of wildberries + mandarin, you'll love this perfume!
Color Club Nail Lacquer -- I'm not normally big on receiving nail polish in subscription boxes even though they're a popular item, and even less when it's a color like this, but I actually ended up liking it. I had to wait a while to apply it because I accidentally dyed my fingernails red (I didn't have gloves! Yikes), but once I scrubbed the hue off enough to apply the color, I liked the coverage. It went on without a hitch!
Jurlique's Herbal Recovery Night Cream -- I really want to find a nice moisturizer/night cream that I love. I have really dry skin naturally so I need to moisturize like no other. I've tried all kinds of makeup, all kinds of creams, and then eventually became so frustrated with the cash I was wasting that I gave up all together. I'm a huge fan of home facial remedies and masks, and even though I've only been using this product a few days, I do like it! It's typically $48 for a full size product so I probably won't be ordering it anytime soon, but my face does feel a ting fresher in the mornings! (Maybe that's just psychology?)
Kerastase's Elixir Ultime -- I love products for my hair. I love things that make my hair feel sleek and shiny and new again. Especially with dying it every month. I've recently cut back drastically on my dying regime, so products like this come in handy. A full size bottle of it is $54 and that's about right in terms of average cost. I've purchased a bottle of CHI's sleek + shine serum for $22 however and it did the job just as well. There may be some long term benefits to Kerastatse's product, but it wasn't enough for me to justify a 300% cost increase!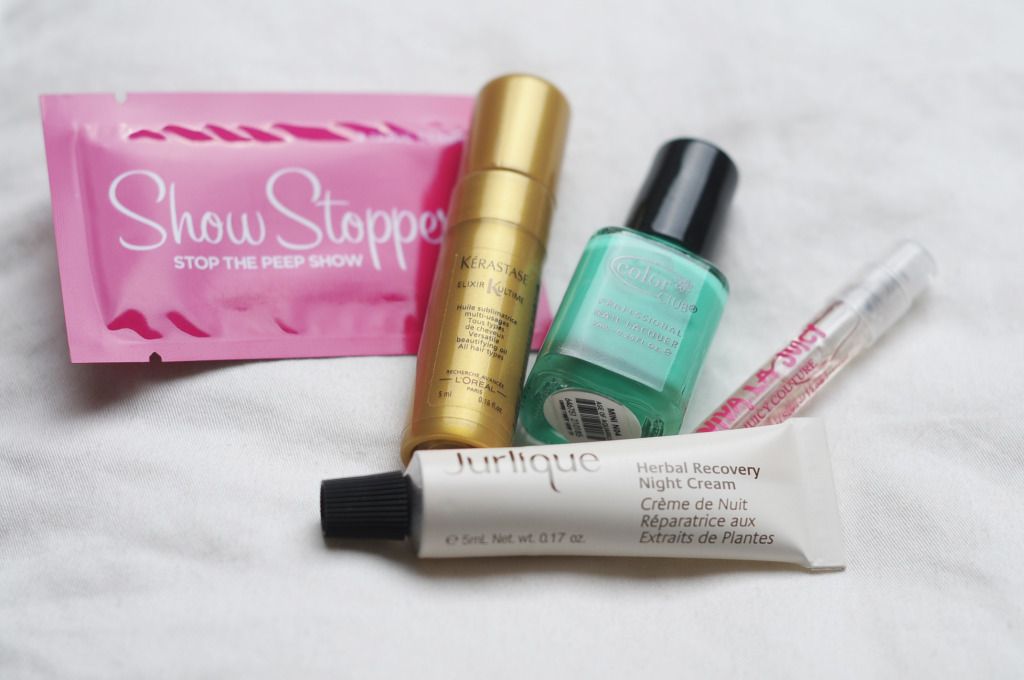 At $10 a month with free shipping, I find Birch Box to be an awesome investment in trying out cosmetics, perfumes, and hair + skin goodies without having to shell out for a full size item. Since I'm trying desperately to evolve in my hair / skin / makeup routine, I find them to be worth every penny. If you're more well versed in your beauty routine, you may find that it's redundant or you may be pleasantly surprised to find new products that you grow to love. Each box is catered to your specific requests and likes. Products vary and I love that. Similar to Stitch Fix in a sense! I'm a sucker for these, I can't help it.
You can sign up for your own Birch Box here
. Typically there's a waiting time, but I personally think it's worth it. You can sign up for one month or one year!
Any experience with the above mentioned services? I'd love to hear your story! If you've been a BB (or any other subscription service) user in the past, I'd love to hear about your favorite products you've come to know through it!
PS; Do you prefer reviews/recaps like this to be posted together, or would you prefer they were their own post and more spread out? I think I'd like to try vlogging my next review... just to mix it up a little. But beware, I'm so weird in front of a camera.
I was not compensated for any of the above post. These are my honest and unbiased opinions!