Truth: I am a list maker. Like, I make everything into lists. Groceries? A list. Craft supplies and building materials? List. Budget? Definitely a list. Pros and cons for absolutely any and everything I can think of? Gonna put those babies on a list. And not just any old list.. not a list in my phone, or Evernote, or on my computer. They have to be hand-written. I don't know why, but I only seem to function well with hand-drawn lists. I think it might have to do with the simple satisfaction of writing something down and then checking it off. Kind of like a "Ha! Take that, list!" Weird? Probably.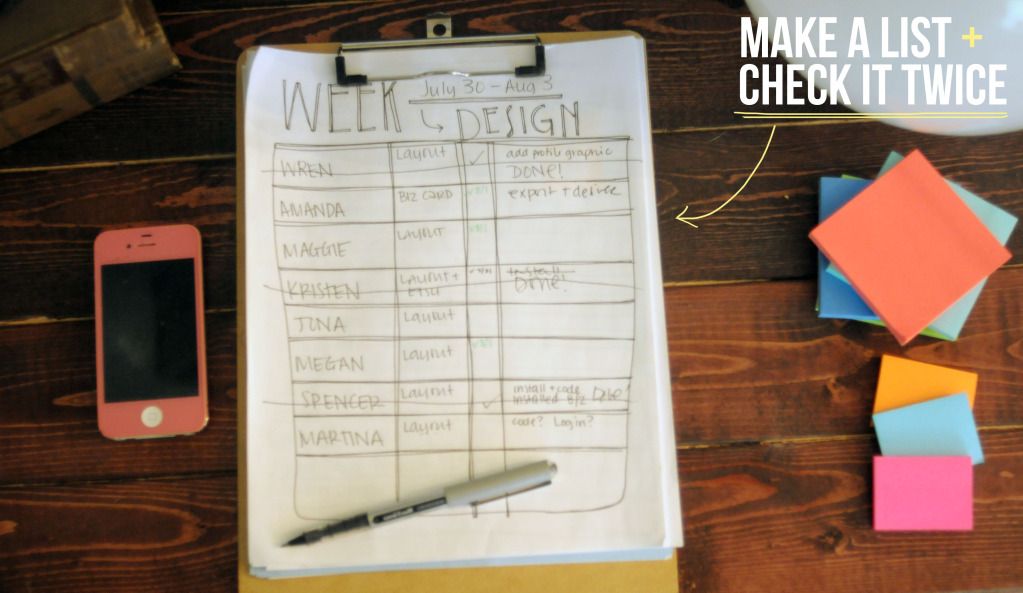 I've always carried around a little blogging notebook with me in my purse. In fact, I've probably referenced my "Little Book of Ideas" about fifteen hundred times over this blog's three year existence. I've always written down blog post ideas, shopping lists, lyrics to songs I want to remember, etc. (The funny part about my blog notebook: I only use an exact replica of the original I had. No other notebook has worked for me. I think it's another psychological thing. I should've stocked up at Barnes and Nobel years ago!) Well, it got a bit hard to control a month's worth of blog posts at a time in that little thing, so I upgraded to a blog-specific planner (The Editor, anyone remember those?) It was fine and well for a while but I never clicked with it. I ended up buying a janky Cambridge planner at Walmart I think. It was a 2012/2013 one and ran about $13. It was in May when I got it and I was so flustered that I couldn't use it until July haha I had always just written posts down permanently, in pen, directly on the planner. But I'm a fickle person and things happen right? I'd always end up scribbling them out, and another thing that makes me abandon lists: if they get ugly. Yep, no clue why. Anyway,
Kaylah
blogged about her method... it was the same as mine, except she used post-it notes. Um genius?! Why did I not think of that?! (Another fact about me: I
looooveeeee
Post-It notes. My computer and desk and corkboard are constantly covered with them, and then some.) I started doing that immediately and my feelings toward my blog planner and my blog in general definitely improved.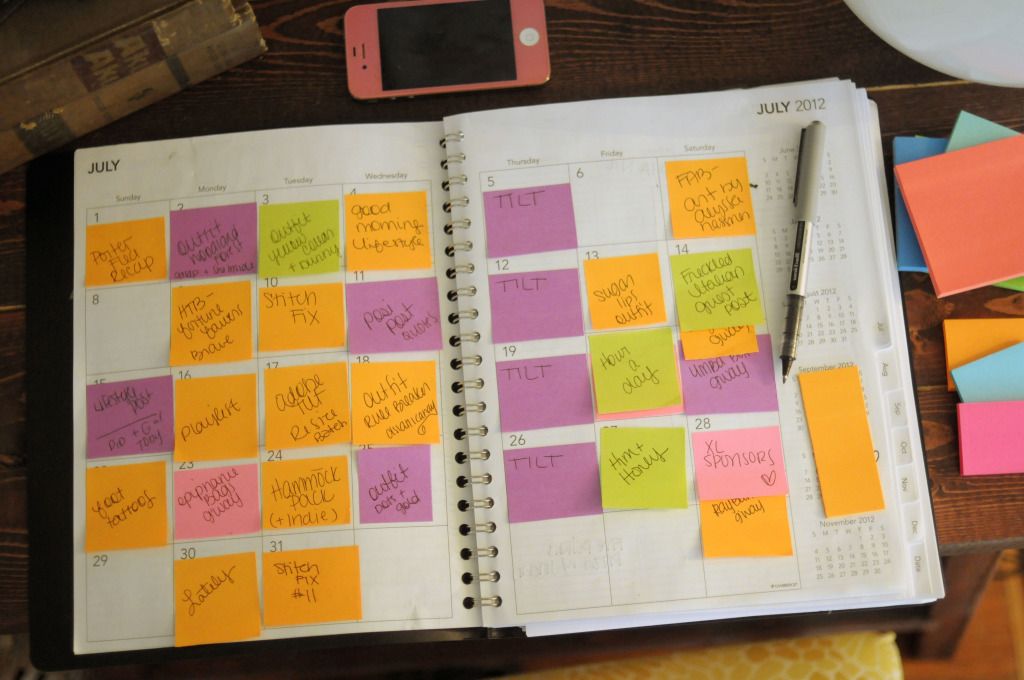 I know some of you are rolling your eyes at me right now thinking "Okay Kaelah, you're a bit of a drama queen. They're sticky notes.... not that big of a deal!" but I'm serious. It changed the way I blog. I started planning out entire months of blog posts at the beginning of each month before I jetted off for 2+ weeks in June. It seriously helped so much. I'm all for finding any way to be more efficient, productive and organized. So sticky notes on every conceivable surface may not seem organized and efficient to some, but it's a heaven send for me. My brain just understands that sort of thing. :P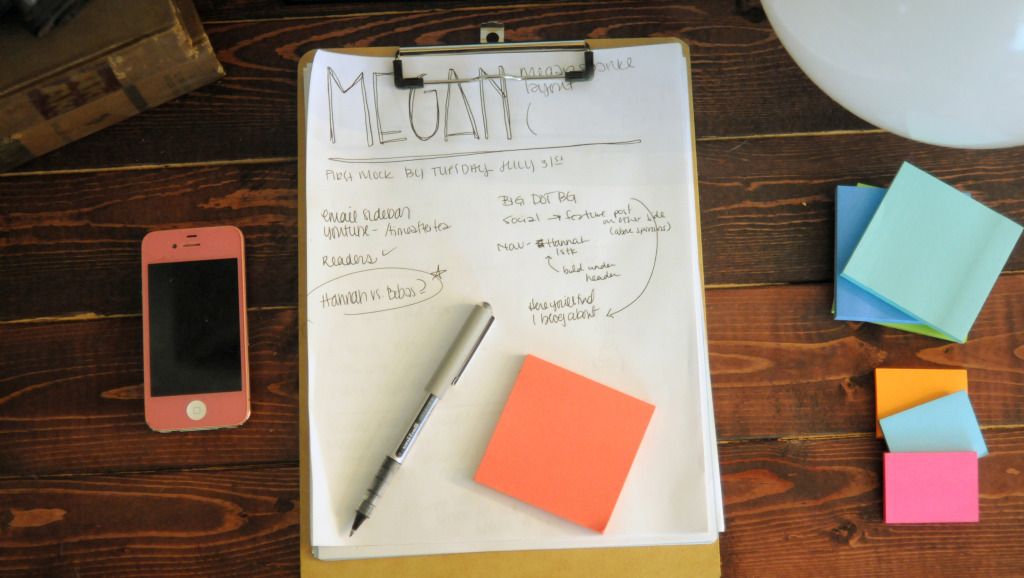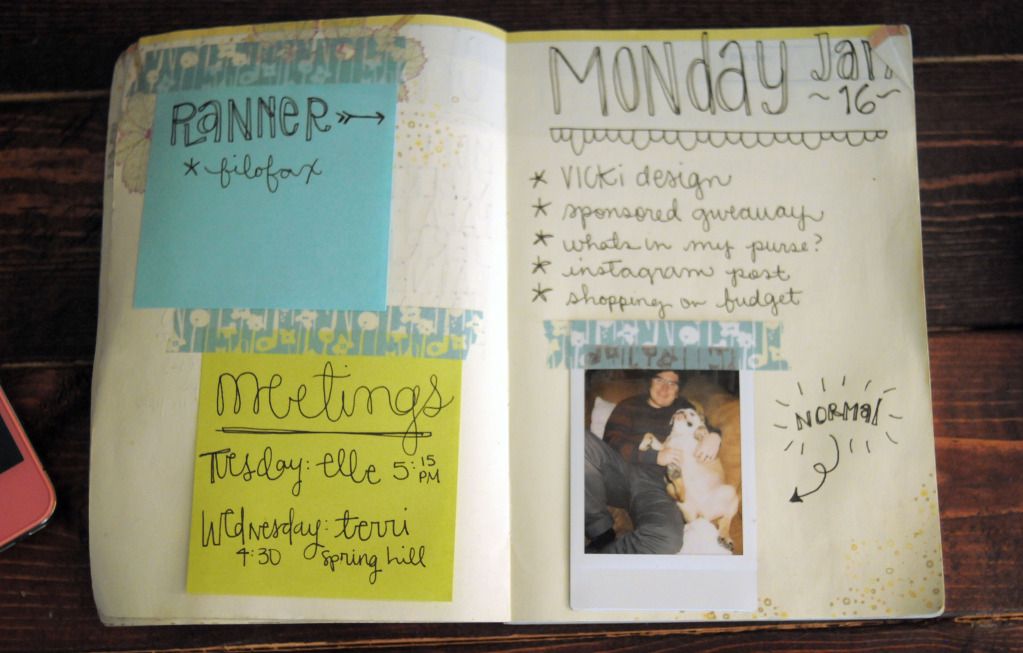 I don't often carry my big Cambridge planner with me, but I've been drawn to a few purses lately that allow me that luxury. Just yesterday our little fam loaded up in the car with pens and paper galore and headed over to Panera just to have a brainstorming session. Mike and I used to have those several times a week before Toby came along, and now we just pencil him in! It's a great way for Toby to play some of his educational games (he loves puzzles!) and draw/write while we're out. He was calm as as a clam, too. I stuffed
my neon (!!!) bag
from
LuLu*s
full of all of my gear and we were off. We sat there for about an hour just dreaming up things we want to do and build and share with y'all here. Mike is in the backyard building some of them now!
While I don't always take my big planner with me, I
always
have sticky notes, my little book of ideas, and multiple pens in my purse. Seriously, being in the car is like the best creativity booster for me so I try to be prepared. A little bit of a tangent -- but is anyone else here a pen snob? I hate using anything that is not a Uniball Vision .7mm pen. I love to doodle and make my lists all decorative, etc, and they're the only pens that are consistently fluid. And the Post-It notes? They have to be the "Super Sticky" kind. I'm telling ya, it's all a mind thing. Gotta have my preference or none at all. (Psst... note the mistake in the photo below. I notated it with an "LOL")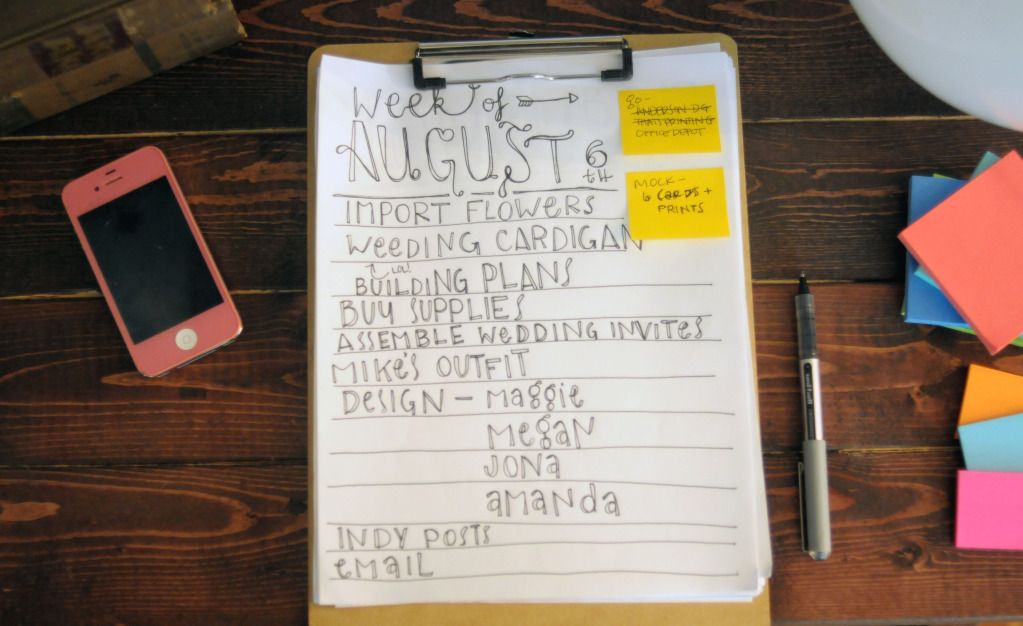 When it comes to design/freelance work and having clients, I prefer to give each client a folder on my desktop that includes all of their graphics, paperwork, etc. But I always make sure to create a single "file" in my desk with everything written out from price of project, to payments, log in info, and specifics that I get back with each mock. I keep all of my "current' clients on a clipboard hanging in front of my desk, and I'm able to quickly check the status of everything.
Maybe it seems silly to devote an entire post to my love for all things list-making, but I seriously don't think I'd be able to function without them. I'm still an unorganized mess in certain areas of my work/life, but I'm slowly but surely figuring out what things work for me. How about you? Are you a list person? If so, what are your weapons of choice?