Well friends, the end of the month only means one thing: I try to cram in all the monthly features that I've somehow forgotten about over the past 4 weeks. Just kidding, I've dropped the ball on several, but I can't let the sub-box haul pass me by! Today I'm sharing
Birch Box
, My Glam Bag,
GlossyBox
, and
Love Club
!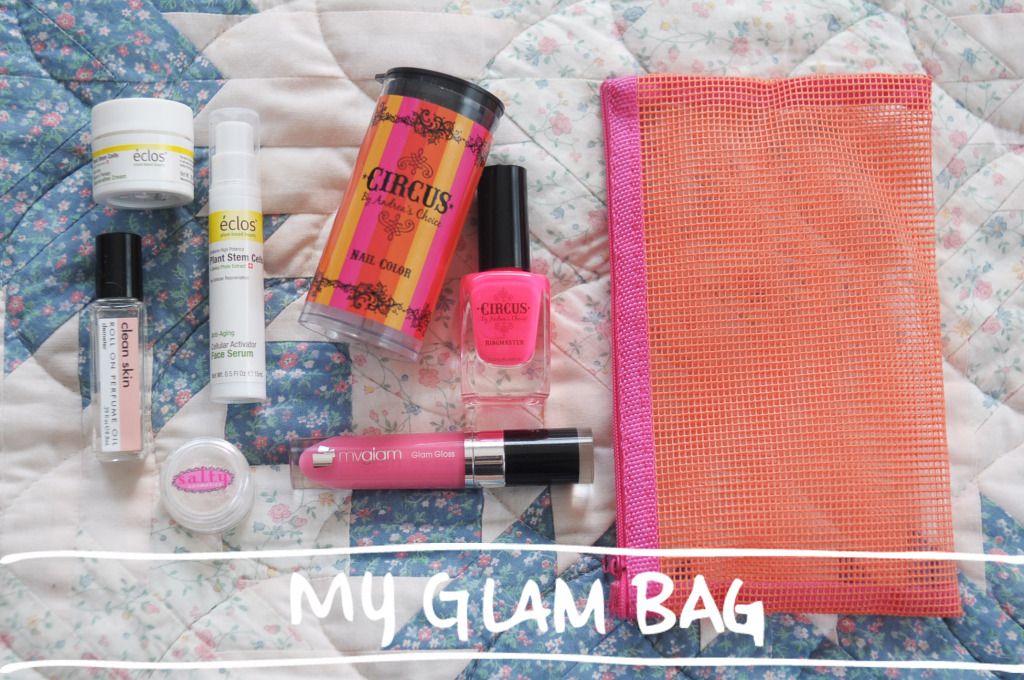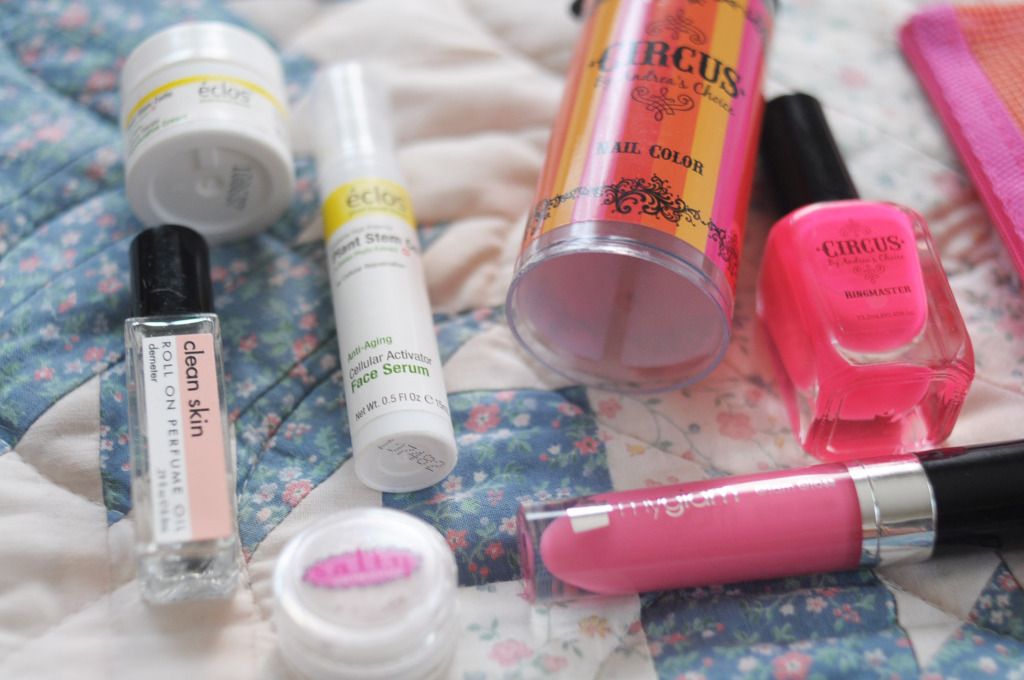 My Glam Bag
is one that I almost never subscribed to because of the founder's sketchy reputation. I've followed it myself for a while and I'm still not a huge fan of
her,
but I do like the subscription service. However, this month's was just " N". The postives? The Circus nail polish (in
briiiight pink!)
... even though I got a Circus nail polish
last
month. The pink is beautiful and it actually holds up incredibly well! That says a lot because I am not easy on my hands. The mineral eyeshadow is very pigmented. Looking at it you wouldn't think it's pink, but it definitely is. The rest: I loved the color of the "generic" My Glam lipgloss,
but
it was
veryyy
sticky and thick feeling, though it gave little to no color. It also tasted like watermelon and I hate all artificial watermelon tastes/smells. Personal preference. The "clean skin" roll on perfume very much smelled like clean skin, and that is kind of creepy to me. I'm not sure why. The 2 Eclos products have yet to get used. Face stuff, galore!
Overall: Take it or leave it.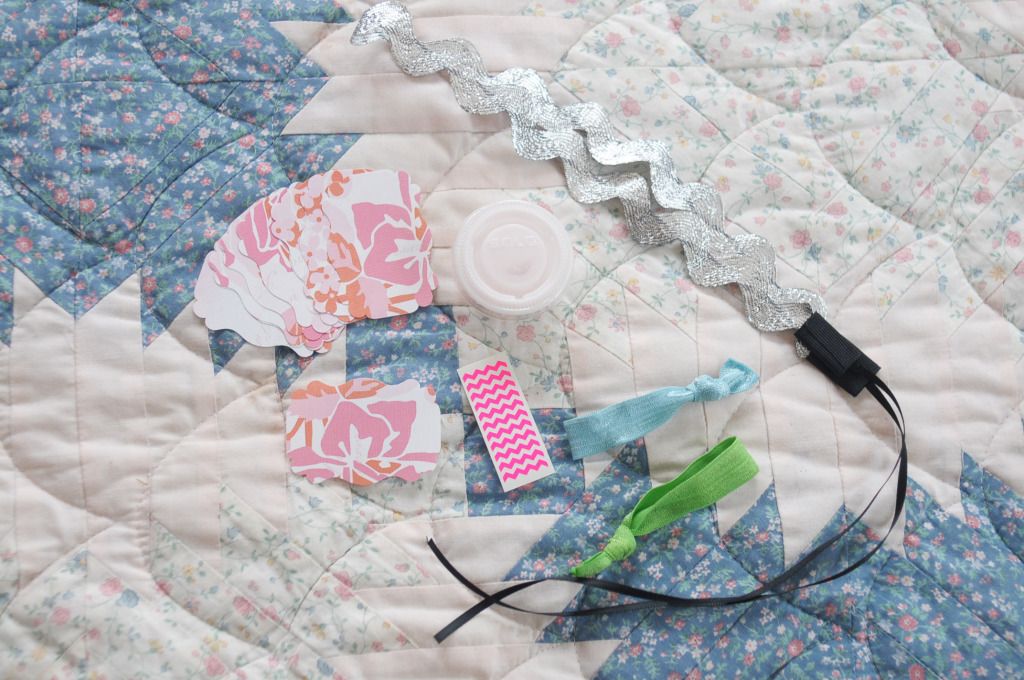 Love Club
is a fairly new player in the sub-box game, and I've heard great things about them so far. I was asked to review their August box (along with other months), so in full disclosure: I did not pay for this box. Opening it up I was happy to see the pretty polka dot tissue paper. I'm such a sucker for packaging. Inside, it felt a little "messy" (for the lack of a better term). Now, take into consideration that I'm someone who buys something solely for the packaging sometimes. A lot of the items were just in clear baggies stapled to a business card. There's nothing wrong with that, of course, as all the items made it safely to me, but I often want more in terms of indie box packaging. Maybe how BirchBox wraps + ties it's smallest items together? Not sure, just an idea :) Inside contents: A silver ric-rac headband that I've already gotten plenty of use out of, nail decals that I've yet to try but am waiting for the perfect color palette, a ginger lily lotion sample that was pretty darn dreamy, and then some of those pain-free elastics (I never wear hair ties so I'll give these away) and die-cut paper pieces that probably won't get used because I'm horrible at keeping up with my letter-writing! (Though the colors are great) Another thing I loved about LC is that the content sheet was fixated clearly on the lid of the box itself. That was a great way to see what I was getting as I was opening it. It's a simple move, but it speaks volumes (to me at least). While August wasn't overwhelmingly "me", I've heard some of the other boxes were truly spot-on, so I hope I have the chance to share those with you. I can think of a few gals that this box would have been perfect for, so that's a great first impression. I also think it'd make for a great gift box!
Overall: Great start, but I can't wait to see more.
There's no use even trying to salvage this one: I was not impressed,
GlossyBox
! I hold GlossyBox to a much higher standard than the others simply on the basis that it costs twice as much. The lip balm came in
beautiful
packaging, but I've just kind of thrown the rest of the box aside. Spoiler: the lip balm is good, but not great. I'll admit I haven't given the hair products a whirl, so they could totally surprise me. Based on other reviews and what my hair tends to lean toward however, I'm not too optimistic.
Overall: I sure hope September is better!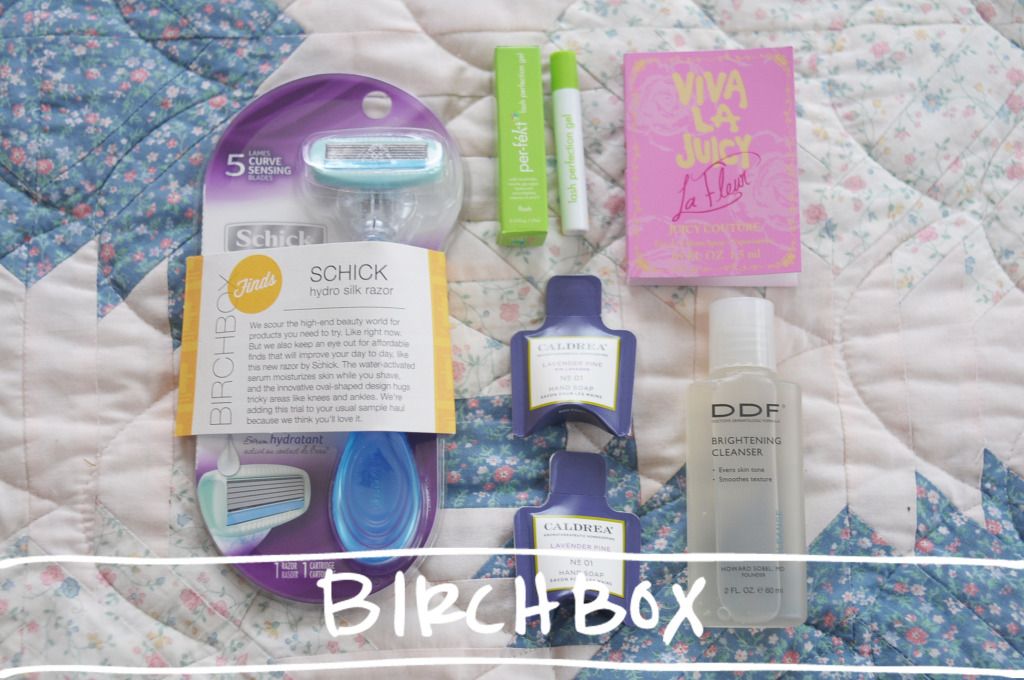 Another slightly-disappointing package? August's
BirchBox
. The only product that actually surprised me and had me excited was the Per-fekt lash perfection gel. I wish the sample had been bigger because I really loved it. I try to switch up my mascara every month because it's the one beauty product I notice a
huge
difference in. I'd recommend it for sure. I think one of the reasons I was bummed about this month's BB was because I got a razor.
A razor.
I just don't feel that to be an adequate usage of my subscription fee, but I'm sure plenty feel differently. The soaps (lavender pine scent) smelled very regal, if that's a word I can use for them, and I decided to keep my little spritzer of the new Juicy Couture fragrance in my bag. I've been using the DDF facial cleanser for a few days and so far so good. It hasn't broken me out like traditional facial cleansers tend to, but it's also nothing to write home about. I do appreciate the generous sample size, though!
Overall: Not nearly as bad as GlossyBox, but still far from the best.
♥ ♥ ♥ ♥ ♥ ♥ ♥ ♥ ♥ ♥ ♥ ♥ ♥ ♥ ♥ ♥ ♥ ♥
Sadly August didn't overwhelm me with awesome like previous months had, but I'm just calling a fluke. Each box had it's own redeeming qualities (except for GB haha) so it's still a success! I have a great feeling about September and I hope it doesn't disappoint. At the end of the day I still really dig all 4 of these boxes and I'd recommend them to absolutely anyone. They can't all be winners, and the gamble of that is what makes it fun.
Did you get any of these this month? How do you feel about them?
(Did I totally miss out on the greatness of one of them? Sway me ;P)
PS: Not related to sub-boxes at all, but Romwe is having a 75% off sale on their site through the end of this week!
Check it out
HERE
!