This is what I wore for the first half of yesterday. I ended up changing for the latter part of the day, but I'll share that outfit another time! We didn't have much going on yesterday and we wanted to kind of take it easy before throwing ourselves back into work today, so we opted to head over to the East Bank Greenway of the Cumberland River to shoot a few rolls of film. We took a few minutes to snap these outfit photos, too. Not the best or most flattering, but I'm wearing the daylights out of this dress since picking it up in Indianpolis this past week. In all of my years living in the Nashville area, I've never once ventured down to the East Bank (or Riverfront on the other side, either!) I'm standing at the southern most entrance of L.P. Field (where the Tennessee Titans play) in these photos and that's a fairly good indication as to why we avoid it haha Game days call for the most insane traffic ever, but Sunday was the perfect chance to check it out. You can see Nashville's iconic "Batman" building behind me, too! I can't think of a better way to frame the most notable building in our skyline.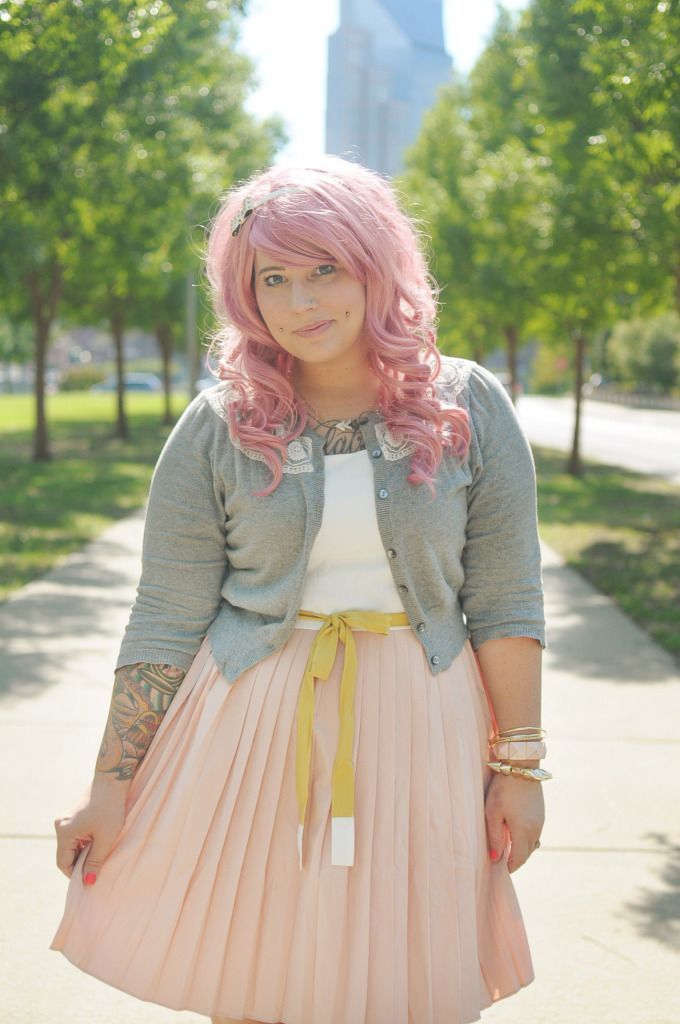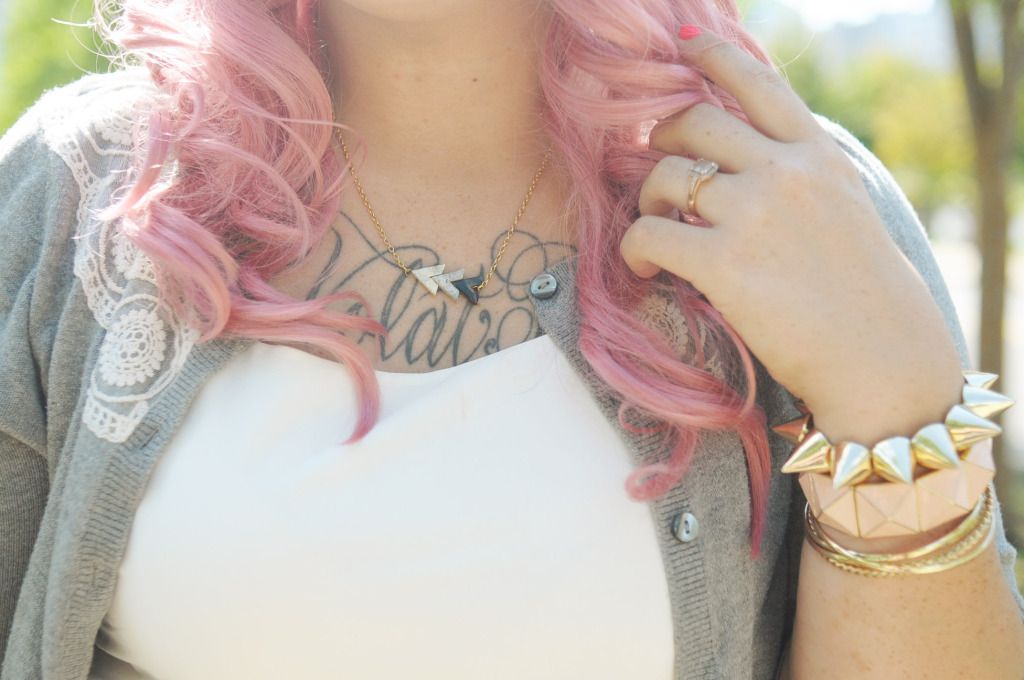 I've been taking noticeable steps toward "accessorizing" lately. I greatly prefer gold over silver and layering up with bracelets has been super fun. This sweet arrow necklace from
Creature Comfort
ties in the gold + grey perfectly, if I do say so myself! It's dainty and sweet, that's for sure. Then the large spike bracelet totally gives a boost of edge. Or maybe I just think too much into it!
This cardigan is seriously years old but it's one of my favorites. It fits very loosely and it's lightweight, too, so it's a great Summer coverup. Also - how cute is this mustard belt on this dress?! I let it roll up and sit too high in these photos so it's super unflattering, but it's really a darling piece. The pleats on the blush colored skirt are just too much, I love it. I snagged it at a local boutique in Indianapolis called Pitaya. The shop girl was super sweet and friendly -- leagues above most of the other boutiques we stopped by. (I have a personal rule with myself never to purchase product from a shop whose associates aren't friendly and welcoming. Some shop-keeps didn't even acknowledge us with so much as a glance upon entering. Tangent rant over :P)
Mike and I booked our honeymoon last night! Finally! Wedding things are slowly but surely happening. I'm wondering when the fire will get lit under my butt about it all. As long as we end up married, right?! Still
so much
to do.... ahh. I'll share more about where we stand on wedding plans come Wednesday. I'm off to work on a few design commissions and send off the last bit of the invites for the happy day!
Ezra dress via Pitaya boutique
Wet Seal cardigan
Sunglasses c/o Romwe
Forever 21 headband
Arrow necklace c/o Creature Comfort
Forever 21 bracelets
Spike bracelet via Edition 01
Blowfish platforms via Haute Look