Shelby Park is one of my absolute favorite places to take outfit photos. It doesn't hurt that it's only a couple of minutes from our house, but it's also full of beautiful backdrops and scenery. The constant traffic inside the park is less than ideal, and the stares are plentiful when you're trying to get your ~mawdul poses on, but I guess that's to be expected when you're being a bit self-interested and you have pink hair ;) I didn't really like this outfit while I was wearing it, but looking at the photos (these are from Monday), I really kind of dig it.
I snagged
this dress
at the Bettie Page boutique on Haight St. in San Francisco back in June.
Melissa
,
Tieka
and I perused Haight-Ashbury for a bit after our long day at the Adobe headquarters and I knew I had to have this dress when I saw it. I didn't even try it on, I just hoped for the best. Luckily it's perfect. I toned down the "whoa!" with a neutral grey cardi (I own
so many
grey cardigans!) and kept the hair simple with just a braided "headband".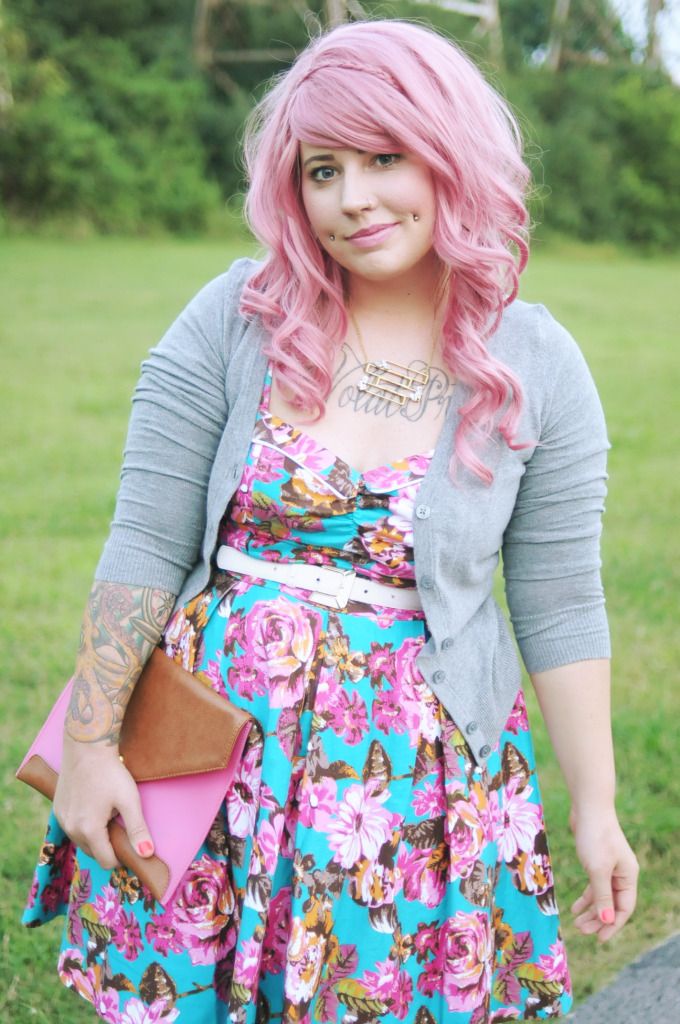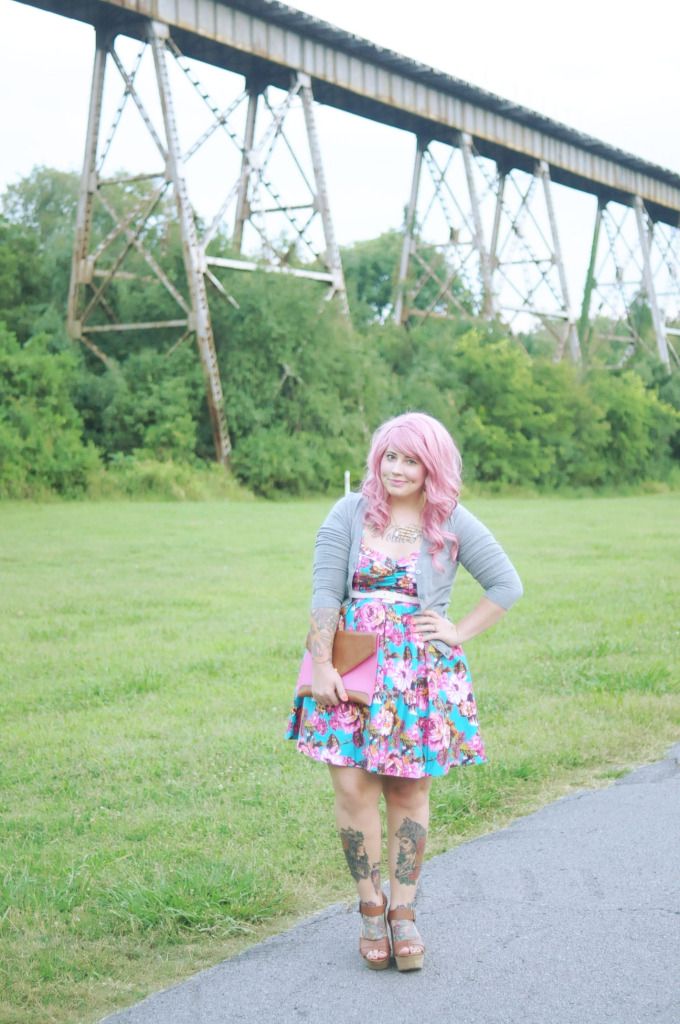 I picked up this little clutch on mega clearance at TJ Maxx a couple of weeks ago and it was the perfect match for this dress and my MIA wedges. I topped it all off with
a beautiful handmade necklace
from the darling Sarah of
Copperhead Creations
. The little flowers are so dainty and sweet when juxtaposed with the hard lines of the foundation. Listen to me, I sound like someone who knows what she's talking about. (Just kidding).
Her shop
has so many pretty things though. Definitely worth a gander!
While it's a bit hard to see, I feel it's worth it to talk about the lip color I'm wearing in these photos, too. It's some cheap less-than-$3 lipcolor from Forever 21 in a really really bright pink. I loved the look of it so I picked it up and finally wore it yesterday. I really expected it to be super opaque and bright, but it was almost like a tinted moisturizing stick. It definitely had some pigment, but it was very subtle and it was so incredibly nice. I was honestly throughly surprised. I definitely don't knock cheap/drugstore makeup as I have my favorites for sure, but I kind of love this stuff. It didn't have a color name on it but just get the really really really bright pink one!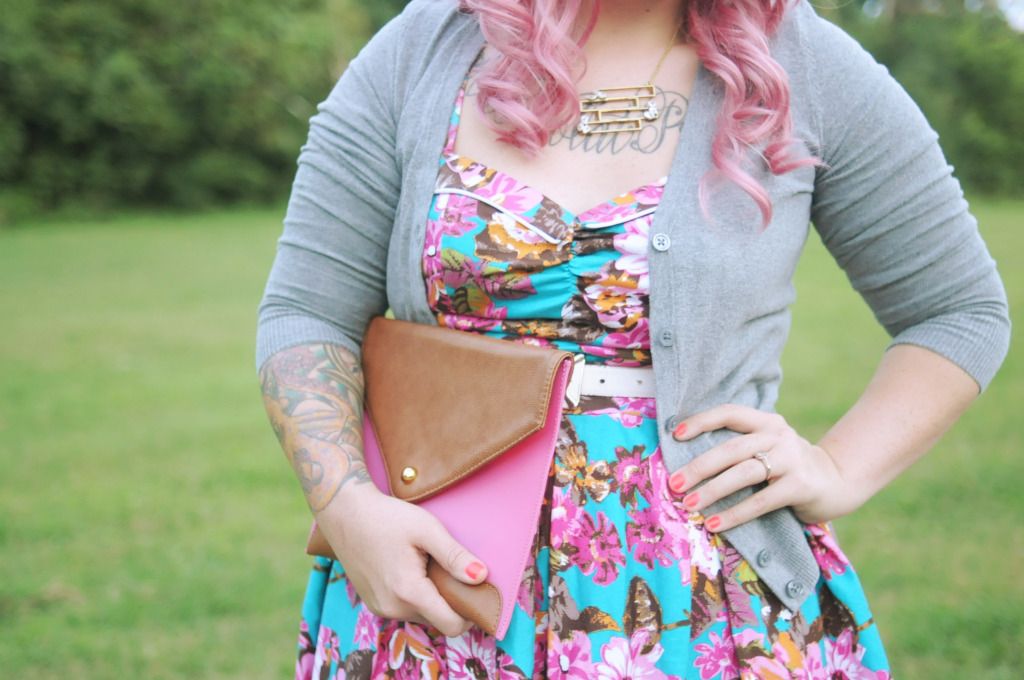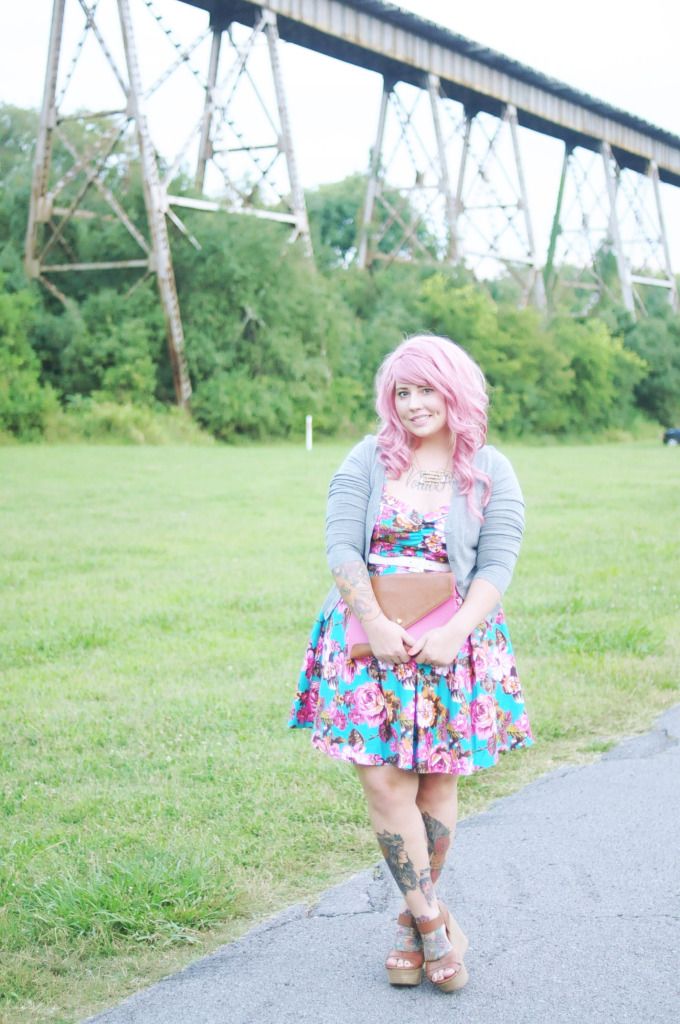 Yesterday we headed down to Columbia to take care of a few things like preparing for upcoming events (vague!), get some of Mike's dress pants hemmed and some of my dresses fixed, as well as getting my wedding dress altered a bit (!!!). I've been putting it on and prancing around the house just for the fun of it and I'm getting so excited. Mike picked out my wedding shoes and I'm trying to figure out what cardigan to wear. It's like 38 days away and we don't have a caterer, DJ, justice of the peace, decorations or hay bales. We're just winging it at this point. Am I crazy? I think I'm crazy. I did finally order our wedding rings last night though.
Target cardigan
Thrifted belt
TJ Maxx clutch