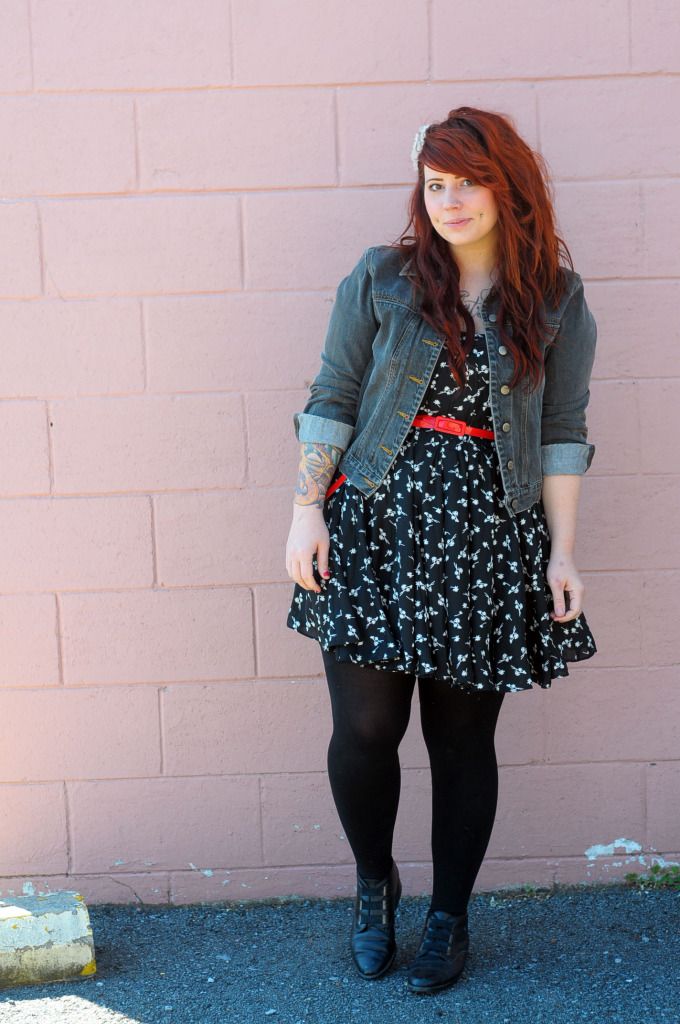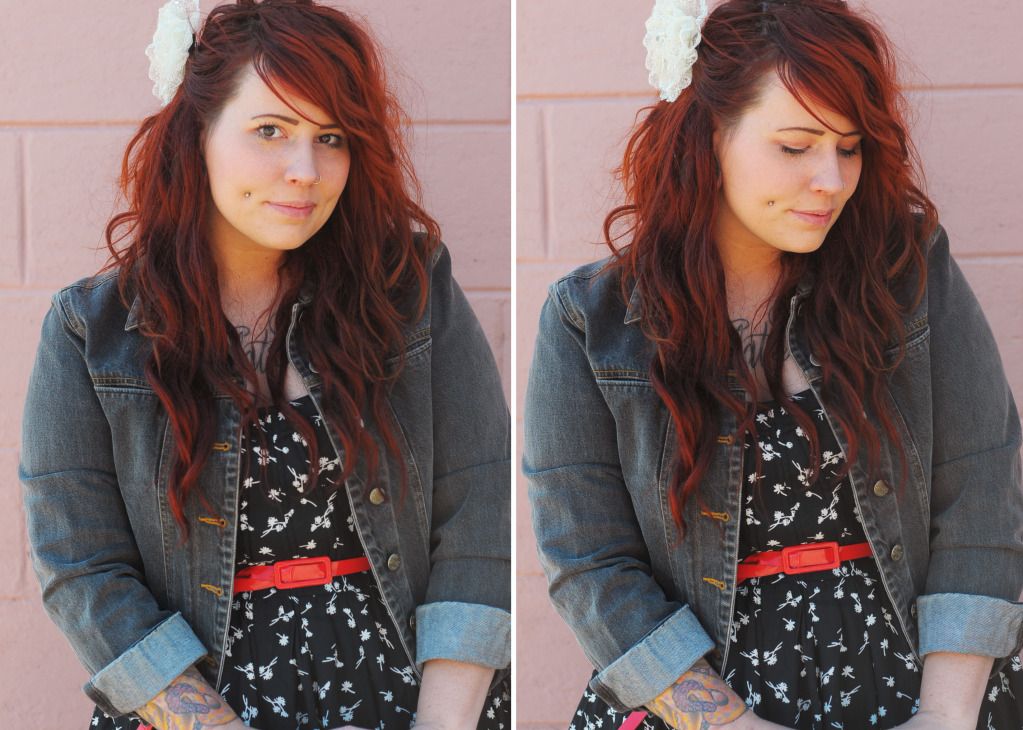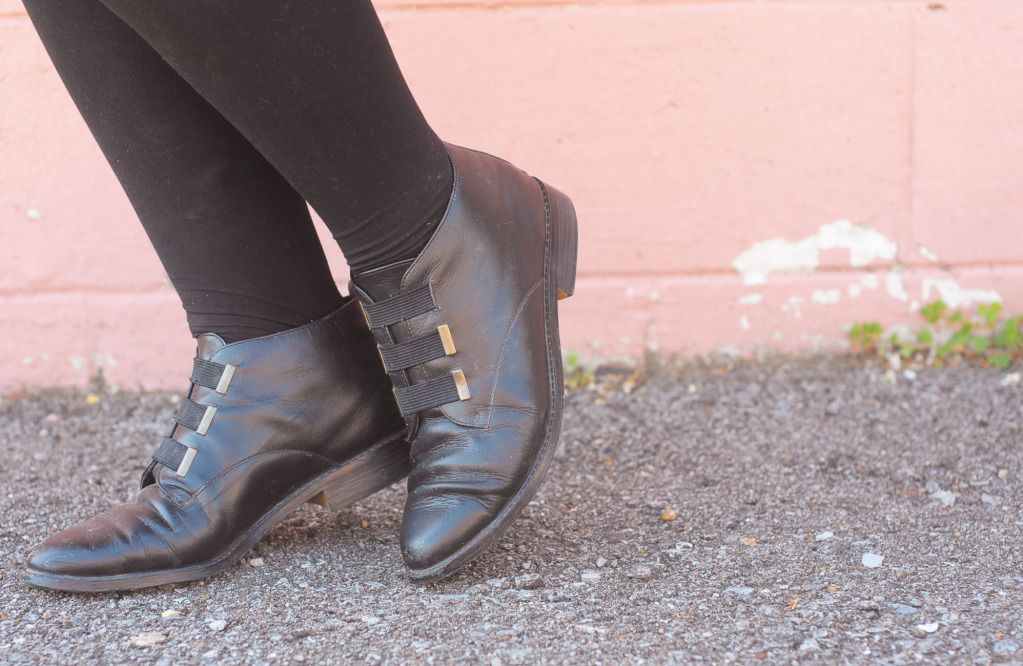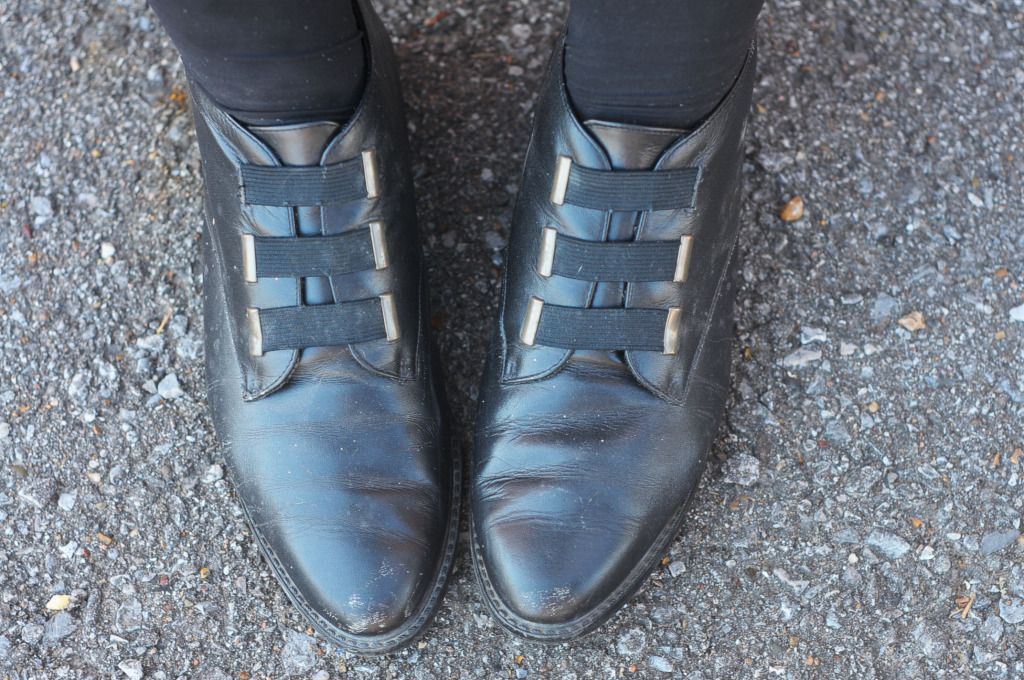 I already have an
outfit post with this name
, but this is a nice opposite in terms of what I'm wearing. (The title is also inspired by the first song I ever heard of my favorite band,
Loquat
! Song featured above!) Anyway, this is the dress I decided to keep from my Stitch Fix haul. I opted to pair it with some awesome thrifted shoes that I've never worn, and a faded black/blue denim jacket. It's finally warming up in Nashville (
again!
) and I am looking forward to fewer layers. (And then magically 2 weeks later it's going to be scorching and I'll be cursing Mother Nature yet again. Oh Tennessee!)
It's been a hard past two days, I won't lie. Yesterday was just the lowest of lows. It felt like nothing was going right and it was never going to get better. I try not to dwell too much on those kinds of days but man, from the minute I woke up until the minute I fell asleep, I felt like it was me against the world. Toby was cranky all day, then when Mike was away registering his truck Toby took an entire tube of A&D ointment (!!!) and smeared it all over Pip. The entire thing. Poor Pip. Then Georgia was licking it off of her. All of this in under 2 minutes while I tried answering a client email. On one hand it was kind of hilarious that he thought he was giving Pip a "bath" of sorts, but on the other hand I was like "OMG how am I going to get this out of her hair?!" I gave Pip two baths before Mike came home, but she slipped out of my grasp long enough to bolt for the bathroom door and I smacked my forehead on the porcelain sink. I still have a huge knot. Then I noticed the A&D all over our huge couch and all over 2 walls. I was already feeling way down in the dumps and it was all I could do to call Mike bawling in exhaustion begging him to come home. It was too much when you add in the non-stop 2 day migraine I had and feeling kind of beat up about a design project I'm working on. Toddlers can't be that hard right?! But paired with an equally craptastic day, I was spent. I laid in bed at 1pm and napped away 2 hours while Toby did the same. That gave Mike some solo time to just hang out. I'm hoping for a better Thursday!
Of course we spent Tuesday evening going to the movies to see Dr. Seuss' The Lorax and Toby was a total gem the entire time! So incredibly perfect. I'm fairly certain that kid ate half a bucket of popcorn on his own. That kid is undoubtedly the light of our lives. He loved the movie (and so did we!). Mike doesn't like me to say it but he cried just as much as I did! It was a sweet movie with a sweet (and sort of loaded!) subject. We all squished into a photobooth and then treated Toby to some ice cream (which he ended up wearing haha) afterward and then plenty of books before bedtime. Can we just teleport back to Tuesday? I think it's important not to let those really cruddy moments get the best of you as I feel like our psychology has a lot to do with how events unfold. Sometimes that's easier said than done. Anyway, it's going to get better. That's the important part. Enough complaining anyway. There are way bigger problems that people have and mine was just a speedbump.
We're putting some finishing touches on some of the rooms in our new home. Curtains are
finally
being bought and we're planning out what prints to buy and where they'll go. That's always the hardest for me. We just need one piece of furniture in the bathroom (a little shelf of sorts) and we should be good to go. Hopefully I can share bits and bobs soon! Alright, this girl has some floors to go scrub!
Greylin dress c/o Stitch Fix
Thrifted denim jacket
Belt from another dress
Assets by Spanx tights
Thrifted shoes
Flower in hair from random mall store in Chicago