Our little family has been hard at work making our little house a home. Most of the inside is done with the exception of wall hangings and a piece of (small) furniture here and there. The outside really needed some TLC though. It was a cute little cottage in it's own right, but we wanted fresh flowers, colors, and plenty of dirt for Toby to dig in.
The past week or two has been loads of fun. We've picked out flowers, hanging baskets, and started to mock up our small raised bed that we'll have in the back. We're excited to plant a few of our favorite veggies (zucchini, squash, and red peppers please!) as well as have a nice little area for an herb garden. The transformation so far has been awesome to watch. It may not look like much, but we're kind of loving it! We "built" three new flowerbeds (two at the porch, and the one circular one in the yard). We also added the birdbath and a strawberry plant on the porch! (Apparently we also inspired our neighbor, Flo, to start beautifying her yard! She sent her son over to see what we were up to so she could put him to work! We really like her, she's the sweetest lady!)
In case you didn't see the house when we first moved in last month, this is what it looked like: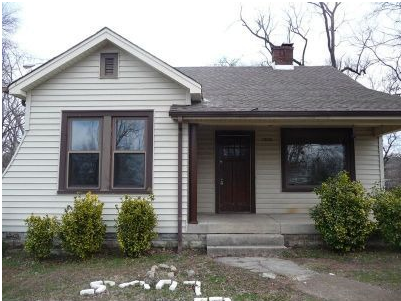 (and yes, someone was using the rocks in the front to spell out things with haha)
I'd say we've done a good job so far! Can't wait for the rest of our plants to sprout up!
Do any of you have green thumbs?
(Confession: I don't. I once forgot to water my succulent for THREE MONTHS. I'm amazed it survived.) I'd love to know your tricks! Happy Friday!
Edited to add: Today we're putting in the red mulch! So exciting! Seriously, it's so pretty!