Here's to the last day of being 23! We're hoping to squeeze a fun little adventure into today before the weather gets all wet and yucky. Cross your fingers for us! It'd be just as fun for me as it would be for Toby so here's to hoping!
♥
this
glasswing butterfly ♥
♥
this
is the best parody of tumblr memes EVER. ♥
♥
this
. don't waste your ability! ♥
♥ i'll never tire of beautiful typography paired with the smiths' lyrics ♥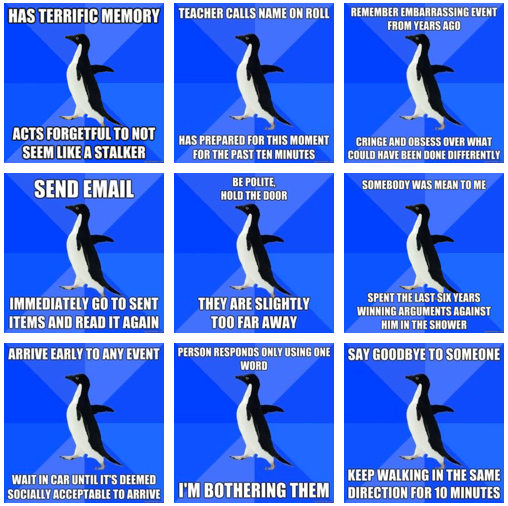 ♥ socially awkward penguin is my life. ♥
♥
maybe
24 is the year i learn to not suck at watercolor ♥
♥ um what?! ♥
♥ i miss the old office. ♥
Other Awesome Things:
// This quote from Amy Poehler:
"Only hang around people that are positive and make you feel good. Anybody who doesn't make you feel good, kick them to the curb, and the earlier you start in your life the better. The minute anybody makes you feel weird and non included or not supported, you know, either beat it or tell them to beat it."
// In case you're ever in the market for toilet paper with your Twitter feed printed on it, you might want to bookmark
this website
. Though it
may
make more sense to use the Twitter feed of someone you may not be so keen on. Too far? Maybe. They'd make a great gag gift! (Though I can't help but wonder what kind of quality it is... ha!)
// Here's a pretty pretty birthday wishlist:
These replica-esque Jeffrey Campbells
(for 25% of the price!),
This dress
because I own
nothing
in this color!,
this bag
is the perfect alternative to the overtly neon garb for summer,
this bright mint dress
is stunning!,
Polka dot flats
(cheap, practical
and
darling!), and all of the remaining pink Kitchenaid items I need to fill out my collection (like
the blender
,
cutting board
,
hand mixer
,
chopper
, and
food processer
and maybe we can throw in a
Cuisinart coffee maker
to match?!... seriously, Mike is a good man for letting me decorate our entire kitchen around my Kitchenaid mixer! haha I just want pink things!)
// Have you heard about
the 3/50 Project?
It's a site/app that helps you locate "mom & pop" type shops so you can shop local and help strengthen the economy and keep small businesses afloat! So cool!
What are you loving this week?