I can't believe it's already mid-March. Spring is next week! My birthday is in 2 weeks! There are thunderstorms in the forecast! So many exclamation points!!! I absolutely love spring. I do wish the trees would all bloom just a leeeeettle bit earlier so it'd always be pretty on my birthday, but I'm always so enthralled with the idea of beginning anew and enjoying being outside. Of course in Nashville that's usually short lived because it goes from being "incredibly cold" (by our standards) to being blazing hot with a bajillion percent humidity. Gotta love living in the South! Just thinking about a southern summer makes me start sweating haha It was pretty cold this weekend... but check out our forecast: ridiculous. (and kind of awesome, too).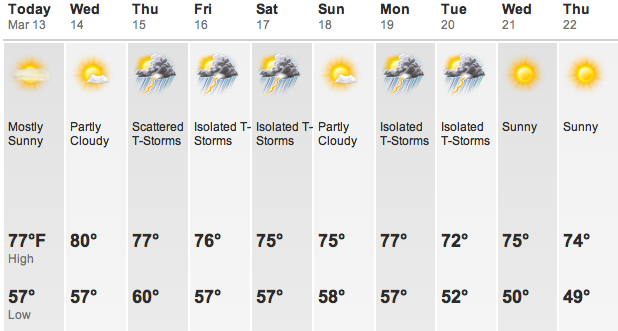 There are so many things I'm looking forward to since we now live in an actual house. The excitement doesn't stop there though. Spring brings so many new and fun things to the table... things I don't realize I miss until it's frigid and windy and my toes forever feel like they're going to fall off. Here's what I'm looking forward to this Spring (and maybe summer, too since those are basically the same thing here):
// Wearing dresses without tights! (I recently snagged a handful of longer-hemmed dresses so I can actually enjoy being tightsless without the constant fear that I'm flashing someone. I'm so over these teensy short dresses!)
// Planting flowers in our front yard! (I have very black thumbs, but I think with the help and guidance of Terri and my mom, I can totally rock a stellar flowerbed or two!)
// Putting up our fence in the backyard for Toby and the dogs to enjoy
// Grilling out on our back patio and enjoying the sunshine

// Getting Honeybean back out in Nashville! (Seriously, if you live in the area, you better come see us this year!)
// Going on picnics to the park, day dates to the zoo, and teaching Toby how to ride a bike (Mike bought Toby his first bike over a year ago, so we're excited for him to actually start riding it!)
// Working with the windows open! (Already doing this... and it's awesome)
// Spring cleaning and donating a bunch of stuff that we have no use for anymore (We've already taken about 4 boxes worth of stuff to the Southern Thrift a few blocks from our house. It's insane what we've collected over the years and continue to tote from one house to the next!)

// Open toed shoes! (Since my giant platform/ugly shoes have since been rendered slightly less appropriate, I'm eager to find some cute brown sandals to pair with some pretty spring dresses!)
// Hosting dinners and cookouts at our house with our friends. Having people over and using any ol excuse to have a fun little party
// Lots and lots and lots of photos to remember all of this by.
It's so exciting to feel this happy and complete with our life right now. We have our tough days (who doesn't?!) but I don't think I've ever been quite this satisfied with life. I'm going to do my best to enjoy absolutely ever second of it because I know in just a matter of weeks it's going to be so darn hot and humid, I'll be cursing life! :P
What are you looking forward to this Spring?! (or Autumn if you're on the other side of the world!)