The weather cooled off enough the other day for a light sweater and tights, thanks to a gnarly thunderstorm or seven blowing through. Storms (albeit not tornados) are my favorite part of spring. I love it when it's bright and sunny and a comfortable temperature, but man I love lightning. I know this sweater is kind of weird... it's like, a granny sweater with tiny yarn balls hanging off of it. I'm tempted to make fun of myself for wearing it, but the color is awesome. I thought it was especially fun paired with this teal/mint lace dress. Though I don't remember this dress being this short when I wore it for our Christmas cards in December. I know these stubby legs haven't gained any length!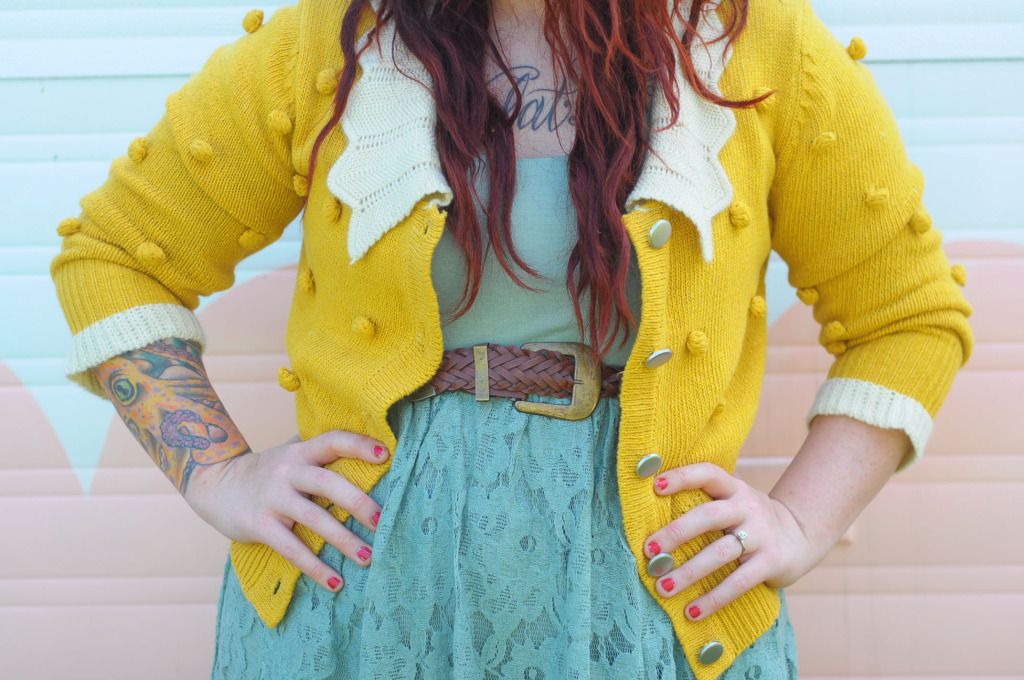 Work was a little overwhelming this weekend. Not so much because we were busy (we really weren't), but because I managed to get what felt like 10 minutes of sleep all weekend. From waking up way too early in the morning, working in the yard all day and catering to clients, then a 4.5 hour photoshoot in Franklin yesterday, I was so zonked. I think my blog has become the place for me to talk about how tired I am all the time! haha

Today we're heading down to my parents' house for the day to relax a little, procure some lilies for my garden, and get a new lawnmower. You know, adult stuff apparently. Another favorite thing about Spring: people start mowing their lawns! I love the sound and smell... but then again I could just be ultra weird. Whatever. Happy Sunday friends!
Forever 21 dress
Yellow Cardi-Sweater c/o Romwe
Target tights
Thrifted belt
Thrifted shoes