I don't share my design work on LCH all that often. I'm not sure why. It could be my shy tendencies or not feeling "on par" with others at times. I think we can be our own worst critics. But it's such a
huge
part of my day. It's easy to get the impression that all I do is sit home and blog all day, but 90% of my time is devoted to freelance design work and rounding up clients. If you would have told me 2 years ago (or 1 even!) if I'd be doing freelance 100% of the time, I would've scoffed aloud and kept on with my day. I've never felt like I had the drive to do freelance. One of my best gal pals,
Elle
, is one of the most hardworking, self-motivated people I know. I never felt like I could bring myself to do that. But I have. Even if only recently, I've started and ended my day with client emails and mock ups... and I'm kind of loving it. It's especially nice being in the new house in my office with all of this natural light. It makes me feel good and productive. Here's to hoping it lasts!
I figured I'd share a few blog designs I've launched recently. Some date back a few months (whoops!) but a lot of my workload has been identity packages + websites which aren't ready to share yet. In fact, even Grace's blog below will be getting a new makeover in the coming month. Still, here's a little glimpse into how I spend my days! (and maybe some fun new blogs to read!)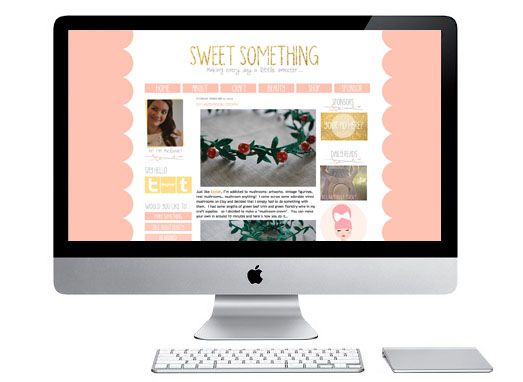 I absolutely loved designing this layout! It was "me" to a T! I love that Melanie and I have so very much in common when it comes to aesthetics. Peach + gold glitter!? Count me in! And scallops, too! I felt like I was channeling Honeybean the whole time and I want to paint everything gold! She was such a sweetheart, too. Would you believe me if I told you we knocked this entire design out in just a matter of hours? Seriously. I woke up and worked until it was ready to install just a few hours later. I love when that happens!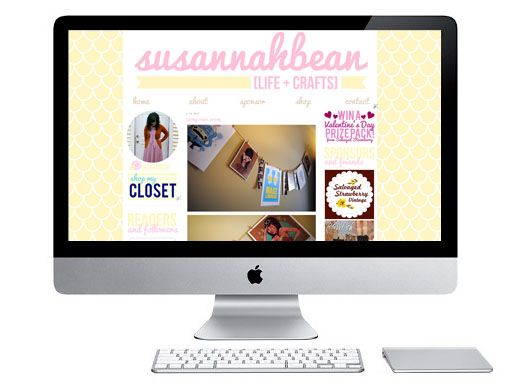 This is Susannah's new layout. You might remember the old one (
HERE
!)... well, that one will be making it's way to my new template shop I'll be opening up in the (very) near future (I hope!). Keep your eyes peeled if you'd like to snag it up for your blog! This time we went with a very Strawberry Banana Milkshake color palette and I love love love it. I did a simple background pattern and let the colors do the talking. Hope she likes it as much as I do!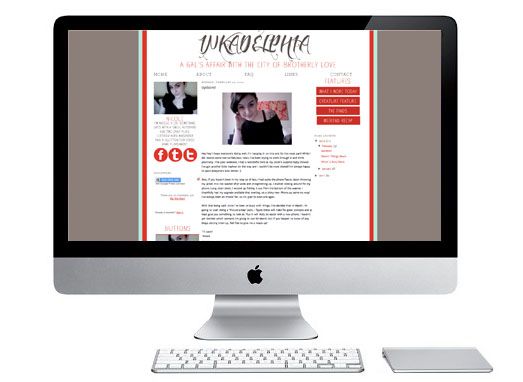 This one was a departure from what I'm used to. I tend to surround myself with solid pastel colors, a air of feminimity, but I loved working on this with Nicole. The bright red + teal with the harsh charcoal + graffiti style type. It was really fun and I'm glad she was able to look paste the otherwise feminine nature of my "portfolio" when she hired me!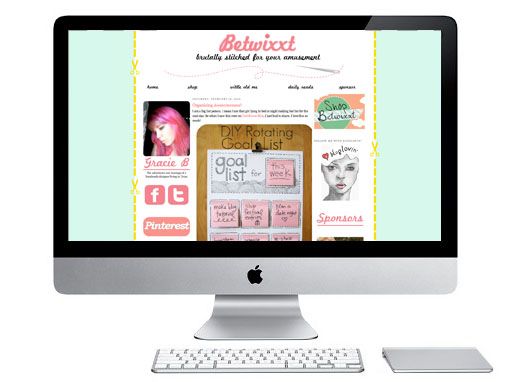 Oh Grace! She's become one of my favorite gals to talk to via the interweb and creating a bright and fun space for her blog was a pleasure! We'll be capping it off with something fresh and new soon, so pop on over and take a peek before it disappears! (She's the sweet gal who did the now famous Ron Swanson coffee mug!)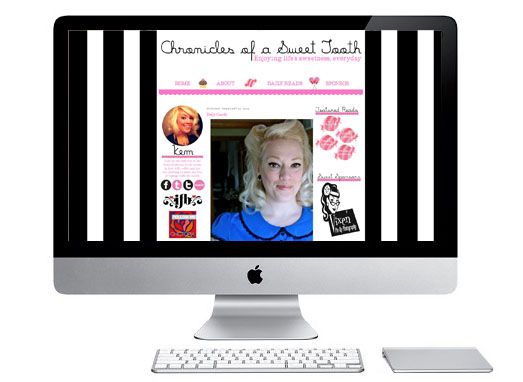 Another departure from my norm, but a fun black and white look with a bright bright pop of fuschia! Love! Kem is such a doll, too! She's way into rockabilly and I always pop over to her blog to see what fun pin-up stuff she's posting and all that jazz. Definitely worth a visit!
♥ ♥ ♥ ♥ ♥ ♥ ♥ ♥ ♥ ♥
♥
♥
♥
♥
♥
♥
♥
♥
♥
♥ ♥
♥
♥
♥
♥
♥
♥
♥
♥
♥
♥
My aesthetic is a strong in the sense that I like having the ability to design things I like. I was always scared of designing too much stuff that I hated when I was in college. I don't want to look back on what I've done and absolutely recoil in disgust, ya know? I do love simple, bold sets of color, and anything feminine, but I'm also eager to break out of that box and do some different things, too. I'm hoping to do a lot of simple two-color designs with handwritten/illustrated embellishments... even if that means I design it and put it in my shop!
I'm excited to already have quite the waiting list for March, but if you're interested in booking a spot for late March or early April, feel free to shoot me an email (kaelahbee at gmail dot com) and we can chat about what I offer! I currently only offer a full redesign package for Blogger based blogs, but I also have an a la carte menu option for any platform! Off I go to work on this website! xo