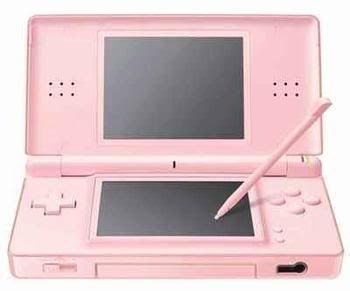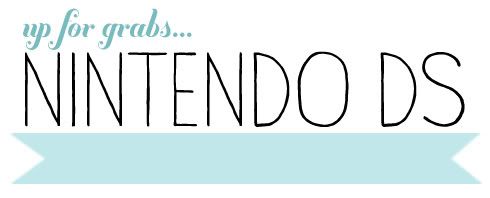 I've been saving up from the sponsors the past couple of months by doing smaller scale giveaways so I could do a doozy like this one this month. While I know pink may not be everyone's color of choice, I can't pass up a sweet pastel hue and it's even better when I can play Super Mario on it! So this month, sweet honeybees, up for grabs is a pink Nintendo DS. Completely packaged up in it's original box ready to make its way to you! I have a DS myself and kind of love it. My favorite games are Animal Crossing, Diner Dash, and Super Mario (do you have any favorites?!). Mike bought a Wii yesterday so it's been a Nintendo celebration in our household. I snagged this little beauty while we were out and about (and it was one sale!) so have at it!
All you have to do to enter is:
Be a follower of this blog with Google Friend Connect!
(Click "Follow" in the upper nav bar and follow with Google/Blogger, Twitter, Yahoo, or Aim!)
and then leave a comment with your email address!
(This is just one entry!)
You must do this entry first to be eligible for additional entries!
To gain additional entries, you can blog (or Tumblr!), tweet, update your status on Facebook *each with a link over to the giveaway*
or "Like" Little Chief Honeybee on Facebook! Just be sure to leave a separate comment for each entry and leave the link to each one! Overall that's FIVE ways to win!
*If you tweet about the giveaway, please use this tweet: Up for grabs on the @kaelahbee blog is a Nintendo DS! Enter to win here: http://tinyurl.com/5wjzlhh


(You must include a link to the giveaway in your tweet/blog/status update! Several people have just been tweeting at me or leaving a comment on Facebook... I'm not sure how that would enter you! *PLEASE NOTE: tweets to me, in my Tumblr ask box, or comments left on my Facebook will not count as an entry! The point is to share this giveaway with others and make them aware of it! ;P)
A winner will be announced at the end of the month! Good luck! (Don't worry, there will still be other sponsored giveaways going on in the time being!)
PS; The winner of the June Giveaway (Instax 210 Wide camera) is Comment #517 - Lady and the Tramp!
PPS; The winner of the My Sweet November giveaway is Comment #96 - Mandy Sellers!