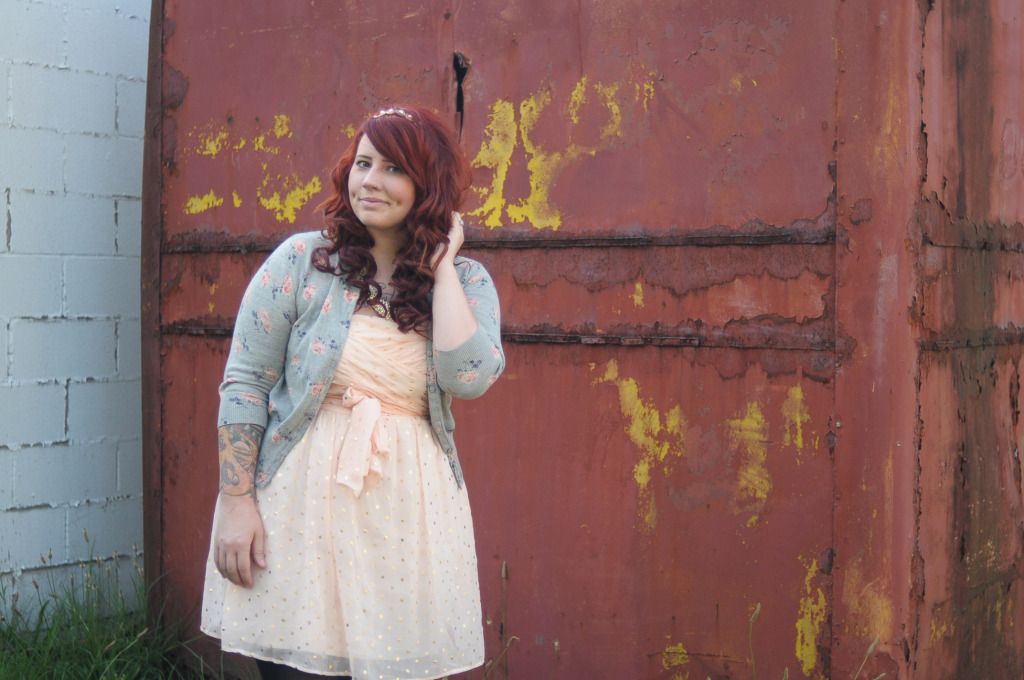 More photos from our new favorite location. I just can't get enough of that rusty pod. (And I'm entirely too aware of how bizarre that statement is.) I wore this (with a different cardigan actually... but I've since lost said cardigan so whatever) a couple of weeks ago when Mike, Toby and I met up with Beca + Doug for lunch at Taco Mamacita here in Nashville. It was the first time we've met in real life (!!!) so it was super fun. I'm naturally really awkward and weird (Okay, but what blogger doesn't say that?!) but it felt like we had known them forever. I'm super excited that they're now living so close (~2 hours away)! And super stoked that Beca is going to bake up all sorts of awesomeness for our wedding dessert table!
About this outfit -- Not much to say aside from the fact that the chiffon on this
LuLu*s
dress
is the milkiest chiffon in all the land!
Seriously. It's so soft. I may or may not have made Beca stroke it outside of the restaurant. Judge me. Also - those gold foil "dots" are apples. Yeah, golden apples! I paired the dress with a pearl + gold headband from Forever 21 and a
Romwe collar necklace
(2 things that I don't wear very often). Then there's that cardigan that kind of doesn't really match at all but I tried. I originally wore it with a black cardi (I think?) but this'll do, too. ;)
By the way, Florida is sunny. This girl is coming home with a tan! xo
Forever 21 cardigan
Forever 21 headband
Collar necklace c/o Romwe
Target tights