It's hard to believe that my trip to San Francisco for the
Adobe ambassadorship
was well over 2 weeks ago... chugging right along to 3. June has been such a blur, I don't even know where to start. It was the first time I ever scheduled up posts for weeks in advance, and to be honest - even though I liked it, looking back I felt disconnected. Then again that could also be a product of being without a computer for basically 2 weeks, etc. Still, I didn't feel like I could be as active and involved with my blog as I would have liked. Luckily I don't go gallivanting around the country that often so I'll be able to tune in and return loads of sweet comments from y'all! Anyway, I thought I'd look back on the trip itself and share some of what I was able to enjoy while in California. I have an annoying habit of not taking enough photos while on trips, even when I super duper intend to, so all of these are from my phone, sorry!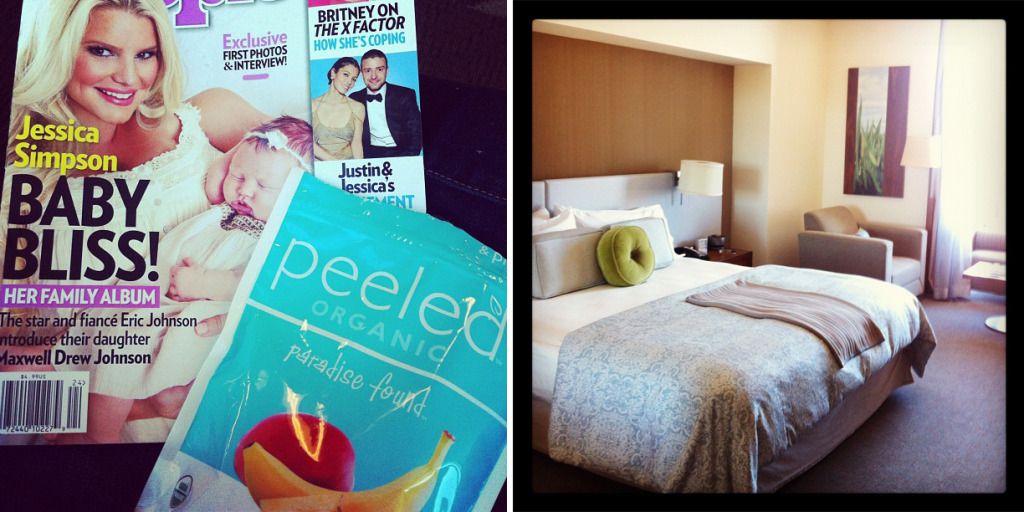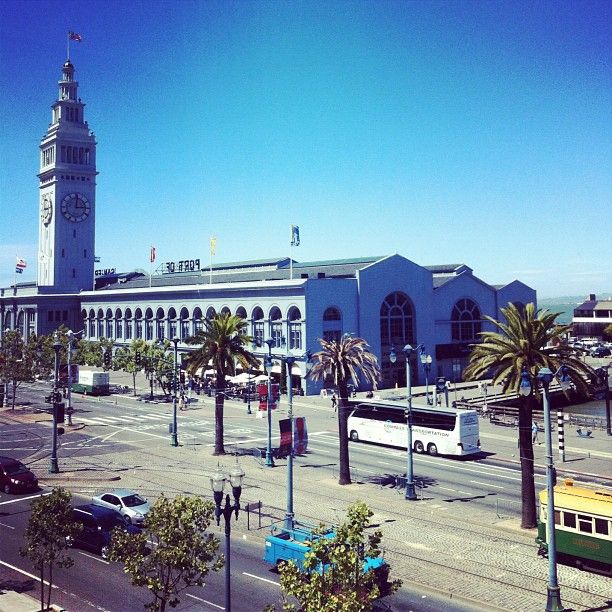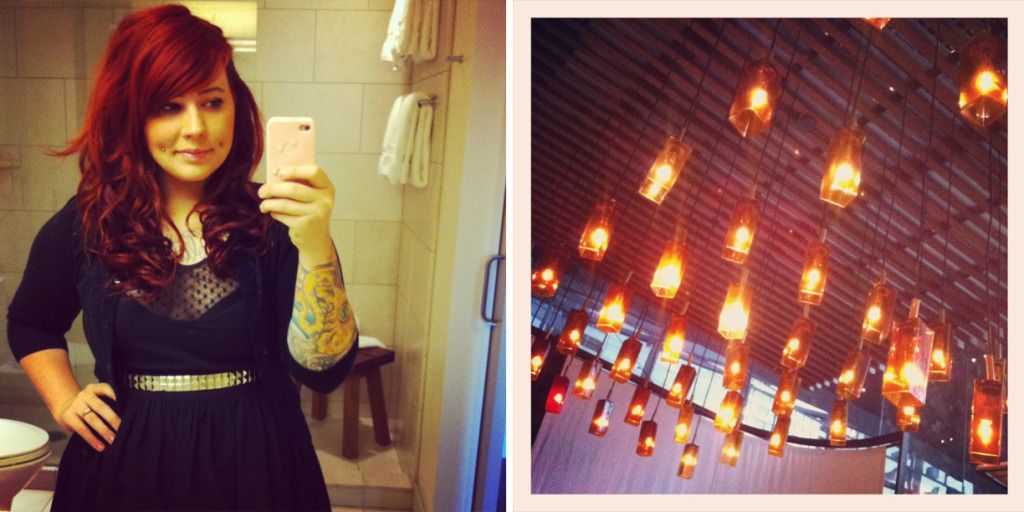 Top to bottom: snacks and entertainment, my hotel room, the gorgeous view of the ferry building from my window, wearing my jarlo dress to dinner, lights over our table at rn74, my delicious three course meal. so much quail egg... haha!
On Thursday
the 7th I woke up early to head on over to the airport to catch my first flight to Minneapolis. On our way to the airport I received an automated phone call saying my flight had been cancelled. UHHHH? I've never had a cancelled flight so I didn't know how to react, but luckily (and much unlike myself) I kept my cool. The nice man at the desk put me on a flight to Detroit instead and then upgraded me to First Class from Detroit to SF. Heck yea! During the first flight I sat behind Antonio Banderas (yep, namedropping... I just may not include the fact I had to Google him to double-check that's who it was! ha!) I
barely
made my second flight and ran to the terminal just as they were closing the doors. Luckily the flight was awesome. The seats were huge, the food was delicious (I was starving), and I got to watch "Jeff, Who Lives At Home" and "This Means War". Totally clear why people pay so much to fly First Class now haha (though I never would. But mainly because it's expensive, not that I wouldn't want to!) I was the last of the
Adobe
group to get into town but I still had a couple of hours to wind down, freshen up, and then have
Melissa from Bubby and Bean
come over to my hotel room and chat for a bit. It was exciting meeting Melissa because we've been blog friends for a while. I was super stoked to get to hang out with her and of course she didn't disappoint! She was an absolute gem! The hotel was also really great! I had the most gorgeous view from my room, and we all got some really lovely gift bags to welcome us in.
Around 6pm we headed downstairs to the lobby to meet everyone else and head over to
Market Bar
in the Ferry Building for cocktails. It was great to meet the Adobe/Edelmen gals, especially Hope since I had worked with her before. I had a delicious drink at Market Bar but I can't remember the name to save my life! It was a yummy rum medley though. We all walked through the Ferry building and then over to
RN74
for a delicious 3 course dinner. Fried tomato salad, the best chicken ever, and dessert was out of this world, seriously. We all chose different things but I was pumped on mine haha. We were there for a long time and by the time we all got back to the hotel we were ready to crash. We said our goodbyes and retired to our rooms.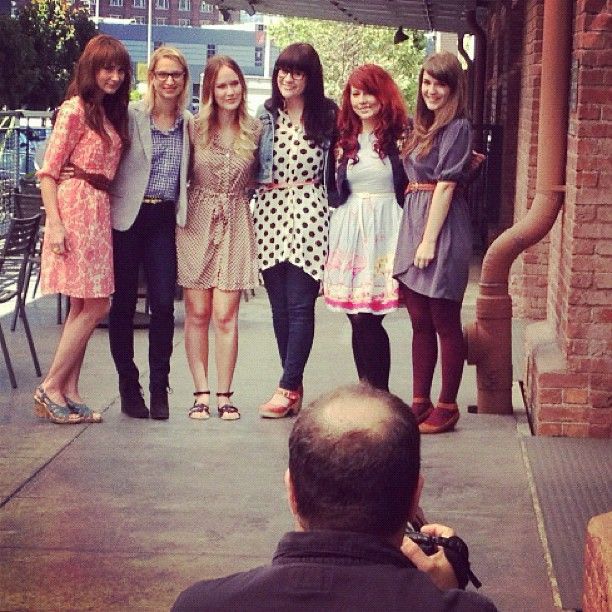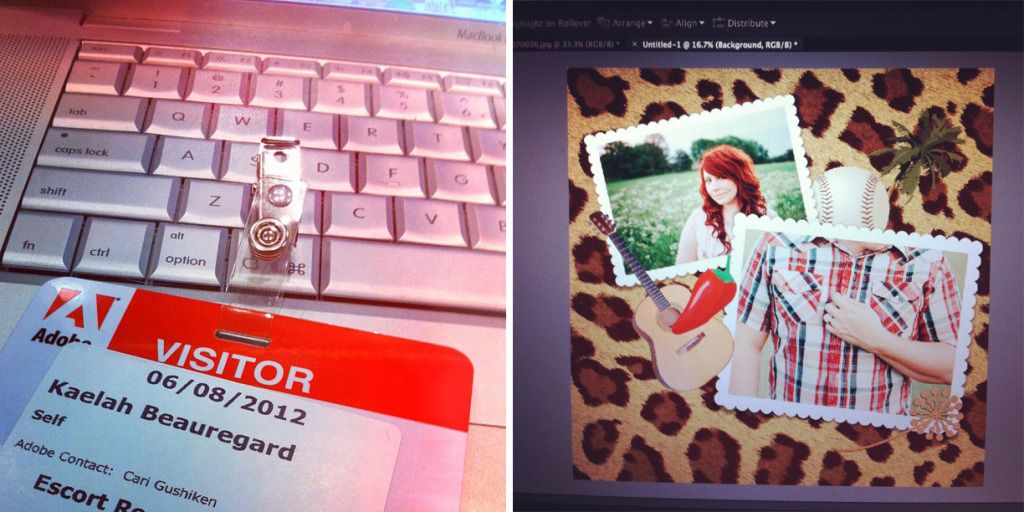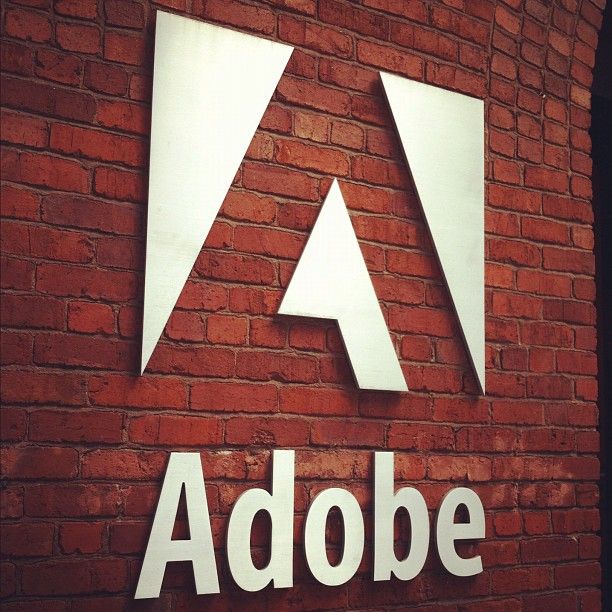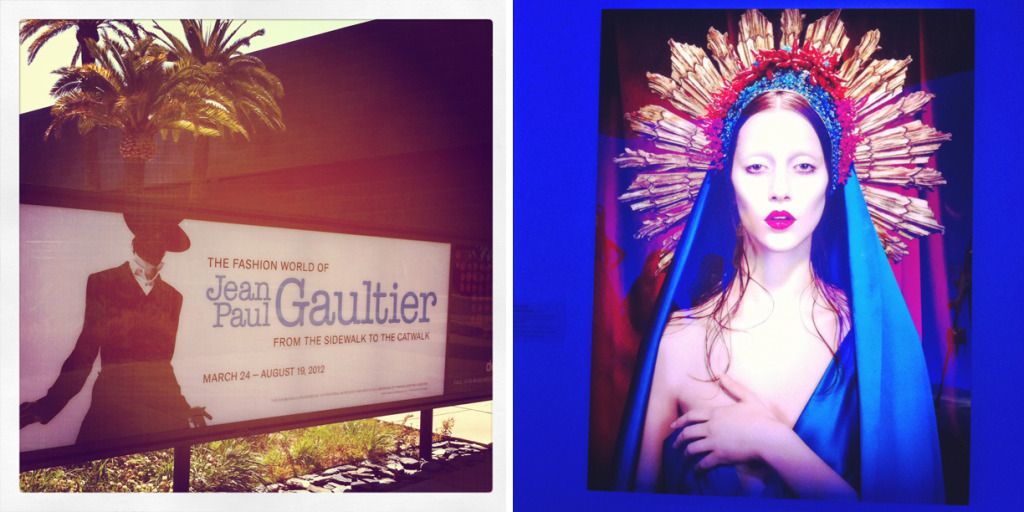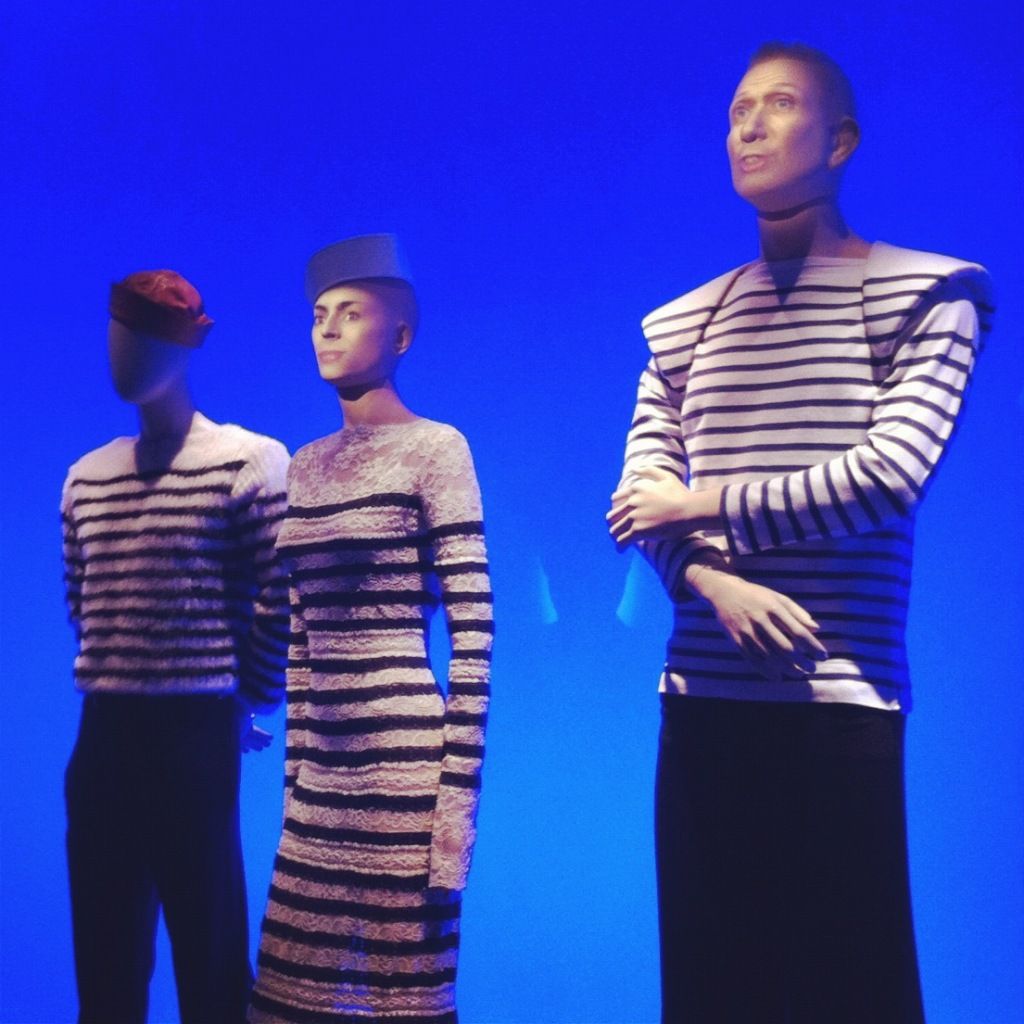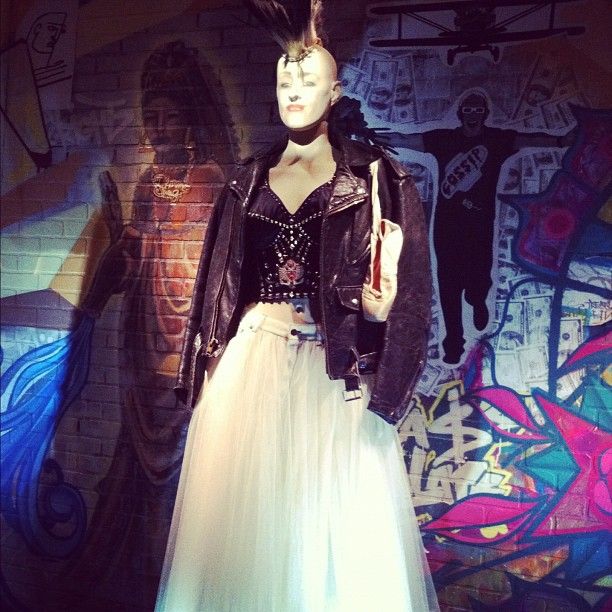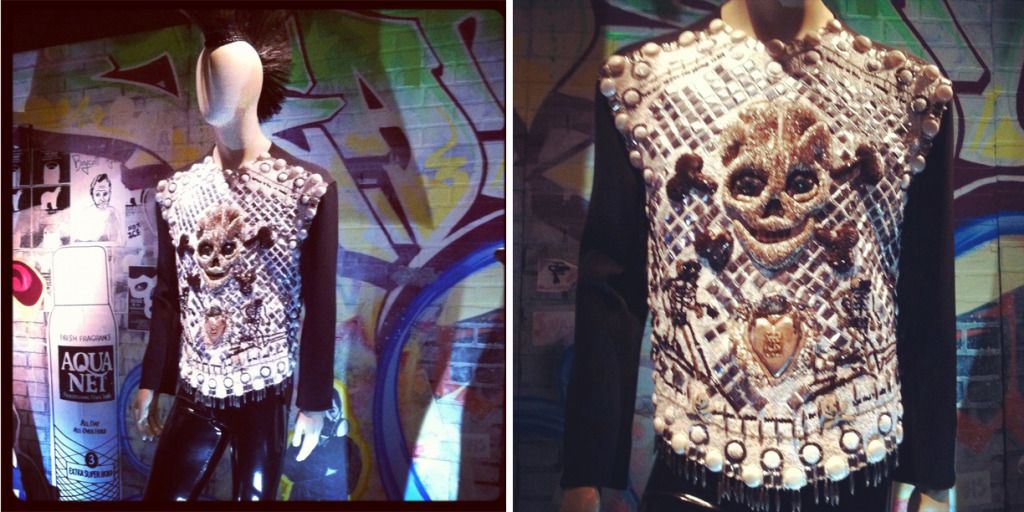 the group, my guest badge, I should be paid to be a scrapbooker ;), that beautiful Adobe sign, showing up to the DeYoung Museum, some jean paul gautier works, the creepiest exhibit ever (I loved it!), the best outfit in the whole show (in my opinion), some insane hand-beading, wearing my new dress from Bettie Page for burgers with the girls.
Friday
rolled around and we all met downstairs at 8am to get ready to head over to Adobe. The inner-design geek in me was totally giddy the whole time. It was really cool to see where all of the ~magic happens, ya know? Especially for a company that I so greatly admire. Enough fawning! We ate a light breakfast and one by one we sat in the makeup chair to get our faces "did", then had our headshots taken by Kelly Castro. Afterward we had a little 3 hour training session for Photoshop Elements 10, broken up by a delicious lunch from WitchCraft. We all jumped in some cabs and headed over to the Jean Paul Gaultier exhibit at the DeYoung Museum afterward. I didn't expect to be so incredibly impressed by the exhibit, but I
totally
was. It was incredibly innovative (even if a bit creepy! Those of you who have seen it probably know what I mean!) It's worth looking up online! The ~punk collection was totally my favorite, that's for sure. We all settled in for some light finger foods and wine/sangria in the cafe once we had toured the exhibit. It was great to get to talk to some of the other ladies at this point. We were free to do whatever we pleased afterward so
Liz
was kind enough to give me, Melissa and
Tieka
a ride over to Haight-Ashbury for some last minute shopping. We managed to get to Wasteleand all but 30 minutes before they closed, so by the time we headed out we were able to sneak into Bettie Page long enough for me to pull a dress from the rack. Even though it was rushed, it was still fun. We decided to grab a cab back to the hotel, go upstairs and freshen up, then head out in search for some food before bed. We ended up at a little burger joint off of Market for some fries and shakes. It was a nice way to wind down an incredibly busy and exhausting day. We said our goodbyes to Tieka in the elevator and Melissa and I made plans for the next morning.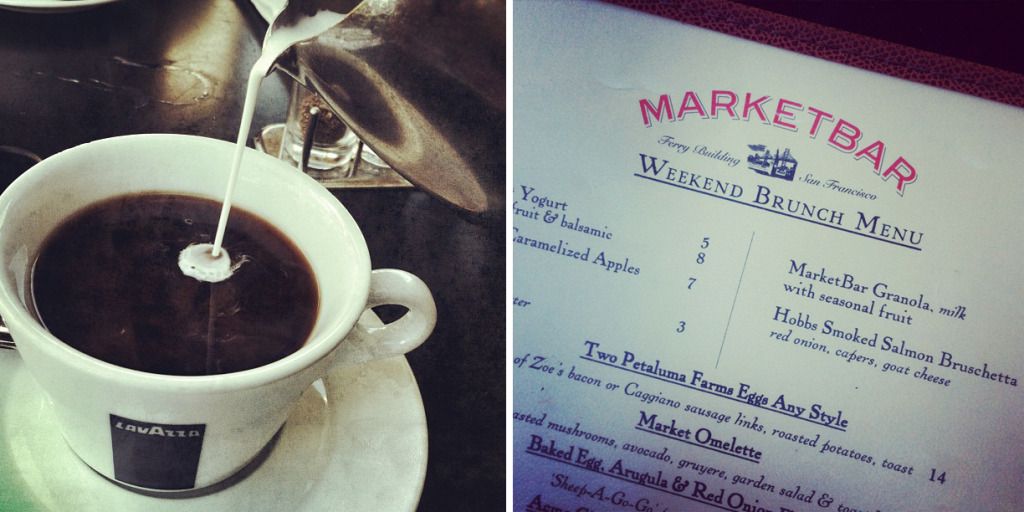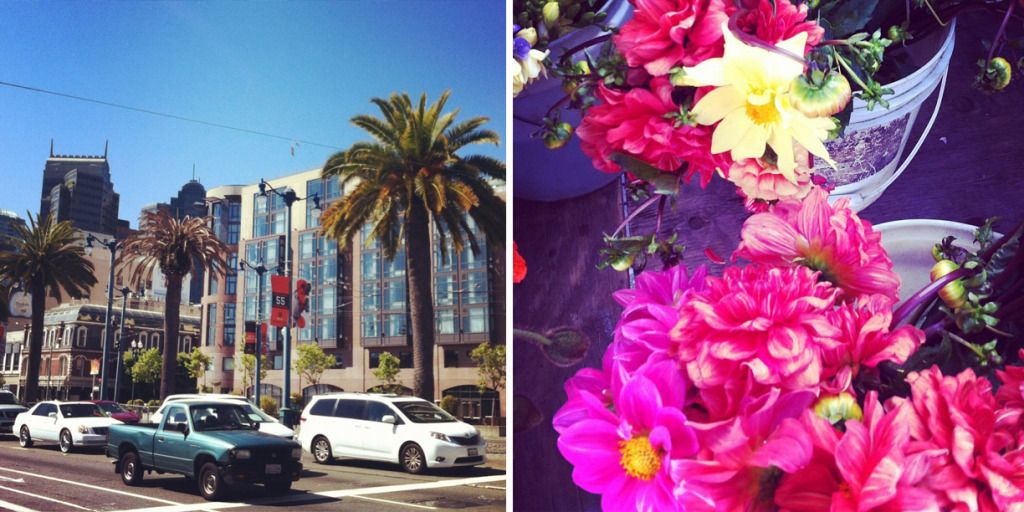 coffee + brunch with Melissa, the view of our hotel from the Ferry building, pretty flowers at the farmer's market.

Saturday morning Melissa and I headed over for brunch at Market Bar. I had some delicious pancakes and she had a yummy looking omelet. After coffee and chit chat we decided to make the most of our last little bit in the city and we perused the farmer's market at the Ferry building. I ended up going home with a big bag of fresh cherries for the flight! Yum! Perfect snack. We had a car to the airport together but were in different terminals so we said our goodbyes and headed home. I didn't get home until about 11:30pm and I was zonked. I could've slept for days! Unfortunately I had to pack my bags and head south as soon as we woke up, but it wasn't that bad!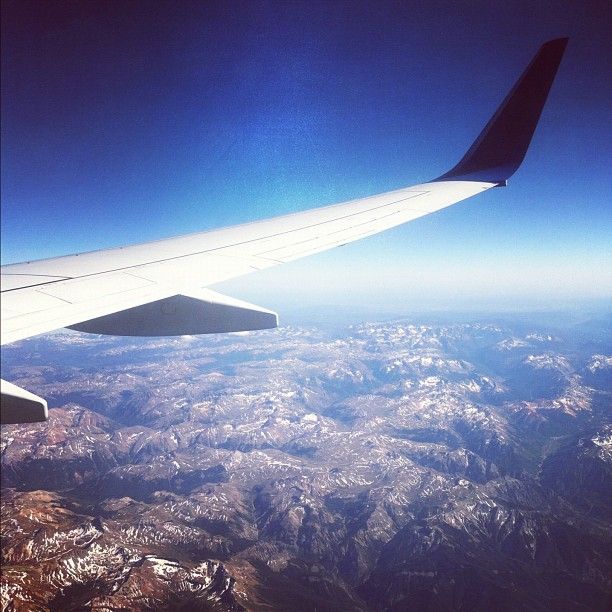 flying home over Colorado. bumpiest flight of my life!
The trip was a whirlwind but I had so much fun. It was great to meet some of the ladies behind the blogs and such a treat to meet the Adobe/Edelmen gals! They were all so sweet, funny, and well dressed to boot! Overall it was a wonderful trip and I'd do it again in a heartbeat. I feel so lucky to be apart of something like this and thank Adobe overtime for having me on board! Now to regroup, enjoy a Flynn family day, and work on my recap for the other 2 weeks! ;) Happy Sunday, friends!