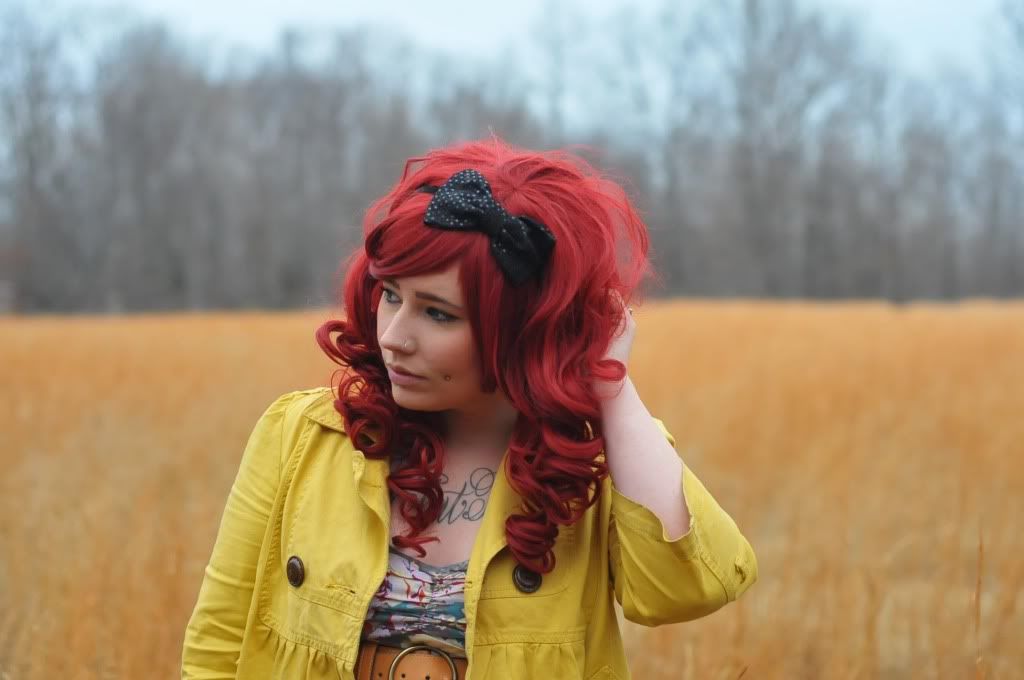 Well I'm exhausted. I don't know about the rest of you but I am so incredibly beat. Working at the bar this weekend really took a toll on my body. Not only that but we don't get home until around 3:30am (it's a 45 minute drive! Yuck!) and then we get woken up at 9:30am every Saturday and Sunday for breakfast. I'm grateful that we have a hot yummy breakfast waiting for us every weekend morning but man oh man it makes it hard to go back to sleep! Yesterday I went back to bed and didn't get up until 1:15! Mike slept for a whole extra hour! Gah! Anyway, yesterday was a bit of a waste but still I got dressed and we found this little field down the road from my parents' house. The ground was soggy as could be so it made it difficult to walk. (The title of the post comes from me walking and saying "Ugh, all this soggy water!" when I obviously meant "all this soggy ground" haha! Hey, I don't claim to be brilliant!) Afterwards we decided it was way too cold to be outside so we went and ate Mexican. Sounds like a great solution right?! Then it was off to work with a quick wardrobe change!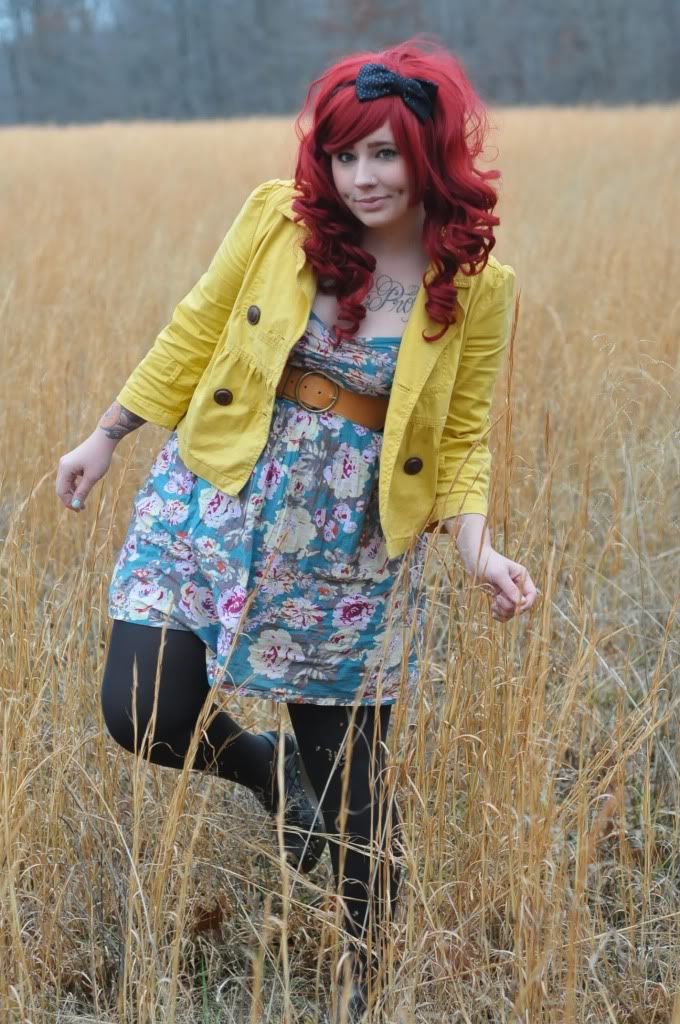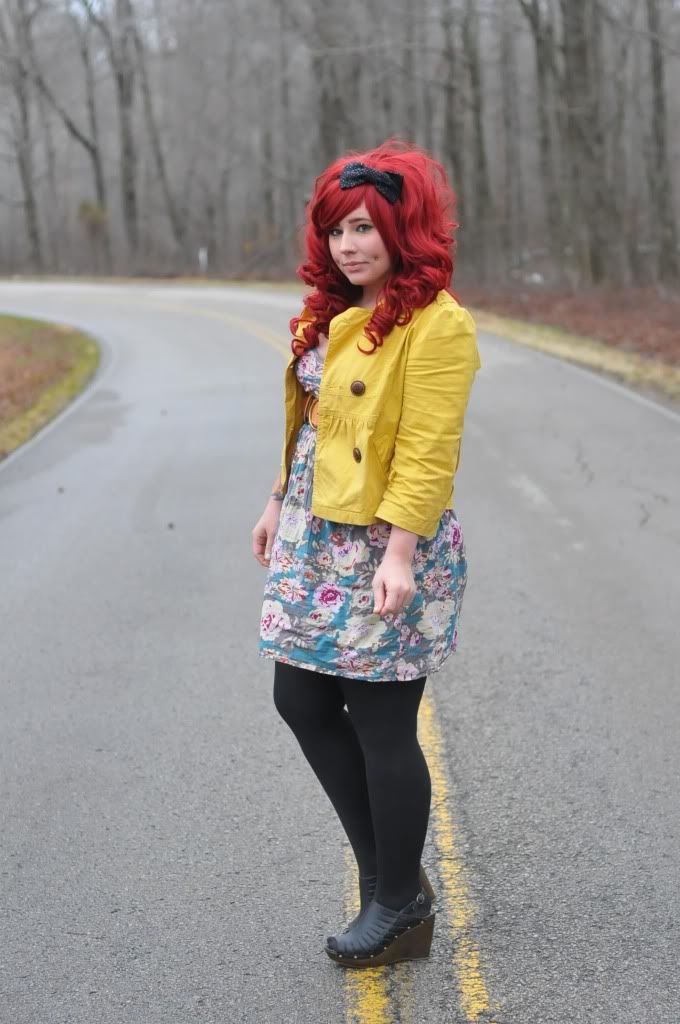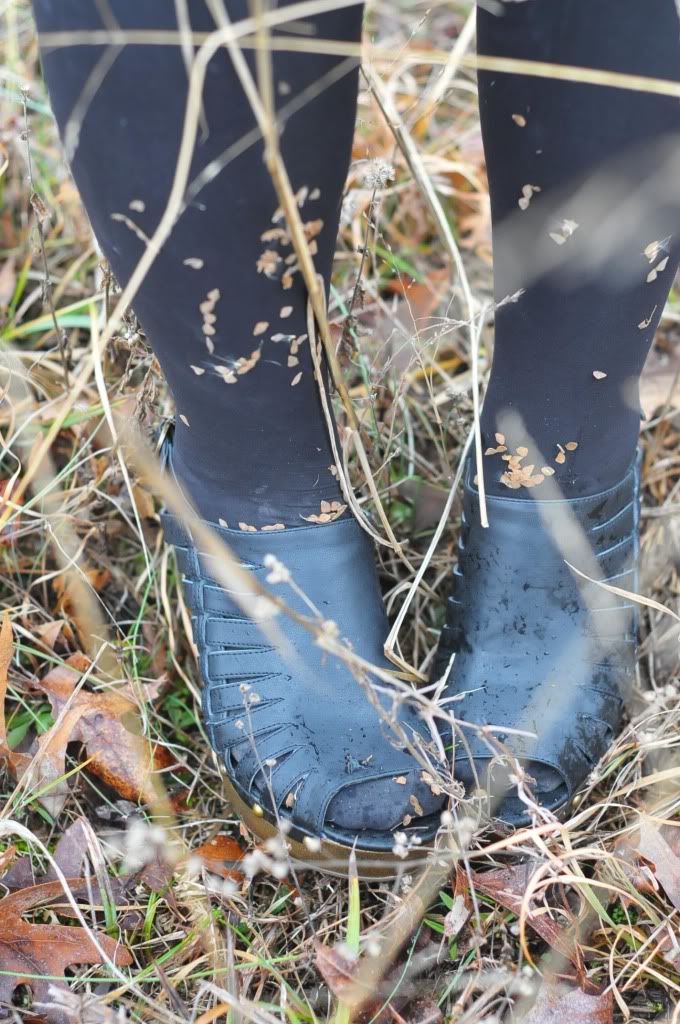 The last shot above was my feet after walking through the field. It took us both a solid 5 minutes to pull all the burrs off haha. The dress I'm wearing is from
Urban Outfitters
and it's one of my all-time favorites. The belt is an old-favorite from
Forever 21
and the tights are cheapo doubled-up ones from
Target.
The yellow cropped jacket is from
American Rag
but I managed to thrift it for a cool $5. Such a great score because it's the perfect color, has great buttons, and I can't take it off. Love! The blue peacoat is from
H&M
. The shoes (look! They're not black flats!) are my new favorites from
Target
(woot!) and
they. are. SO comfortable!
SERIOUSLY. I'm not a shoe girl in the slightest... in fact, I hate shoes. I'd rather wear the same black flats forever... or so I thought. It's amazing how much things can change in such a short time! Oh, and as usual, the headband is courtesy of my sponsor, Erin of
Sunshine & Carousels
! (This is actually a newer one! Doubt you can tell though! haha I promise... I'll change my headband soon!)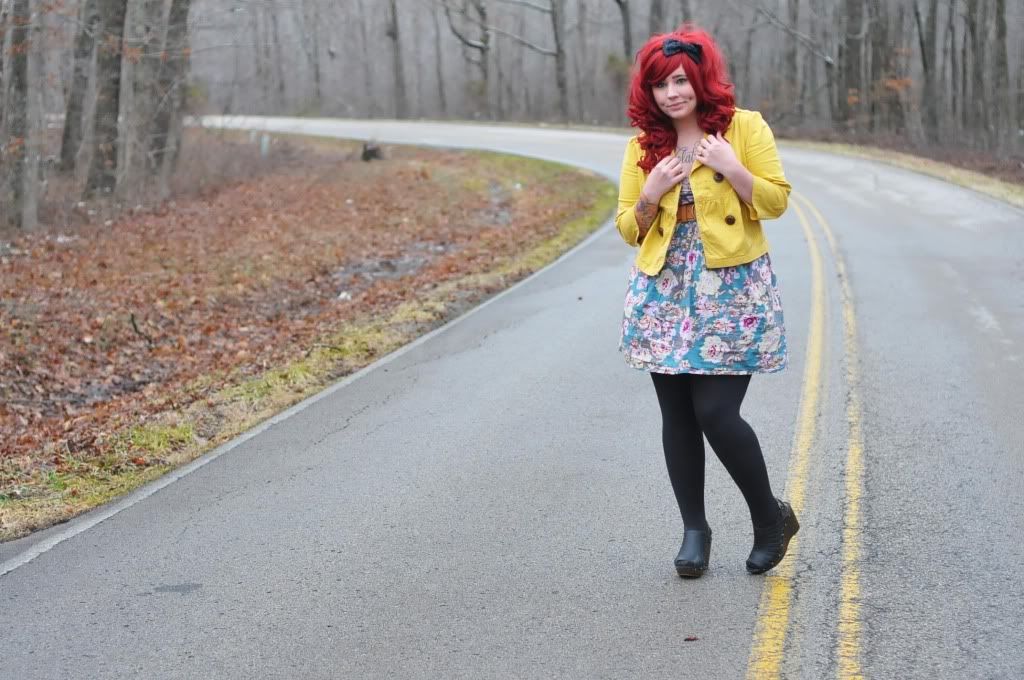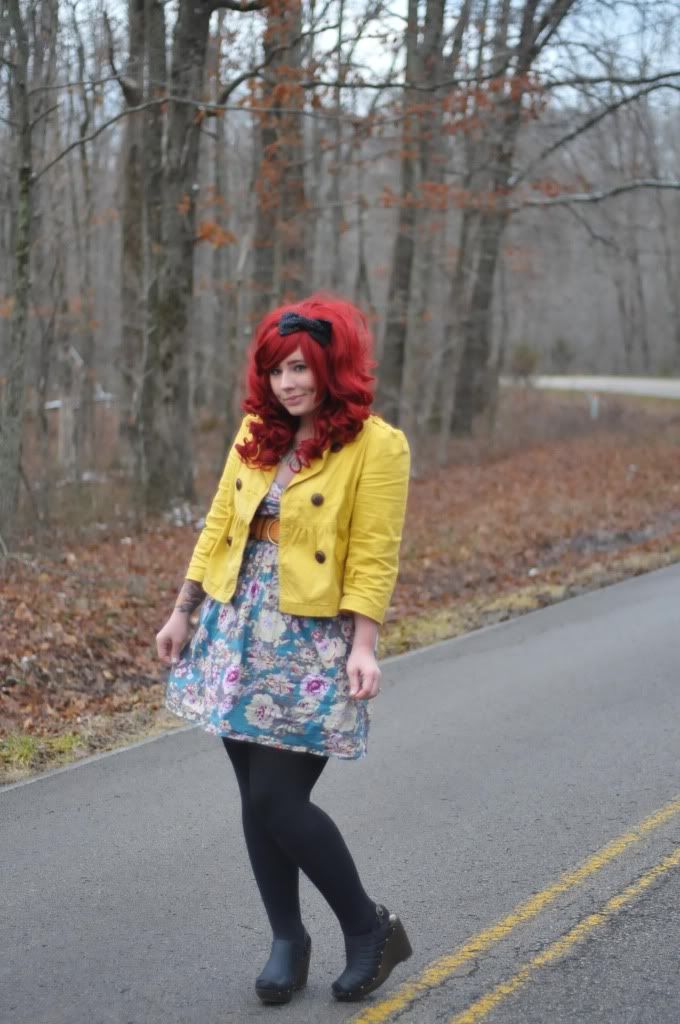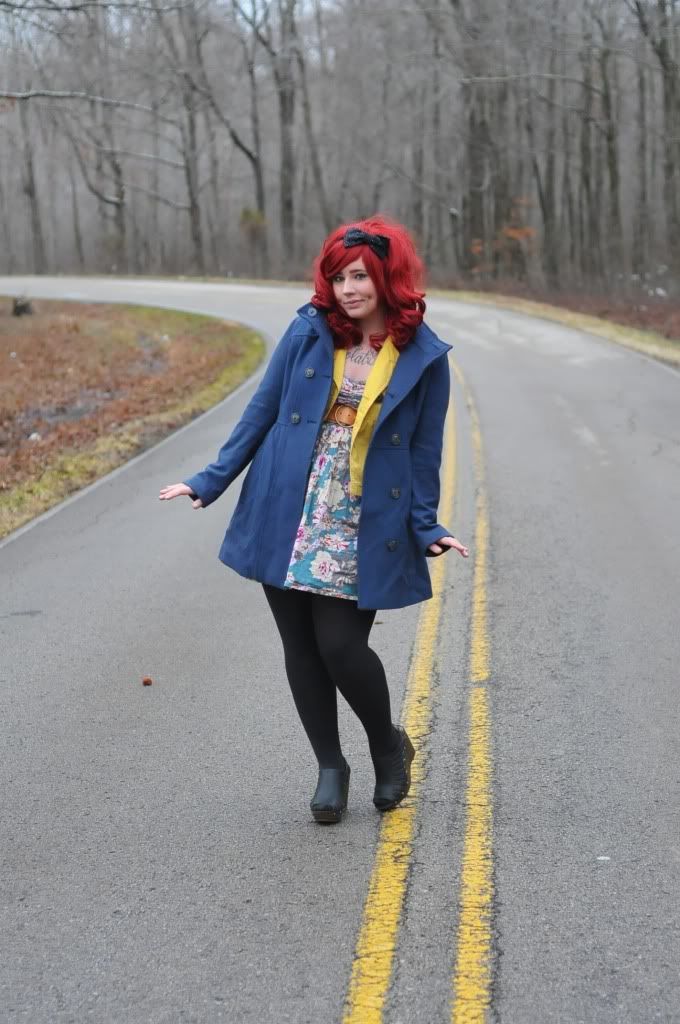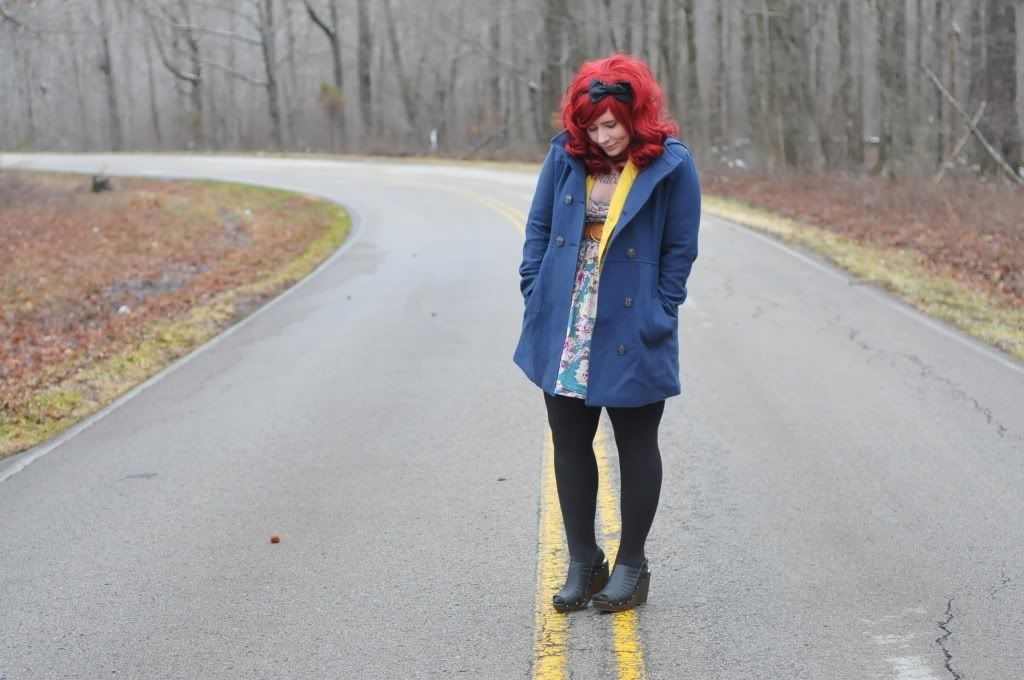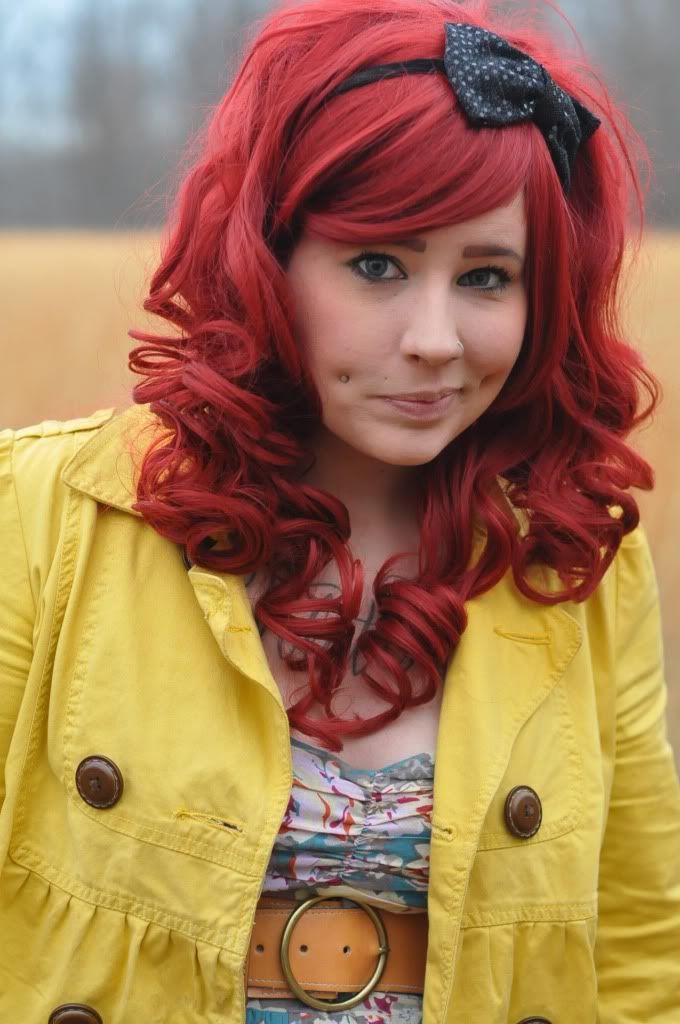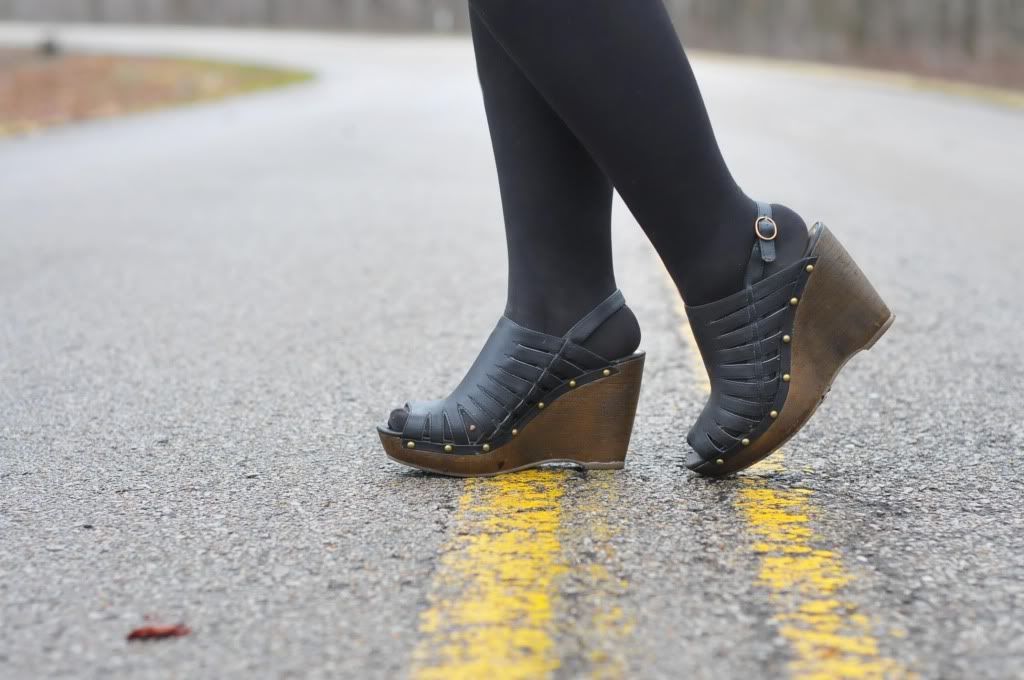 Take it all in, friends! I can't believe I'm wearing heels
and enjoying it!
Blown away. Maybe I'm growing up! Either way, I have more fun shoe purchases to share with you soon! Today we're ordering supplies for an Etsy haul and I'm going to schedule out my blog posts for the next week or so! I wanted to do a 14 day Valentine theme but time got the best of me so now it'll be 7! I hope! Okay.. off I go! I'll leave you with a silly gif of me spinning in the road! xo