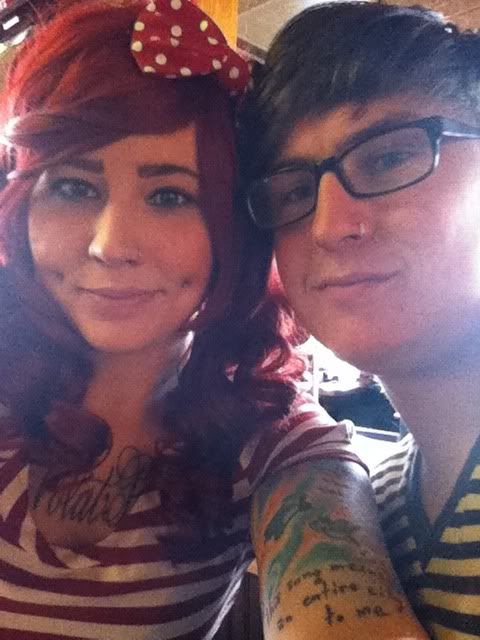 It's an understatement to say Valentine's Day is my favorite holiday. The reds, pinks and hearts galore, I eat it up. I anticipate the day with such a fervor that I can't even explain. Don't be fooled and think it's merely because I'm in a relationship, because it's not. Even as a single gal in high school I relished the 14th of February. I know so many people detest the day and chalk it up to being nothing more than a Hallmark holiday, but for me it was a proclamation of impending love. I may not have had it every year but I could appreciate it and those were fortunate enough. Plus, who doesn't love oversized teddy bears and balloons?! And I may or may not have a soft spot for the raspberry and orange creme chocolates. Shh!
This was my second Valentine's with Mike*. He's never been much of a curator for gifts. He's often left feeling flustered and stressed on getting me the "perfect" gift. I always assure him it's never about that, but he tries still. He woke up in the middle of the night to sneak out of bed and the house to go across town and acquire me a Valentine's goodie bag full of treats at 2am. Roses, trashy tabloids, candies from a story I told him about me being in 8th grade, and a Glee card to boot! I was tickled.
But that wasn't the best part. The best part was getting to spend every second with him today. Every single one. This of course is nothing out of the ordinary. I'm so fortunate to be able to spend almost every waking moment with him. I joked at the dinner table tonight that the only time Mike and I aren't together is when one of us is in the bathroom! Ha! (Well, and when he's in his weekly class!) But other than that, we're a pair. A duo. A team. With one comes the other.
I'm lucky enough to call him my best friend, my lover, my one and only, my business partner, my inspiration, my photographer, my voice of reason, my support system, and my number one fan. He's everything to me and for that reason I can safely say that everyday feels like Valentine's Day. He spoils me rotten and finds everything I lose (which is everything... seriously). He never raises his voice and he's patient and kind. I feel like the luckiest girl in the world.
Without risking being too mushy gushy or sickening, I'll simply say that everything I ever went through with my previous relationships and heartbreak has been worth it. I went through hell and back with my 3 year relationship before Mike and I never thought I'd ever love someone like that again but Mike swooped in at the perfect time and everything fell into place.
Last year we celebrated by renting a room at a mountain lodge in Gatlinburg. Nestled in the Smoky Mountains we dined on yummy food, went to the best aquarium (Ripley's. Yes, I like it more than the Georgia one!), went to too many jank tourist attractions, and ended it with a rushed trip to the ER to check me in for a camel bite (yes, that really happened). Oh, and we drove through a snow storm to get home! It was a whirlwind trip filled with so many tears (painful) and laughter (I mean... I
did
get bit by a camel! In the mountains! In Tennessee!)... We had toyed with the idea of returning. Instead we opted for a day-date, like we have almost every day. Errands and important stuff... productivity, lunch, fro-yo and enjoying each other's company.
Today made me realize that I don't need (or want) fancy candlelit dinners, rose petals, serenades or love poems. To be honest, those things make me so uncomfortable. I'm wary of showing public affection that is anything more than juvenile hand holding, but our little day-dates are perfect. To outsiders it would have appeared to be a day just like any other day, but that's the beauty of it... I get to celebrate it 365 days a year! And I get to share my love for Mike with thousands of people daily through this little blog, so thank you! Thank you for taking part in our Valentine's festivities and letting me ramble on about how fantastic he is!
Today was speckled with returns, sewing machine pickups, fabric shopping, applebees lunche, fro-yo on a bench downtown, random run-ins with people, activating a new phone and the wooden sky sing-a-longs. In a nutshell: it was perfect.
Mike - Thank you for being absolutely, indescribably perfect for me. Contrary to what I may claim, our silly bickering and nitpicking is one of my favorite qualities of our relationship. I can't imagine ever feeling this happy with anyone else.
I hope you all had a brilliant Valentine's! Whether you're single or spoken for, it's a day of love and laughter and sharing joy. Hug everyone around you, and then hug yourself, too! We should all be our own Valentine's!
PS:
CLICK HERE
if you'd like to read a recap of last year's adventures!