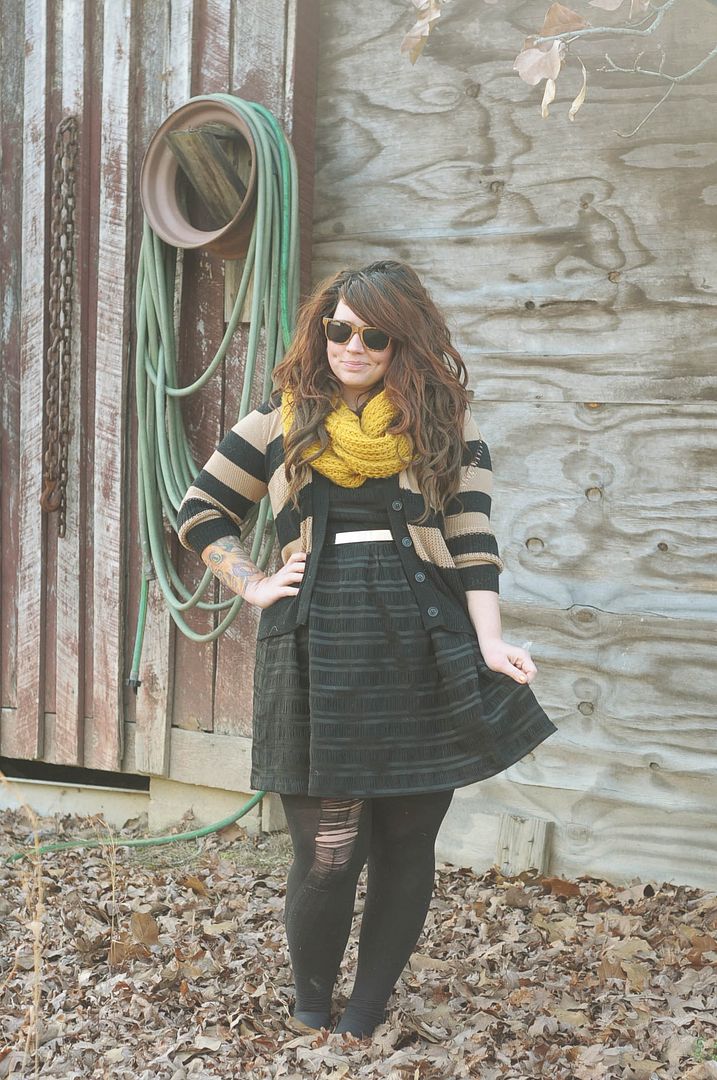 The fifth and final installation of the
LCH x LuLu*s LBD challenge
! I honestly wasn't sure that I was going to like this pairing, because it's a bit hard for me to imagine how garments will lay on my oddly-proportioned self. BUT with that being said, this ended up being a top contender. I don't wear a lot of knit sweaters or oversized items, but I do love pairing black and brown. This outfit ended up being a great recipe for all of those things. I wore this out and about yesterday (I got dressed
twice
this week!) to pick up the junk we ripped out of the new house and to haul it off. Yes, I was carting rolls of carpet and flooring in this... a bit odd but you do what you gotta do.
This little area/backdrop is one of the sheds in our new backyard. Can I admit something that will make me sound a bit foolish? When we first looked at the house I immediately got excited about the 2 rustic sheds in the back because they'd make great outfit photo backdrops... ha. Yeahhh. Don't judge me. Rustic is the perfect way to describe our new surroundings, that's for sure.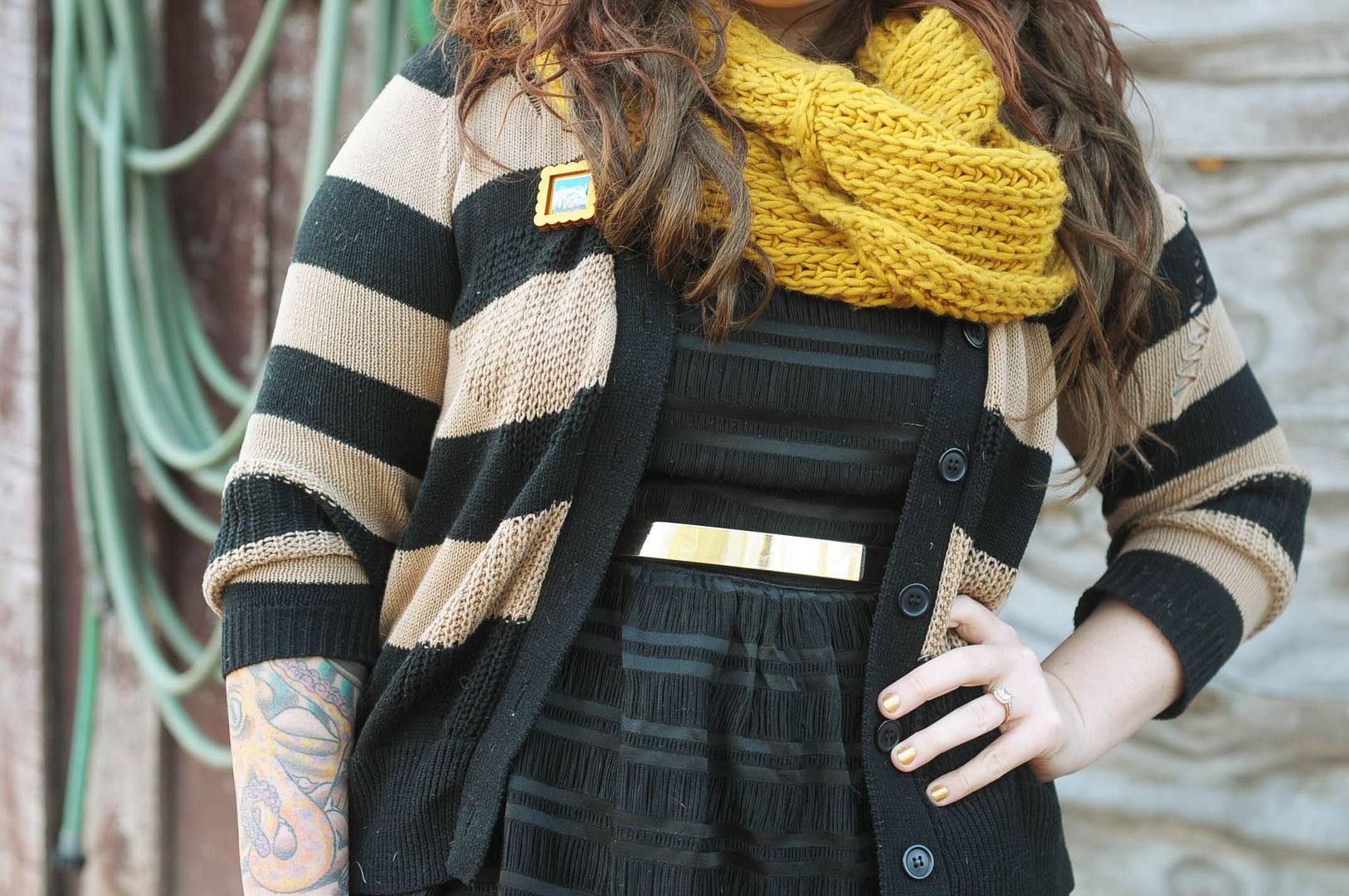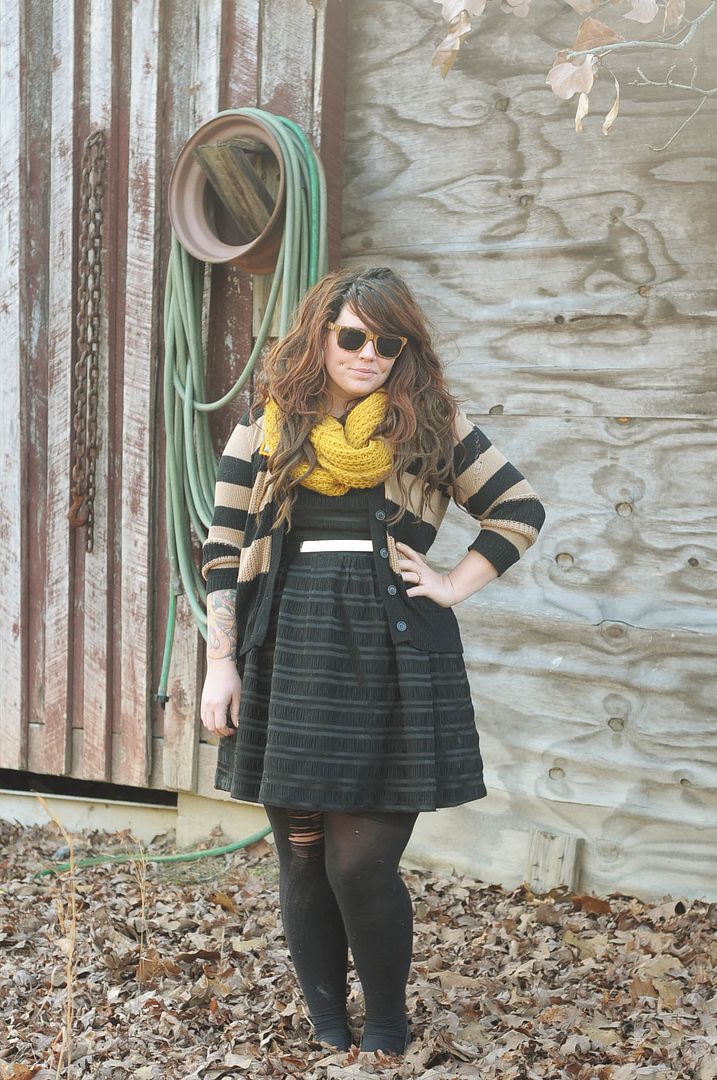 I've been wearing
my Tumbleweeds sunglasses
non-stop these past few weeks. They're the perfect shade of dark to keep my eyes comfortable during the day. They're having an Instagram flash sale on Monday, too! Maybe I can get my hands on one of those beautiful rounded pairs.
Swoon!
You can't see it all that well in the photos (whoops!) but I'm also wearing
a little instagram brooch
. Mustard hints for winter, a favorite!
This weekend we're headed back up to our house in Nashville to try and sort through what's left. A lot of stuff will get tossed, donated, and possibly sold off. We're selling off our huge sectional and handmade window-coffee table on Craigslist, so if you're on the hunt, let me know! We've tossed around the idea of having a garage sale either the first or second weekend of February (probably the 2nd?) but if that pans out I'll gladly share the info here. We won't be living there anymore so sharing the address will be less sketchy haha
Flapper Keeper dress c/o LuLu*s
Beige + Black sweater c/o LuLu*s
Assets by Spanx tights
Blowfish flats (that you can't even see!)
Instagram brooch c/o Instasparkle
H&M infinity scarf
Sunglasses gifted from Tumbleweeds (way back when!)
Here are the other LCH x LuLu*s LBD outfits: