On Saturday I moseyed up to Nashville to take care of a few things around our house and prepare for a friend's birthday party/sleepover. Mike stayed back at our new house to work on the pipes and floor for the weekend. By the time I drove all the way up I was starving, so I ran through the nearest drive-thru. I ordered and pulled up to the window to pay, but the lady just waved me by and said the gentleman in the truck in front of me took care of my order. Someone had paid it forward! Sadly there was no one behind me to keep the train going, but I told her "Thanks!" and waved to the truck as I pulled off. This seriously set me up in a good mood for the rest of the day.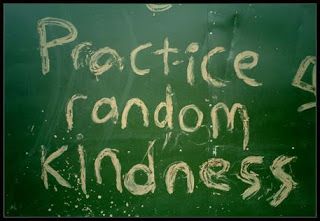 My meal was less than $5, and I had been on the receiving (and giving) end of a RAOK at a drive-thru before, but still, that's truly all it takes. All it takes is being a little more kind than normal to really make someone's day. I immediately spread the good cheer by sharing it on Twitter, and then thinking of how I could pay it forward in the upcoming days.
Being randomly kind doesn't have to cost you any money or be hard to dream up/complete in order to be successful.
Amber thought up 160 RAOK for you
to use when you just want to give someone a little extra cheer. I've always been a gal who will open/hold doors for strangers, and give compliments in passing when I feel inclined, but since being on the receiving end once more, I feel truly inspired to be a little bit kinder in general. It's really a chain reaction. Just smiling at someone or paying them a compliment could mean that they turn their day around and do the same for someone else. And then so on and so on. Happy is contagious!
I've actually be planning to do 25 Random Acts of Kindness for my 25th birthday for a few months now, but I think I'll be partaking in the 52 Weeks of Kindess (at the very least!). We can do something nice for someone each and every day, but I want to make it a priority to go a little bit father at least once a week.
How about you? Have you ever been on the receiving end of a RAOK? Or how about the giving end? I want to hear about your experiences!
It makes my heart so happy to know that simple kindness still exists. And all it cost that person was a chicken sandwich... but boy, it makes an impact!
(photo sources)