For the past couple of weeks our new house has been torn completely apart. I'm talking stove in the middle of the kitchen, absolutely no flooring (it's all piled up on our back deck), and the better part of a wall in the bathroom was knocked out and rehung. There's more drywall dust in that house than snow in Aspen at this point. We've spent long, exhausting hours working on it and trying to get it ready for new flooring. We're finally almost there. Our bedroom needs one more coat of paint, the bathroom needs to be painted, and the cut in behind the cabinets needs to happen. Then we'll hopefully have flooring be laid tomorrow/this weekend.
It hasn't all been sunshine though. When removing the vanity in the bathroom, Mike accidentally busted one of the water pipes under the house. It was pitch black, 30-some-odd degrees, and this town is so small there was literally no one to call. Luckily between Mike, myself, my uncle, our floor guy, the past tenant, our soon to be neighbor, and one city employee (with the help of neighbor's handy dandy metal detector), we finally found our water main... an hour and a half later. In the middle of our driveway. (Who puts those in the middle of a driveway?!) Yes, you read that correctly... seven adults. It was completely covered over and it was like a wild goose chase. Guess that's part of the fun, right?! We'll look back on it and laugh, no doubt.
BEFORE // DURING
Here are a couple of (crummy iPhone) photos to show you what we've been up to. I'll snap some better ones once it's all done, before we move in. Let me just say this: the kitchen and hallway was a horrible red (and so poorly painted), the living room was yellow + green smeared together (yes, really)... my new office was bright pink walls with purple carpet!!!, our bedroom was a yucky peach (painted over green?), toby's room was a dark brown and the bathroom was the brightest turquoise ever... with wet sand colored accents. AWFUL! We've pretty much painted everything grey, with Toby's room a light sage, and the bathroom will be pink (I know, I know.) I can't wait until I actually looks livable and we can start moving over some stuff. I'm seriously considering having an indoor yardsale at our Nashville house once we get out everything we're moving. If you're in/around town, stay tuned hopefully!

The flooring that we're laying is a darker wood in the entire house, then black and white vinyl tile in the kitchen and bathroom. A very 50's/retro theme if you can think of it. You can get a glimpse at our new dinette set in the second set of photos below, on the right... we seriously planned the entire kitchen around that set!
BEFORE // DURING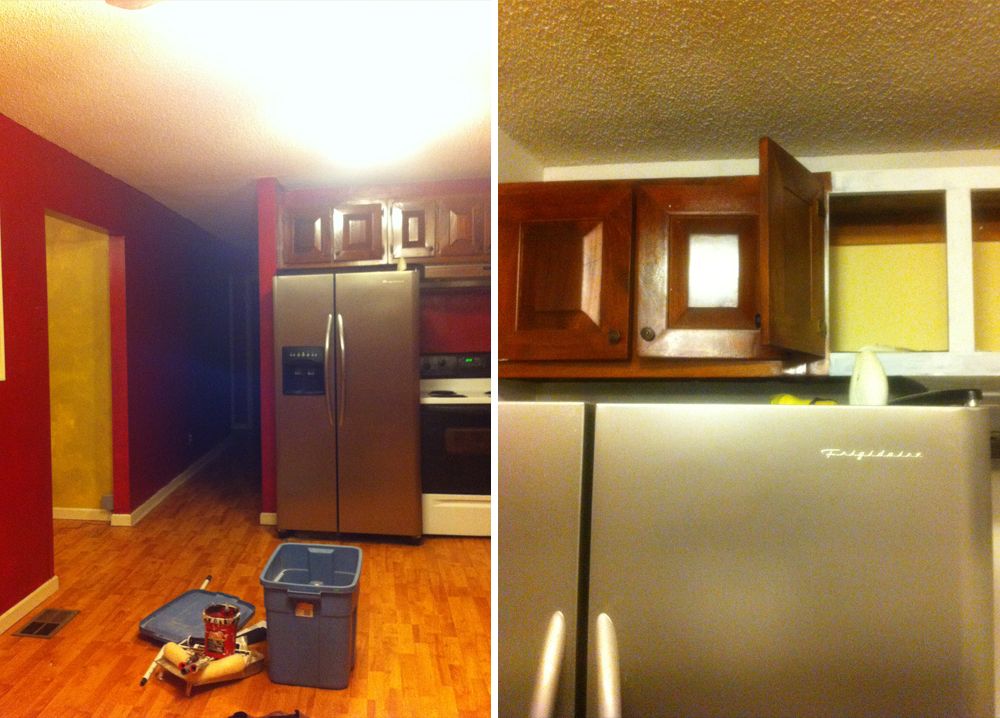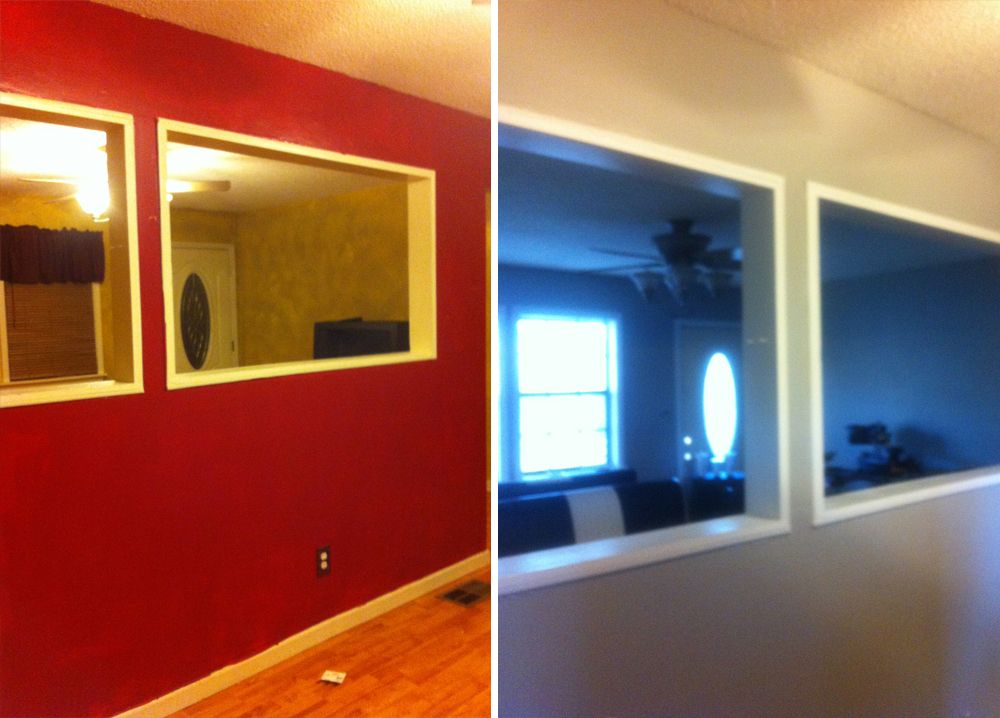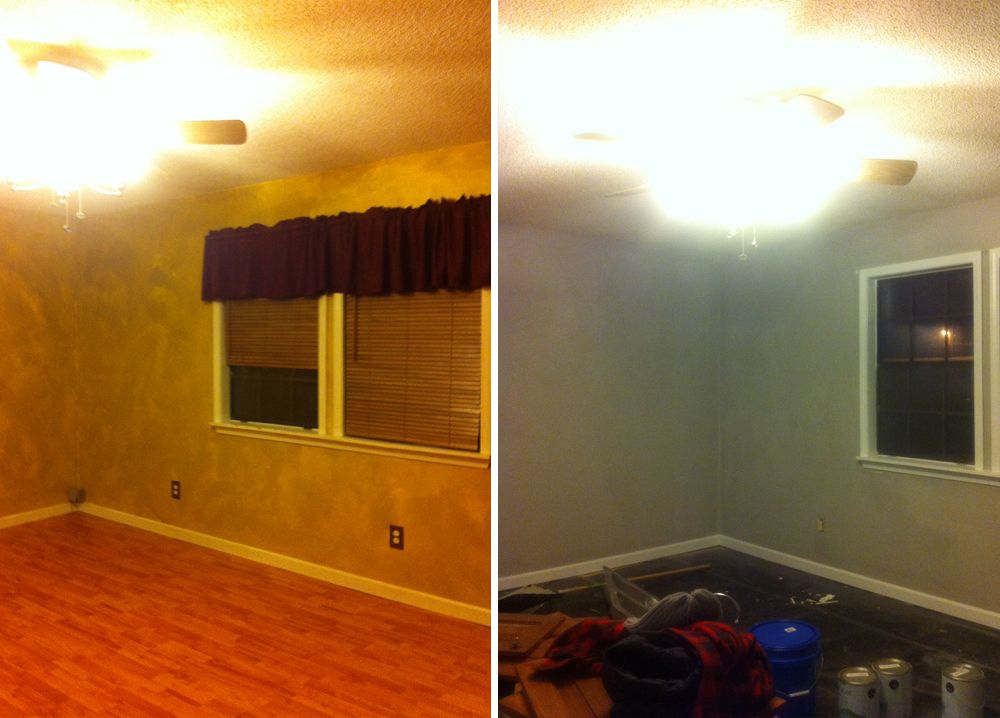 It's a lot of work but we are SO excited. It'll be exactly what we want and we can make it fit us rather than the weird rental limbo of fitting into a space. Mike has already expressed his love of renovating and said he'd like to try his hand at flipping houses at some point in the future. (Let's maybe just skip busting a water main under each house though...)
Have any of you tried renovating a house? Any tricks or tips you can send our way? Or better yet, funny stories?

PS; Because I know it'll be asked - no, we didn't buy this house. It's actually a rental that my parents own and lease out. We made the decision to move out of the city mainly for safety + educational reasons (for Toby), and we'll be taking over the mortgage. It's about $900/mo less than what we pay in East Nashville, and it's definitely bigger. It'll allow us to get Toby into preschool and sports, as well as see his family more often. It'll also allow for us to decide over the next few years exactly where we want to be planted. We feel so very fortunate to have the opportunity to take up an offer like this. We know not everyone has the opportunity to scoop up a house way under market value. We felt it necessary to get out of East Nashville for our own benefit, as living so expensively was foolish because we didn't have anything truly keeping us there. Plus I can live without all of that insane crime. We're doing all of the renovation work, but the house needed updating anyway. Who knows, we may stay here forever. This has and will continue to affect a lot of our business decisions but we're pretty stoked on it. :)