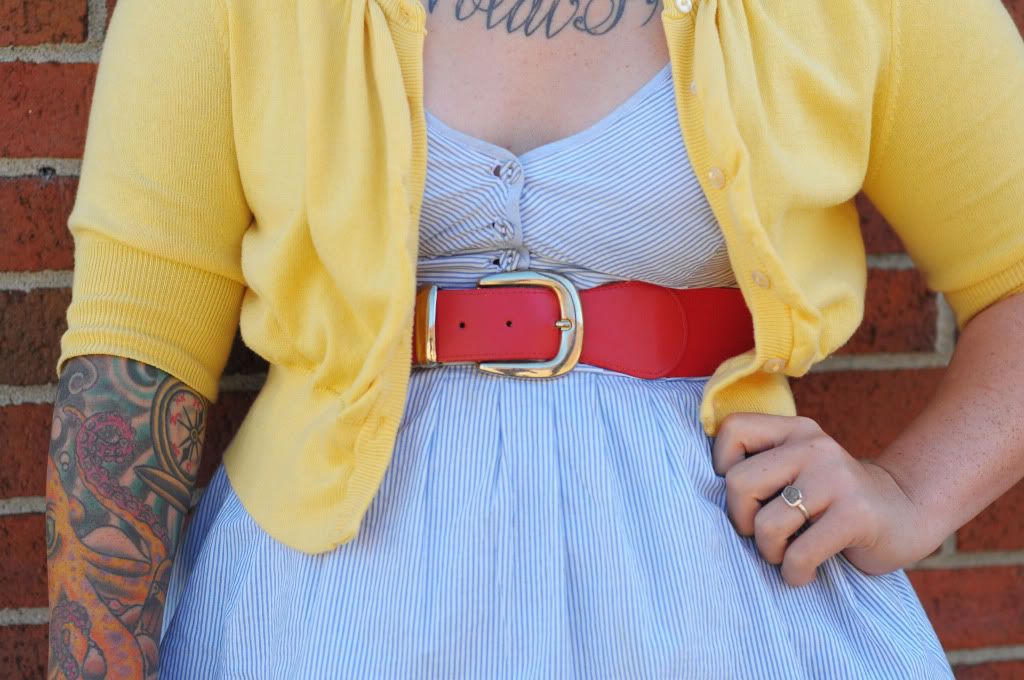 The days have been a little jumbled together lately. I couldn't even begin to tell you what day these outfit pictures were shot on. Sunday maybe? Saturday? Anyway, not the point. This is how you'd probably see me if we hung out. 99% of the time my hair is in a messy messy state, right on the top of my head, going in every which direction. I snagged this Converse dress at Goodwill a couple of weeks ago for... get this... 99 cents! The dress was probably from Target to begin with.. maybe $25? It's cute, that's for sure. It's simple and blue/white striped, and about 2 sizes too small. The skirt fits just fine, but the top is a weeeee bit small. You can tell the buttons pull just a smidge but whatever. It was 99 cents. I'll make it work! I decided it pair it with my favorite 25 cent belt and this ol' yellow cardigan from Charlotte Russe years and years back! The red flats are some I snapped up on
PLNDR
many months ago for a mere $9. This entire outfit was under $20... not a miraculous feat or anything, but I'm pretty proud of it.
Tuesday night Mike and I headed over to the Cannery Ballroom to see Motion City Soundtrack and Jack's Mannequin. It was a great show. JM played Swim and Spinning back to back and I don't think I've ever sang so loud. My night was totally made. I honestly would've paid $25 for the tickets just to hear those 2 songs alone. Swim will always hold a very very very special place in my heart. Yesterday, however, was one of those days where everything goes wrong. Not just for me, but for Mike, too. It was a tough day but we're hoping that today will make up for it! I'll be working on Honeybean stuff and design work while he's at his job, then we'll be work on Honeybean together and hopefully still have time for the Mat Kearney show at Cannery. Undeniable is a special song, too. It's going to be a great show, I just know it!
Happy Thursday, Honeybees! TiLT will be up later today! xo
Converse dress, thrifted
Thrifted belt
Charlotte Russe cardigan
PS;
PLNDR
has a ton of cute dresses for >$10 today. I noticed them last night when I was poking around. Kind of trying to not buy them all myself.
PPS; Today is the last day to get the discount for November sponsor slots! Take advantage of the Holidays rolling in to promote your shop/brand!
Peep here
for full details! xo