This month's Featured Sponsor, Krista of Saturated Canary, has opted to do a guest post for all of us here on Little Chief Honeybee! Her take on summer style is fun and fabulous so please be sure to read through and comment below! There's a giveaway coming up from her shortly! Thanks so much, Krista! xo
------------------------------------------------------------------------------------
Hi, my name is Krista. I am an artist. I love to draw all types of pretty, sweet, and even creepy characters. There was a time when I considered using my love of drawing people to pursue a degree in fashion. I absolutely love the aspect of styling a character. Giving a girl her own look. Own fashion sense. That is perhaps my favorite part of bringing a character to life. I'm so inspired by fashion. It tells a first glance story.
That is part of the reason why I'm an *avid* and slightly *addicted* follower of Kaelah's. I love this blog! How could you not?! She has a great take on personal style, making no apologies for loving dresses, colorful hair, and lovely tattoos. She is my kind of girl, for sure! :) For my guest post, I want to give you my take on summer style in a particular shade. The color white. I love wearing white in the summer—it reminds me of the beach! Hopefully, I can show you how to do
two
white-on-white combos that are pretty, fun, and totally wearable! :)
The pieces I used for the two outfits are:
a fitted white tee (Target)

white jeans (can't remember; they are pretty old)

white a-line skirt (Victoria's Secret)

statement belt (Target)

eternity scarf (UO)

wedges (pink, Modcloth; red, Jessica Simpson)

cute hair accessories (Target)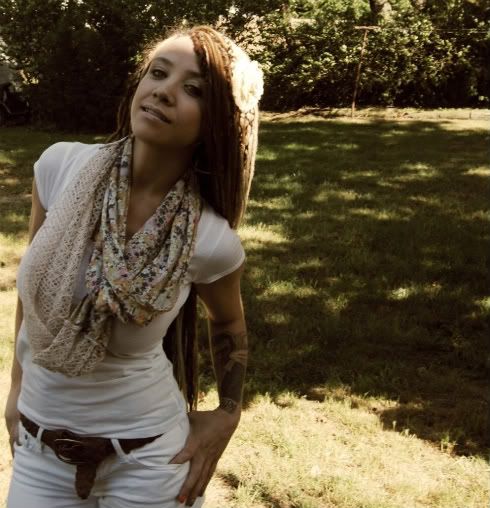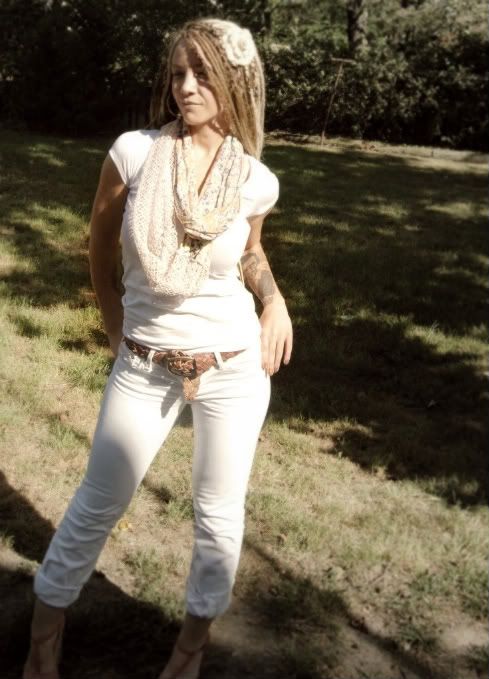 This is an outfit I wore recently to do my Friday errands. I added little touches of color with my scarf and pink wedges. I
love
a knotted belt, so added a braided brown one. Threw in a flower hair clip. And
TADA!
A crisp, cool summer outfit. (And, I managed to keep it clean—which is pretty amazing with two little kids in tow;).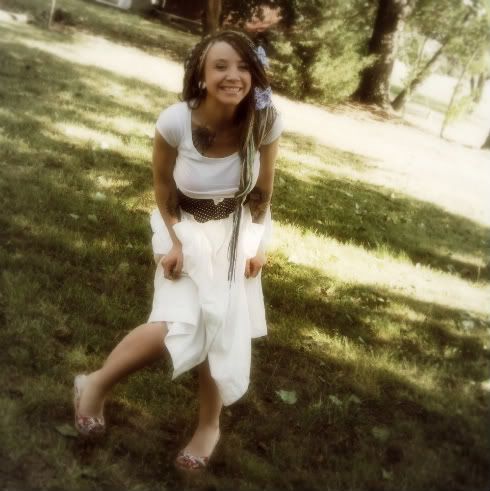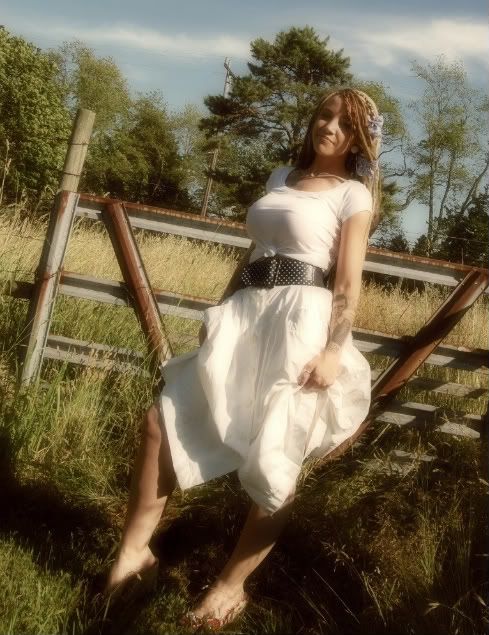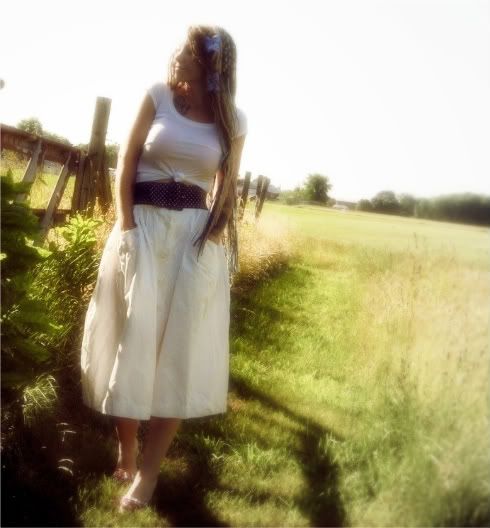 The second style I chose is a bit more girly and perfect for a Fourth of July picnic! I paired the same tee, knotted in front, with my favorite A-line skirt. Used an old polka-dot belt for a punch of navy blue. Added red, peep-toe wedges. Finally, with a sprinkling of red and blue hair bows, this look is perfect if you like a girly, vintage, even pin-up twist, to your style! Wearing a pretty white skirt to a picnic might be a leap of faith (be
careful
with your burger drippings!), but you'll look so fresh and chic. It's nice to see a girl dress up for an evening out, even if it's just a backyard bbq!
I use to shy away from white. Picked up the idea somewhere along the line that the color was less than flattering. I don't believe that's true anymore. Maybe it's not perfect for every day of the year, but you should try to take advantage of white in the summer months! Using it as a base color for an outfit leaves you free to add fun accessories, pops of bold color, and play with different textures and patterns.
Thanks for checking out my summer style advice ;)! And a special thanks to Kaelah for letting me chat a little here on her pretty, stylish blog! I'm so inspired by her flare for color, great dresses, and fun accessories. There is nothing like a girl who has great fashion sense; and it all starts with knowing what you like, having confidence in your personal style, and totally rocking it! Have a lovely summer, honeybees!
Be sure to drop by her blog to say hello and check out her cute drawings! You've got a chance to win one coming up shortly! xo