I'm excited to share with you another reader wedding this week! It's been a couple of weeks since the last one and the weather is dreamy and gloomy so I thought some bright and bold pictures of a cute, happy couple could liven up the mood! Check out the wedding of
Miss Tiffany Troop
to her lovely beau, Kyle. In lieu of the traditional WW interview, Tiffany has put together an account of her magical day in her own words! Be sure to check out more photos and more of the story after the jump!
All words by Tiffany.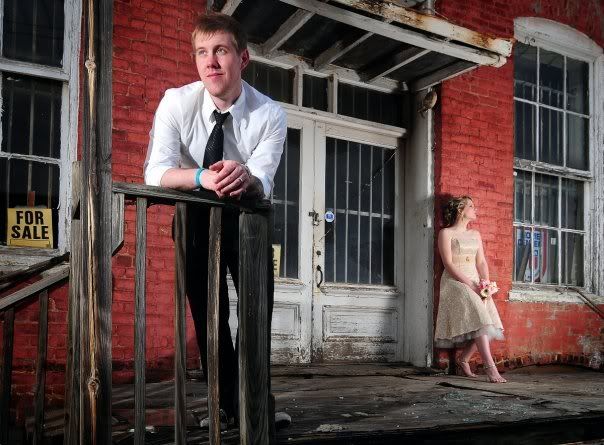 "When I was 21, I woke up one summer day and realized that I was falling for my best friend Kyle. Eeeek! Since he'd been hiding romantic feelings for me for 5 years, it wasn't long before we were an item - and since we knew each other so well before becoming a couple, it took us just a few weeks to realize we were headed straight for marriage.
I put our wedding together in a matter of months. A few months after Kyle and I got engaged, both of our mothers were diagnosed with cancer. We delayed choosing a wedding date until their treatment was completed. Kyle's mother made a full recovery after a few months, but my mother's treatment continued for another year. Finally, as I was finishing up my last semester of college, she told me to just choose a date already and quit putting it off - so I did! We chose Sunday, April 26, 2009 in downtown Cartersville, GA, just outside of Atlanta.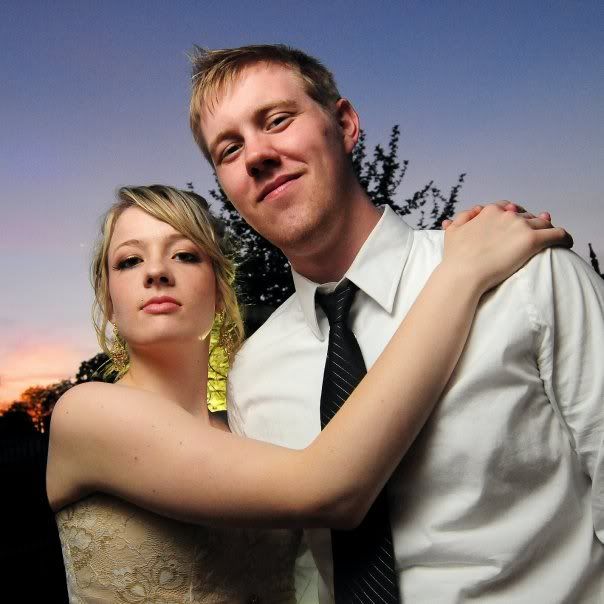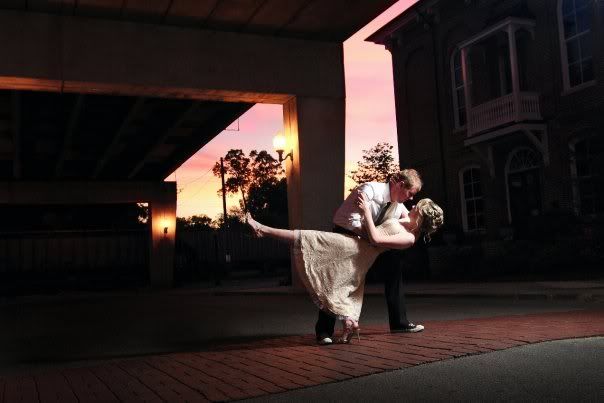 Everything about the wedding was DIY - I made my own wedding invitations, shower invites, "admission tickets" (like movie tickets), advice cards for the wedding guests to fill out for us, sign-able photo frames, guest book, wedding decor - including brightly-colored paper lanterns from the 2-story ceiling, flowers for myself and my bridesmaids...you name it, I did it myself (assisted by bridesmaids at times!)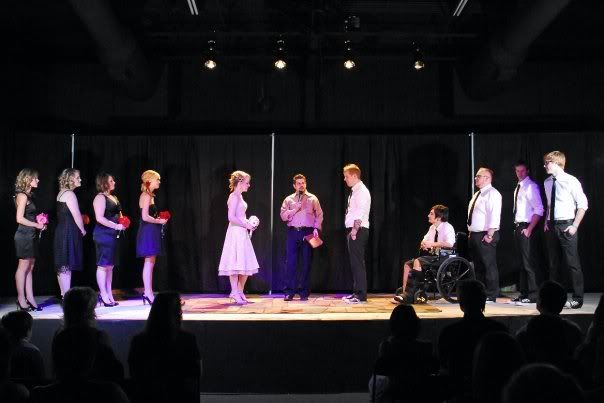 As an extremely fair-skinned person, I had no desire to wear white. I LOVED the dress I purchased - it was technically a bridesmaid's dress, so I got it for a steal...$199! Everyone told me it looked as though that dress was made just for me (even though it was off the rack!) My grandmother let me borrow her amber brooch, which I pinned to the dress.
My bridesmaids wore black faux snakeskin peep-toe pumps and black satin dresses in different styles, and they carried brightly-colored bouquets of daisies, which matched the color of their nail polish. My husband and his groomsmen wore dress pants from Gap, white dress shirts from Express, black ties from Target and Converse - he wanted the guys to get use out of their clothing again, too.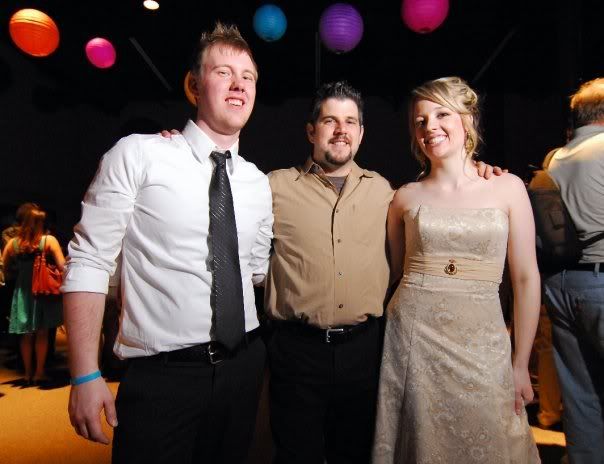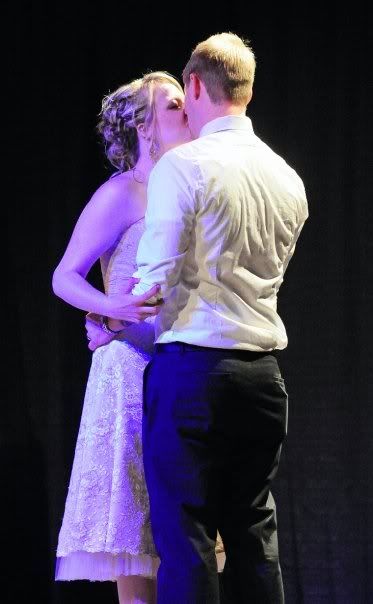 Click the jump to see and read more about this big day!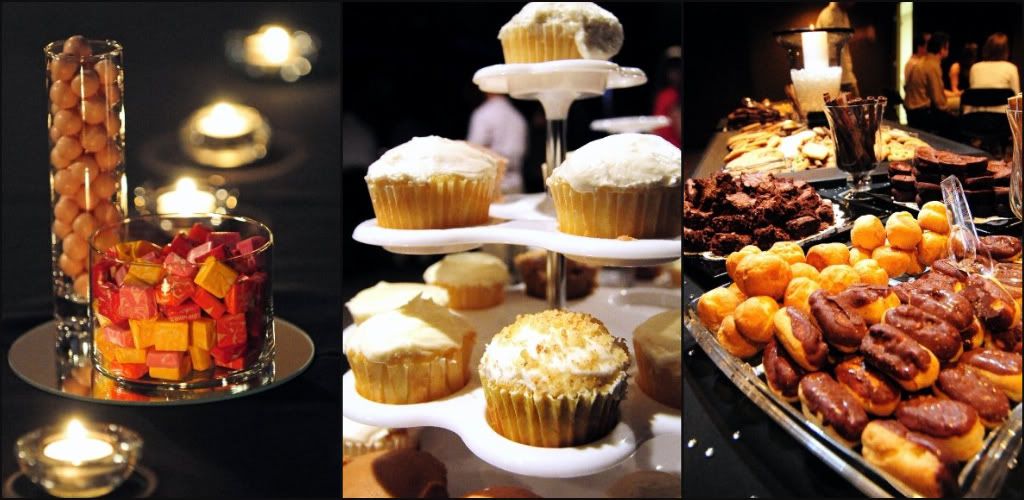 Kyle's best man Zak was in a horrible wreck a few months before our wedding, breaking both legs, among other injuries. He was worried about messing up our day and photos by being in the wedding in a wheelchair, but we told him we wanted him there with us no matter what. He took some pain medicine and stuck it out through the whole wedding!
Kyle and I and our groomsmen and bridesmaids all got ready for the wedding together. The salon I go to was nice enough to open it up for us on a Sunday, and the girls and I got there early to have our hair and makeup done. The guys came later in the day to get dressed. Kyle and I didn't care at all about seeing each other beforehand - we make our own luck! We were all running behind, so I helped my stylist get the guys ready - I washed and dried Zak's hair since he was in the wheelchair and couldn't do his hair well himself.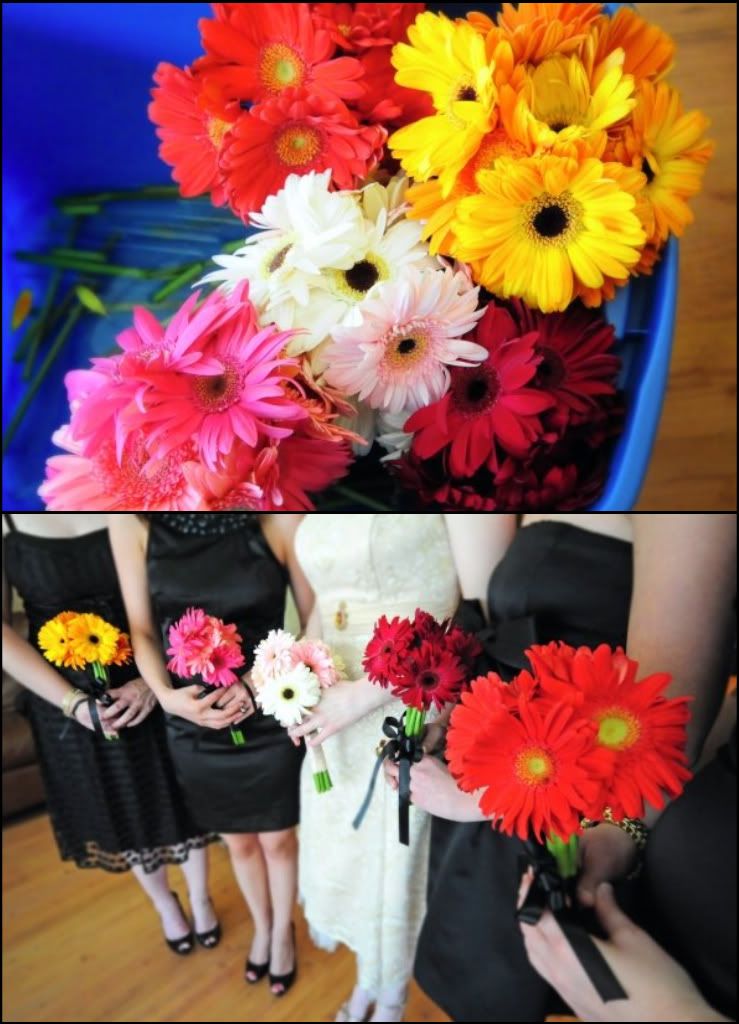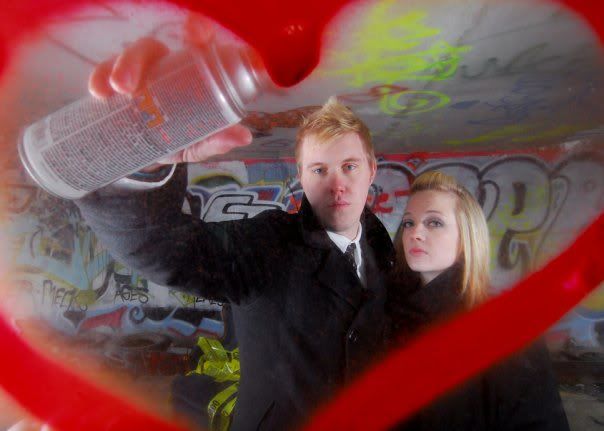 Our wedding took place at 4:00pm that day, in a nightclub called the House of Rock. Our church purchased the old nightclub a few months prior, and our wedding was the first event to be held in the renovated building.
Unfortunately, our wedding also took place illegally. The building wasn't up to the city's safety codes - and worse, the building inspector's son was a guest! He asked his father to please stay away from the street the building was located on, but we had to hurry our reception - we got out of there in 2 hours!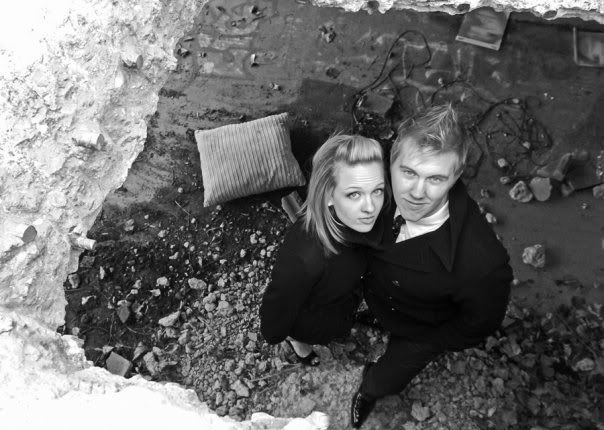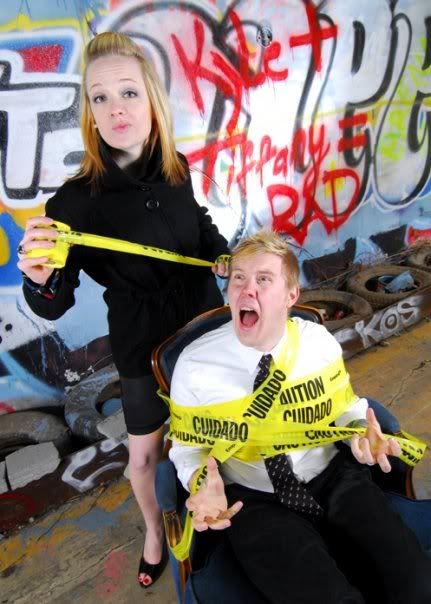 In addition to that little snag, our wedding party shrunk by two people a day before the wedding. One of Kyle's groomsmen called him, saying, "What was I supposed to buy to wear in the wedding again?" Kyle nicely told him not to worry about being a groomsman at all. Then one of my bridesmaids had a drug overdose! She'd had a procedure done the week before, and she was sent home from the hospital with the wrong orders and prescriptions. She nearly died!
My mother wasn't able to attend my wedding, but we streamed the entire ceremony live online for her to watch at home with her best friend. Although it was very difficult for me to leave the house that morning knowing she wouldn't be able to attend my wedding, I made it through and had a wonderful day.
Before the wedding started, we showed a countdown video. We found a video of 6 Asian kids playing a classical song typically used in weddings on youtube, so we used that. Afterwards, our ceremony lasted only 9 minutes - a very practical and realistic ceremony, focusing on a Biblical marriage, without using all the cliche phrases - "to have and to hold," "lawfully wedded husband/wife," etc. Our first kiss was pre-choreographed to Angels and Airwaves' "The Adventure" and it made everyone cry!
Our reception took place in the same building. We set up tables with candy centerpieces and played a mix of our favorite songs, including Jack's Mannequin, Rancid, Blink-182, Dashboard Confessional, and lots of 90s hits. We didn't dance, though - we didn't have time for that, and I hate to dance, anyway!
We served coffee and hot chocolate, and lots of cookies and pastries and other sweets. My mother-in-law made hundreds of cupcakes in leu of a wedding cake - including my favorite, chocolate cake with strawberry frosting!
For a laugh, we included changing our Facebook statuses to "married" with a projector on a big screen as part of the reception. We also used my Macbook to set up a photo booth for guests to use. We got lots of fun pictures and some hilarious videos! Although I know I wasn't the first to come up with this idea, I'd never heard of it before the wedding and thought it up myself. The idea appeared at the weddings of nearly every engaged couple that attended our wedding!
After the wedding, we went out with our photographers to take our "bride and groom" photos at sunset. They were just wonderful and speak for themselves! Then finally, one of the best parts of the day - I got to take off my false lashes and heels.
Then we woke up the next day to head off to our honeymoon, staying at a funky hotel in downtown Atlanta! We wanted to stay close to home, so we spent our honeymoon eating lots of sushi, doing lots of shopping, drinking lots of Starbucks, and getting tattoos.
My husband is the most wonderful man I've ever met and is the perfect match for me. Although it was a great day, our wedding day was just that - a day. At about 4:00 on the morning of the wedding, Kyle sent me the sweetest email telling me he couldn't wait for us to be a family, with our own values and traditions. That's the best part of our wedding - it was the start of the two of us being a family unit. We both have wonderful families, but since Kyle's parents divorced when he was young and my mother passed away 3 weeks after my wedding, it's nice to have a stable family unit to come home to...even though it's just the two of us (plus the kittycat and dog)."
Photography by TLH Studio.
Thanks for submitting your lovely day, Tiffany!