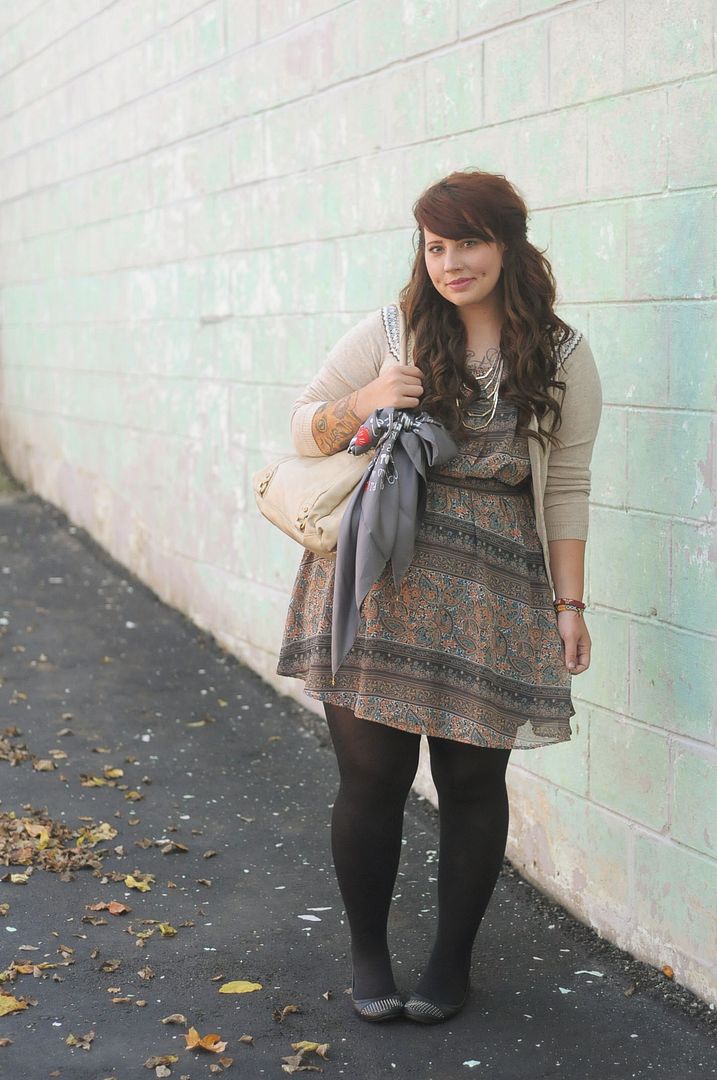 Ah, well today was supposed to be my run-over TiLT post, but I decided sleeping in sounded awesome (not really on purpose) and now we're halfway through the day. Instead you'll get an outfit post from a couple of weeks ago. Totally the same thing, right? Well here's a new promise: a double whammy of a TiLT next week... let's hope I can keep my word this time, yeah? Okay so, this outfit is
something.
I am not about paisleys or "carpet" type patterns
at all,
so liking this dress came as a surprise to me. I received it in a
Stitch Fix
box a couple of months ago (I've been so out of touch!) and I really liked the fit. I wasn't sure if I'd be able to overlook the pattern but I'm glad I kept it because it's a nice neutral, but still showing a busy print. Maybe I'm crazy, I don't know. But I like it and that's that.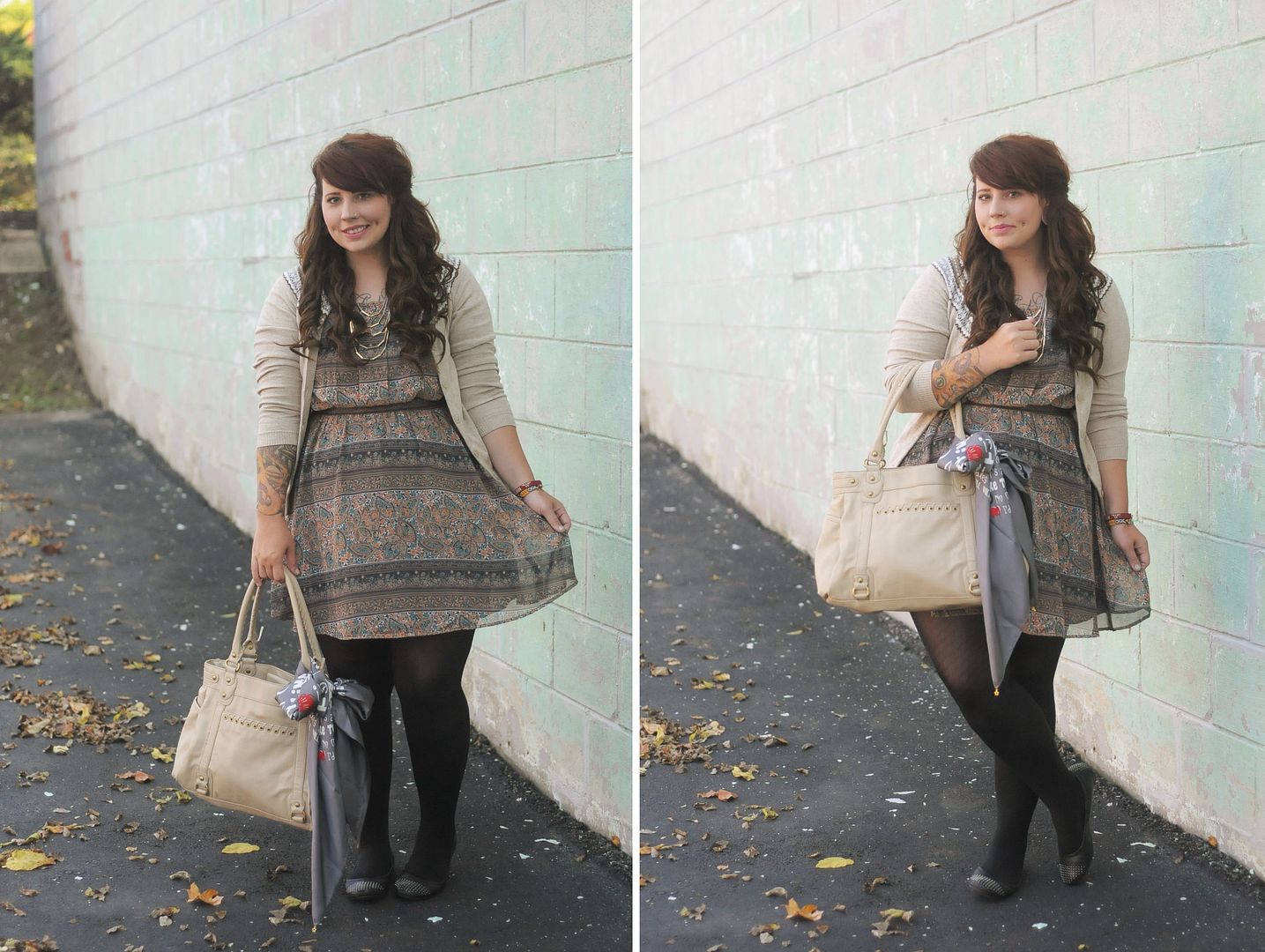 Yesterday morning I had the privilege of joining 4 other Nashville bloggers at Saks Off 5th for a holiday preview around Opry Mills mall. It was great to be introduced to other bloggers around town, especially since I had never heard of any of them. Each had their own "genre" (for lack of a better term) of blogging and it was an interesting mix. We toured the fashion wing of Opry Mills (never knew that was an actual thing!), learned a lot about several of the shops (Fun fact: Coach began as a business that designed + sold men's baseball gloves. That's also how the name "Coach" came to be. The more you know!), shopped around a little, and brought home some lovely swag bags. I'm a very awkward/shy person by nature so I kept being finnicky about whether I was going to go or not. I'm glad I RSVP'd as soon as I received the invite. I knew I'd be a lot less likely to let my nerves get the best of me if I had given my word of intent. Am I weird? Probably. Anyway, it was actually great and I'm so glad I went. Maybe it'll propel me to get out of my comfort zone just a little bit more often. (You can peek some photos of yesterday on Twitter using the hashtag #SaksFash)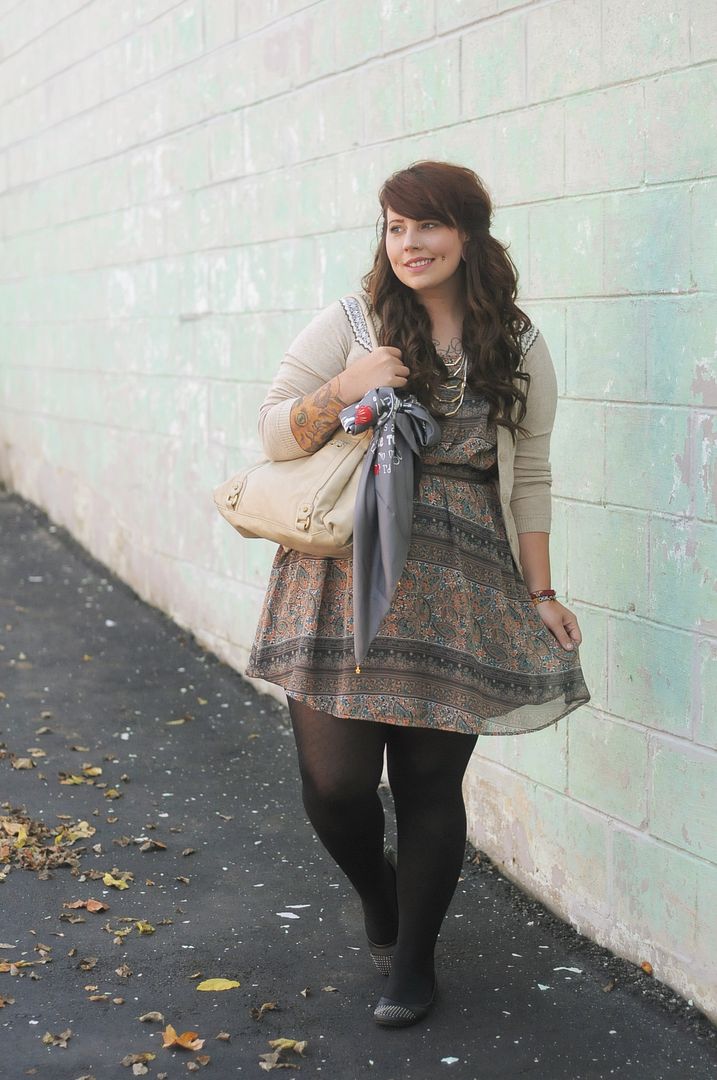 This morning I sat down at my desk and poured out 15 things on my "to do" list for today already. I'm trying to pack as much in as I can so I can kind of just unplug this weekend. Being that I don't clock in anywhere anymore, I can't keep my days straight and I'm afraid I'll get burnt out if I don't allow myself some "off" time. I'll be seeking some work-from-home advice from y'all soon, so get ready!
Happy Friday, y'all! Don't forget you can still get your entries in for the
Bagatelle Designs giveaway
and I have a few more custom wooden signs up for grabs if you're interested!
Email me
:)
Target cardigan
Handmade bracelets via Mexico honeymoon
Target tights
Forever 21 purse