Remember that one time
I made that vlog/video about
Little Black Bag
? Well, first off I'd like to thank you for sticking with me after seeing/hearing how awkward I can be, and secondly, I'd like to welcome
LBB
back to LCH turf. This time around
Little Black Bag
wants to gift
you
(yes, you!) with a free item, just so you can test the style-lovin' waters of
LBB
. (Was that as awkward to read as it was to type? Okay... sorry.) But for real,
they're giving each and every last one of you gals a chance to pick an item worth up to $25 for free, no purchase required!
There's no catch, just pay for the shipping! ($4.95) That's not considered a catch right? When you take a peek at what's up for grabs, you'll feel like it's totally justified. My favorite part of the LBB experience is trading for something I
really
love. I know a few of you gave the whole thing a go last time... Did you like it?!
Here are a few of the items I'd consider snagging if I were eligible! Seriously, someone get those iPhone cases STAT! (andsendthemtome. just kidding!)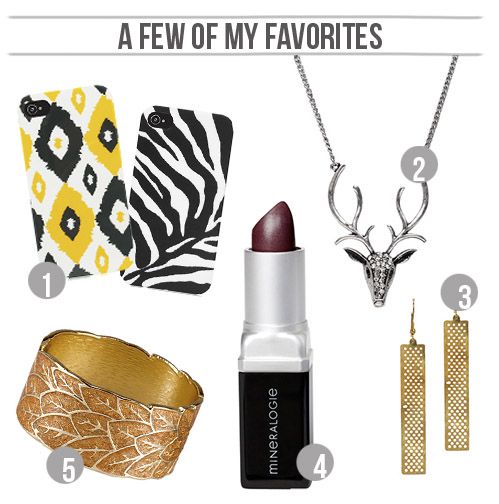 3. Haiku earrings. 4. Catwalk lipstick. 5. Leaf bracelet
In case you need a run-through of the deets, here they are:
+ "Enjoy a FREE item on Little Black Bag! Try out the new fashion focused experience that girls are raving about. We know you'll find something you absolutely love."
+ No purchase required. Simply pay for shipping! (A steal at $4.95)
+ Offer expires on November 14th and 7am PST.
+ If you don't love the LBB experience, just give 'em a ring at (310) 421-4500!
+ Please note that this offer is good for new members only! (Get a friend to sign up!)
Let me know what you end getting, yeah? I'm a fan of LBB and I'm still using my rad mint bag. Anyway, Happy Thursday! I'll be back tomorrow with an extra large dose of TiLT (needed a little more time to rack up those awesome links!)