I've been wanting to write a post like this for quite a while, but I've yet to give myself the time to sit down and do it. But here it is! It's absolutely no secret that I enjoy shopping. A lot of bloggers do. And even though we tend to showcase our new purchases like our pride and joy, most of us still have adult bills and responsibilities to handle. Whether we get our money from working a job or two, blogging, parents, whatever, delegating how you use it can be tricky. Most people enjoy fancy new shoes or splurging on their favorite magazine... I'm no millionaire (ha! To dream...) but I like to treat myself to things like that, too. I get asked almost daily via Tumblr how I afford so many shoes or dresses or the things that I buy. My trick: buying almost everything on sale. The sale score I'm probably most proud of is my Jeffrey Campbell shoe collection. All but 2 pairs were bought on sale. It makes a big difference to snag a pair of $160 shoes for only $35 (or $8 like my most recent prize!) Okay, so a lot of people don't want to spend their hard-earned money on Jeffrey Campbell shoes... I know their appeal is lost on a lot of people. But for those of you who do want your own pair, hopefully this will help! This isn't just about shoes though! I'm going to share some of my absolute favorite sites below where I grab my biggest deals.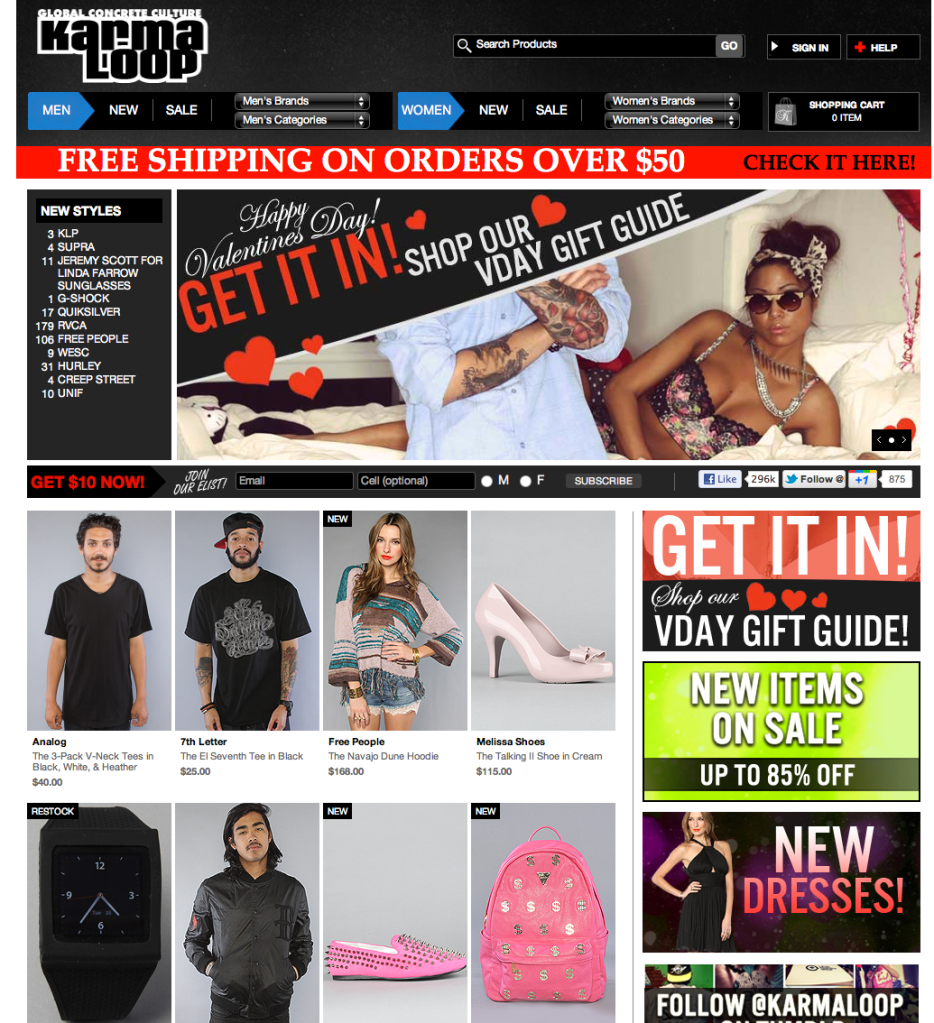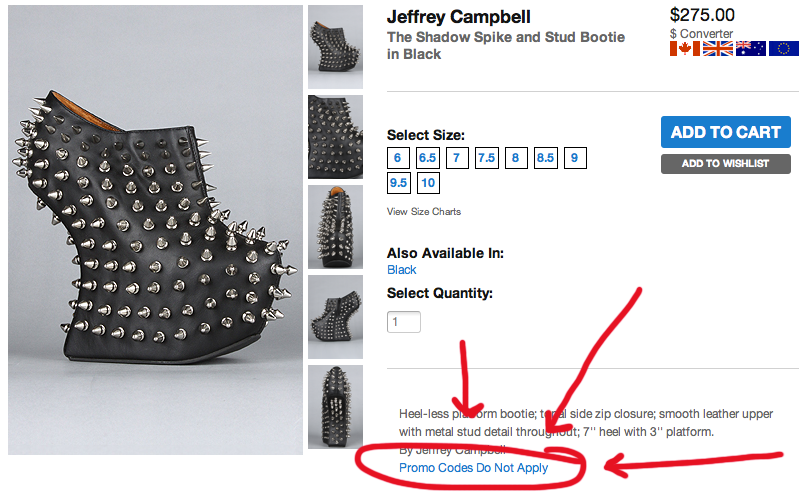 Karmaloop is one of the only websites I've seen that drastically marks down their Jeffrey Campbell shoes. I'm not sure why they do it, but they're also sneaky about it.
Jeffrey Campbell is one of the only brands they carry that they routinely add the disclaimer "Promo Codes Do Not Apply" to. (The others being brands like Nixon and Burton).
However they sometimes lift that disclaimer and allow you to purchase them with discount codes... they just don't tell you that.
I have the Karmaloop app on my phone so I check it every so often to see if it's lifted or not, and if they have a stellar discount code on top of it, I go for it. Sometimes the codes are as much as 50% off. They don't let you stack your discount codes online most of the time, but I had an issue one night and I called Karmaloop's Customer Service number and the associate was so incredibly helpful. He said that they often let you stack your coupon codes if you call, but some associates won't. It's really just a trial and error. He saved me $70 with that simple phone call one night! The easiest way to stay on top of their deals is to just visit the site daily and look at the top part of the page (in red)... they always have their biggest coupon listed there. Right now it's slow since it's post-Christmas but the holiday sales were out of this world.
Pay extra close attention around holidays (of any kind!) because that's what they usually use!
(
PLNDR
is a flash sale site that is a derivitive of Karmaloop. It's mostly street-wear which I'm not crazy about, but I've managed to snag some insane deals on Wildfox, Betsey Johnson and Free People!
You just sign up and check out the daily sales. PLNDR also gives you a $10 credit after your first purchase.
) -- (
disclaimer: I am a rep for karmaloop and have my own discount code to give to my readers. i accumulate "points" if you buy things. [read: i earn 50 points for every $10 spent using my rep code] Everything below is honest + would be whether or not I had a rep code!)
Note: Karmaloop also carries brands like Free People, Betsey Johnson, Senso Diffusion, and Sam Edelman... their discount codes are always valid for these brands!
-- You can save 20% off your order with the repcode KAELAH. It's also valid for 10% off of PLNDR gear!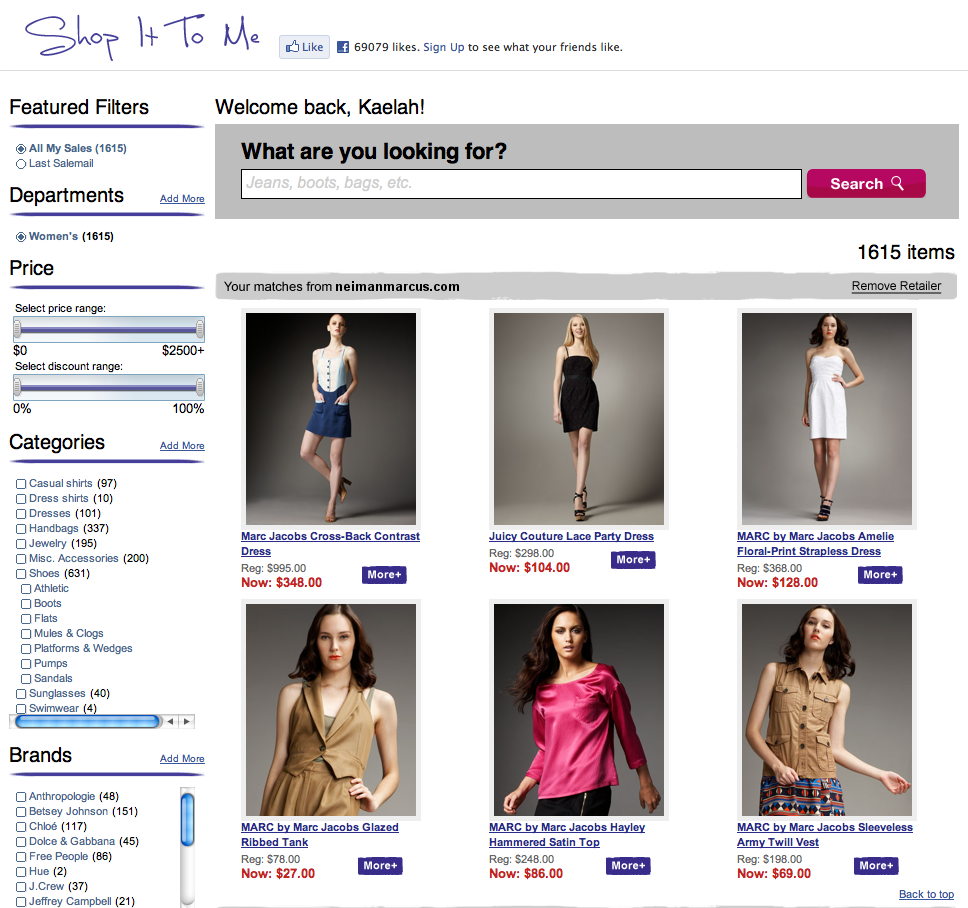 Shop It To Me is a great resource if you're picky about what you're looking for but you don't actually want to do the looking.
You set up your account and choose the brands you love (Anthropologie, Steve Madden, Marc by Marc Jacobs, etc) and they send you alerts any time something from there goes on sale. The great thing about SITM is that you don't have to ever go looking for those coupon codes or discounts. They do all of the dirty work for you. You can also choose the frequency of emails (or none at all!). You have complete control over the price range, brand, category and even retailer! I've scored some serious shoe deals from SITM. The discounts are as much as 70% off, too!
You can sign up here if you'd like, and shop away! Don't forget to invite your friends because you can rack up giftcards to your favorite stores like Sephora!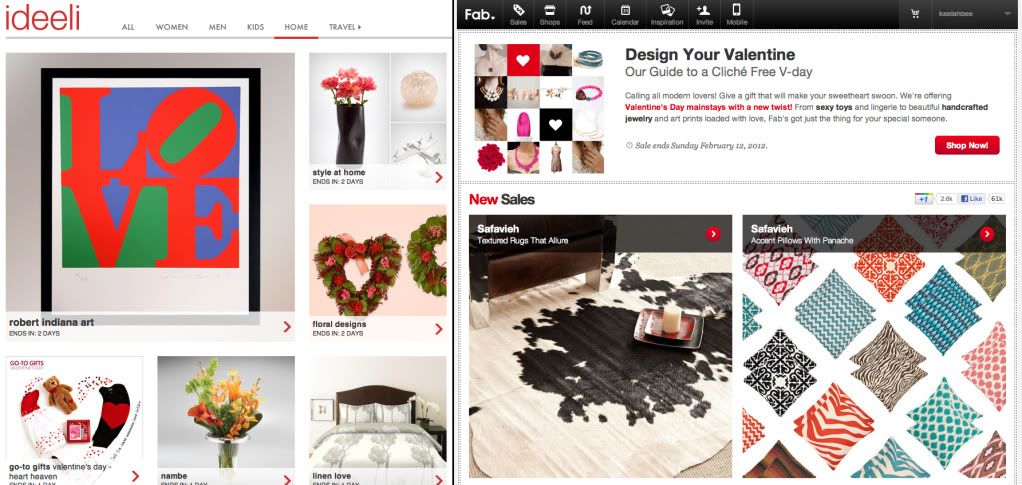 Ideeli is a great resource for people hunting deals up to 80% off of professional attire + designer apparel, but my favorite section of their site is Home!
Ideeli is where I snagged my pretty pink Kitchenaid mixer and lots of really cool bamboo utensils! I also got the Babycakes mini cupcake + pie maker for only $11! If you love nesting and making your home efficient, I definitely suggest Ideeli.
Sign up here
if you want to check it out! //
Fab is kind of like a designer's dream... no matter what kind of design you do.
It's almost like shopping from a museum (at least in my mind). Almost every single art print we have hanging in our loft has come from Fab. The only complaint I have is that the shipping is sometimes
really
slow, but the savings are so so so worth it! They always have really cool lighting, furniture, and accents for your home. //
Both Ideeli and Fab are invite-only sites but you can sign up for each one here: IDEELI + FAB!
Other sites that I check frequently:
Haute Look
(think more upscale, designer stuff. But the site is
huge!
),
Gilt Groupe
(7 for all mankind, Helmut Lang, Elizabeth + James... trendy urban designer stuff),
Beyond the Rack
(sales on items up to 90% off!),
Ebates
is a great place for extra stacked coupons and it gives you rebates on places like Target.com too!
and last but most certainly not least, no matter where you shop online, always always consult RetailMeNot!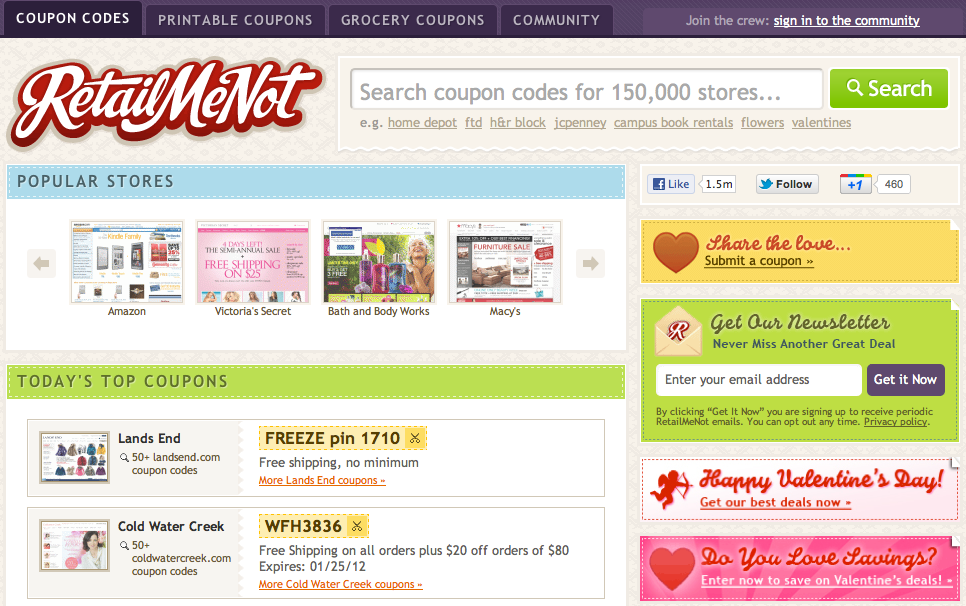 It's the mecca of every coupon code you can imagine! Comes in really handy when you'd like to snag free shipping or an extra 10% off. Just search the website name and see what pops up! If you're feeling friendly you can upload some coupon codes that you know of too! You don't even need to sign up to search the database. Win/win!
Other things to keep in mind:
Online sales are all about timing. Flash sale sites are really great if you can get there first. You'll have your pick of the offerings and you won't feel guilty about saving some cash. // It's worth saving any credit you might accumulate to purchase something big and awesome that you otherwise may not have spent your money on. // Stay ahead of the game by always checking the "Upcoming Sales" pages. // Do you holiday/birthday shopping throughout the year for family and friends. See a deal that you know your sister might love? Snag it when it's available and store it away. The savings really add up if you're smart about it! // If you have a specific item in mind, a quick Google Shopping search could save you mega moolah! Amazon is a great place for stuff, too! Especially if you're looking for electronics.
I've even had someone ask me if I had a shopping addiction lately! I promise I don't, but
I like to stay on top of sales so that I can snag something I'm really coveting without having to shell out an arm and a leg.
My Jeffrey collection wouldn't be possible without them! It's like Extreme Couponing of the Internet... and I'm not the least bit ashamed!
Do you have any sites that you find helpful in scouting sales? How about tips for finding the best deal possible?