I mentioned a few times this week on the blog that we were playing the waiting game, waiting to hear back about
the little tan cottage from a few posts ago
. That raised some questions with some as they wondered what happened with the green bungalow that we applied for + got. By now I forget what day all of this happened, but we found out from our neighbor (whose friends lived in the green bungalow until just recently) that they moved out because a neighbor had broken into the house while they were out of town. She went on to tell us that the house directly across the street is a halfway house and while that's all fine and good, one of the tenants was the one who broke in through the back window. (Cue me to remember seeing all of the dirt and scratched on the window sill of that window, too!) I already had my reservations about East Nashville simply because it's still far from the best part of town. It's "hip and fun" but it's still on the upswing. Anyway, our neighbor put Mike in touch with the girl who just moved out and while she was a
little
less than friendly, the wheels started turning in our heads. And by our I mean mostly mine. We laid in bed and all of a sudden I started having these crazy thoughts of what if someone broke in while we were home, what if they had a gun (then a totally craaaaazy senario played out. I'll save you the details, even though it would be totally possible.). It got to the point to where I almost started having a panic attack. We were set to sign the lease the next day. I told Mike to call the landlord in the morning and reschedule while we talked it through. I was terrified that something might happen to the girls while we were out and about or gone for work. It just started to feel like more trouble than it was worth. Other little things popped up here and there that gave me the feeling that perhaps the bungalow wasn't the best choice for us. Had it been the same rental price as the cottage, I may have overlooked most of them, but it was a huge (!!!) house with little insulation and a hefty price tag. I didn't want to stress about gas bills, our security alarm going off or if that sketchy neighbor still lived there. Something in my gut told me to keep looking.
We scheduled another showing of the 1920's cottage on Wednesday and we realized how much we loved the inside. It's a lot smaller than the bungalow, and it doesn't have quite the curb appeal or fenced yard, but we liked it. We liked it a lot. So we applied, was approved, and signed the lease last night. We're going to build a chainlink fence in the backyard for the girls, and we're going to manicure the bejeezus out of the front. It's going to be our little pet project. We're giving up a ton of room, but we're getting a sense of peace. The cottage is less than a stones throw from the bungalow, so things can still happen. They can happen anywhere. But at least now I don't have this overwhelming feeling in my stomach that it's wrong.
We took measurements and laid out the house in our heads. I'll have my own studio/office which will be so nice for my productivity. We'll also have an entire room for Honeybean/Hive + Honey. We're on the hunt for a washer and dryer to paint pink (yep!) and we've already started delving into the other projects around the house. We'll be moving in in just 2 weeks (!!!) so that should give us plenty of time to cart our Xterra back and forth filled to the brim with boxes before saying so long to the loft. I'm really looking forward to it.
If anything, this experience has simply taught me that sometimes it really is best to just go with your gut instinct. We fell in love with the bungalow's charm but the inside left a bit to be desired. The cottage is cute on the outside, but the inside is beyond adorable. So many people pointed out that we should go with the house that's nicest on the inside as that's the part that'll be our home. Never thought I'd actually look forward to having walls and no brick in my house! We'll miss this little loft so much, but we're ready to move into a family home!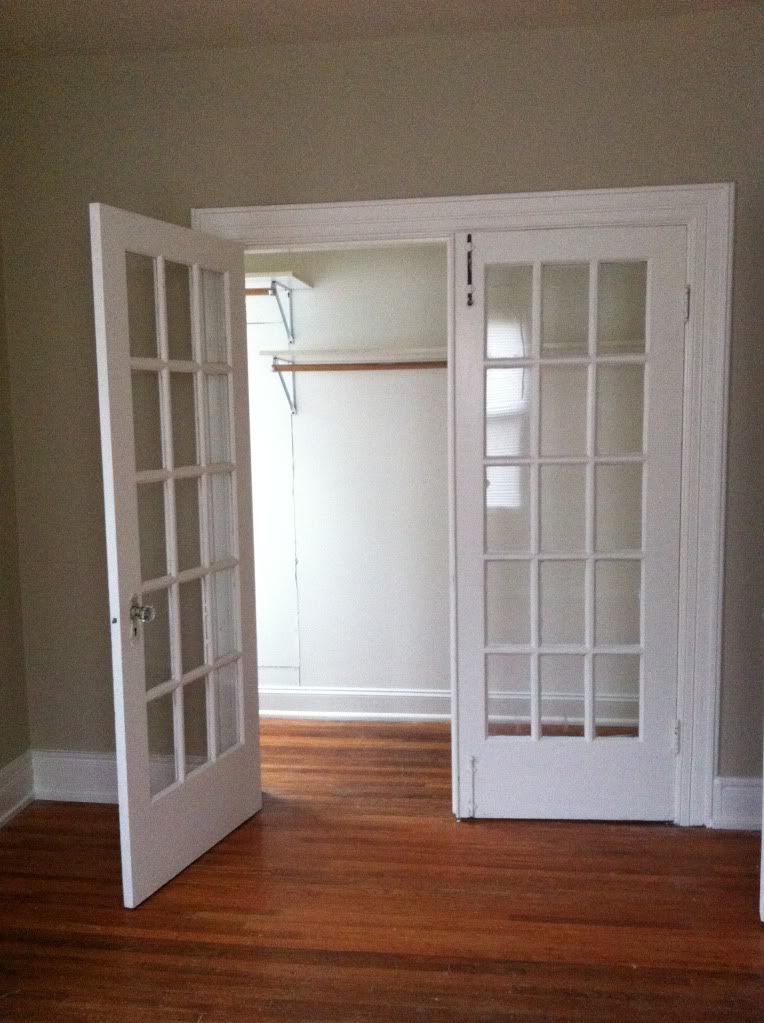 And finally I'll leave you with this picture (because it's the only one I have!)...
It's the closet (!!!) in my office! It's ten feet wide!
A whole 2 feet wider than
my current wardrobe bar
! The shoe shelves will fill the walls, but can I just tell you how excited I am to have French doors to my closet?! I'll miss my hanging wardrobe that we built, no doubt, but this is the perfect mix of function and style! Eep! Alrighty, emails are calling! Happy Friday! xo