Welcome to the new look for Little Chief Honeybee in 2012!
I know
I just redesigned my layout in mid-October
, and as much as I loved the look of it, it just wasn't
me.
It didn't feel like home. I'm not really a yellow and green kind of gal. It's no surprise I gravitated back to the peachy-pink of Honeybean... my favorite color ever. I still wanted something clean and mature so I opted for the soft gray background. I've grown quite fond of gray, pink and white together since Mike is smart enough not to let me paint absolutely everything in our house pink (I really want to!). Instead of the baby blue and pink, he's learning to compromise a bit! The popular site Hello Giggles inspired the navigation, too. I've seen so many blogs with a really top-heavy navigation and I can't help but love it. Let it serve as a small taste of what's to come for the new year!
I've found myself in sort of an identity crisis.
Feeling like I'm trying to keep up with the Joneses in blogging, and not really feeling like myself. Getting back to my pink-lovin' roots is going hopefully going to help me stay authentic and real here on this lil' blog! I miss sharing things like quotes that inspire me, songs that make me cry, and my personal quarter-life-crisis moments... so that's what's comin'. If it's not for you, I won't be offended, but I'm excited to share! Below you'll see a screenshot of the old layout and then the new!
I'm currently accepting design clients for late-January and early-February so email me if you'd like to reserve your spot!
I'm working on some freelance work currently but
I'll be opening up a blog design template shop shortly!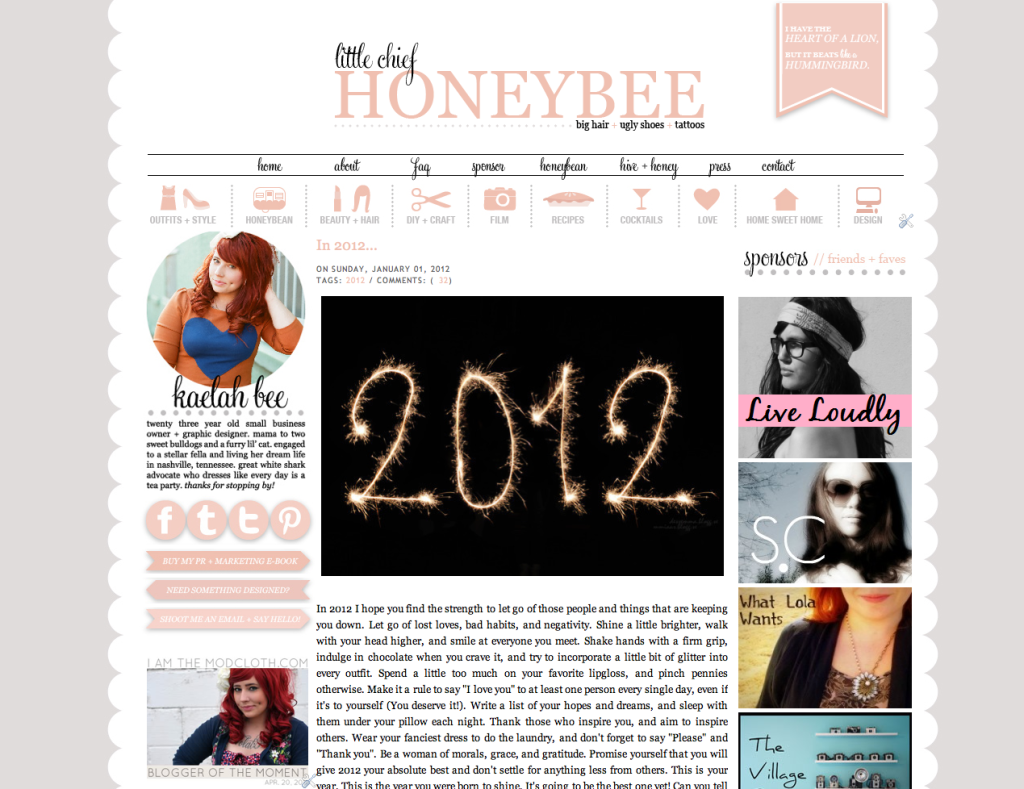 What can I say? I missed the pink + scallops! xo