By the time you read this we will be well on our way to Chicago to see
this rad girl
and her dude. And by that I mean this is probably scheduled to post 2 full hours before we manage to get on the road... that's how roadtrips usually go right?! Just us? Eh! We're ecstatic to spend a handful of days back in the suburbs of Chicago with two of our favorite people! We're stoked on Sunday's Milwaukee trip, too! If you're going to be in/around the NW 'burbs of Chicago or Milwaukee, let a girl know! I have a tendency to start blasting invites to internet people by the time we make it through one drink at the Village Inn anyway... Oh the fun times to be had! Here's my list of awesome for this week!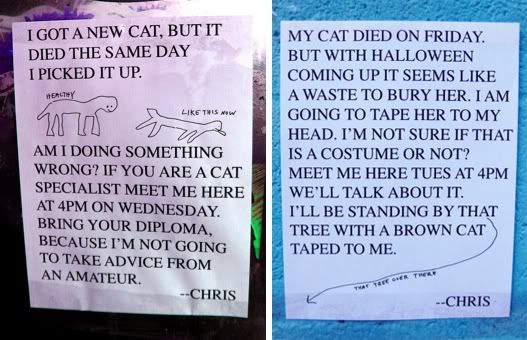 ♥
these flyers from "Chris" click
HERE
for the rest!
♥
♥
this pretty pretty illustration
♥
♥
this
is the most gorgeous crewel piece i've ever seen
♥
♥
the
most perfect bridal party attire
♥
♥
the only thing paris + i have in common
♥
(only when i go into commission-based retail stores!)
♥
barney stinson totatlly knows what's up.
♥
♥
elizabeth olsen + i have the same uniform.
♥
♥
style blogger problems.
♥
♥
this sweet husky macro.
♥
Other awesome things:
// Elyse's
Year In Review
is probably one of my favorites. SO many beautiful photos!
// I'm really surprised I don't link every Tiny Buddha article posted here on my TILT posts, because they make up a majority of my Twitter favorites.
This one
is no exception.
//
This is over half a year old
and it's been in my bookmarks for that long, but still, I tear up every time I go back and read this post. It's a truly beautiful sentiment for a loved one's birthday.
What are you loving this week?