In the second installment of 5 Blogging Tips I wanted to break up my typical format and go slightly more in-depth on individual bullet points in hopes of giving you the most information I can. While I won't be listing out 5 exact tips, I'll be sharing many on one topic. Today that topic is Purchasing Advertising Space! Spending your hard earned dollars on a little graphic in someone's sidebar might seem scary (and it sort of is at first!), but I'm hoping to help make the whole process easier to understand. When you break it down into easy to tackle tasks, it becomes a lot more transparent.
If you're a blog or shop and you want to get more eyes on your brand, advertising is often the way to go. There are many forms of advertising in the blog world: sidebar banners, sponsored content (features and giveaways), product reviews, interviews and guest post opportunities, and product integration. If you're a blogger (without a product to sell), those options get smaller. Even still, there's a wealth of opportunities out there, but you have to be sure that the exposure you're paying for is worth it.
I haven't advertised my blog in years, but
I find news blogs I love the same way I'd recommend many of you find new blogs to sponsor: Use the Passionfruit Marketplace.
Not all bloggers use Passionfruit, but it's a great place to get your toes wet if advertising is a new venture for you. I love the Marketplace because it allows me to see a screenshot of the blog and a range of ad prices right there on the first page. Not to mention it allows sponsors to purchase ad space right then and there! (
The only con: You shouldn't judge a book by it's cover,
and you might miss out on a highly trafficked blog with really great content because you overlooked it as "too bland" or "too expensive" or vice versa).
If you're going to advertise on blogs, I suggest making a running list of blogs you really enjoy that have a similar demographic to what you're aiming for.
You can hock a product on a
huge
blog all day long, but if those readers don't overlap with your demographic, it's a lost cause. Money down the drain! When you have a list of blogs you love, start comparing their monthly page views, price of their ads, and the perks they give you. I've even gone ahead and made a (very) simple worksheet to help you do this. Feel free to click the image below and save it to your desktop to print!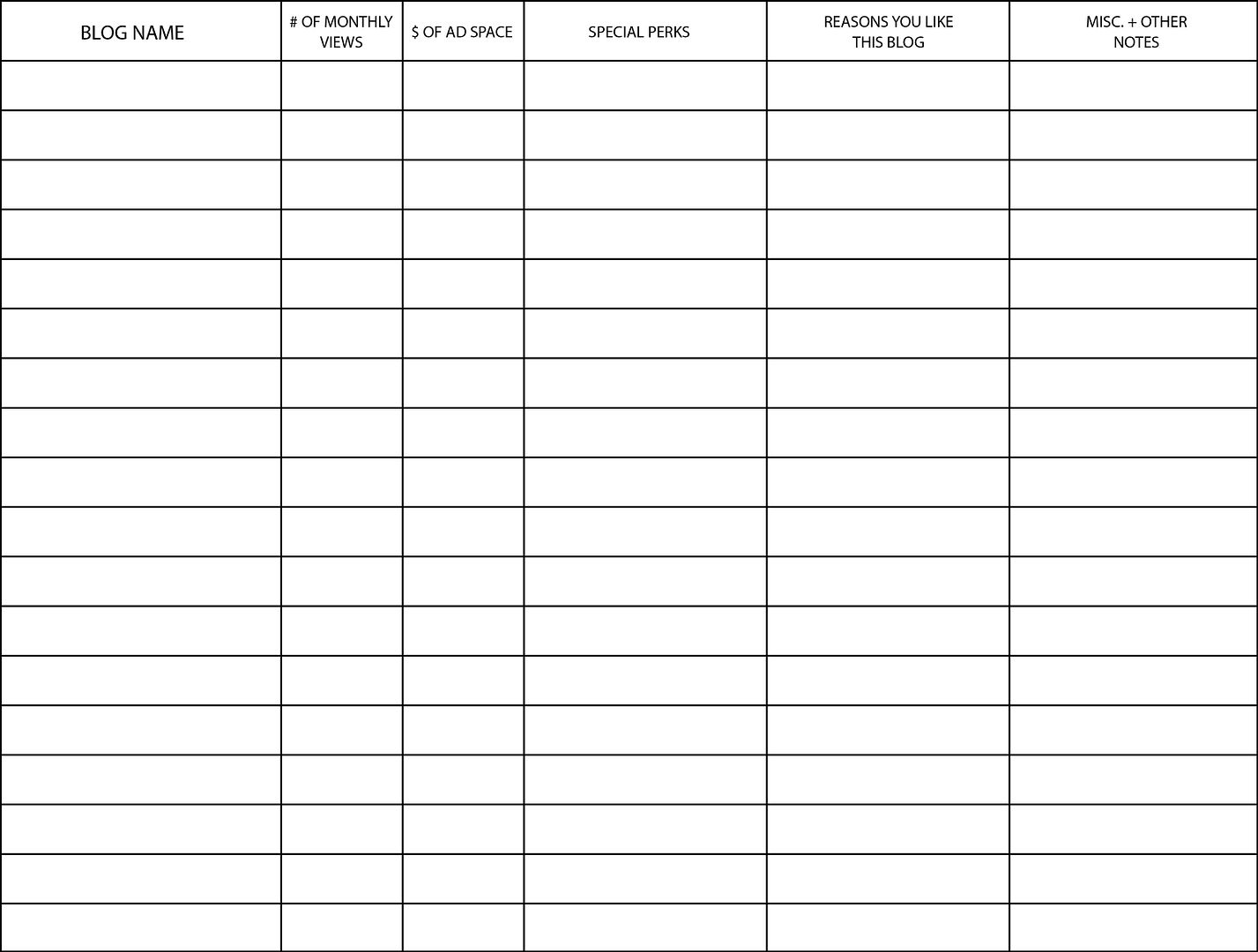 One very important thing to remember: You should always set a budget! Set a number and stick to it. Sometimes that budget will allow you to advertise on 3 smaller blogs at once, and sometimes it means you'll have to risk it all on one ad on a much larger blog. It's really all trial and error at first. Find what works for you and your brand. But don't be afraid to go big... Sometimes that pays off more than 3 small blogs with similar readership will. (Remember, a lot of blogs share the same readership, so if you sponsor 3 blogs that are too much alike, you're basically paying to advertise to the same reader 3 times! Try not to overlap these too much!)
Be wary of blogs who have a ton of ads in their sidebar, or are constantly posting giveaways or reviews one after the other. Not to be snooty, but it's likely that they're in it for the wrong reasons, or their sponsors aren't getting a lot of dedicated attention. I've seen blogs whose content is buried beneath a million product reviews a week... I bet their readers are sick of those reviews. At least to a certain point, don't you think? Try to get the best bang for your buck. Make sure your product or ad will have the most eyes on it as possible. Ideally a blogger will open an advertising program because she wants to actually help the sponsoring brand. Not because she thinks she'll get some free swag from it.
When you buy a sidebar ad, put a lot of thought and time into your ad graphic. This will hands down make or break your sponsorship. People don't usually click on pixelated, "ugly" ads. If you're not skilled in Photoshop, find someone who is! A lot of bloggers offer to make the ad for you (After all, it is their sidebar it'll be going in! They want it to look nice!). Some bloggers will allow you to put a discount code right on the ad, too. This is great if you're looking to gain new clients or customers. Plus everyone who looks at it will be aware of your deal!
Don't forget to calculate in the "perks" of certain sponsorship options. This is something I learned pretty quickly when I advertised for my blog back in the day. I'd throw down loads of cash on a huge blog, but they never did anything for me. Sure, my graphic sat in the sidebar for 1 month, but they never did anything to call attention to it. Then I opted to purchase ad space on a slightly smaller blog (but still pretty big), and she made it a priority to highlight me at least 2 or 3 times a month. Not only was the ad space cheaper, but it was more beneficial to me as a paying sponsor! This inspired me to ensure every ad space on my blog has a perk with it. I always over deliver, too, because that blogger showed me the value of a mention. Also keep in mind there are many readers out there with AdBlock installed and/or they read strictly from an RSS feed! In this case, sidebar ads won't show up for them. If the blogger you're sponsoring doesn't offer "in-post" mentions or social media shout outs, that should weigh on your decision, too!
Take advantage of any and all deals bloggers are offering! Does it make sense to buy 2 or 3 months at a time? If you're saving a hefty chunk of change, totally! (Just be mindful of your budget and make sure you can move the money from the following months!) Not only will this save you money, but you'll also become a staple on that blog! I have a few sponsors on my sidebar that have been there for a year or more... over a year! Without a break! Okay so I don't mean to brag, but thinking of that just makes my day. They feel like it's a worthwhile investment to be here, month after month. And my readers have grown to know them. Exposure doesn't necessarily happen overnight. Sometimes you just have to show up, time after time, in order to gain that brand recognition. Personally I'd rather have a steady stream of daily hits over one or two days of "WHOA!" that fizzles out. But that's a personal preference and before you advertise with anyone you should think about what you would consider to be a "successful" sponsorship! That means something different to almost everyone. One thing I always like to make my sponsors aware of is: I can bring you to my readers/my readers to you, but I can't make them stay. It's like the old saying "You can lead a horse to water, but you can't make him drink." When you advertise on someone's blog, it's THEIR responsibility to make your presence known, but it's YOUR responsibility to deliver the goods (whether it's quality content, great products, and/or friendly service). A blogger can't make someone buy into a brand. They can only make them aware of it!
If you're still nervous about throwing a bunch of money down at the prospect of a wider audience, start small! There's nothing wrong with starting off with the smallest ad or a smaller blogger. Don't feel like you have to go "balls to the wall" in order to get great results. At the end of the day (err, month?) it's all about how you feel your money was spent. If it was less than stellar, make note of that on your worksheet and move on to a different blogger. There's no magical equation for success in the blog world. Most of it boils down to being willing and dedicated!

That's it for today! A few more blogging tips to help you get your blog in tip-top shape!
If you missed the first installment of 5 Blogging Tips,
click HERE
! I'll be sharing more in the coming weeks, but as always,
if you have any specific questions you'd like addressed, feel free to give me a shout!
You can leave them in the comments, @reply me on Twitter (@kaelahbee) or
get in touch via email
! I'm happy to try and help shed some light on anything you might want to know!