Y'all... the wedding is like four days away. What the what?! How did this get here so quickly?! I feel so unprepared, and way way nervous (please don't rain!), but I'm so excited. We've been trying to do the last minute details, except those last minute details are spawning into last minute everythings. Tomorrow we're going for our marriage license. Eeeeek!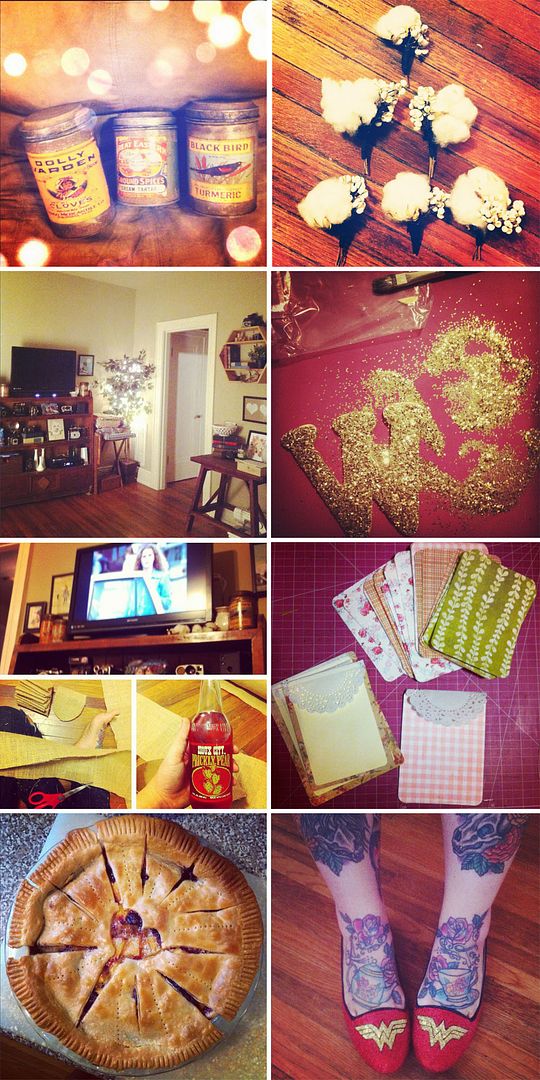 1. canisters for wedding displays. 2. the beginning of some cotton boutonnieres. 3. i miss our house looking like this... you should see it right now. (correction: no you shouldn't because that'd be way embarrassing.) 4. glitter everyyywhere. 5. getting me through the long crafty nights: felicity + prickly pear soda. 6. the beginning of our wedding programs. 7. the first pie of the season. 8. my favorite new custom shoes! (thanks sarah!)
We've put so much heart into this wedding. I know it'll be the most special day ever. That doesn't really calm my nerves much though! Luckily we had the chance to get all dolled up on Saturday to take wedding portraits with Sarah (and Sara and Josh!). I think that really helped calm my nerves some because 1) I got to see a few of the photos and I didn't look like a total doof, and 2) I was able to shake some of the things running through my head. The past week has been the busiest of my life (okay, except for that one week in June, where I basically almost just expired from being overwhelmed). Thursday I took a much needed break from the hustle and bustle and met up with Maya for a little window shopping + Mexican food. It felt like I hadn't seen her in forever! Friday we went to court again and were granted custody of Toby. The peace of mind that comes with that is the best. Best wedding gift ever? I think so! Saturday was the pictures and then my last night of bartending. It was dead all night so that was a little less than exciting, but still, I know the feeling of being 100% self employed will sink in eventually. I think the wedding hype overshadows it a bit right now! Sunday we ended up spending the evening over at Elle + Bryan's drinking wine/beer, talking and playing board games. I love being able to make time for friends. It really helps chill me out so I don't go stir crazy.
I can't believe it's already Tuesday.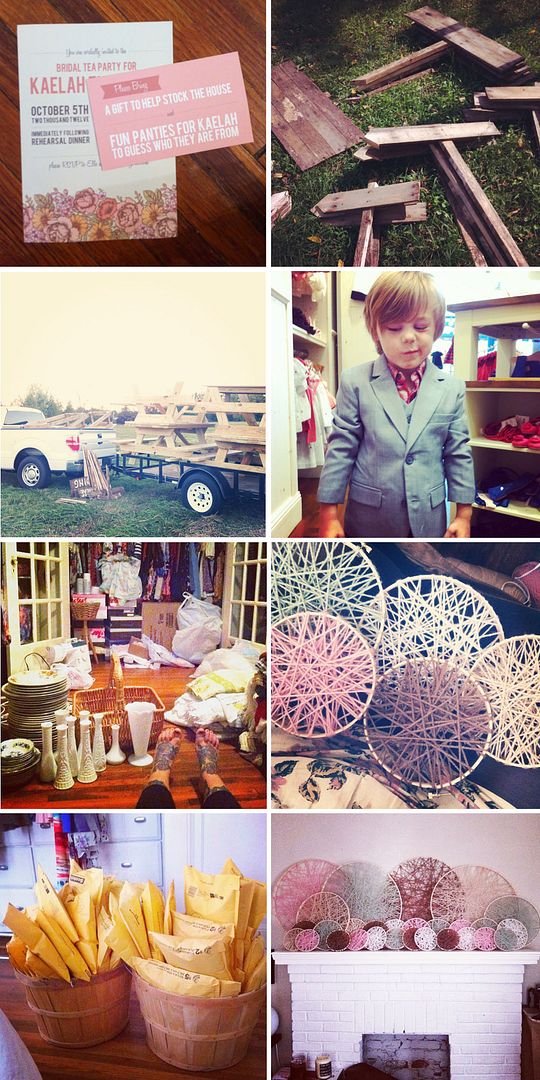 1. received my bridal party invitation! i'm so excited! 2. cutting, nailing and painting so many directional signs! 3. delivering the picnic tables my stepdad + mike built from scratch! 4. toby trying on a suit to match daddy's. that face! 5. my office has become wedding central station. it has since poured over to the rest of the house, too. 6. the start of some string art decor. 7. making time to ship 52+ orders from my Instagram closet sale (thanks to everyone who purchased something!) 8. all 30+ pieces of string art... oh boy.
A bunch of people asked on Instagram what we were going to do with all of the picnic tables once the wedding was over. The answer: we'll keep one, my parents, nana and my stepdad's parents will each get one. The plan is to engrave/burn them with our names + wedding date, too. Eventually? haha At this point I just need to make up hours to tack onto the end of each and every day. I know it'll all be well worth it in the end though. We're so fortunate to have so many helping hands.
1. naps. naps naps naps. 2. formatting for the cd artwork we're including in the favor baskets! 3. i cleaned my engagement ring for the first time the other day... it was like a whole new ring! 4. breakfast muffin + coffee in a shark mug. 5. the beginning of the favor baskets. 6. my sweet gorgeous peach. 7. cutting + gluing alllll of those album sleeves. 8. what we wore to go each delicious mexican food sunday. (and maybe what I wore Monday, too...)
It's TUESDAY! Have I said that already?! Friends will start to trickle into town tomorrow, and then it'll be here. BOOM. Just like that. I can't wait to see everyone who is venturing in from out of state. Brian + Christina will get in tomorrow, as well as Shannon and her boyfriend, Greg. Then Casey on Thursday and Susannah and Chris on Friday. All of my favorite people in one place... I may just explode from happiness. Well friends, wedding duties are calling! Off I go!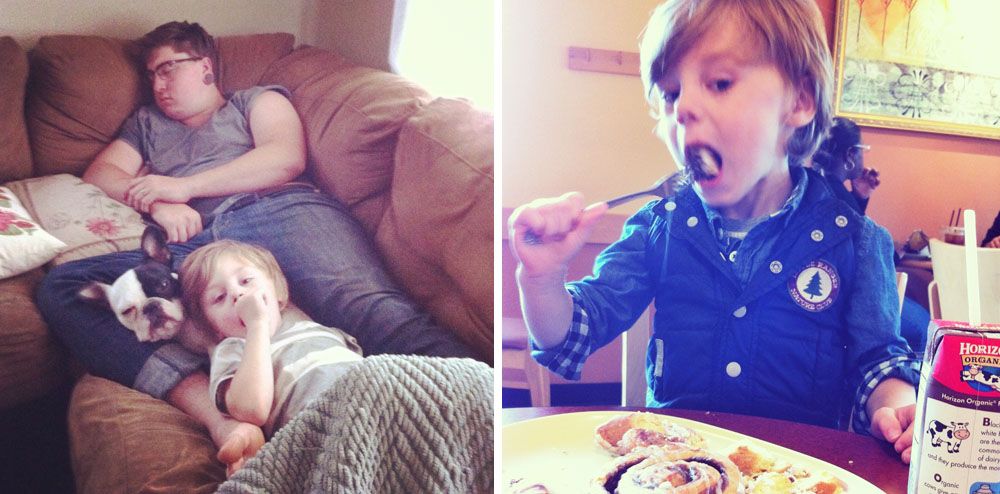 Thanks for putting up with my overwhelming blogging about the wedding for the past little while. I promise I'll only spam you for a little while after the wedding with photos :P haha