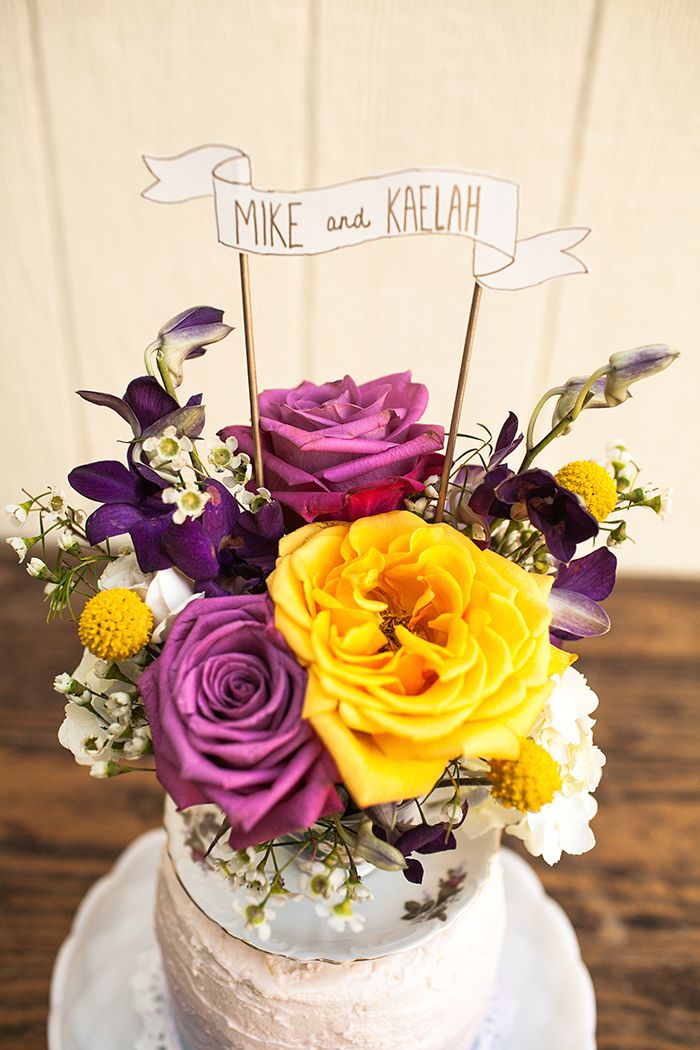 Hello, friends! I'm Elizabeth, the owner of
Stockroom Vintage
, a Nashville vintage event rental + styling business. I'm so excited and honored to be posting on Little Chief
Honeybee because, as you know, Kaelah is amazing—getting to collaborate with super
talented, genuine and sweet ladies is really the most rewarding aspect of what I do with
Stockroom Vintage. Well, that and having a legitimate reason to be an obsessive thrift
shopper and
vintage inventory
hoarder. That's also pretty swell!
When Kaelah asked me to share a wedding DIY with all of you, I immediately began dreaming up ways I could repurpose this pretty little 99-cent teacup I saved from a pile at the flea market. It's a little chipped and worse for the wear, but there's beauty in that, right? (I'm a smidge, okay a lot, obsessed with
heirloom china
. I've collected almost 500 vintage dinner plates to add to my rental collection. See? Obsessive.)
I thought this teacup deserved to be center stage, and what better way to do so than by filling it with blooms and placing it atop a wedding cake? Hence the vintage teacup cake topper DIY was born. Once you've rescued your teacup from the thrift store shelves or nabbed one from your grandma's collection, you can use the piece's pretty color palette to guide your flower choices moving forward.
I opted to bring out the teacup's purple hues with an ombré icing design, which was created by Jenna of
Kitty Cat Stevens
. You can find her recipe for this yummy lemon- blueberry cake with blueberry jam and lemon butter cream icing
here
. And, yeah, it tastes as delicious as it sounds.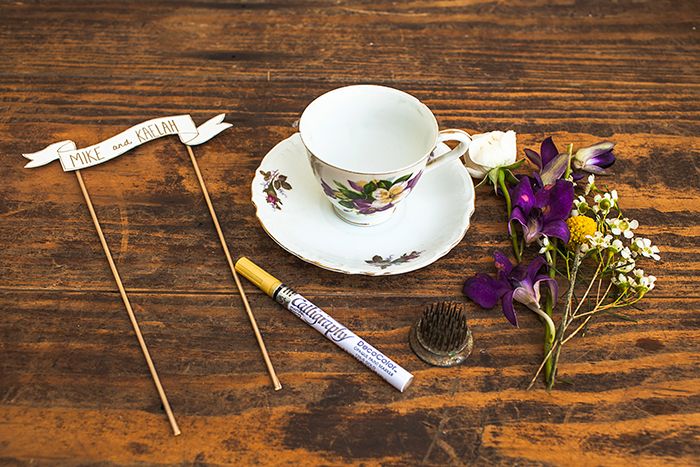 Here's what you'll need:
- vintage teacup + saucer (matching isn't required—I mixed mine)
- flowers
- floral foam or antique flower frog (which I used because I bought the wrong floral foam!)
- cardstock for banner
- two wooden skewers
- scissors
- glue dots
- pen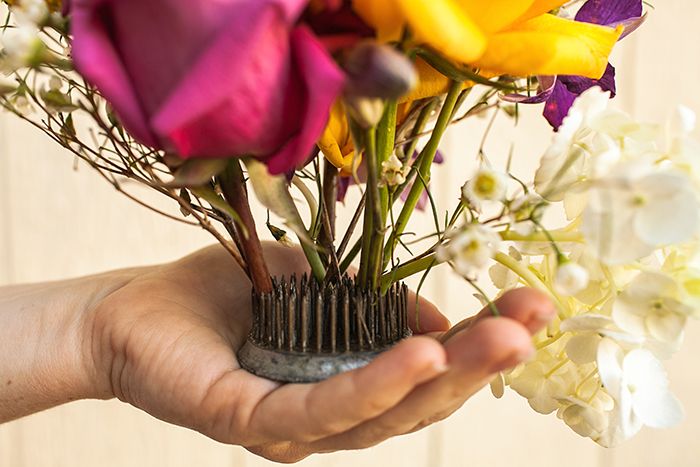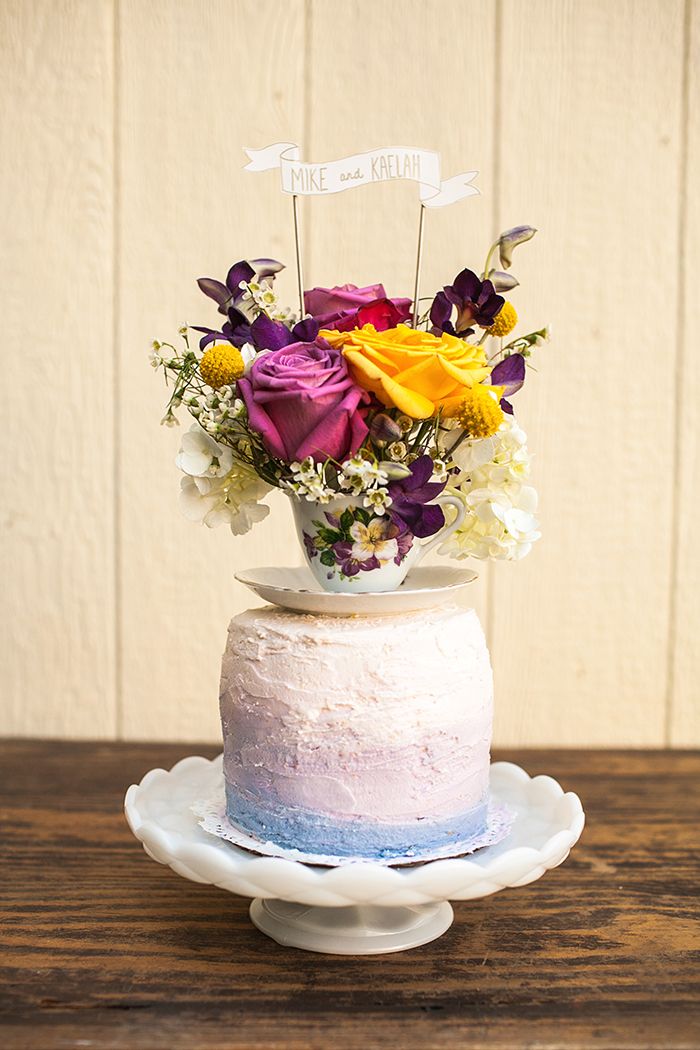 Directions:
1. Soak floral foam in a bowl of water then trim it to fit snugly inside your teacup. (This
handy guide
explains how.) Or, if you happen to have a little floral foam mishap like me, you can always use an antique flower frog to hold the arrangement in place.
2. Arrange flowers in the teacup, starting with larger blooms in the middle and working your way outward, pressing the cut stems into the foam or flower frog. If you get some resistance or are afraid to break the stems, you can always poke holes in the foam before inserting flowers. (P.S. I got these pretty flowers from Hillary Yeager at
Brocade
Designs
, a real Nashville gem!)
3. Cut cardstock into the shape of your choosing. I went for a simple banner, but a flag or bunting design would also be lovely. Add the names of the bride + groom or whichever sweet saying you prefer. I used a gold calligraphy pen for a shimmery pop of color.
4. Attach banner to the wooden skewers with glue dots. (I painted my skewers gold beforehand.) Gently insert skewers into your flower arrangement.
5. Place teacup and saucer atop your cake, pressing the saucer gently into the icing and working it downward for extra stability. Then admire your crafty amazingness!
So there you have it—a simple and affordable DIY wedding cake topper. If you create a teacup cake topper of your very own, I'd love to see your handy work. Please share any creations with me via
Twitter
or
Facebook
. Thanks again to Kaelah for having me!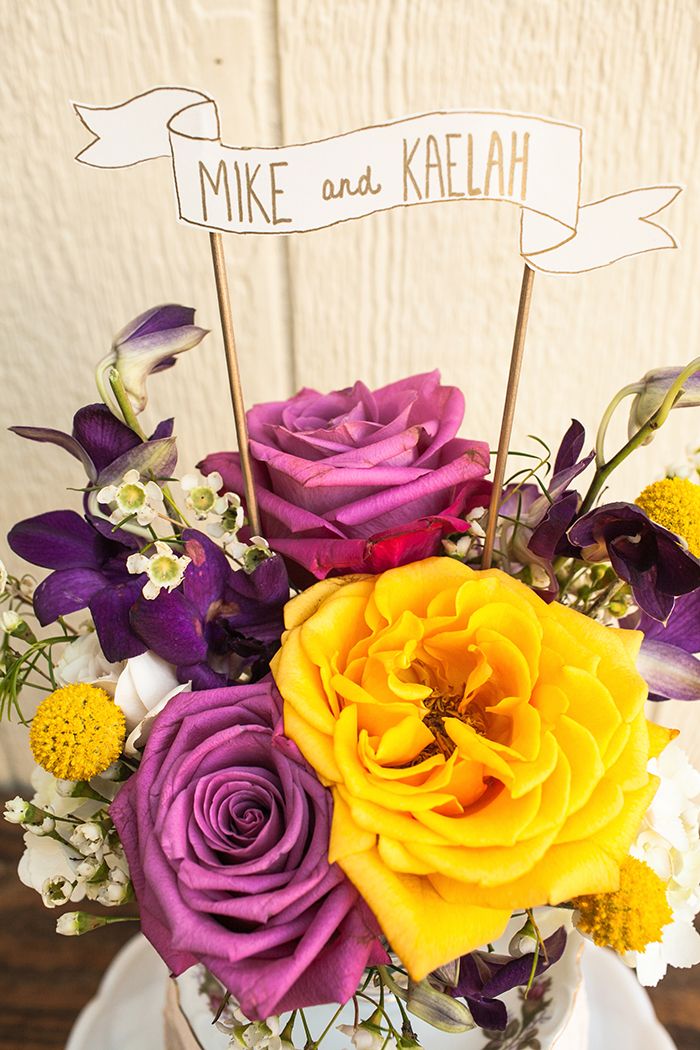 Styling + Design:
Stockroom Vintage
♥ ♥ ♥ ♥ ♥ ♥ ♥ ♥ ♥ ♥ ♥ ♥ ♥ ♥ ♥ ♥ ♥
I'm pretty sure this is the cutest thing that has ever been. Makes me wish we had a way to put it on top of our pies! ;) Looks like I'm going to need to throw a big party so I can do this, yes? Wanna come? Huge thanks to Elizabeth and her fab team for this awesome guest post. I love repping the Nashville creatives that I'm surrounded by! I'm going to also have to pester Jenna to make this cake so I can just sample it.. and by sample I mean eat all of it!