Well, hello Autumn. Finally in full force, showing the leaves and colors in all their glory. It seems the leaves changed a whole lot quicker this year. I tend to find myself disappointed in them not turning until mid-November, but they didn't let me down this time around. We decided to poke around Shelby Park before taking Toby to the playground. These were shot on Wednesday after a productive and enjoyable day. I managed to start, design, code and install an entire blog layout in the morning, then I took some time to myself to get a little "dolled up". ("Dolled up" in Kaelah-speak just means I curled my hair haha!) I drove over to Maya's house and we decided margaritas were a must. We found a cozy table on the front porch of El Mariachi and we margarita'd it up. Seriously y'all, if you're in Nashville, go have a strawberry margarita there. I've never had one better! We caught up on all the fun life drama since I hadn't hung out with her since the wedding week. It was good fun. After a few hours there I headed home to run errands with the fellas and we moseyed on over to Shelby Park (as seen here). All in all? Lovely day!
Wednesday felt like it needed something extra, so I opted for heels. Err, wedges. Whatever they are. I find myself more comfortable with "louder" shoes in the Autumn and Winter, so don't be surprised if I dust off my ugly shoe collection. (Obvz by loud I mean anything that isn't a flat ha) I know this outfit isn't anything revolutionary, and it's pretty standard for me, but seriously: I love it. The mustard, the green, the purple. I love it.
This jacket
and
this cardigan
are officially two of my favorite pieces in my wardrobe. That lace collar, c'mon! It felt nice to
feel
good, ya know?
This bag is one that I've had for a while now. I picked it up on Edition01 a while back. I like it because it's HUGE and sturdy, and also because it's beautifully made. It's a Flea Bag and it's a limited run of only 155. I ended up taking it to Mexico with me and realizing that was such a dumb move because I don't want it to ever get dirty ha. I'm lucky it's not already trashed, but I'm trying to keep it nice. Just looking at these photos makes me hear the satisfying crunch of the leaves underfoot. I need to make it a priority to get the boys together so we can all go shoot some Autumn photos. Having pictures of Toby rolling in the leaves is a must!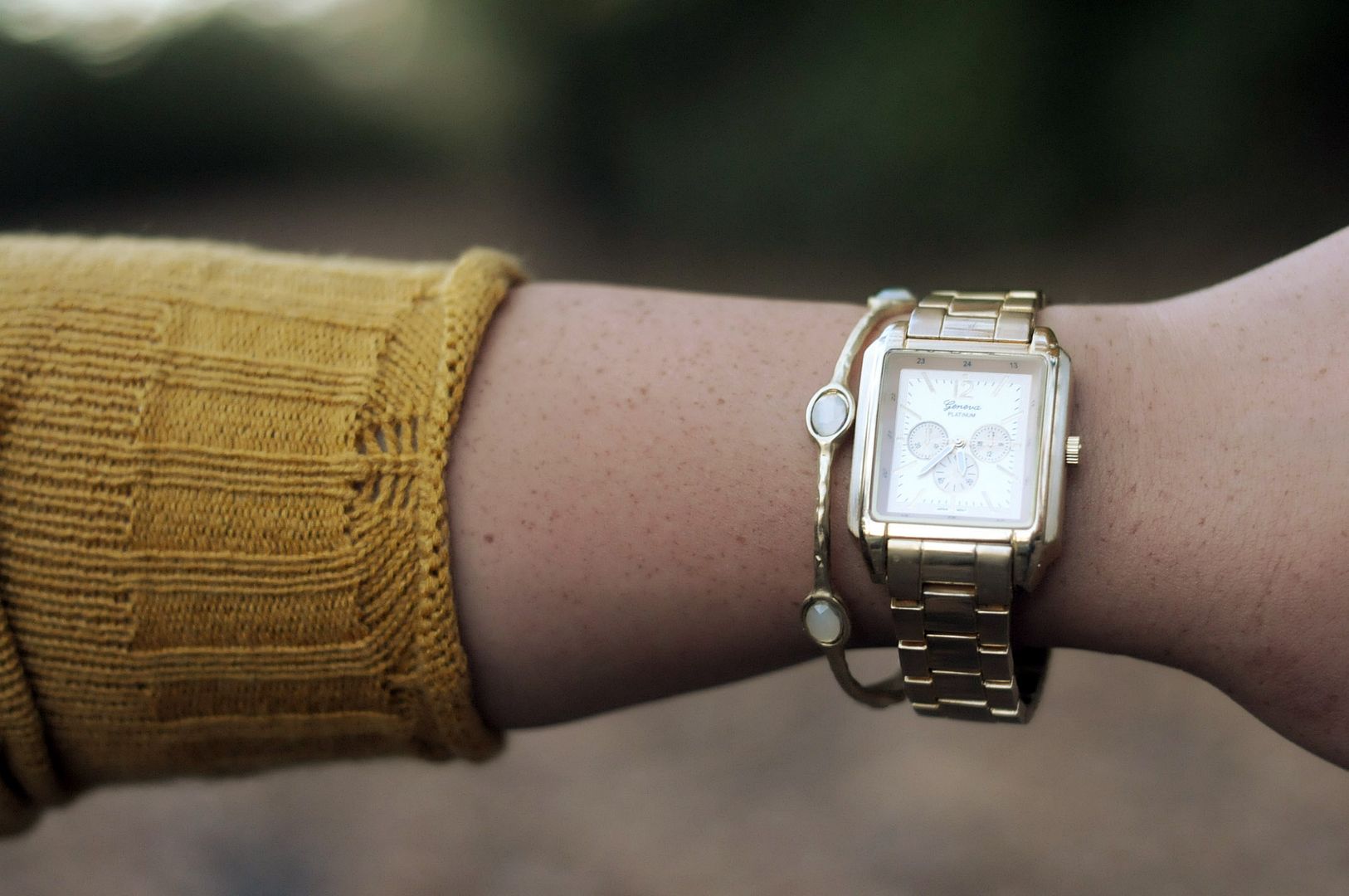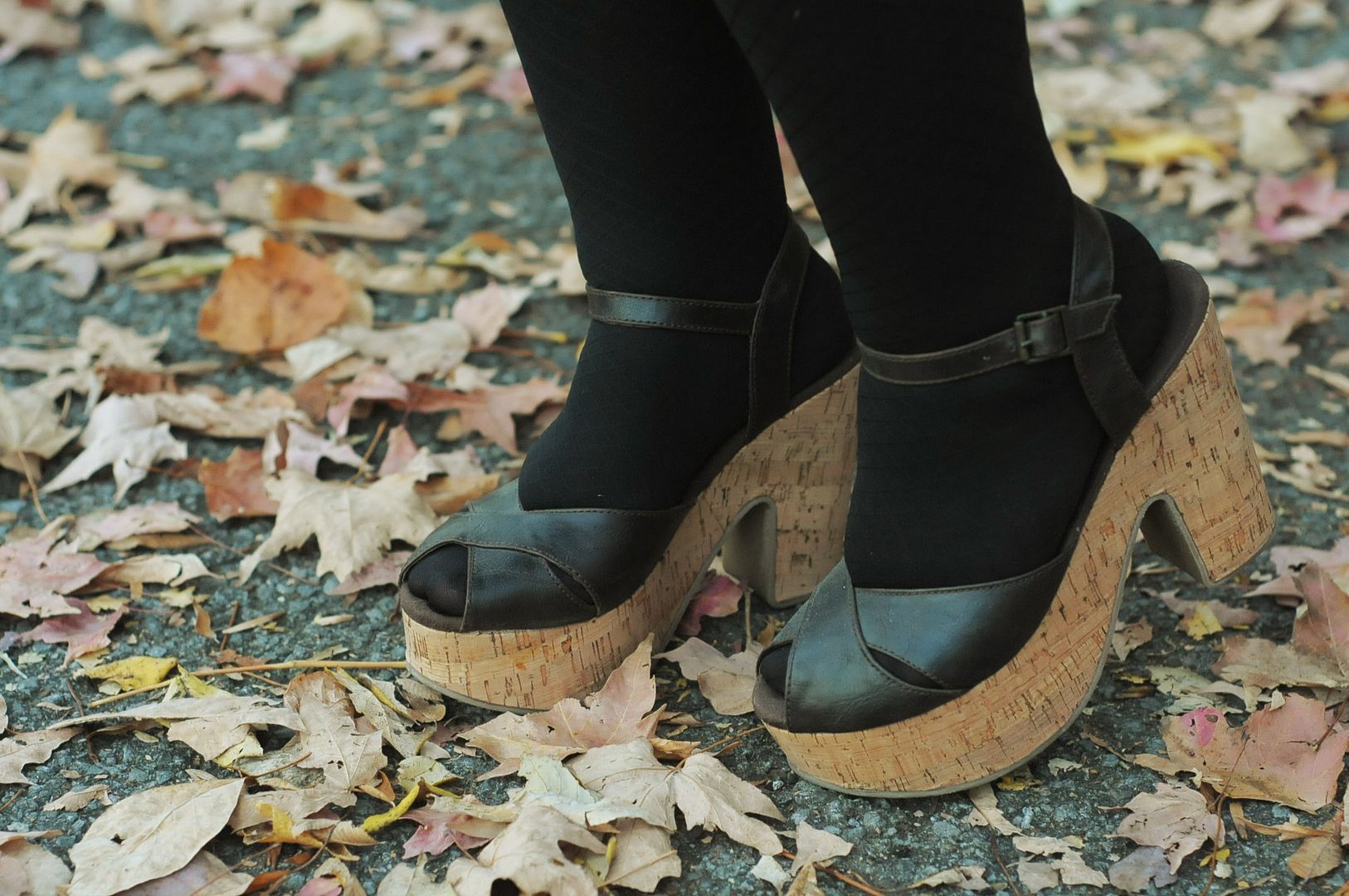 Today we're packing up Honeybean and towing her down to Chattanooga! We'll be set up at Chatty Crafty tomorrow from 10am til 6pm so we'd love it if you came out to support us! You know, provided you live in/around Chattanooga! haha We've never done the CC event but we're crossing our fingers it's a good one. Now that the wedding dust has finally settled we can devote more time to our true love: that sweet little camper. Sunday Toby will be going to visit his grandparents so I'm hoping Mike and I can sneak in a little movie date. It's been SO LONG since Mike and I went on a "date" together. (You know, excluding those 9 days we just spent in Mexico together haha!) But we realllly want to see Pitch Perfect! Have any of you seen it yet?! I LOVE Rebel Wilson, so I've been dying to go! Let's hope it works out so we can catch a matinee since we'll only have a few hours! Cheaper movie ticket = extra Raisinets for me, yes?! Happy (almost) weekend! How are you spending it?!
H&M dress
Tights gifted from Maya (50 cents! Holla!)
Shoes c/o Blowfish (last year)
Hive + Honey hair pin
PS; Sorry for a bajillion photos! A wee bit self-indulgent, yea?
PPS; Use the code BEE for 25% off orders over $25 at Outfit Additions. Limited time only!