I love business books. I don't know why, but I do. Even in college, if it was a book about graphic design or business cards or anything like that, I had to have it. (Sadly I lost that entire collection in the flood. Boo!) Over the past couple of years I've been stocking up on indie-biz related books and I seriously can't get enough of them. I love to read them because they provide a valuable, unbiased insight into what it takes to run several types of small/handmade shops. Each one features multiple guys and gals in the industry, and you can't help but feel inspired when you flick through the pages. I thought I'd share my favorites today! Maybe you have a small handmade biz/hobby that you'd like to grow. If so, consider picking one of these up or seeing if you can borrow from a friend! I can't tell you how many times I've cycled back to them.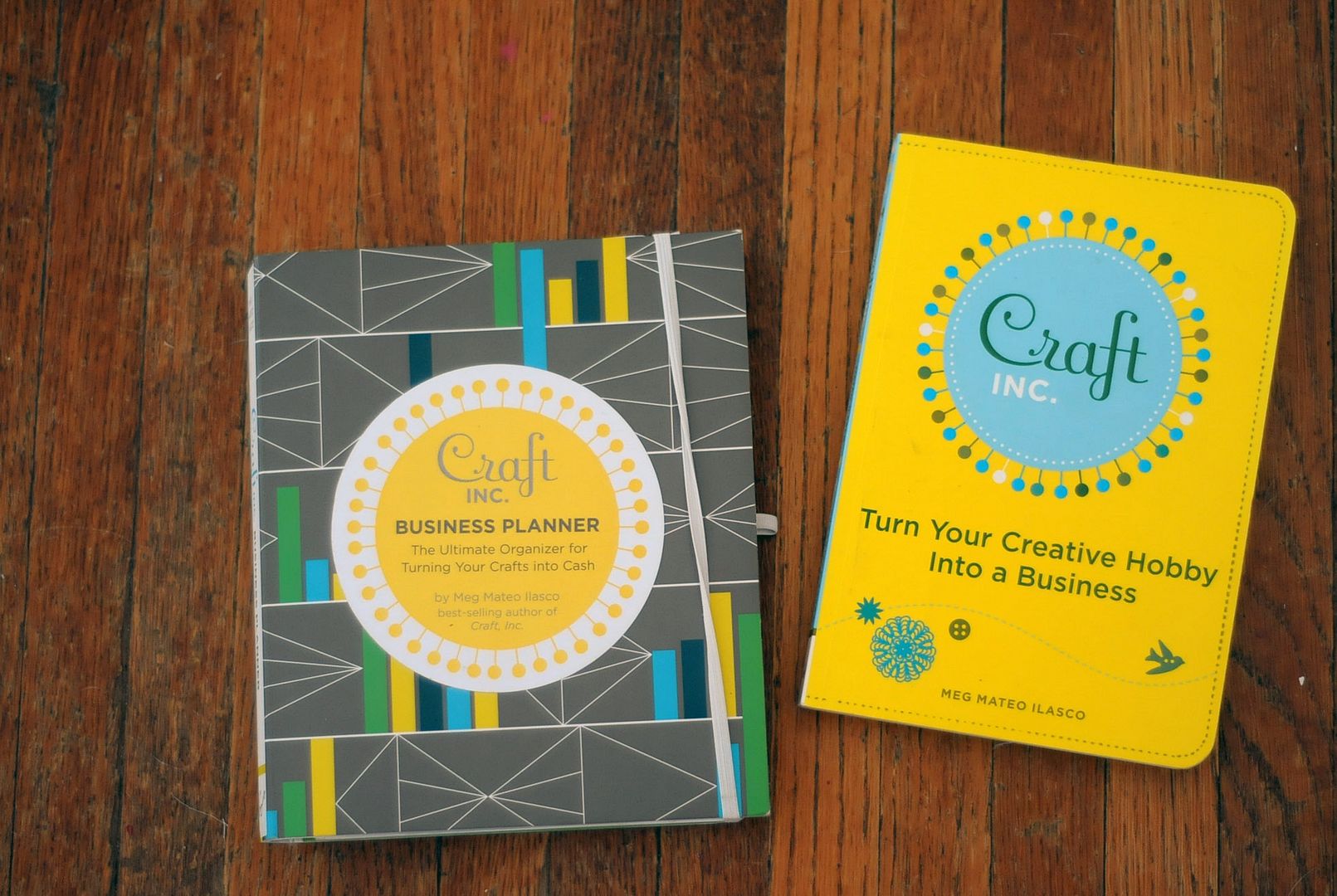 Craft, Inc.
was one of the very first "crafty" business book I picked up. Along with
Creative, Inc.
I have found it to be an invaluable resource for so many little things you may not even think of when you consider starting a business. I really love that
Craft, Inc.
also had a
Business Planner
you could purchase to have all of your ideas in one place. To this day, years later, I still haven't used pen to write in it. I think that's
because I'm fickle
and I like having the option to switch things up. It was seriously a great tool to jumpstart the whole thing though. (There is a new
revised version of Craft, Inc.
available)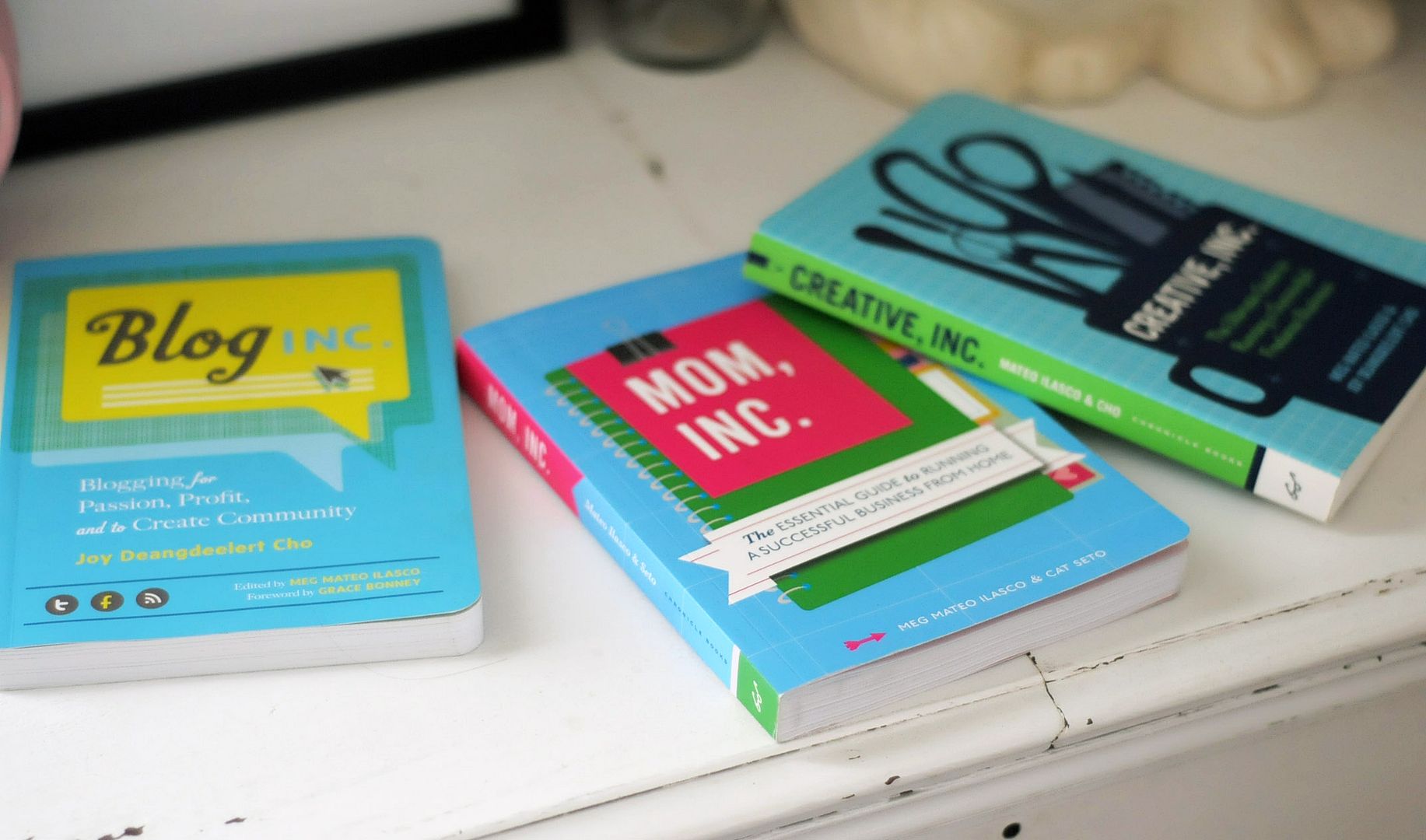 Creative, Inc.
, like I said, was one of the very first books I picked up. I remember that I let it sit on my shelf for entirely too long before finally delving in. Once I did though, that was it! This book is great because it doesn't limit it's audience to just craft show vendors. It's a great resource for freelance designers, writers, and illustrators (just to name a few!).
Blog, Inc.
and
Mom, Inc.
are both pretty new to the market. You may have caught wind of Joy's book tour which has been happening here in the past few weeks for
Blog, Inc.
Mom, Inc.
is for the mom who works from home and juggles both children and a professional workload, no matter what that may be. I haven't finished either of these yet but I'm already loving what I've read since bouncing back and forth. The Inc. books really provide a boatload of information and insight without feeling like they're going to overwhelm you. I think that's my favorite characteristic of them.
The Boss of You
was recommended to me by Beca last year. I quickly picked it up off of Amazon and much like Creative, Inc., I let it sit around and gather dust. I finally found myself with some spare time one night and I blew through it. I love the spin of it being a female-aimed book. Granted, all of the others have a definite feminine spin, but with the exception of
Mom, Inc.
they could all be written for guys, too. The Boss of You is written to inspire the inner business woman in you to take charge and make things happen.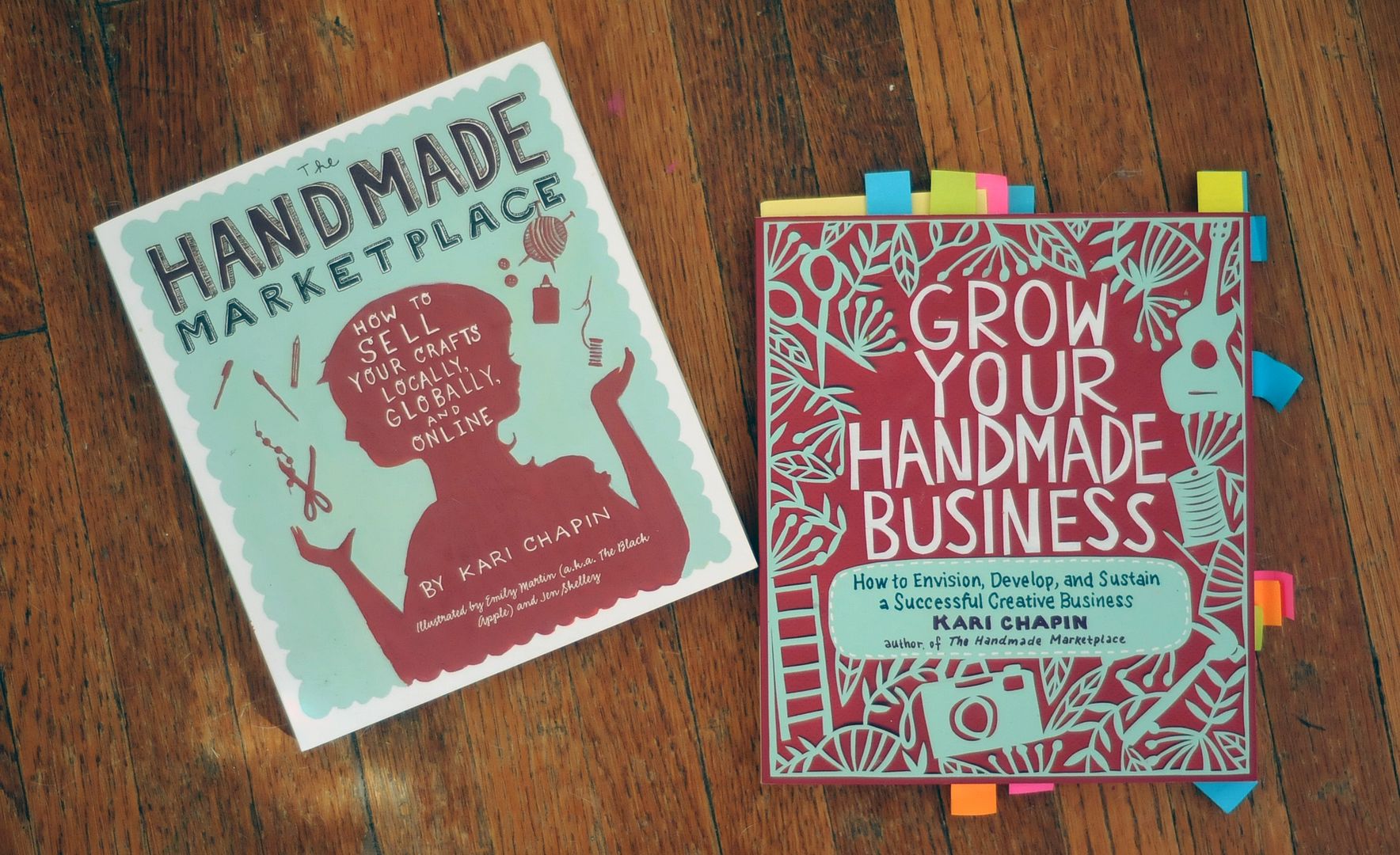 These two books by Kari Chapin are goldmines.
The Handmade Marketplace
came out a few years ago and I remember first seeing it when I lived in NYC. It's a great starter book for a wide variety of handmade artisans. Regardless of whether you sell at craft fairs, flea markets, Etsy, or your own brick and mortar. You've probably noticed the plethora of tiny post-it notes on the
Grow Your Handmade Business
book, yeah? Well,
you know I love post-its
! I ordered this one at the same time I picked up Mom, Inc. and Blog, Inc. Without a doubt I think this book might have to be my favorite. Kari packs in a bunch of "exercises" for you to brainstorm and work through your ideal business plan. I think it's such a valuable tool and I've been taking full advantage of it.
Are you a biz-book reader? Do you have any you'd like to recommend? I'm always on the hunt for books that will help expand my mind and aid in growing my businesses. I know it really comes down to hard work and smart business decisions, but hearing how other ladies have gone about it really inspires me. All of these are truly wonderful in my opinion! Happy Wednesday, friends!
♥ ♥ ♥ ♥ ♥ ♥ ♥ ♥ ♥ ♥ ♥ ♥ ♥ ♥ ♥ ♥ ♥ ♥ ♥
PS; If you look under the main part of the Amazon page, you'll see options to buy these books in different "packages"... that'll save you quite a bit of money! You can get bath Kari Chapin books for only $21, rather than the typical $26-$33)
* Disclosure: This post features affiliate links from Amazon. If you'd prefer not to purchase through me, that's totally fine! Just go to Amazon.com :)