Welcome to a brand new week, honeybees! It was a busy one for us, but I'm growing rather fond of picking up the office workload each week. Ha, Wonder how long
that
will last!? We took these photos last week around East Nashville when the weather grew a bit warm again. I constantly wonder if the rest of America has weather as fickle as we do. It was a nice excuse to break out a lightweight dress and pair it with a new peach + gold cardigan. Granted this dress is far shorter than I typically dare to wear, but I was feeling fancy. I wish I had more detailed photos of the dress because these pictures do it no justice! It's a beautiful light cream color and the bottom is chiffon while the top has a mesh collar and back. The back is actually a racerback style and as silly as this is going to sound, I love the heavy duty exposed metal zipper in the back.
This cardi
is also
dreamy!
It has little sequins sewn into it, but my favorite detail is the gold chain around the collar and center front. Perfect excuse to layer on entirely too many gold bangles and even it all out with some neutral grey shoes and scarf. Okay, real talk -- how on
earth
do you fold a large square silk scarf?! I spent more than my fair share of time looking up good ways to wear them and the only thing I came up with that didn't look silly on me was tying it on my bag and wearing it as a headwrap. This outfit didn't call for a twisted headband look but I actually really like it and plan to implement that soon!
The scarf
is seriously silkkkyyyy smooth (duh, because it's silk haha) but the quality is really really nice. I wasn't sure how the graphic typography would work within my wardrobe but I like it as a little flyaway bag accessory! I actually kept it on my purse for another outfit coming up next week, too.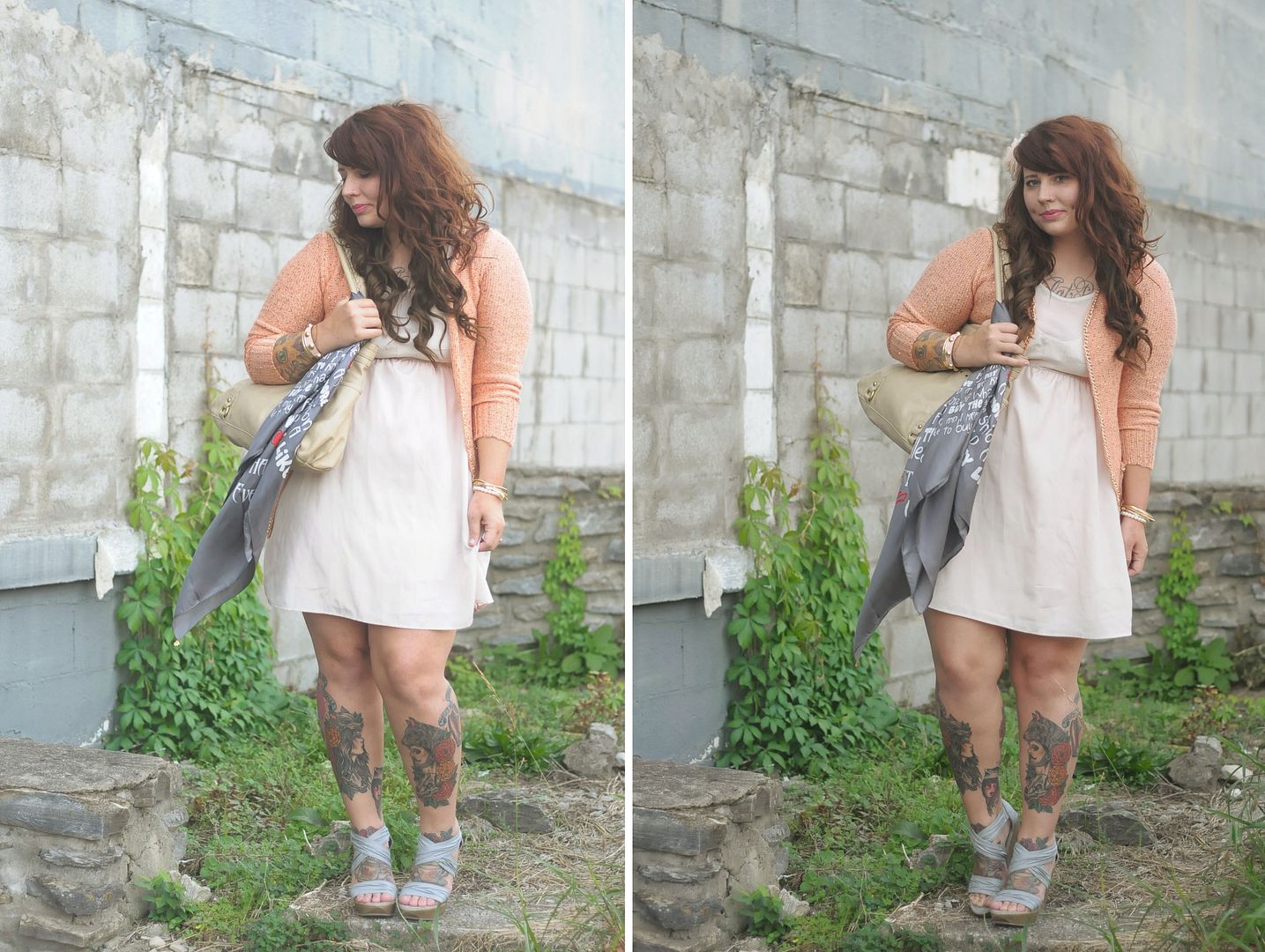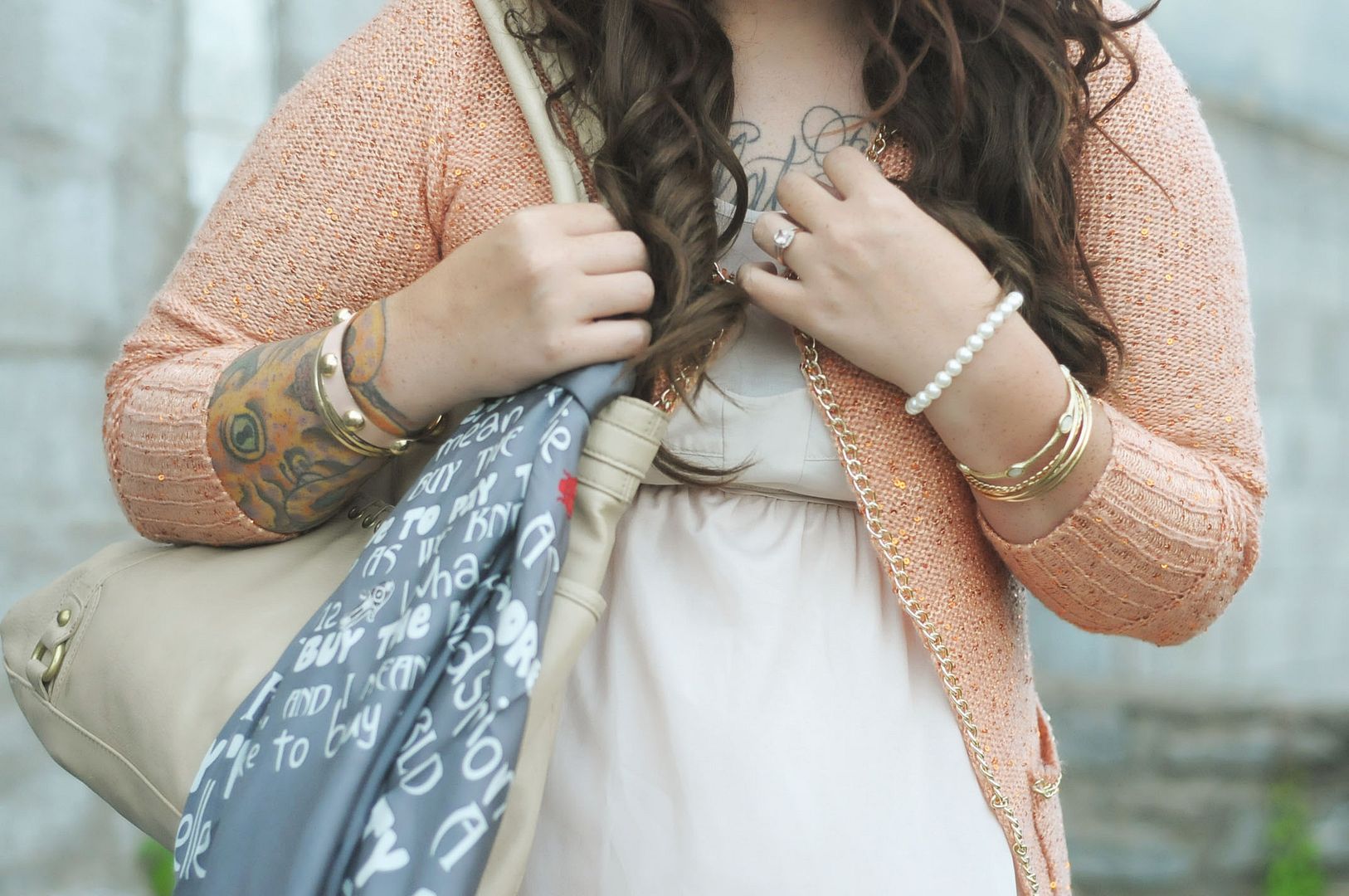 This week I'm giving myself a challenge: get in the kitchen and make something. Anything! Seriously... anything. I'm notoriously bad in the kitchen. I even managed to screw up whipped cream (I know. Ugh) But since that's one thing that I'm really really bad at, I told Mike I want to make a conscious effort to get better! I'm trying to get in the kitchen to make at least one thing a week. Even if it's a total fail, I want to say I tried. This week I'm making banana bread (from the cookbook Mike's aunt made me! It's full of family recipes that have been passed down. I seriously cherish it and I want to put it to good use!) I promise to share what I end up accomplishing. Maybe blogging about it will help keep me accountable haha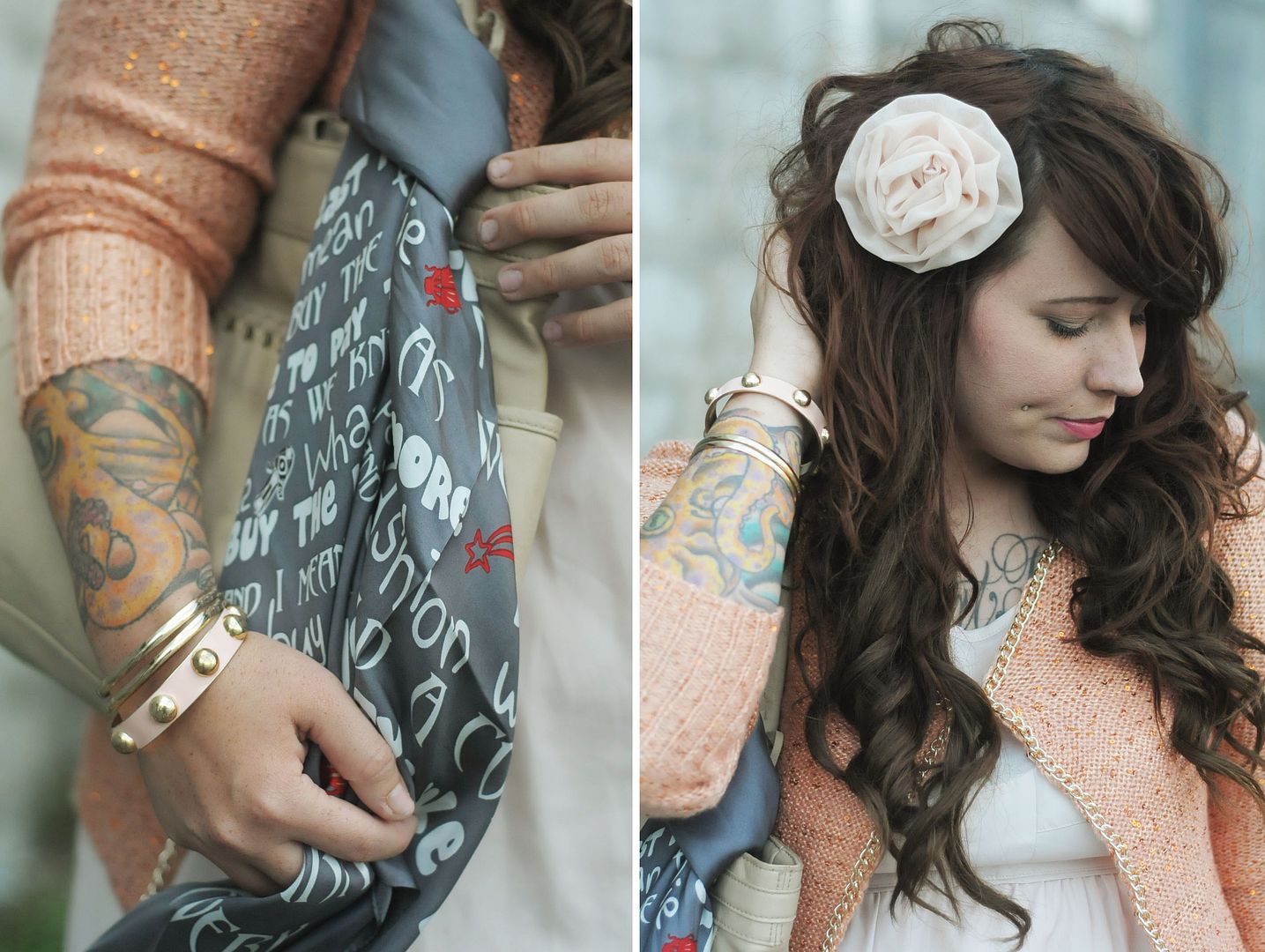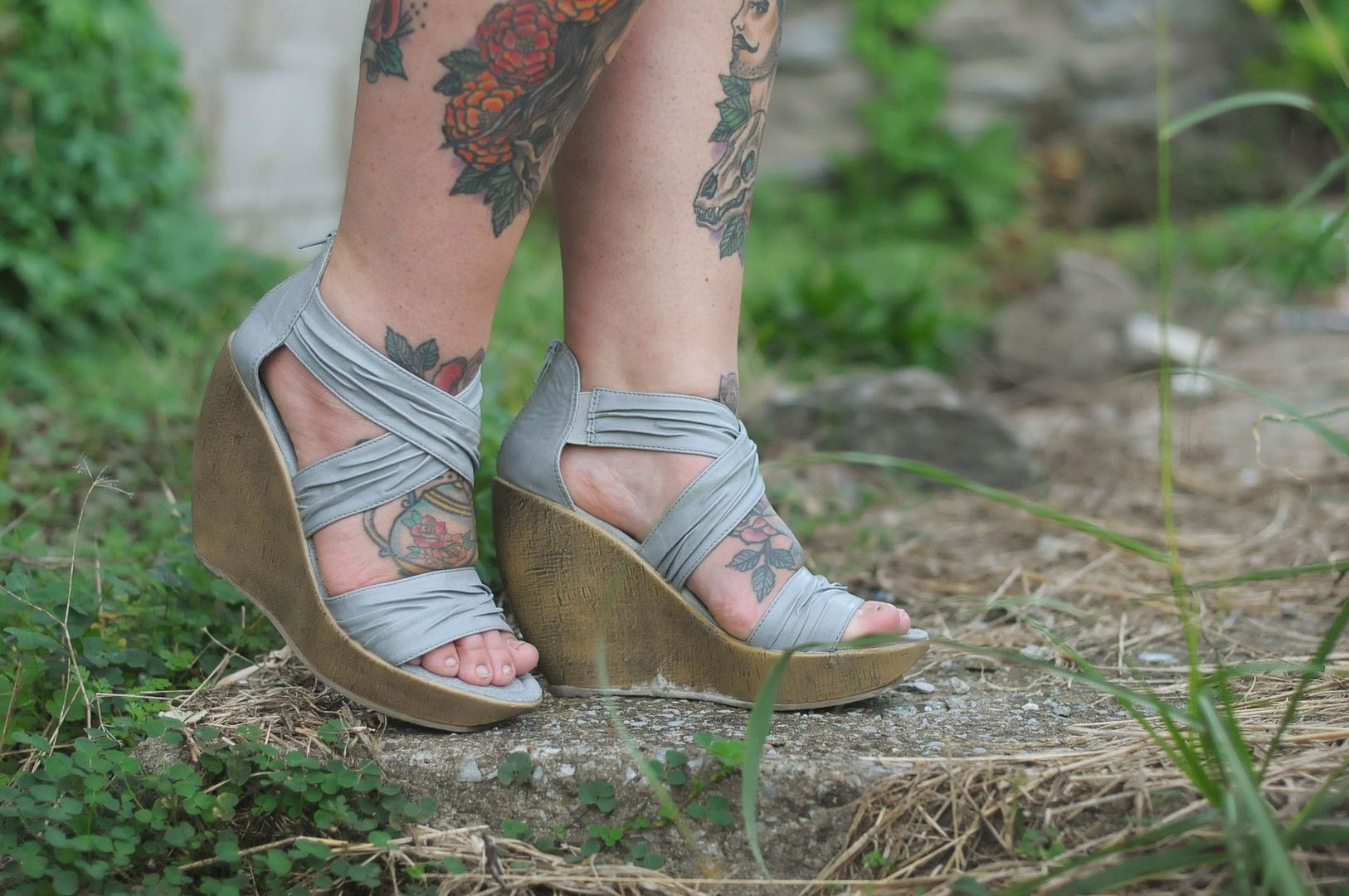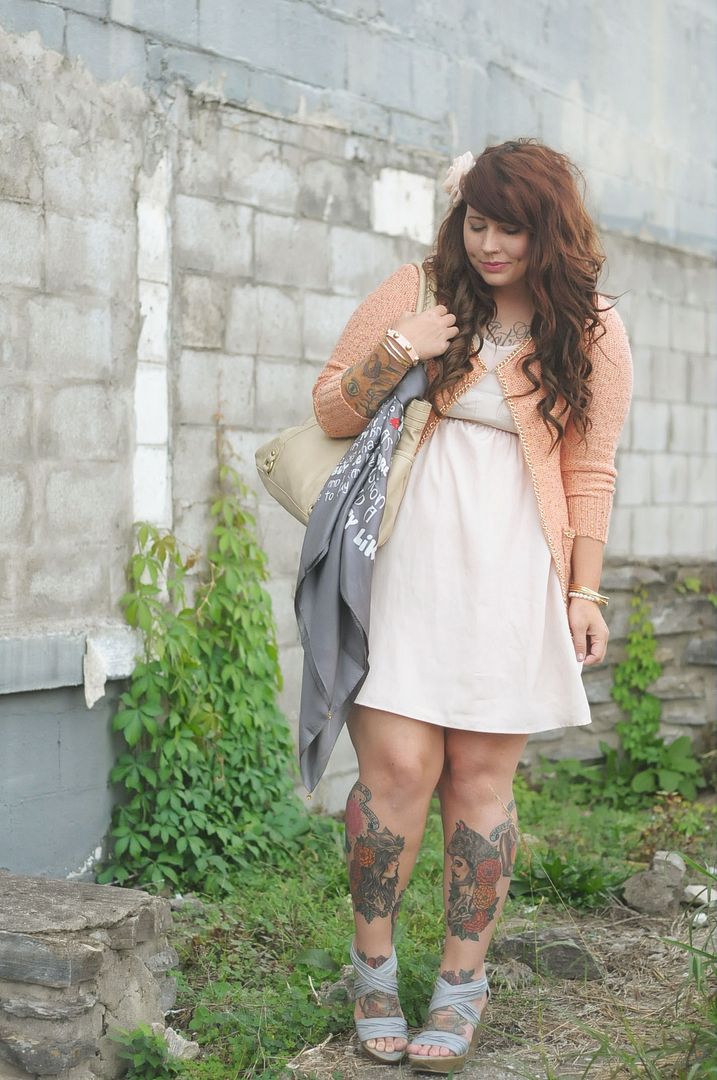 This week we're gearing up for Halloween! Hoping to include pumpkin carving with friends (even if we are a bit late to the game), firepits in the backyard, and taking Toby trick or treating. We haven't decided exactly where we'll take him, but I'm eager to see that little man all dressed up (as Batman!) and overjoyed at buckets full of candy. We still have candy of his left over from Easter! Probably time we threw that out... but at least we're good at rationing it! Here's to a happy and productive week!
Forever 21 purse (years ago!)
Forever 21 bracelets
Honeybean hairpiece
Roman wedges c/o Blowfish (last year)