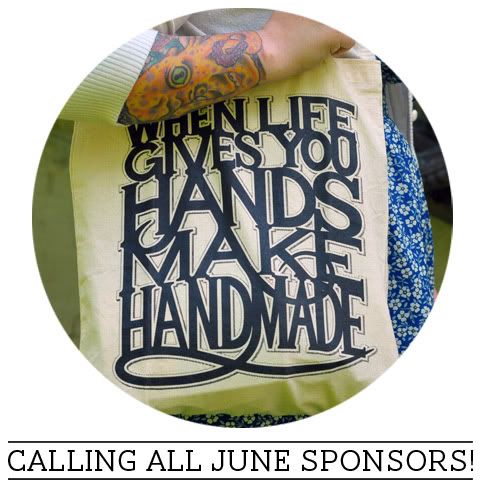 Hey honeybees! This week and weekend have been a whirlwind of To-Do lists, errands, emails, plans, and personal endeavors. I'm eyeball deep in oh-so much but today was a lovely day for a lovely gal (a baby shower I helped host for my dear friend Merissa!) and I'm so glad to have had the chance to take part! Kind of crazy that it's already the 21st of May, yeah?!
So the time has come again to make the official call for June sponsors! I accept sponsors at all times for as far into the future as you'd like so don't hesitate to contact me if you're interested in a specific month! I'm happy to report that all of my Extra Large slots have sold through the entire year! Holy moly. I am open to accepting Extra Large sponsors for 2012 but only after discussing it via email! It'd be a great way to start the year!
I haven't had a chance to update the
sponsor page
yet with traffic and stats but the past thirty days on the blog has garnered more than 271,000 page views! With an average of over 8,400 a day, I'm happy to offer affordable advertising rates for blogs, Etsy shops, brands, musicians and the like! I also happily offer package rates for 3 and 6 month deals! If you're interested in learning the sponsor perks, feel free to
click here
(& see how much we have grown!) Then when you're ready to book your own then shoot me an email at
kaelahbee@gmail.com
with the subject
"June Sponsor"
!