I'm tempted to say that my last few days have been rather unexciting (actually, I did say that, in my last Daily Photo), but I suppose that wasn't entirely truthful. I think it has a lot to do with the fact the past few days have left me feeling incredibly exhausted and just down-right blah, in a sense.
Thursday: I spent most of the day working on designs that are now up on the BUST.com site! They're just small little 460x205px subscription coupons of the sort, but there are 16 that rotate in and out so it's fun to see them up on every page. I also have Craftacular ads in 3 different places where 6 rotate in and out. Small, but exciting nonetheless.
I don't have many outfit photos to show you because well, they haven't been awesome or I just haven't documented them. But here is what I wore on Thursday, which was my last day of the work week. (And there's a photo of the close-up of my h&m bike shorts for the anon in my FormSpring who was wondering what they look like. Sorry it's not a better photo but hopefully you can see! If not, email me!)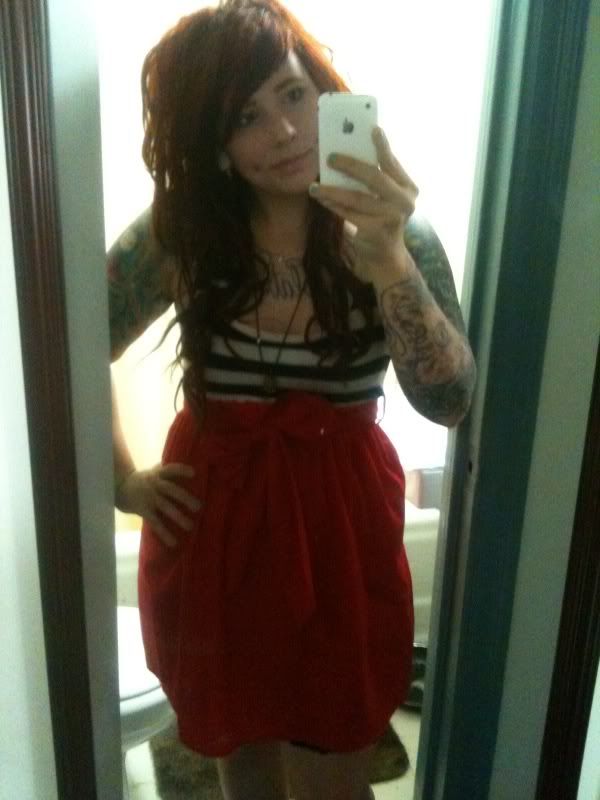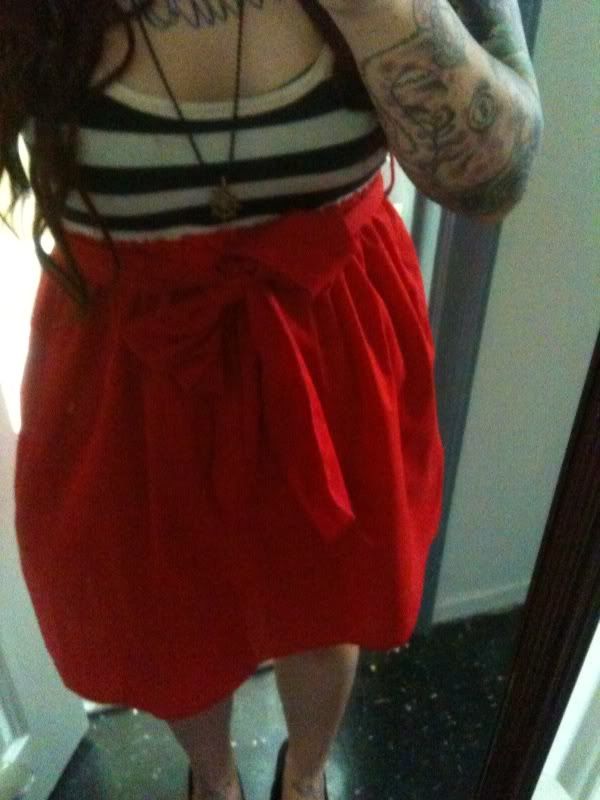 (dress: a'gaci ($20), bike shorts: h&m ($6), flats: kmart ($13), necklace: c/o dolly & boy)
After work on Thursday, Liz and I did our normal routine which consisted of an hour of cardio at the gym. (Hence my daily photo from Thursday). Afterwards I just kicked it at home until I fell asleep and prepared for Friday. (I always forget to check into the gym, but I remembered on Thursday and I got this badge. It really just made me laugh with what they wrote. Go enjoy a nice greasy burger! You deserve! Ps You look great! Good job, Foursquare! So cute.)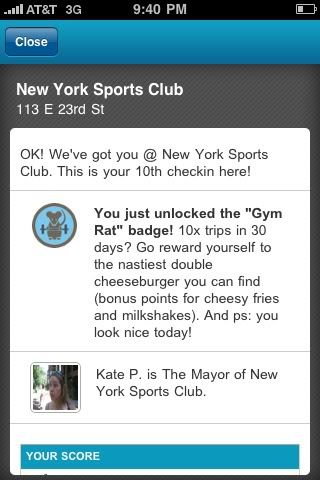 Friday morning I woke up earlier than anticipated so I could get ready for the day. I headed over to AA to pick up a vneck to pair with some skirts I was trying on for the photoshoot with 1Aeon later that evening. I headed up to H&M in Herald Square and picked up several bodycon skirts for only $6 each! They're much different from my typical style but considering I didn't have a single thing with me in NYC but dresses, I needed something to go with the shirts. I also picked up a pair of shorts! SHORTS! I bought shorts! It was exciting for me because 1) they typically don't flatter me in any way 2) the only ones I like are meant for teensy ladies (or so I make myself believe. silly talk!). Anywhoo, I picked up a pair of boyfriend shorts and I love them. I doubt I'll wear them sans tights but maybe! I also snagged a new black cardigan (Lord knows I've been needing to replace mine!) Here are a few ridiculously awful iPhone photos of goodies.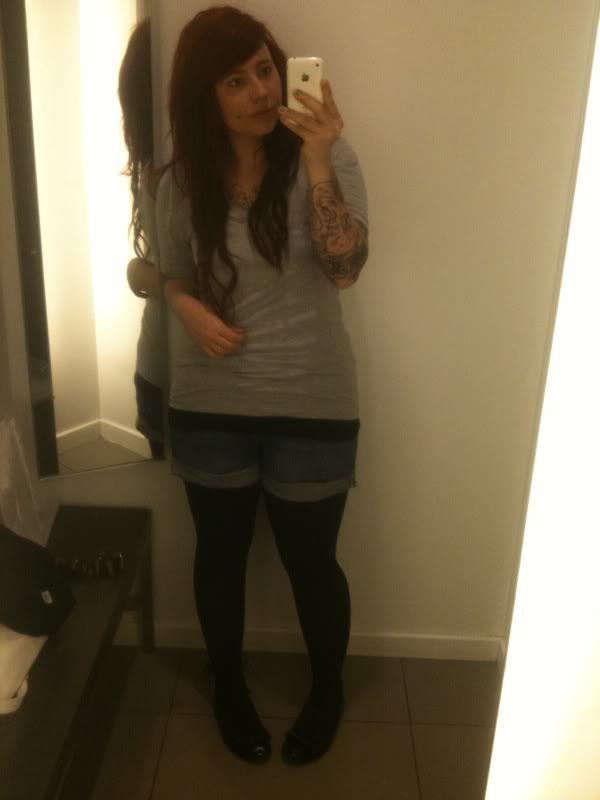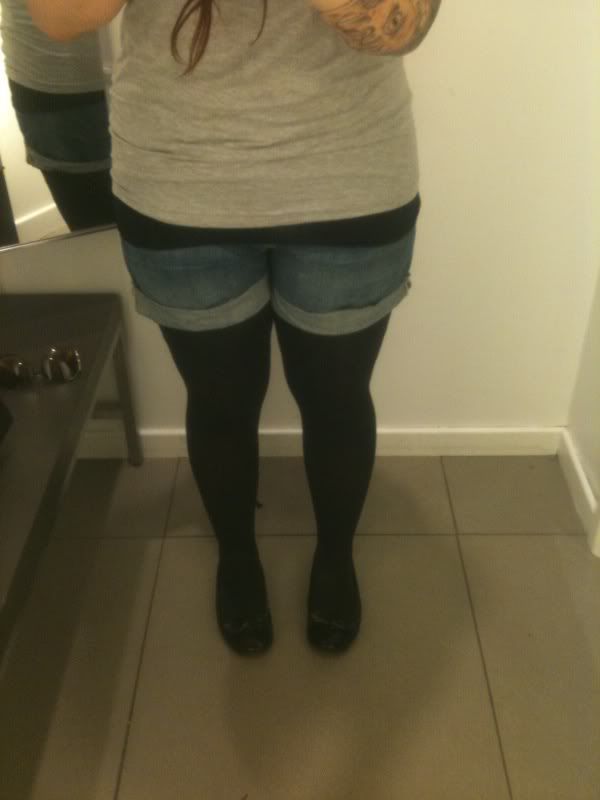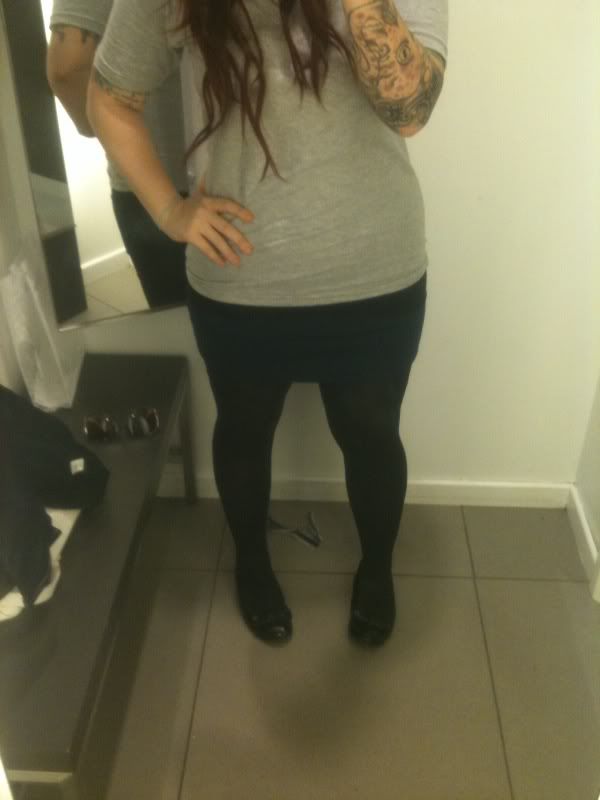 I went home and did my hair and makeup and waited for Liz to get off work. At 4pm we set out for Prospect Park, Brooklyn where
Gabe
(Owner & Designer of
1Aeon
) lives and works. We showed up and got to work! Gabe showed us his quaint and oh-so-adorable apartment where he lives with his wife. It's also where he does ALL of his printing! Holy awesome! This man is a machine, I'm telling you! I really enjoy being around Gabe because he's such a legit dude. It's inspiring to see him put so much heart and work into what he does and it really does show through his stuff! We shot one shirt in his apartment and then two over in the park. Stay tuned for something awesome come up with Gabe! Hopefully I can have it up in the next week or so! I only have a couple of photos from it so far so I'll be sure to post more when I get them. He even let me have all the items we shot and a sweet tote, too! Seriously... dude is SO legit!
CLICK HERE
to check out his shop and
CLICK HERE
to follow the 1Aeon blog! (Or
HERE
for Twitter!)
:D (BTWz, keep in mind that I am absolutely NO model! haha! But I always love working with him so don't hate too hard!)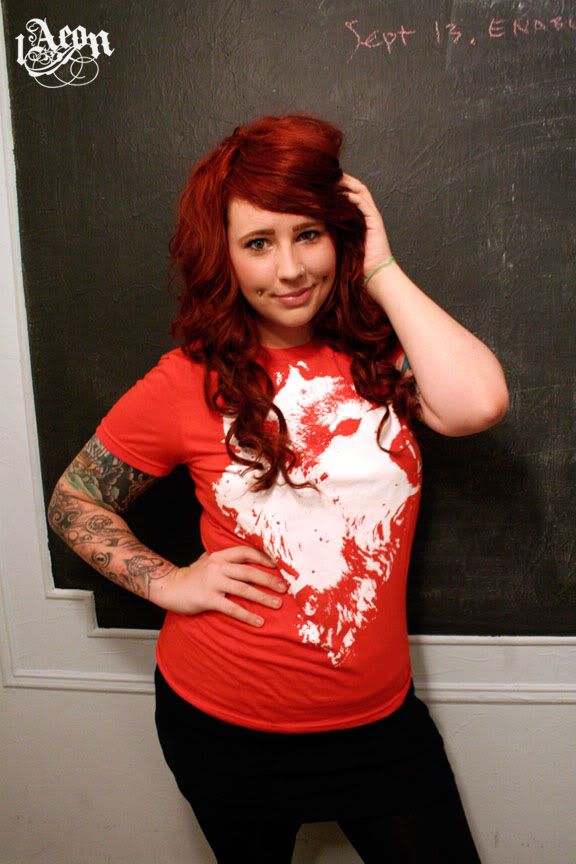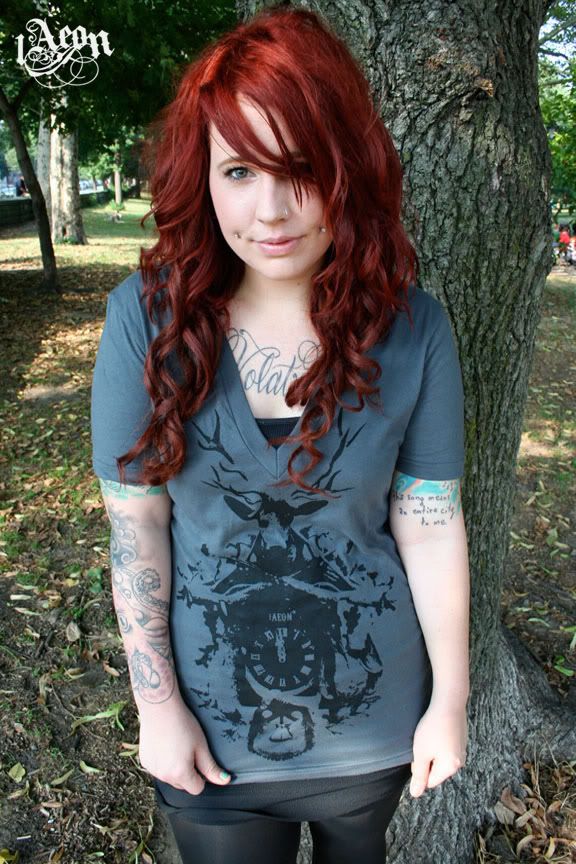 (i hate when my hair does that part thingy in my bangs! i try to fix it all the time, but ah well! even pinning doesnt work! but at least it's freshly dyed!)
After leaving Prospect Park, Liz and I hopped on the train and went north to check out the Fred Flare store! We were both pretty excited about it and it was so quaint and adorable! Liz got a cute necklace and I picked up a pair of pale pink Spitfire Sheldon headphones, a Williamsburg tote, an Arrow ring and some Cath Kidston mini-notebooks! (I really wanted the Disney Couture Shark bracelet but it was a wee bit expensive!)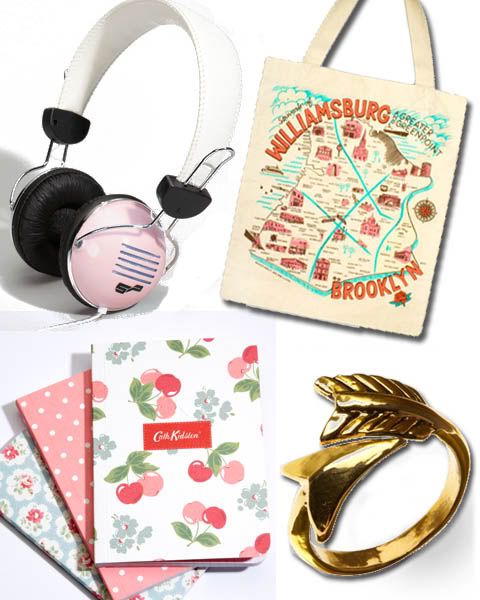 Then we headed back to Manhattan where we ran into Forever 21 in Union Square and then Whole Foods before heading home. Phew! By the time I got home, I was pooped! I was so so tired. I watched some Pushing Daisies and slept.
Saturday was reallllyyy uneventful. I woke up and headed to UPS where I got a quote for sending my TV home ($150!) and then bought some boxes to start packing. I did just that. I filled one box to the brim and started on the 2nd, realizing that I needed a smaller one (thank goodness!). I got quotes from FedEx too and it seems they'll ship my TV for roughly $80! Win! My room is starting to look much more barren. I spent the day watching a lot of Pushing Daisies as I was trying to not spend any money. I've really been trying to keep a tight hold on my finances and after spending a bit too much on Friday, I realize I need to coooooool it. Luckily I only have 4 and a half days left in the city. I didn't want to dip into my "Yay! We're moving!" Fund haha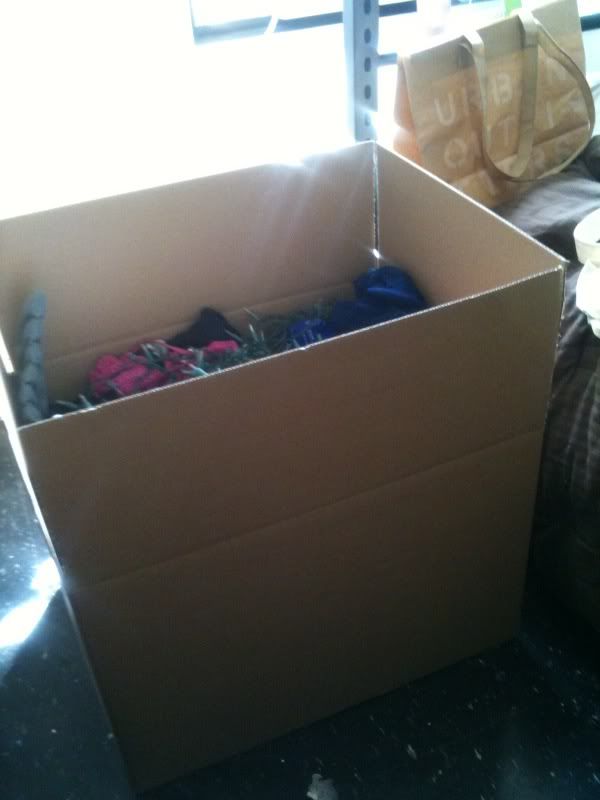 Today I slept in and then decided to come to Starbucks across the street for a bit. Trying to get my blog all ready for this week as I know I'll be super busy. I apologize for the lack of personal and outfit posts as of late, but I really have a lot on my plate at the moment so I promise things will be much more exciting around here soon! :D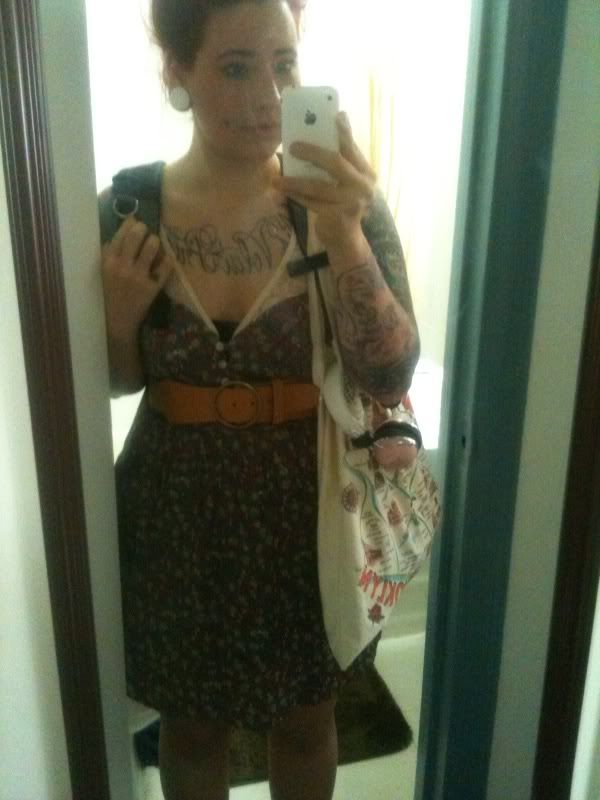 (dress: forever 21 ($24), bike shorts: h&m ($6), belt: no idea?, flats: kmart ($13), tote: fred flare ($20), headphones: fred flare ($40), backpack: morn creations ($65))
My hair has been in this high bun for 2 days now. After I showered on Friday I was like "OKAY! UP! STAY!" haha It's not the most flattering but it sure is comfy on hot and humid days like today!
xoxo