It is no secret that I am a huge fan of Gabe and his artistic venture, 1Aeon Clothing Co. I've known Gabe for a few years now and he continues to amaze me with his fantastic graphic prints on tees, totes, etc. Not to mention he's a super cool, laid-back dude. I've had the pleasure of shooting some shirts with him the past 2 summers in NYC and I did a little interview with him for this very blog. I wanted y'all to have the opportunity to get to know him and his company! (Stay tuned... there's a giveaway at the end!) By the way, 1Aeon is having a
HUGE SALE
!
CLICK HERE
to check it out!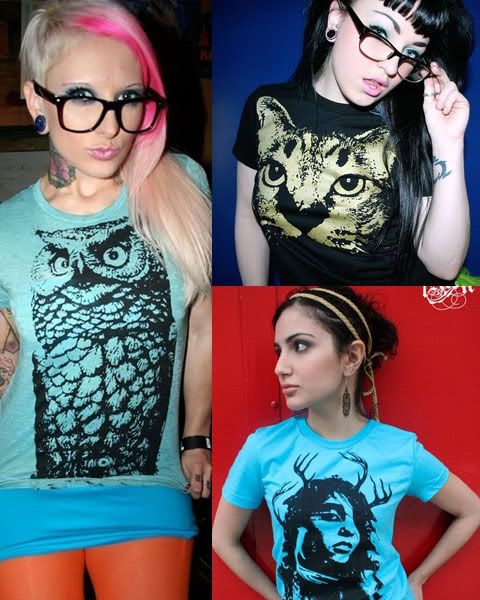 I'll let Gabe do the rest here:
Now how about your business venture, 1Aeon. How did you get started and decide that this was something you wanted to do?
-Well, I didn't pick this, It picked me. Or It had to be that way- I believe it, the least.
I already lived in New York, and I was going through some darker times. My friend suggested that I should go to a psychic, I was at a crossroad and needed to find some answers, to figure what directions to follow. Besides that she said only great things, the card "Aeon" came up like 3 times and seemed unusual. Once the session was over, I mentioned that it is funny to see the card a lot, because I love the word and already thinking about to start a band or some sort of project under this name. She said that I should, It will bring be a great success. Well Im giving this interview, so in my book, she knew what she was doing. (By the way she called everything else.) So that's how I got the name, I figured I would ad the number 1 to it, to make it a five letter word (- because i love words that has a middle letter..don't ask why, probably ocd.)- It would threw me a front of most listings and Also love that it means a tremendous amount of time, that is so long that we don't really use it, only in science, history or religion. The fashion sense came much later, the expression of the inner art always been a part of my life and everything I' ve ever done. Seemingly within days my life took a different turn. I got hired by this amazing guy: Oliver (Ackermann) founder of Death By Audio guitar effect pedal company and frontman for the band A PLACE TO BURY STRANGERS, To work on his pedals, build silkscreens and use them a lot. It was evident that after a while I will put my newly found knowledge in use, I couldn't believe that all things started shifting towards fashion and business, meanwhile keeping me busy and letting me work on my art too. I wasn't easy, required a lot of discipline and I had to catch up with the English (language) too.


You're the sole mastermind behind the creative company, so how do you do it all yourself?
-I figured it would something that takes a lot of dedication but at the end of he day, I am my own boss and I dictate a lot what's happening around me. No one else will do it for me so I have to do it on my own, if this is what I really want. I just couldn't deal with the heartless nine to five jobs anymore, Of course you never know what will happen later ha-ha.


Where do you get your inspiration for the designs?
-I find a lot of answers coming to me in my dreams, when it comes to designs, placement, colors, completing ideas..Funny how this all works, you are going to sleep to a ton of question-marks in your head, You'd wake-up and have the clear answers. The explanation for this is probably have to do with the fact that our brain works on things that bothers us while we sleep, but don't have the distraction of the passing time, phone calls and everything else, only strict problem solving. And pretty sure we all doing this, the only reason that I can make it work for me is: that I actually remember them.
Do you sell solely online or do you sell in brick-and-mortar shops, too? If not, would this be a direction you'd like to go in the future?
-Right now I sell mainly online and have a few physical stores that carry 1AEON. I occasionally would pop up at some fairs and markets if everything comes together. I wouldn't mind having more stores to work with, but I like to find the ones that cares what Im about and actually can sell them too.


Is 1Aeon a venture that you'd like to see through for several more years or do you have other plans for your life?
-Most definitely see it happening, more like growing in the future. Right now there is nothing else I rather do.


Do you do any other sort of art? Visual or performance?
-I always have a ton of ideas and I still have a little time to do designing, drawing, painting, photography for other art projects on the side. I also have a noise-rock band called Sleep to Death and an atmospheric/ambient outlet called The Leda Project.


One last question… If you had to describe 1Aeon in just three words, what would you say?
-Dreams come true. (literally)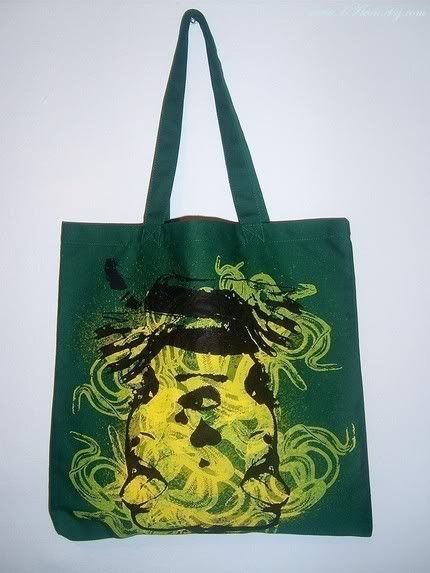 It was truly a treat to have Gabe tell us more about what he does and I want to offer you guys up a little giveaway!
I'm going to be offering up a
2Face Crying Hearts Forest Green Tote Bag!
All you have to do to enter is pop over to the 1Aeon blog and click FOLLOW! Leave a comment below letting me know and voila!
A winner will be chosen at random on Saturday, July 31st at 11pm CST (yes, that means there are two giveaways going currently!) Good luck!
PS; Here are some older photos of me sporting 1Aeon gear. These photos are a bit over a year old (some are a year and a half.)