For the final installation of our cottage tour, I'm combining our bedroom with our bathroom and Toby's room, too. I'm keeping them pretty short as we didn't get a chance to photograph
everything
but that's probably for the best...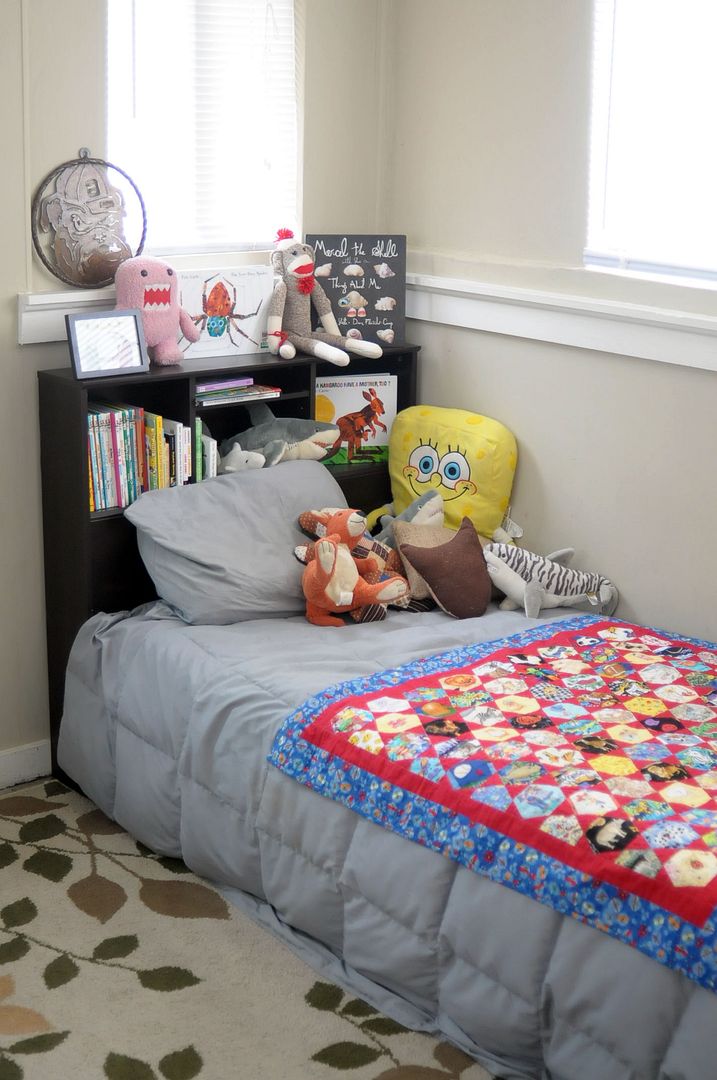 Up first: Toby's room. It's a "shark" theme (very loosely). He liked the idea of the stuffed sharks and the Ryan Berkeley artwork, so that worked out nicely. He loves stuffed animals and he looooves books. He has loads of each. It's not really the perfect room, but considering he came to live with us when that room was piled to the ceiling with Honeybean inventory, we think we've done a pretty good job at turning it into his own little space. While you can't see it in the photos, he has ample shelving in his room. There's a huge bookshelf parrallel to his bed which houses all of his toys and Power Ranger swords. He's very particular about where those items go, too. Next to that is a vertical paper tower light, then his dresser and another small table. Across from that is a short bookcase under his light switch, then the wall turns and it goes to his double door closet.

My parents bought his bed + dresser at Walmart when he first came to live with us and the bed has storage underneath so it's perfect. The floor is painted concrete so we just put down a huge rug we had in our loft. The room was an addition to our house so it's about 4 inches lower than the rest of the place. The windows are such awkward sizes so we don't have curtains on them, but the blinds do their job. (Remind me to get better pictures... these are so horrible and so incomplete haha)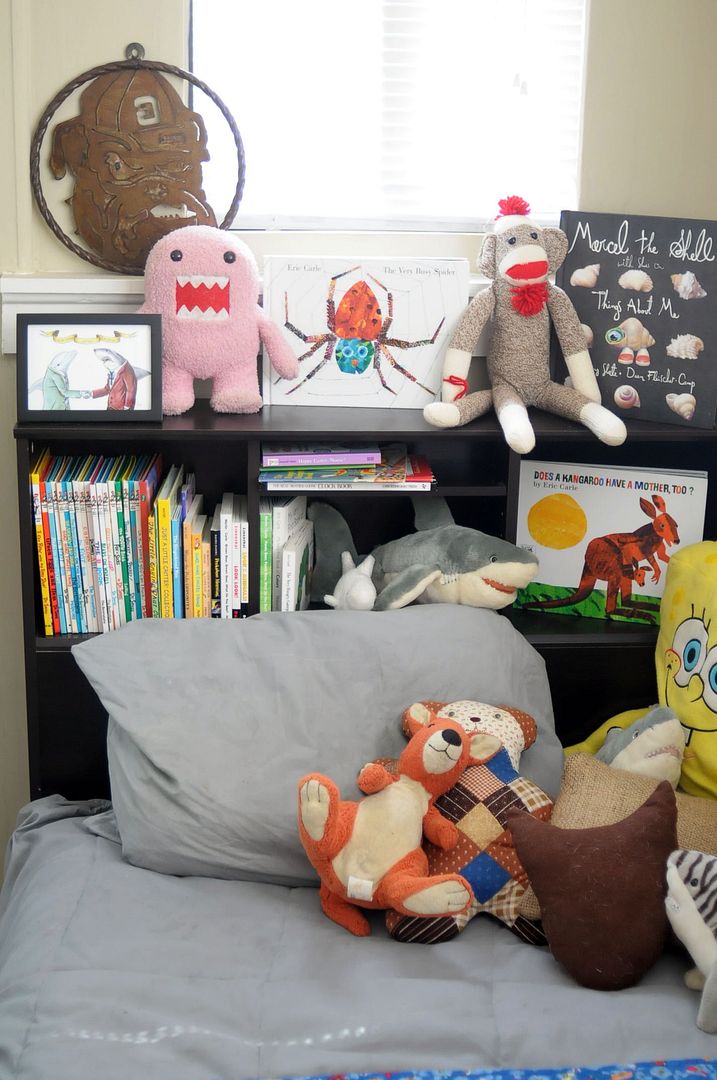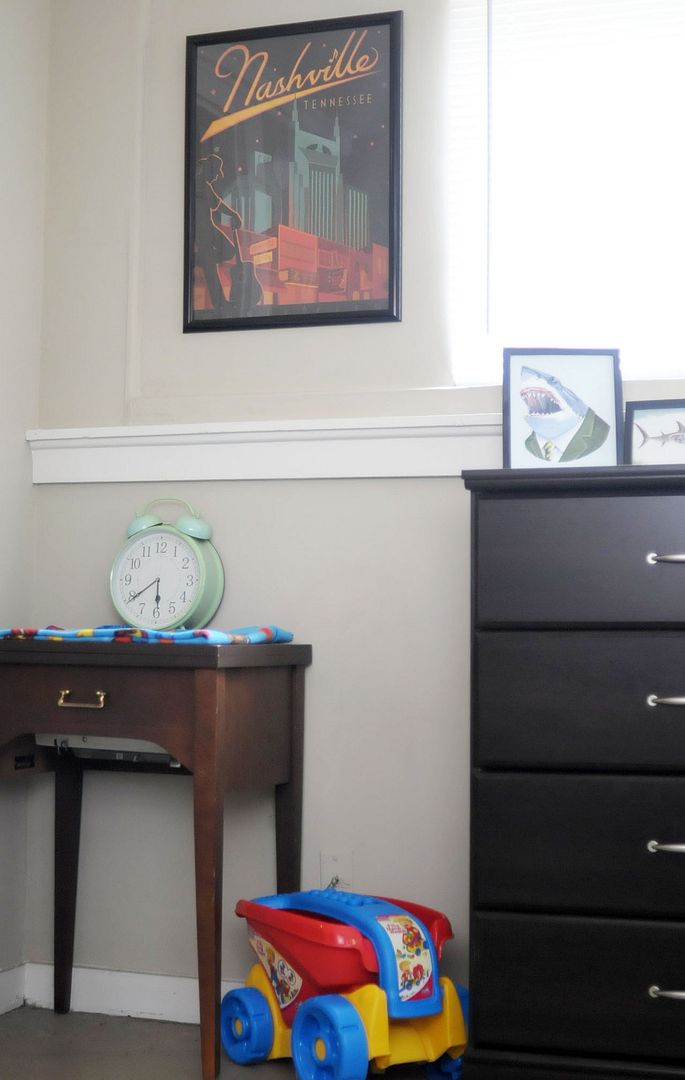 Now here's our bedroom. I've shared some Instagrams of it in the past. Nothing special. We each have a side of the room that we kind of "decorated" (I use that term loosely). As I've said a million and seven times, Mike is really laid back about the decor so we agreed on white + grey bedding, then he let me have all of my floofy pink pillows. He has a lot of Ron Swanson art and guitars on his side. He did all of the arranging on the wall perpendicular to our bed, too. Our Nashville prints are all from Anderson Design Group here in town. You can see a third Nashville print in Toby's room, and then our final (and favorite!) is sitting framed in the living room... just not hung yet. Doesn't make much sense, I know. But we want to make sure we find the perfect home for it. (All but the one in Toby's room is re: the Nashville flood in 2010. It's a great reminder to us on how far we've come since losing everything. They'll always be really special to me. The one on the left is the 1 year anniversary print, and the one on the right is 1 in a series of 3. Sadly I only own 2 of them!)
The awesome moose head
up top is from
White Faux Taxidermy
! It's one of our very favorite things in the entire house. I wish I would've caught a glimpse at
this one
earlier because that would
so
be on our wall! Two thumbs way up on that! All of the other artwork in our room is from various Etsy shops and Fab.com. I'll list all of those below! Our bed sits on 4 flat wooden pallets that we put down as a foundation. Mike loves lowwww platform beds and I most definitely do not, so this was our compromise haha A lot of people ask how we secured them and to answer that: we didn't. We just laid them down and plopped our mattress + boxspring on top! $5 project, boom!
You also can't tell but on either side of the dresser/Nashville prints there is a closet. Both of the closets in the bedroom are Mike's so he has ample storage space, too. I promise I don't hog all of the closets in the house! Just the one in my office!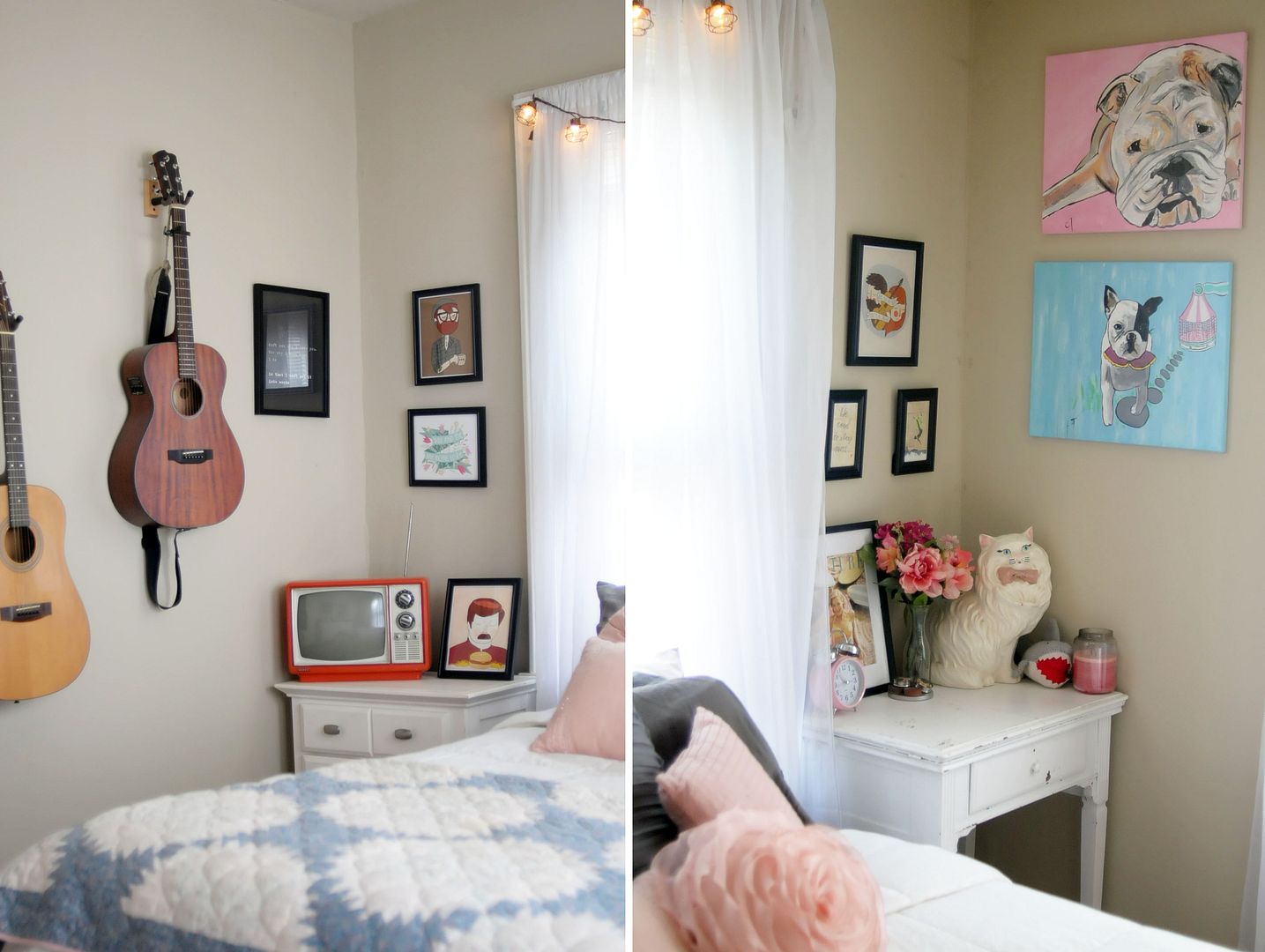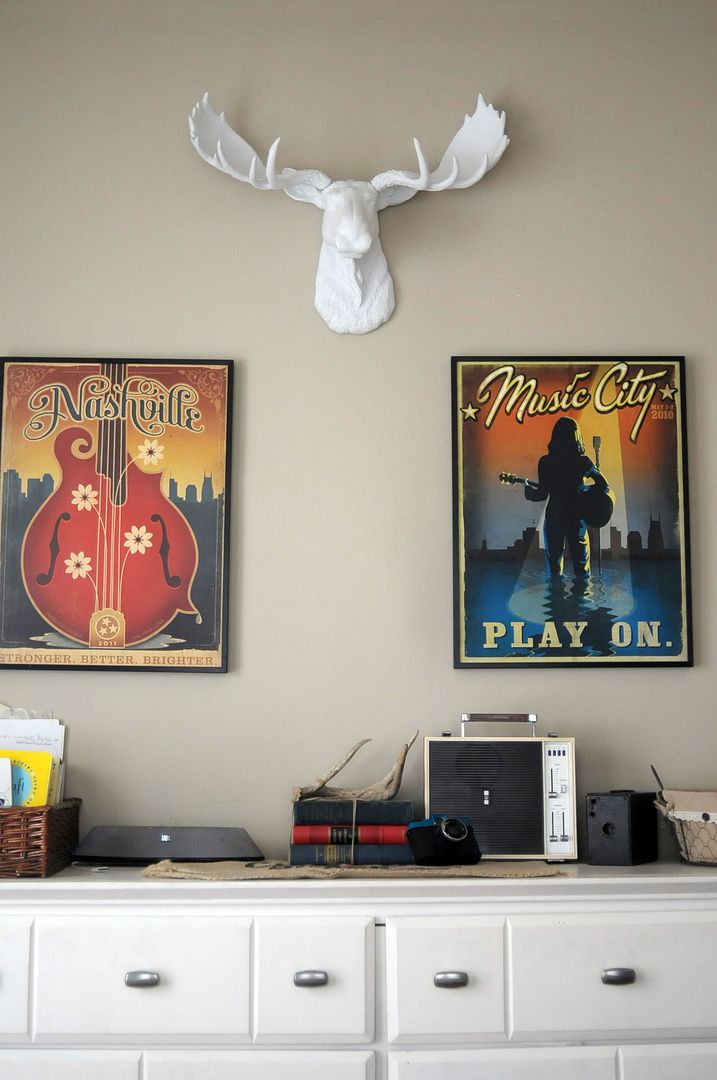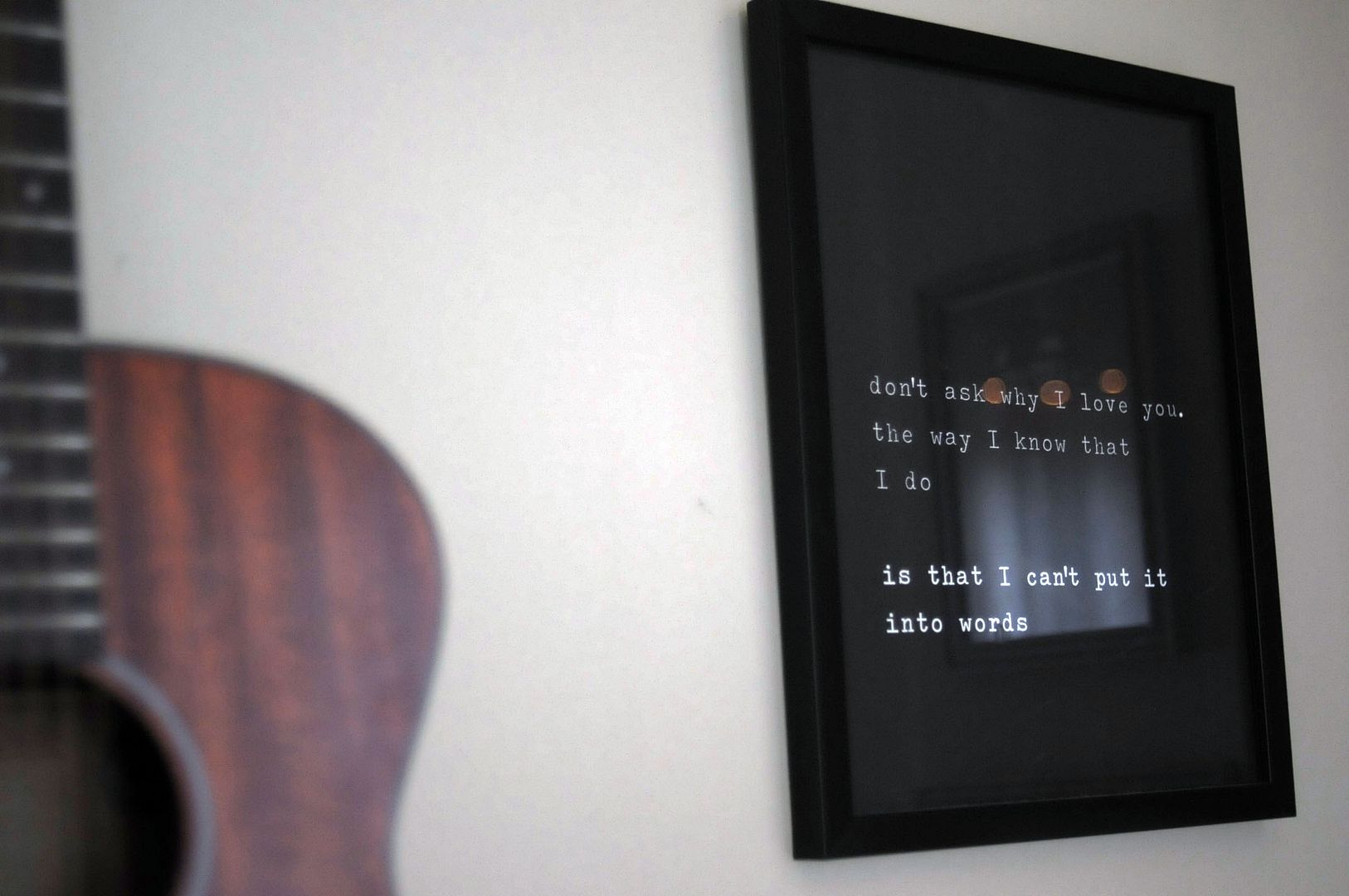 Then finally, a couple peeks at the bathroom. Our home is pretty small (1011 sq ft) for the three of us, and it only has one bathroom. We know it's not that small in comparison to some places but we definitely make it work for us. In our loft Mike kind of let me get away with a "cat" theme but this one is minimally girly I guess. At least when compared to the other one! I know it's time for me to part with this Cynthia Rowley shower curtain but I just can't! I've been scouring the internet for a replacement forever but with no luck :( I'm going to hold on for dear life haha. Also - note my dried carnations in the milk glass. Whoops!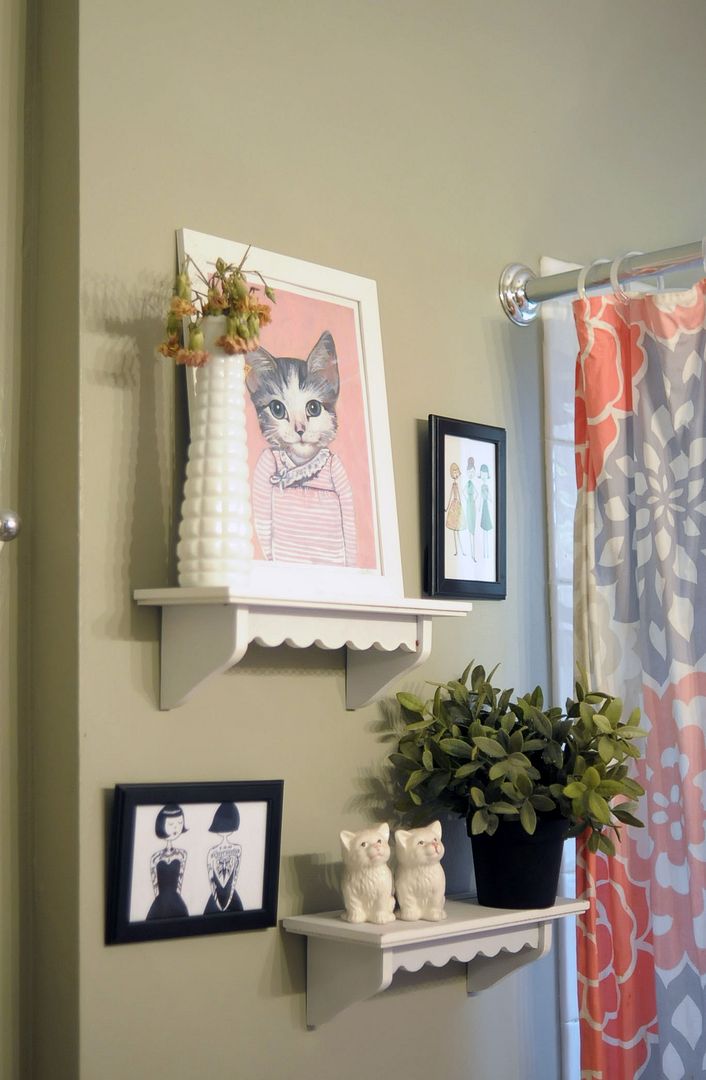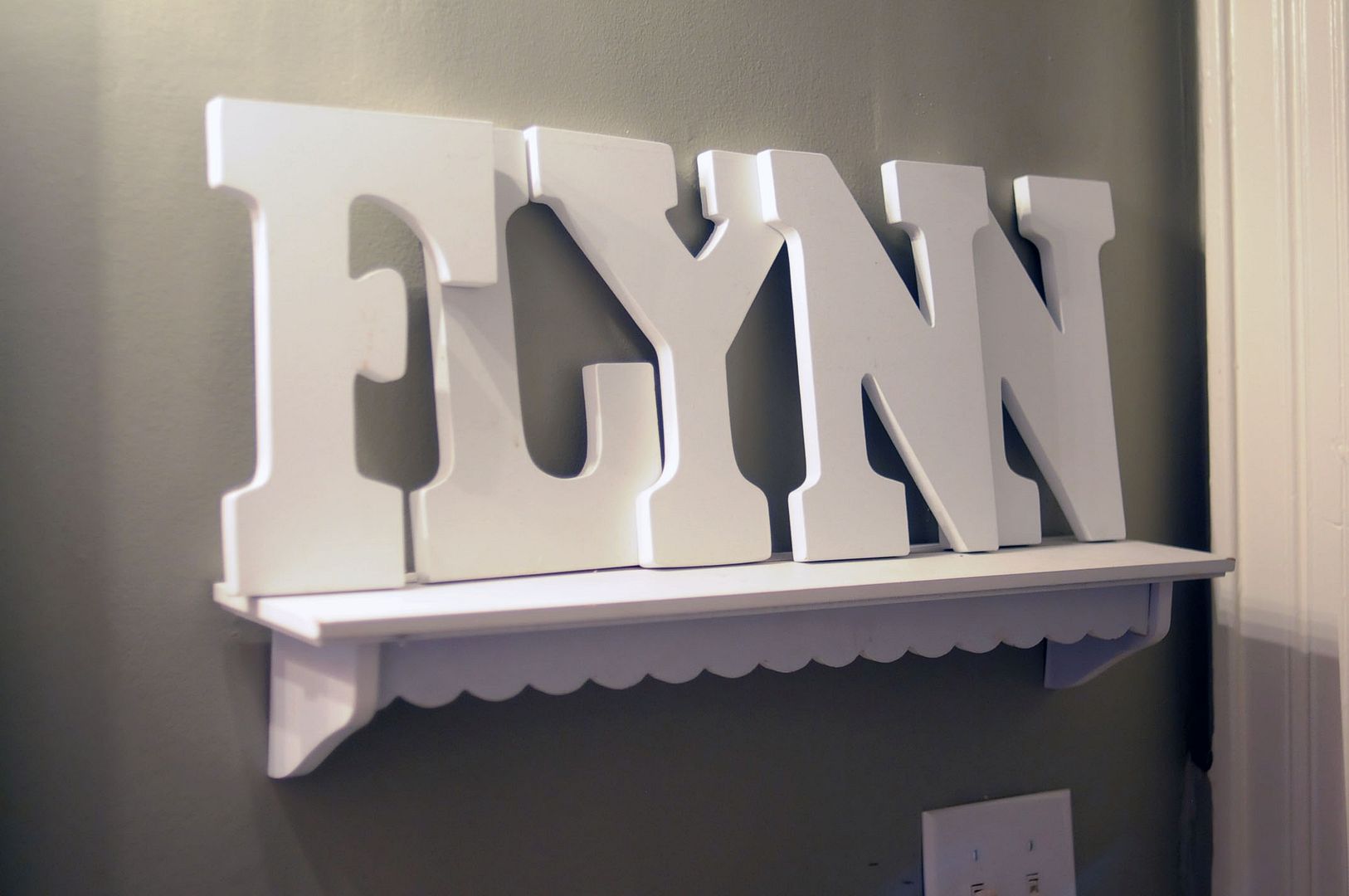 TOBY'S BEDROOM:
Bed + Dresser :
Walmart
Nashville print :
Anderson Design Group
Rug :
Walmart
Shark illustrations :
Ryan Berkeley
Various thrifted tables + accents
OUR BEDROOM:
Pallets :
dude at our storage unit
Side tables :
repurposed from thrifted pieces + sewing table
Nashville prints :
Anderson Design Group
Moose head :
White Faux Taxidermy
Artwork :
Nan Lawson,
Eine Der Guten
, etc
Lights :
Target
Throw Pillows :
TJ Maxx
BATHROOM:
Shelves :
Fred's clearance section (years ago)
Fake plant :
Ikea
Cat figurines :
yard sale
Cat print :
Fab.com (forget the artist!)
2 smaller illustrations :
Scathingly Brilliant / Flapper Doodle
FLYNN letters :
Hobby Lobby
Shower curtain :
Cynthia Rowley
We decided to skip the kitchen and hallway (if you can call a tiny little square a hallway) because they're awkward spaces. Our kitchen is laid out really poorly and we've never really done much to fix that. We have a stand alone pantry that just sticks out like a sore thumb, and it has the doors to our little laundry room, too. It's just a super weird layout and we don't even have a dine in kitchen. Looking forward to when a dining room table is possible but until then, we're making the most of our little home here on the East side. Thanks for taking a look!