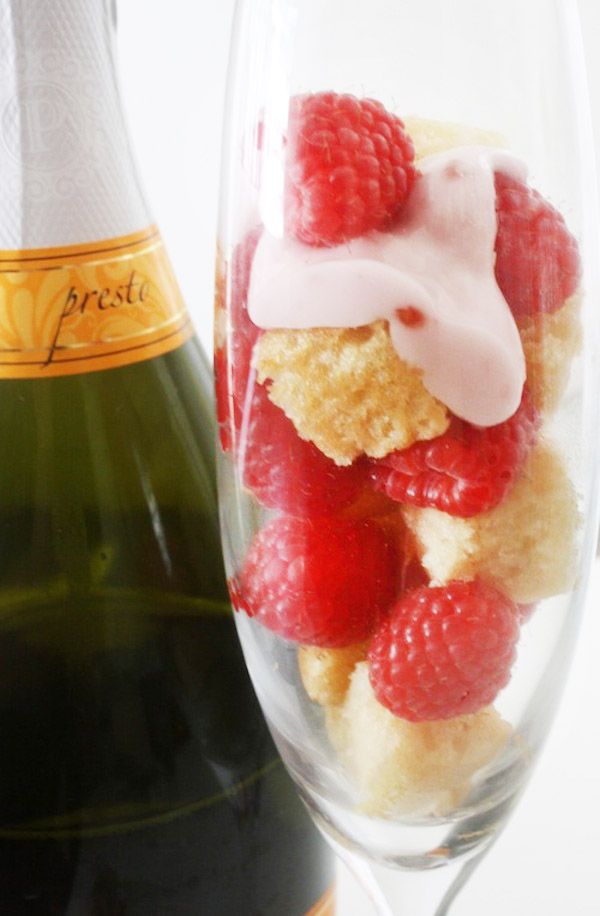 Hi, hello! I'm Andrea, I blog at Dermie Pie about...well, life and sugary treats and sometimes about nerd-girl things, too. I started a blog where I share random stories about my life/day/ridiculous adventures (I just moved to LA, after moving to NYC and an island- really, an island!) and recipes also because I love being able to home make sweets and share them. There's something awesome about knowing you can mix basic ingredients, stir them together and come up with something delicious that you completely created yourself.
When I thought about what to make for Kaeleh's blog, I couldn't help but think about celebrations- what with the wedding posts and cute engagement pictures.
There are many occasions that warrant a celebration.
For me, it was driving in LA for the first time. I lived in NYC for almost 5 years- we don't drive and I swore I would never drive in crazy LA traffic. Ya'll, even side streets have like…4 lanes here! I finally sucked it up the other day and drove to a grocery store. Sure, it was down ONE street and I took maybe 2 turns. But, I did it. And I even got to listen to bad pop music on an actual radio during it!
I felt like this deserved a special treat to welcome myself into my new home, and to share with you guys. Everyone should find a reason for celebration. Right now.
I decided to get a bottle of prosecco and get into the kitchen with it. I came up with prosecco cupcakes with a raspberry frosting, both vegan, and both delicious...best served in a ball jar, because I
didn't buy champagne flutes for my apartment
am fancy.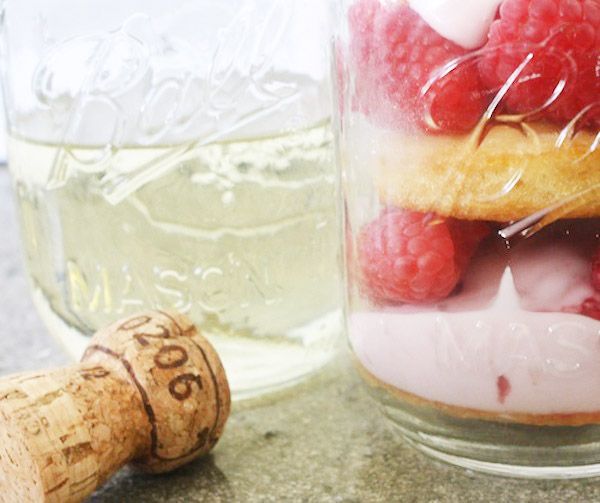 Makes 1 dozen*
What You'll Need:
Ball Jars
A cupcake pan (a whoopie pie pan also works if you're putting them into a jar!)
For the Cupcakes:
1 ¼ cups all-purpose flour
½ tsp. salt
½ tsp. baking powder
½ tsp. baking soda
1 8 oz. container vanilla soy yogurt*
1/2 cup champagne/prosecco/any sparkling white wine
¾ cup Turbinado sugar
1/3 cup canola oil
½ tsp. vanilla extract
*If you can't find soy yogurt (or any vegan yogurt), you can also use blended Mori Nu (the kind that comes in the tetra-pack!) tofu with a little extra vanilla extract.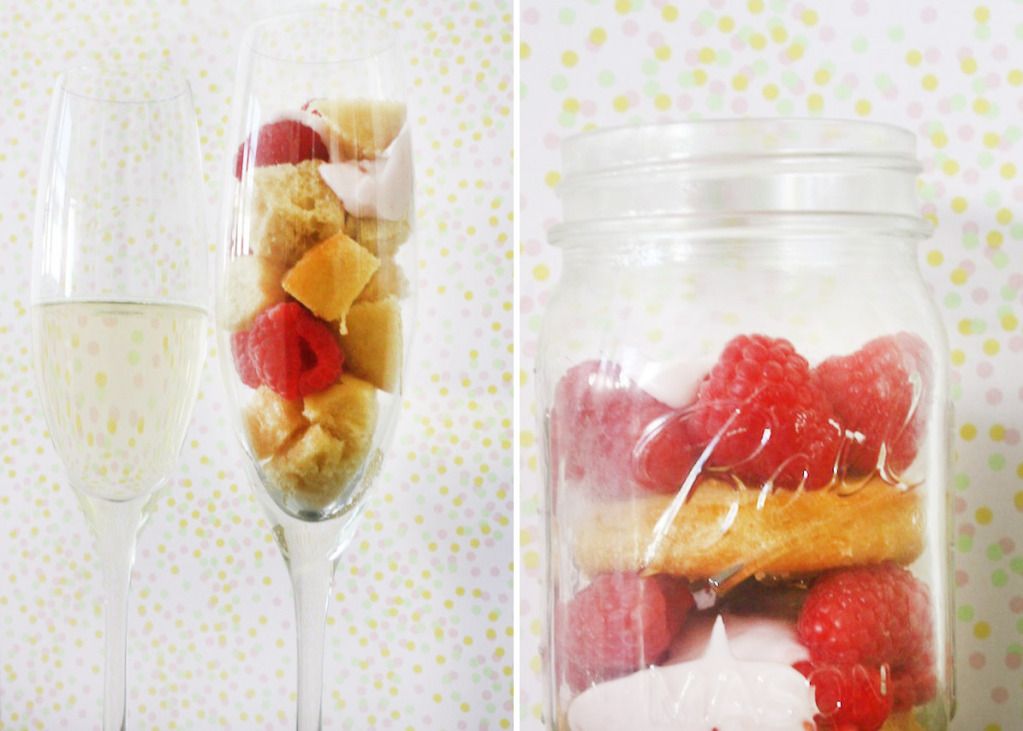 Pre-heat oven to 350 degrees F.
Combine your dry ingredients into one bowl; your salt, baking powder, baking soda, flour, and sugar. Whisk so all of the ingredients are incorporated with each other.
Create a 'well' in the center of the dry ingredients by pressing into them. You're just creating a little nook to pour the wet ingredients into.
First add your soy yogurt, don't mix anything until the very end. Then add vanilla extract. Then add the canola oil. And finally, pop the champagne open and pour ½ a cup right into the batter!
Mix everything together well until there are no lumps or clumps.
If you're making regular cupcakes, line your cupcake tin with liners and fill them until they're about 3/4th of the way full. If you're making them to put in jars and using a cupcake tin, line your tin and only fill until a little under half. You're using 2 little cakes in the jar- so you don't want them to be too big.
Bake at 350 for 18-22 minutes. Keep an eye on them, the edges become just slightly brown and you'll smell champagne as they cook! Leave them to cool before assembling in a jar. You can always make your frosting while they cool down.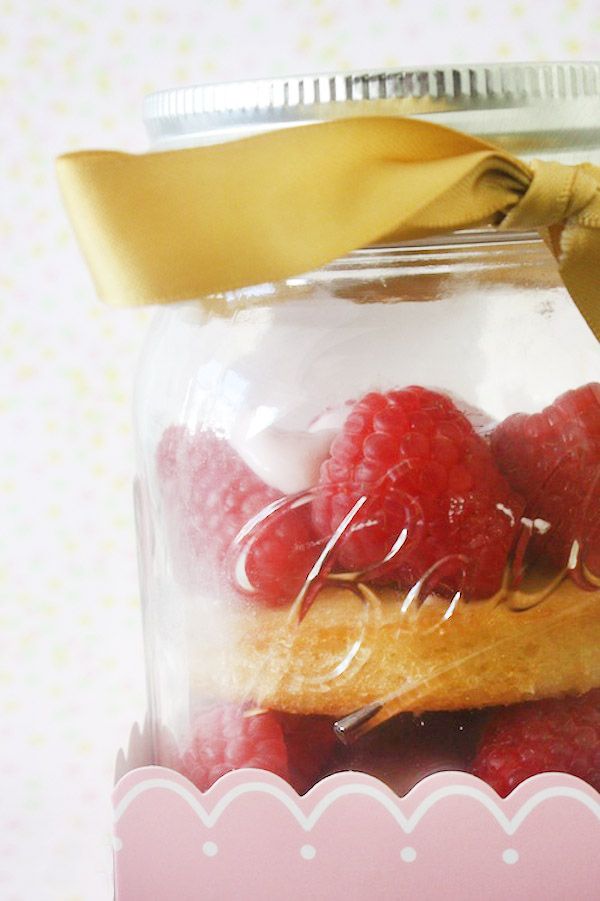 For the Raspberry Vegan Glaze
3 cups confectioner's sugar (powdered sugar, guys!)
3 tbsp. almond milk (or soy, or prosecco if you're feeling sassy that day)
4 tbsp. raspberry puree (blend frozen or fresh raspberries, or you can use jarred raspberry jam!)
Stir almond milk and raspberry puree together until there are no lumps.
Stir in sugar until it becomes nice and thick. I make my glazes the same texture as frosting. You can thicken or thin this depending on how much liquid or powdered sugar you add. If you want a thinner frosting, add more almond milk.
Layer in a Ball Jar:
-Cake
-Fresh Raspberries
-A Scoop of Frosting
-Cake
-Fresh Raspberries
-Frosting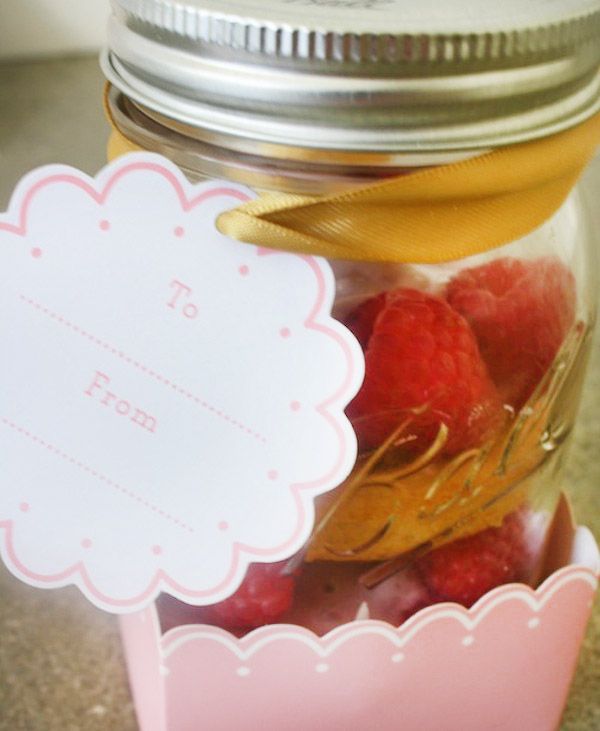 You can also be a grown up (not the I-watch-Spongebob-kind like I am, but a real one) and serve in a champagne flute by cubing the cake.
You can serve this with champagne, or package them up for friends to-go! They make great party gifts and are easy to transport to and from parties.
♥ ♥ ♥ ♥ ♥ ♥ ♥ ♥ ♥ ♥ ♥
♥ ♥ ♥ ♥
Super huge thanks to
Andrea
for putting together such a lovely and delicious recipe for LCH! I love
anything
with fresh raspberries so I'm going to try this pronto!
Happy September friends! That feels so weird to say. Ahh! Take a peek at our sidebar later today to check out some of our newest sponsors for the month!