I've had this blog post partially written (okay, a little less than partially) for many moons now. I get a lot of emails and questions about ear stretching so I thought I'd do a generalized overview of the experience. I'm not a professional, I'm not a piercer, and I'm not a "know it all". I'm simply going off of what I've learned in the past (almost) 9 years of me stretching my ears (and the many many mistakes I've made along the way...)
♥ ♥ ♥ ♥ ♥ ♥ ♥ ♥ ♥ ♥ ♥ ♥ ♥ ♥ ♥ ♥ ♥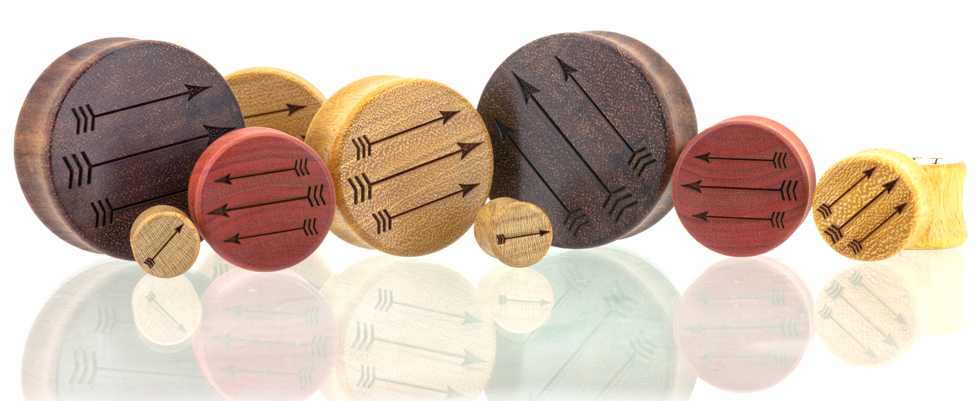 ♥ If your ears are pierced and you'd like to begin stretching, do as much research as you can first. Just to get an idea of what the whole thing is about. (Hello! This blog post!) Read up on various body mod forums and see what other people have to say about their experience. Be proactive rather than reactive. Body modification is something to take very seriously, even if it's only stretching your earlobes.
♥
Starting off with a "stretching kit" is how I began back in high school.
Just some tiny tapers and matching plugs with o-rings. You can use the expander tapers or you can use the claws/crescent tapers, whichever you prefer.
Acrylic tapers and plugs are the most readily available, but they should not be used for a fresh/healing fistula.
A stainless steel set
is a better choice. Acrylic and wood plugs can harbor bacteria. It's best to avoid that if possible, and only wear those after your lobes have been stretched for a few weeks. Start by thoroughly washing your hands, use jojoba oil on your ear lobe, and push in slowly.
It should burn a little, but never be painful, and it most certainly should never ever bleed.
You don't have to push the entire taper in in one go (or even in one day). Once your lobe gets red and hot, slide on your o-rings and wait it out a bit. Let the inflammation die down before trying to go further. After you get the taper all the way through, swap it out for a flat plug with o-rings on front and back, or a single flare plug with an o-ring on the back.
Double flared plugs (or saddle plugs) are not recommended for use immediately after stretching.
The flare is often 1mm or so larger than the actual size/taper, so trying to force them in can end in a very painful experience.
Sit at this size for several weeks.
Never rush your stretching. If you do, you'll run the risk of ripping your earlobe, experiencing a blow out (which is often permanent), and/or just all around ruining your ears. Be patient and gentle.
♥ You should not wear tapers as jewelry. They hang all weird, can get caught on things, and they are just generally not advisable for every day use. When you're stretching, go slow. But once you've reached maximum girth of that taper, slide in a plug for normal everyday wear.
♥ Do NOT skip sizes when stretching! This is so important. Sometimes the next size up is only a 1/16th of an inch, but that size is important. Skipping sizes puts you at a higher risk for blowouts. It's much better to take your time stretching properly than to fast track your way right into 'cat butt' lobe territory.
♥ Other methods of stretching include "dead stretching" which is when you wear your plug for long enough that it becomes loose and you can size up without using a taper. Stone or other heavy materials can help with this process, but it's often much slower than tapering. Taping is a very popular and safe method of stretching (and one that I whole-heartedly recommend! Especially at anything over 2g or so, but that's just my personal opinion!)
♥ Taping is when you wrap PTFE tape around the plug in small doses, then you reinsert it into the fistula. Over the course of a few days or so, the fistula will stretch and you can add a few more layers of tape. This is a very safe, completely painless way to do things. Tapers and claws in the larger sizes are really cumbersome, too.
♥ Continue to stretch until you reach your goal size. Find the material of plug that doesn't irritate your fistula. It may take some trial and error but find what works best with your ears and your body. For me? I can't wear acrylic for more than a day at a time, even with lobes that haven't been stretched in 2 years. Even with daily cleanings, the material is too harsh on my lobes and just causes them to get angry. You may have a similar experience with a material. If so, remove them immediately and go to something you can sanitize, like steel or glass.
♥
Stone plugs often help stretch a little faster
(on slightly larger lobes)
due to the immense amount of weight in the plug itself.
Be care though, because at certain sizes (usually 1 inch and above) they may stretch your ears so quickly that you can't wear them more than a few hours at a time.
Wood is a great material for plugs
(as long as the fistula is completely healed).
They allow your ears to breathe, and they're safe.
(Just try not to wear them in your shower/pool. The water expands the wood and allows bacteria to get in).
Glass is another great material for plugs, too. Easy to clean and they keep your ears from smelling funky.
(Yes, that's a thing. More on that below.)
Do not wear silicone tunnels until your fistula is completely healed!
Do not stretch with these! They're readily available at all body jewelry sources and they're super cheap so they're tempting. But they can quickly rip your ear when they expand. They're great to sleep in at night though if you don't want a big piece of whatever sticking you in the side of the head.
♥ Clean your plugs and lobes every day. Pull your plug out, give it a washing, and same to your lobe. Also massage your earlobe with your fingers to get things tender. Massaging your earlobes with something like jojoba oil can help increase elasticity and stretching.
♥ Sebum is what the yucky dead-skin-smelly-cheese odor is. The larger your lobes get the more noticeable it can become. Organic materials like wood help keep this odor from emanating from your ear, but your plugs should be cleaned daily regardless.
♥ In the event of an infected earlobe, do a salt water soak immediately. Clean whatever jewelry your were wearing thoroughly. Stainless steel is a great option for when your ears get angry, as the infection can't seep into the material and stick around. In the event of a blowout, downsize immediately. Massage your lobes 2x a day and gently work with jojoba oil.
♥ Stretch only to the size your body will allow. Never force your lobe to go larger than it wants to. Every person's body is different and everyone has a max wall. Some lobes simply don't have the elasticity in them, and some lobes simply have too much scar tissue. Being patient and willing to go through the tedious process could be your ticket to larger lobes even if your ears are stubborn.
♥ The question I get most often is "How big can I stretch so that when I take them out for good my ear will go back to normal?" The generalized rule of thumb is a 2g is the "no go back zone". Once you hit this size, the likelihood that your ear will return to normal after removal is lower. It gets lower with each and every size you stretch. (I've stretched to 00g twice and my lobes went back to normal both times. Remember, this is a generalized overview and should just be used as a guide! Everyone's bodies are different!) It just takes a few months and plenty of lobe massages.
♥ Your options for closing your lobe once you've exceed the No Going Back zone are pretty slim. For instance, having them sewn up by a plastic surgeon. On average this process seems to cost around $2,000. Obviously depending on geographic location and experience of the surgeon.
♥
Ear weights
are a tricky topic because while they are regularly used in the body mod world, they can be very dangerous if used incorrectly.
Weights put an inordinate amount of pressure on the bottom of the lobe which can cause it to thin out, or even worse... break!
♥ People who are very impatient often want to punch or scalpel their earlobes. Having your earlobe punched means you have that much less tissue to work with if you decide to go larger. (Having your ear punched is literally that. Having a hole punched in your ear at a certain size. It removes the tissue completely.) Having your ear cut with a scalpel means having it sliced to allow for a plug to fit in. It leaves the tissue intact but the it is not a uniform thickness all the way around. This can also make your fistula look weirder than it already will once you take your plugs out. In my personal opinion I think cutting of the lobe should only be done to correct a problem, but to each their own!
♥ Plugs vs. Gauges: Ohhhh this is a good one! If you want to see the internet get riled up, call a plug (jewelry) a gauge. I made this mistake once when I was about 16 or 17 (didn't know any better!) and I thought I was going to get stoned to death through the internet. That's a little overdramatic but some people take the terminology very seriously. I've politely corrected people before but never exploded, as it's good to spread the correct information about body modifications. The general way to look at it is: A gauge is a unit of measurement (millimeters, inches, etc) and a plug is a piece of jewelry for a stretched piercing. It'd be like saying "Oh hey! I like your inches!" Being able to use the proper terminology will help you be taken more seriously by people who are serious about body modifications.
♥
Invest in quality jewelry for your ears.
Plugs can be
very
expensive, and they simply get more so the larger you get. But
quality is the difference between happy, healthy lobes and a red hot pus-seeping mess hanging from the side of your head.
A few great places to do your body mod shopping: Omerica Organic
(this is where I get
all
of my wooden plugs. I highly recommend them and I've never ever been unsatisfied with my order. Their customer service is truly great, too!
Shamless plug: You can save 20% on your order with the repCode KAELAH
) --
BodyArtForms
is another great place. Their forums can be a treasure trove of information about any and all modifications. Definitely worth a gander! --
Anatometal
is professional-grade jewelry and what many local piercers supply in their shop.
♥ ♥ ♥ ♥ ♥ ♥ ♥ ♥ ♥ ♥♥ ♥ ♥ ♥ ♥ ♥ ♥
I'm sure I missed plenty of vital information in this but I'll come back and add to it as I remember. If you have anything else to add (or to debate!), feel free to leave it in the comments. If this can be a one-stop shop for people who are interested in stretching, I'd love to have all of the best information possible!