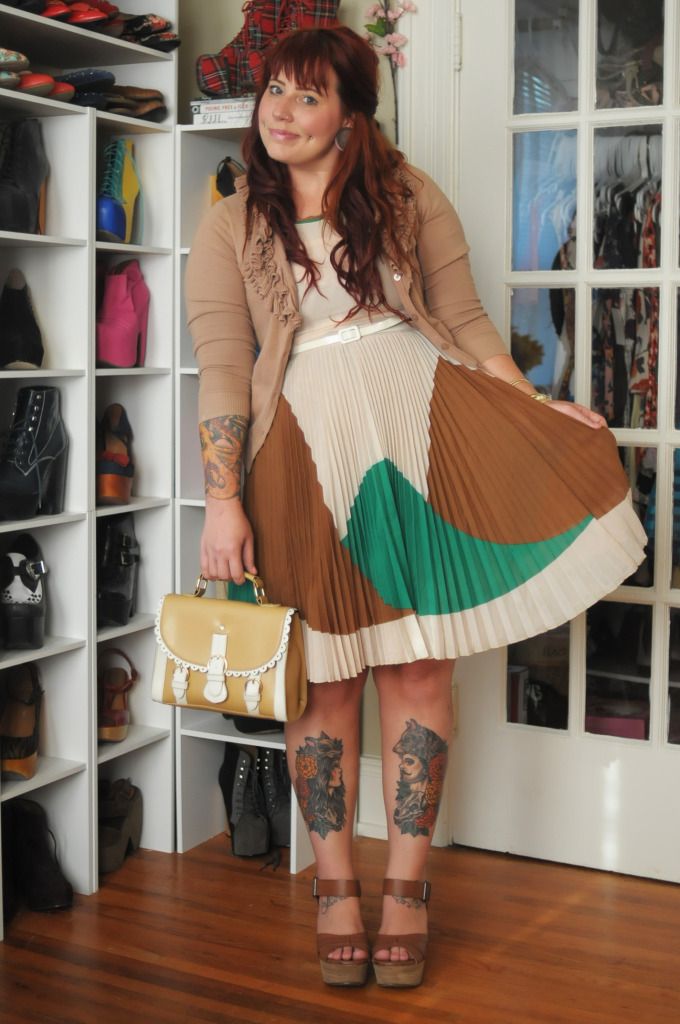 I am in
love
with
this dress
. I've worn it so incredibly much despite only receiving it in the mail last week. It's like the perfect dress. The coffee colors with kelly green, the pleats, the silhouette. I will take one in every single color, please! (It's also only $36... Seriously, this dress!) Paired with my mocha colored cardi and the "gingerbread" bag, I felt like Gretel, on my way through the woods.
This bag
also comes in like 4 or 5 other colors and I wouldn't be opposed to owning them all haha. They're so sweet! I wore this new frock to hang out with my best friend Bryan on Thursday. I ventured down to his new house (which felt like forever away) and spent the day catching up, joking around and having a grand ol' time. I know this dress will definitely be a staple in my wardrobe clear through Autumn. Speaking of Autumn, where are you?! It's been 115* lately and I'm melting. (Don't let the cardigan fool you... I'm spending all daylight hours indoors!)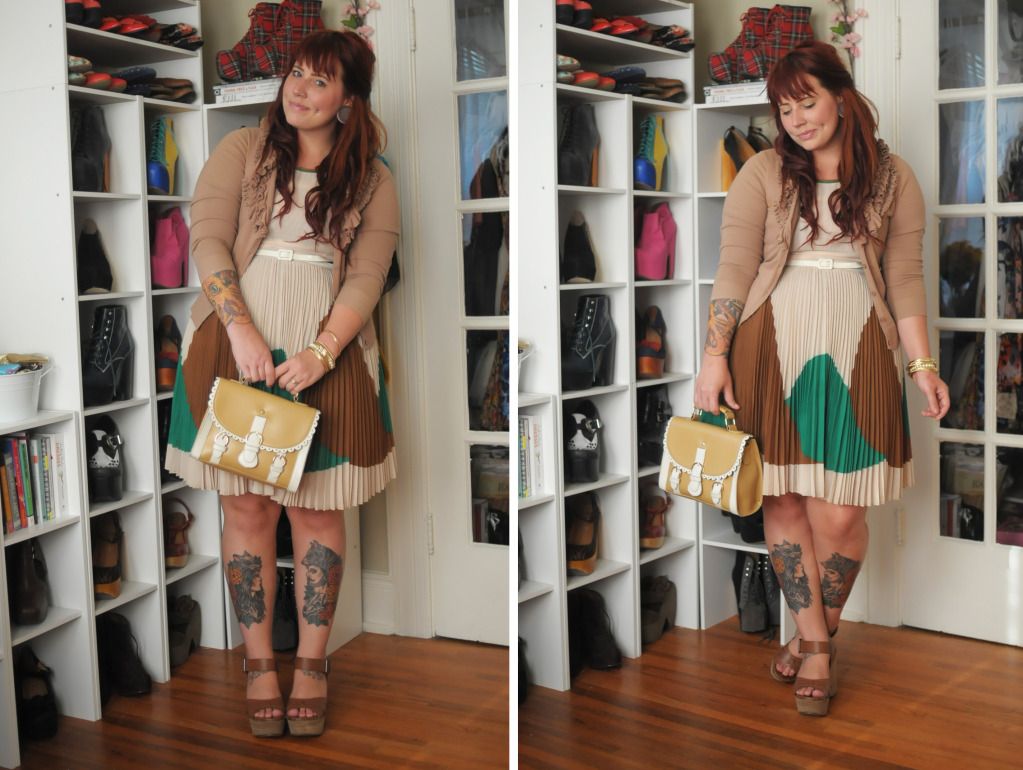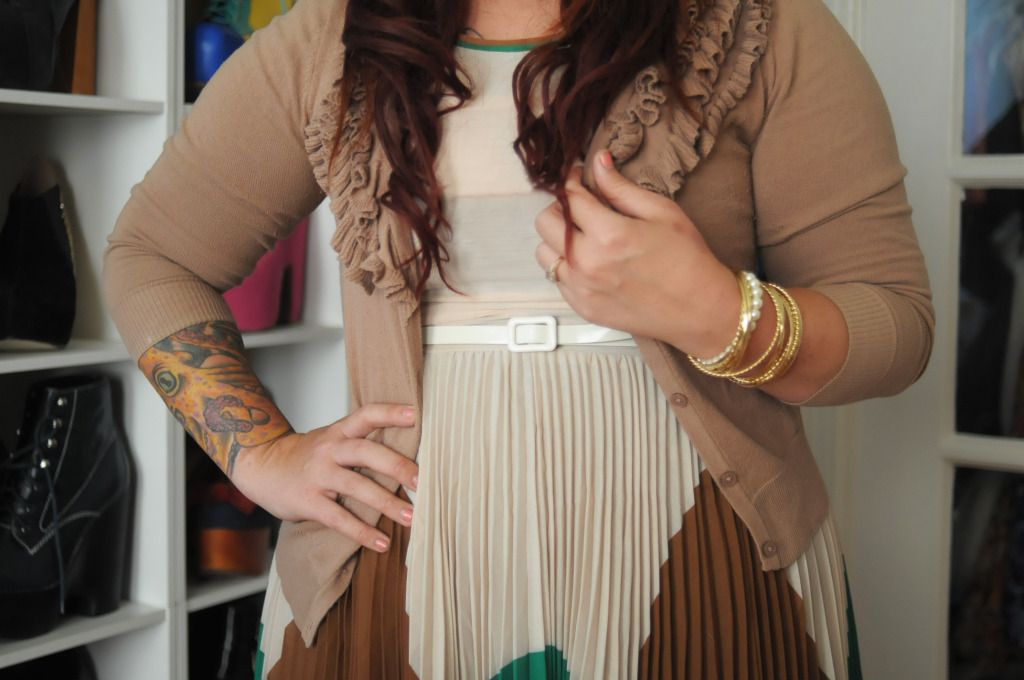 Mike took these pictures of me in my office last week and I couldn't help but have a few dozen outtakes where I'm making the most unattractive faces EVER! I have a tendency to do the very same face with the very same pose in every single outfit post, I can't help it. Years into this whole ~style blogging thing and I still freeze up and feel awkward in front of the camera. We can't all be Zoolanders, okay?!?! ;)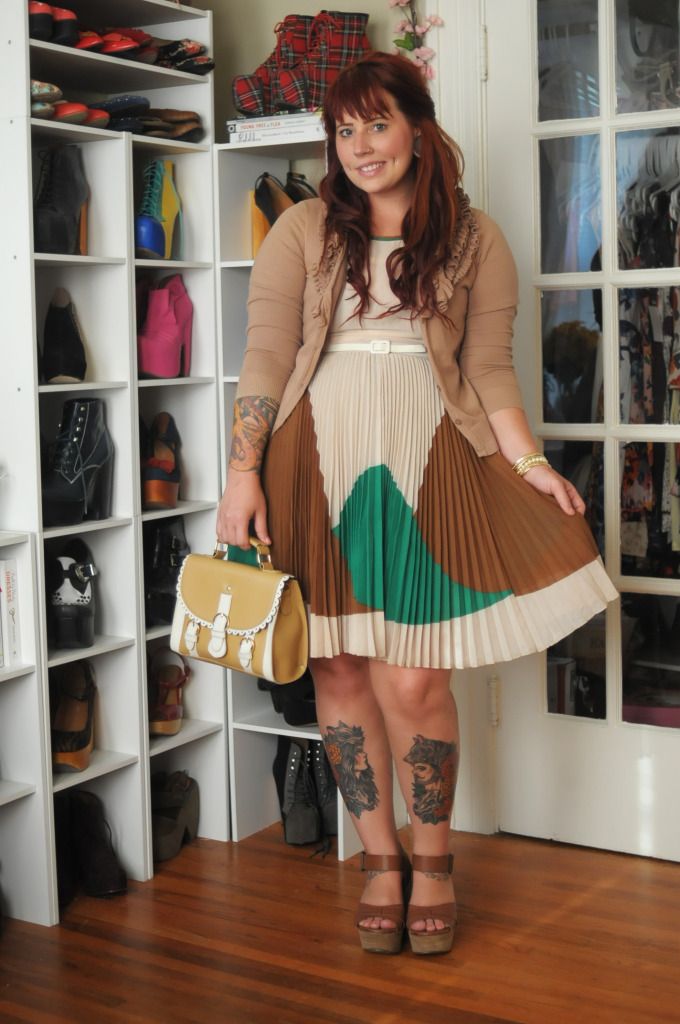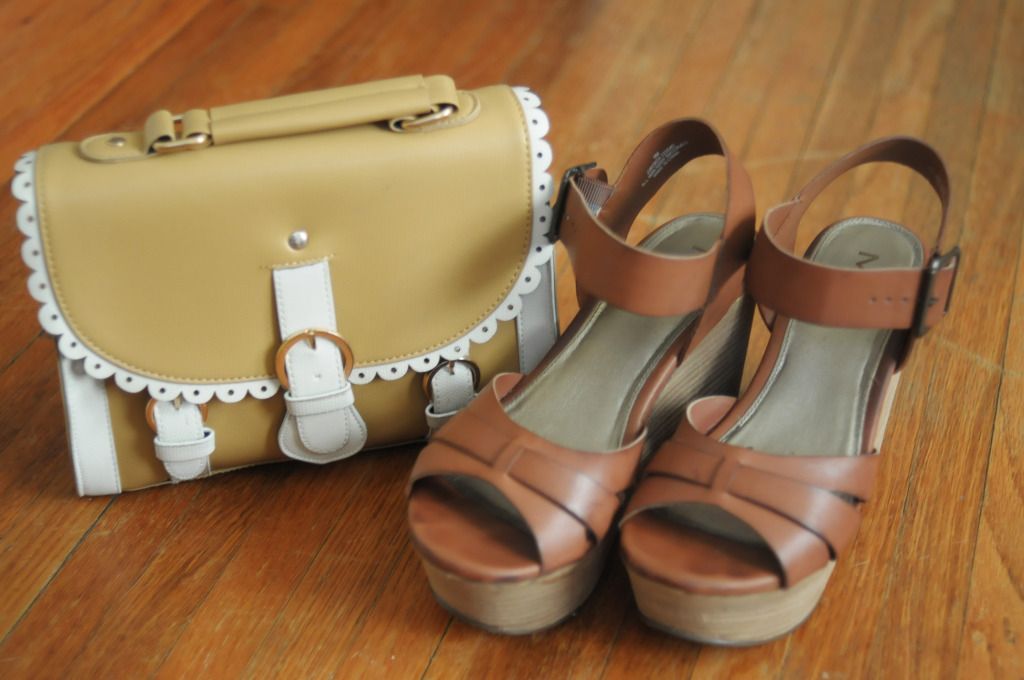 Oh, I also hacked my bangs off last week, too. On accident of course, but they're slowly but surely growing on me. I'm still in that super awkward "I don't know what to do with you!" phase where all I can do is pin my hair back on the sides, but that inevitably looks like a weird mullet. If you don't see it in these pictures, wait until I share the other outfit photos from last week! The mullet is in full force. I was trying to trim my own bangs in the bathroom and I managed to take out a huge piece of the long side. My bangs have to swoop to the left since that's the eye I'm blind in, but it was a lost cause. Instead I just had to saw away at them. I can't tell you when the last time I had bangs was... but 1st grade me with the giant poofy fringe cloud atop my forehead comes to mind. C'mon ladies... I bet you rocked those '90s bangs too, right?! Right?! Anyway, I'll figure something out with them and then who knows, maybe it'll be my new thing. Lord knows my mop needed something though. I've had the same haircut for literally 6 or 7 years. I'm a boring creature of habit, what can I say?
Today is a day of designing. All day every day. And maybe stalking Craigslist for a picnic table to put in our backyard. The daytime is positively unbearable here, but it's kind of nice out when the sun goes down. Grilling, frisbee, and evening picnics at our place? Come on over, y'all! Happy Monday!
H&M cardigan
Thrifted belt
Forever 21 bracelets